This post is also available in: 简体中文 (Chinese (Simplified))
Dr. Gerald Hohenbichler, with an academic education in physics and engineering, is arguably the most prolific inventor at Primetals Technologies. He has spearheaded a myriad of groundbreaking technological novelties, and was honored as "Inventor of the Year" at Siemens in 2008. In this insightful interview with Dr. Thomas Widter, Deputy Managing Editor of Metals Magazine, Hohenbichler partially reveals the source of his creativity and hints at why he has a positive outlook for the future of the steel industry.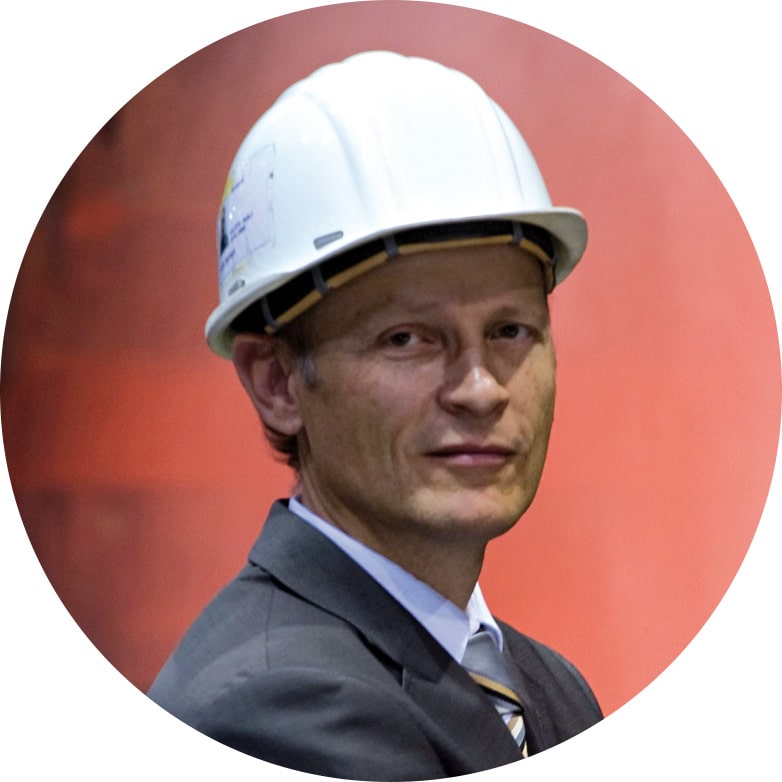 I was told that you have fathered or co-fathered some 300 patents and have submitted over 50 first patent applications at Primetals Technologies and its predecessor companies. What, in your opinion, was the most economically successful innovation for the company and which one are you most proud of?
Dr. Gerald Hohenbichler: My most successful innovations are the ones contributing to the various endless casting and rolling technologies, from twin-roll strip casting, to Arvedi ESP, up to WinLink. Here, the great achievement was finding the right core processes and components that would allow an endless production process to become a reality. The key problems were related to quality stability de-bottlenecking and ensuring uninterrupted availability of the plant. In fully endless production, if any given element in the production chain fails, it stops the entire line. So we had to ensure 100% process robustness and reliable operation. Five Arvedi ESP lines were ordered by Rizhao Steel in China, and recently we were awarded a WinLink plant project by GPH [GPH Ispat Ltd.] in Bangladesh. As for the innovation that I am the most proud of, the most interesting game changer was the Dynacs cooling system. It vastly improved continuous casting, because it – for first time – enabled us to dynamically control and stabilize the secondary cooling process. This significantly enhanced the consistency of the final product and made us the frontrunners in the field of continuous casting. To date, we have sold Dynacs more than 300 times as an integral part of a new continuous casting machine or as a key technological package in an upgrading project.
In your experience, are most of your ideas and innovations the product of a persistent systematic approach, or are they more of a serendipitous or accidental result?
Hohenbichler: In fact, it's quite a systematic approach. That does not mean that inventions come about automatically if you simply follow certain rules. There is no "recipe." But generally, it is essential to ask the right questions and to stay curious, particularly if the answers you are given are contradictory. In the beginning, the most important thing is to "hear the challenge," to listen out for what's really at the core of the problem.
Do your ideas arise when you have to deal with finding a solution to a specific problem, or do they mostly come "out of the blue?"
Hohenbichler: Normally, good ideas just never come out of the blue [smiles]. However, it has happened to me a number of times, for example, with a ChatterBlock patent as well as in connection with the development of an automatic fault-detection system. In this case, I was suddenly struck by an idea that did not fit into the environment I was in at the time, but it was a potential solution to a problem I was working on elsewhere.
I think that creativity is strongly connected to curiosity and can only partly be trained."
In your view, is creativity something that a person is born with, is it something that can be fostered with proper training and education, or is it mostly a product of synergy when working together with other people?
Hohenbichler: I think that creativity is strongly connected to curiosity and can only partly be trained. It is a talent you are born with, but for it to blossom, it also requires sufficient support from your family when growing up as well as from the society you live in. One is not always rewarded for creative ideas. New ideas are sometimes viewed as crazy and are suppressed, even though they could be very useful. It is only when you find yourself in a creativity-prone environment and are inspired by others that new ideas can be brought to fruition – for example, in the form of a team patent and innovation.
Do you see a correlation between intelligence and creativity?
Hohenbichler: I do not believe in such a correlation. There is creativity with no intelligence and vice versa. Intelligence and creativity are two important pillars for generating patents and innovation, but it's by far not all that's required – at least in metals technologies.
Is there any place where you personally have found that new ideas come to you particularly easily? Some people have named, for example, the shower as such a place – so-called "bathroom inspiration." Others say their car. What's yours?
Hohenbichler: I found that I'm the guy who usually gets interesting ideas or solutions in the morning, in dreams, or when getting up. I am not sure if it's when I'm half-dreaming or half-awake. But I have found it useful over the years to have a notepad next to my bed.
PASSION FOR INNOVATION
Dr. Gerald Hohenbichler has been with Primetals Technologies and its predecessor companies since 1992. He holds a PhD in physics and a master's degree in mechanical engineering, both from the Technical University of Vienna. At Primetals Technologies, he has served as a continuous casting technologist, as Head of R&D for Rolling and Processing, and as Head of Technology Development for Arvedi ESP. Today he is the Principal Senior Expert in Casting & Rolling. Hohenbichler has some 50 first patent applications to his name, which led to 300 patents worldwide. When he's not on one of his extensive business trips, Dr. Hohenbichler lives and works in Linz, Austria.
Do you think someone can be an outstanding creative person and a successful manager at the same time?
Hohenbichler: Yes, I am convinced this is possible, because the required set of skills broadly overlaps. For instance, two core qualities that define creativity are divergent thinking, which is thinking beyond normal boundaries, and cognitive flexibility, which is the capacity to restructure ideas and see connections that others miss. Hence, you may go beyond what is safe and familiar, even if it may damage your reputation. It's important that you draw the line between these roles when you're involved with both, and you always have to find the right place and the right time to do each of these functions well.
Is there a particular inventor or scientist from the past that you particularly admire or who has been an inspiration for you?
Hohenbichler: Thomas Alva Edison! Because he was not only a great inventor, but was also capable of implementing his ideas on a very large scale. He was able to attract sufficient attention from politicians and other investors to, for example, fund his laboratories. One could say that Edison got his innovations "to the market" resourcefully and successfully.
When you look at the iron and steel business today, is there any area where you feel that more creativity should be applied in the future?
Hohenbichler: This is what we are trying to do right now in our Metallurgical Services area. We are seeing a great opportunity to make use of our accumulated know-how by connecting it to new enabling technologies, which have come onstream over the last decade. This will widen our field of competence, create new business models, and enlarge the portfolio of eServices [electronic services] that Primetals Technologies will be able to offer.
In which process steps of the iron and steel production chain are groundbreaking developments and solutions especially crucial?
Hohenbichler: Due to mature markets and technologies, groundbreaking developments are crucial everywhere. However, the chance for inventions to be successful is usually higher at the moment when you have something in the pipeline that could be a game changer in the downstream area, particularly where Primetals Technologies is very strong thanks to the backing of Siemens and Mitsubishi with certain core technologies. This is a consequence of the current market-pull situation and the existing overcapacity in the steel industry.
What innovations or technical solutions are you working on now that stand out from the rest?
Hohenbichler: Actually, we are working on a concept that had already been launched several years back, but was not successful enough due to a lack of enabling technologies at that time. We are now relaunching it under different circumstances. I can't give away too much information here, but I would say the key term for this endeavor is big data.
The steel industry has been through a number of rough years. What does your crystal ball tell you? Do you think the situation might change for the better anytime soon?
Hohenbichler: My crystal ball tells me that a big surprise for the steel industry will be coming up during the next two to three years. It will be a positive change for the steel economy. But it will not be intrinsic to the steel industry; it will come from the outside.
In what ways has the innovation potential at Primetals Technologies increased as a result of the merger between Mitsubishi-Hitachi Metals Machinery and Siemens VAI in January 2015?
Hohenbichler: The overall innovation potential definitely got a tremendous boost because of the merger. The diversity within the company increased, and very different perspectives and working styles were brought together. This vast agglomeration of diversity is really fueling creativity.