The price factor is a real challenge in the stainless steel market. With the ­installation of high-capacity Power X-HI rolling stands in a continuous rolling configuration, rolling times can be considerably shortened, output increased and profit margins improved compared to the 20-high reversing-mill process for rolling stainless steel (Figure 1). In addition to a review of the Power X-HI rolling concept, this topic outlines the most recent stainless steel projects implemented by Primetals Technologies in China.
Primetals Technologies is a key supplier of continuous in-line stainless steel rolling mills. As early as 1999, the company provided mill equipment for a stainless steel production line at Isbergues, France, for Ugine S.A. – the Stainless Steel and Special Alloys Division of French steel giant Usinor S.A. This was followed by the installation of automation and drive systems in the integrated stainless steel production line of Outokumpu Stainless Oy in Tornio, Finland. Additional references include the supply of main equipment for the direct-rolling, annealing and pickling (DRAP) line at Lianzhong Stainless Steel Corporation ­(LISCO), Guangzhou province, China; and the start-up of a 4-stand Power X-HI mill in February 2015 at the integrated annealing, pickling and rolling facility of Baosteel Desheng Stainless Steel Co., Ltd. in Fujian province, China.
In its most recently executed stainless steel project, ­Primetals Technologies supplied a 5-stand Power X-HI continuous rolling line to Beihai Chengde Stainless Steel Co., Ltd. (Beihai Chengde) in Guangxi Province, China. Following completion of equipment installation, cold testing was carried out within 17 days, and the first coil was successfully rolled within three months in late December 2015. With a rolling speed of 400 m/min and a rolling capacity of 600,000 tons per year, this mill features the fastest rolling speed for the production of stainless steel in ­China. The layout of the mill is depicted in Figure 2, and a view of the completed Power X-HI tandem mill stand is shown in Figure 3. Additional technical details and process parameters of the line supplied to Beihai Chengde are listed in the box.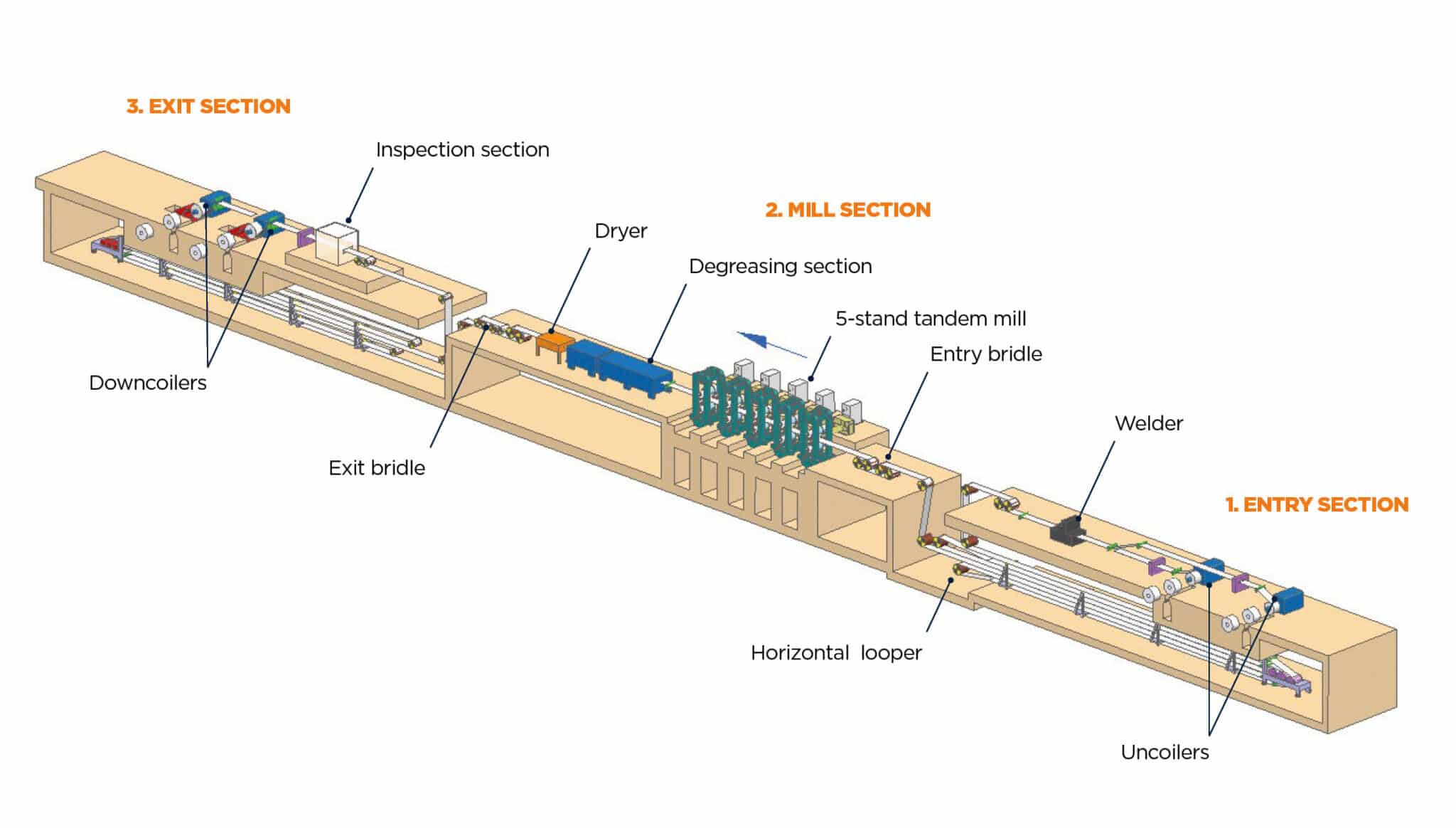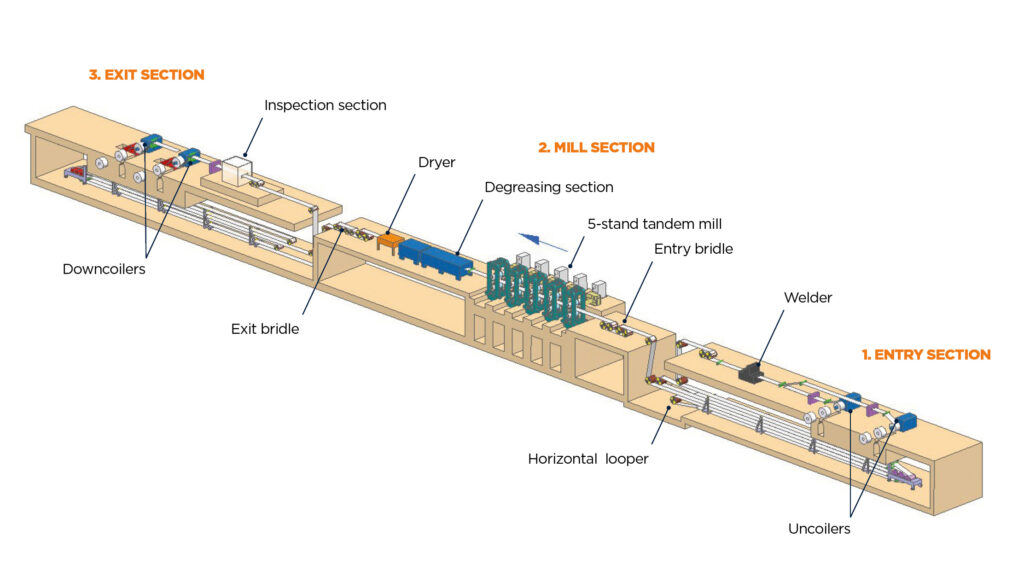 Development of the Power X-HI rolling process
In standard stainless steel processing routes, the hot-rolled material is first annealed and pickled, followed by cold rolling in a 20-high reversing mill down to the desired thickness. Final annealing, pickling and skin passing are then carried out. In some cases, particularly for thinnest strip gauges, intermediate annealing and pickling is required, which means that a second passage through the mill facility is necessary. Although the technology is mature, classical reverse rolling in a 20-high mill stand still has a number of drawbacks. Among others, these include high yield losses resulting from the strip head and tail ends that are not rolled, time-consuming strip threading into the roll gap, output limitations due to the inherent nature of the reversing process and suboptimal cooling efficiency.
The Power X-HI rolling mill solution was therefore developed by Primetals Technologies to address these problems as well as to enhance mill performance and operational efficiency for the rolling of stainless steel. A key focus was placed on improving product yield, increasing operational and energy efficiency, and applying accessible technology to facilitate local maintenance work. At Beihai Chengde, it was not possible to implement a completely integrated stainless steel processing line due to the need to allow for two separate pickling and annealing steps to ensure the flexibility required for rolling different products.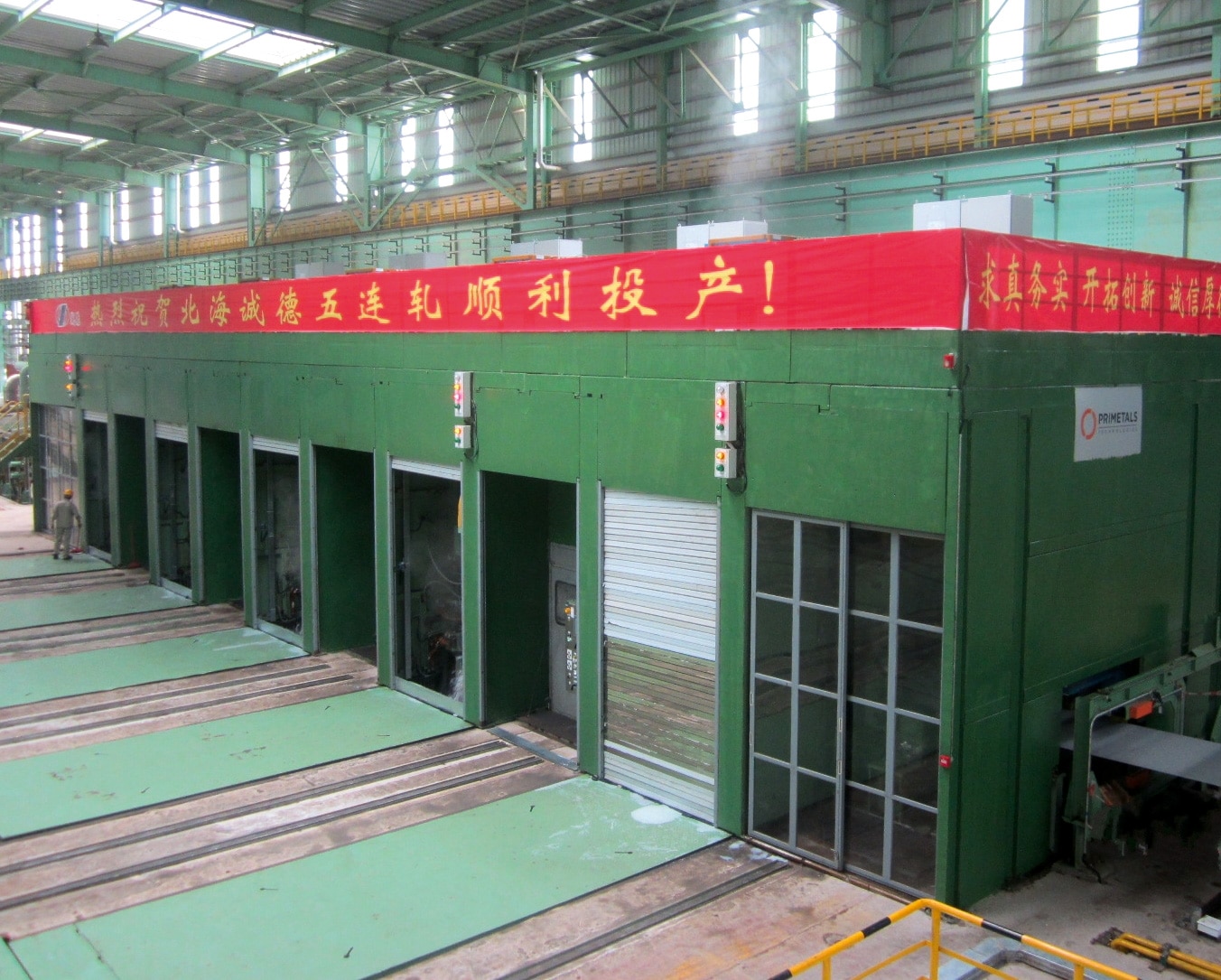 Line equipment
1. Entry section
To safeguard that a Power X-HI mill can be endlessly fed with strip, the entry section is equipped with double pay-off reels, a heavy laser-type welder and a 6-strand looper. A LW21H heavy laser welding machine that was designed and manufactured at the workshop of ­Primetals Technologies in France was installed in the Power X-HI line supplied to Beihai Chengde (Figure 4). The welder, which is able to weld strip with thicknesses between 1 mm and 5 mm, features an 8 kW laser source, including an inline welding-seam annealing and quality-control system. Strip tension prior to entry into the rolling mill is controlled by a 4-roll tension bridle.
2. Mill section
The design of a standard 18-high mill stand was reengineered to the patented Power X-HI mill stand. The main features of this new mill-stand generation are as follows:
The intermediate rolls are mounted within a sturdy shifting-chock assembly. The stabilizing side-support rolls are in a modular design arrangement and are characterized by a highly reproducible and accurate positioning system.
The roll set geometry was adapted to allow a slightly increased work-roll diameter range to be applied, which means a larger work-roll surface, reduced generation of heat in the roll bite, lower roll wear, fewer work-roll-changes and longer roll lifetimes.
Roll change is performed independently and fully automatically for each roll type (work rolls, intermediate rolls and side-support rolls) to improve the efficiency of regrinding works. The rolling stands are also designed to enable a flying roll change with the mill in rolling operation so that production will not be interrupted during roll change. This increases productivity and reduces output losses.
An emulsion-based cooling media was chosen as a roll coolant for Power X-HI. This considerably increases the cooling effect compared to using pure oil. Another advantage is that fire risk is reduced to nearly zero. The specific design of the emulsion spray system, which is embedded within the lateral stabilization roll (patented), allows the media to be directly applied at the roll bite for an improved cooling and lubrication effect.
A cleaning section, positioned just after the mill, removes oil residue from the strip using a combination of high-pressure hot water, steam and a brush scrubber. With this setup, cleaning with an alkali solution is no longer needed. A 6-roll bridle and exit looper are installed after the cleaning section to serve as a strip buffer between the rolling-­cleaning exit section and the coilers. This also enables the strip surface to be intermediately inspected during continuous rolling operations, which reduces strip losses.
3. Exit section
The exit section includes an exit bridle, inspection station, rotary shear, a scrap and sample cutter, twin coilers, a belt wrapper, paper un-winder equipment and a coil-unloading car with the associated coil banding and storage facilities. The strip looper, positioned between the mill section and the exit section, decouples the rolling process from the downstream activities. This allows the strip surface to be intermediately inspected during continuous rolling operations. With these measures, there are thus no longer any limiting factors on mill throughput.
A powerful and proven solution
To date, Primetals Technologies has supplied two Power X-HI mills to China. These mills are characterized by their reliability, increased yields, high output rates and lower operational costs compared to a reversing cold-rolling mill. All of these factors, of course, are essential to succeed in today's highly competitive market for stainless steel flat products.
Key data of the Power X-HI mill supplied to Beihai Chengde Stainless Steel
Number of mill stands: 5
Installed power: 22,000 kW
Material to be processed: Hot-rolled annealed and pickled stainless steel
Product grades: AISI 200 and 300 series
Capacity: 600,000 t/a
Welder type: LW21H laser welder (Primetals Technologies)
Entry section speed: max. 400 m/min
Mill section exit speed: max. 400 m/min
Exit section speed: 550 m/min
Entry strip thickness: 1.0 mm to 5.0 mm
Exit strip thickness: 0.3 mm to 3.0 mm
Strip width: 800 mm to 1,300 mm