Kraków is a place like no other: designated a "European Capital of Culture" and "UNESCO City of Literature," the city attracts some 13 million tourists each year. They come to enjoy Kraków's museums, sights, night life, and typical Polish restaurants. But there is yet another reason to visit Kraków. The company location of Primetals Technologies is a pioneer of digitalization—and develops cutting-edge automation software. Metals Magazine's Dr. Tom Widter reports on Kraków's close ties to the global steel industry.

It is a cold but sunny day in late October of 2020 as I walk toward my rental car—a Ford Focus that will take me from Linz, Austria, to the Polish city of Kraków. Covid-19 is still a force to be reckoned with, and consequently Sixt have thoroughly disinfected the car, as the spotless interior indicates. As I load my luggage into the trunk, adjust the driver's seat, and familiarize myself with the car's navigation system, I wonder if I will encounter any unexpected disruption because of coronavirus. It's not an easy time for business trips: on the one hand, safety must come first, but on the other, business continuity becomes ever more pressing as the world keeps struggling to find its "new normal."
And this new normal will certainly arrive one day. It will likely involve remote work, more elaborate use of video conferencing and live online support, and a further increase in automation and robotics, especially in industrial settings. But it will take time to get there. Meanwhile, my 8-hour trip takes me through the Czech Republic, where a lengthy diversion ahead of Brno sets me back some 30 minutes. Approaching the city of Ostrava, I find myself impressed by the area's beautiful scenery; woods, lit by afternoon sunshine, appearing in all the nuances of green, yellow, and red you can imagine. Then, finally, after almost seven hours of driving, I enter Poland. It happens very suddenly; there is no visible border, just a signpost indicating the new speed limit of 140 km/h. However, the road changes dramatically: it becomes much wider and more modern-looking, and I can't help but be reminded of the "super-sized" highways of North America. The infrastructure in this part of Poland feels modern and fresh.
Embracing change
Over the last few decades, Poland has made a remarkable political and economic transformation from communism to capitalism. As the staff of Primetals Technologies Poland will later tell me, there are some 10 million people with Polish roots who are now citizens of the United States. The connection between the two countries shows on many levels—the wide roads are just one example. The Kraków area is particularly interesting in that it has become home to a vibrant developer community, especially in the gaming sector. Information technology is a major factor in this city, and Kraków's many universities are making a massive contribution. There is the University of Technology as well as the University of Science and Technology; the latter was formerly known as the "University of Mining and Metallurgy." What better place for a Primetals Technologies location that focuses on promoting digitalization in the metals industry?
Primetals Technologies is situated south of Kraków city center. Upon my arrival, I notice that Covid-19 has led to the implementation of several social distancing, hygiene, and safety measures, including improved security. I ring the doorbell, and a few seconds later, Katarzyna Tomanik, the location's office administrator, appears and lets me in. Just like me, she is wearing a face mask—but in spite of the face covering, I can still make out her friendly smile as she welcomes me to the location. I use the hand sanitizer before handing over my jacket; Tomanik then walks me to the office of Dr. Boguslaw Niedbała, the CFO of Primetals Technologies Poland.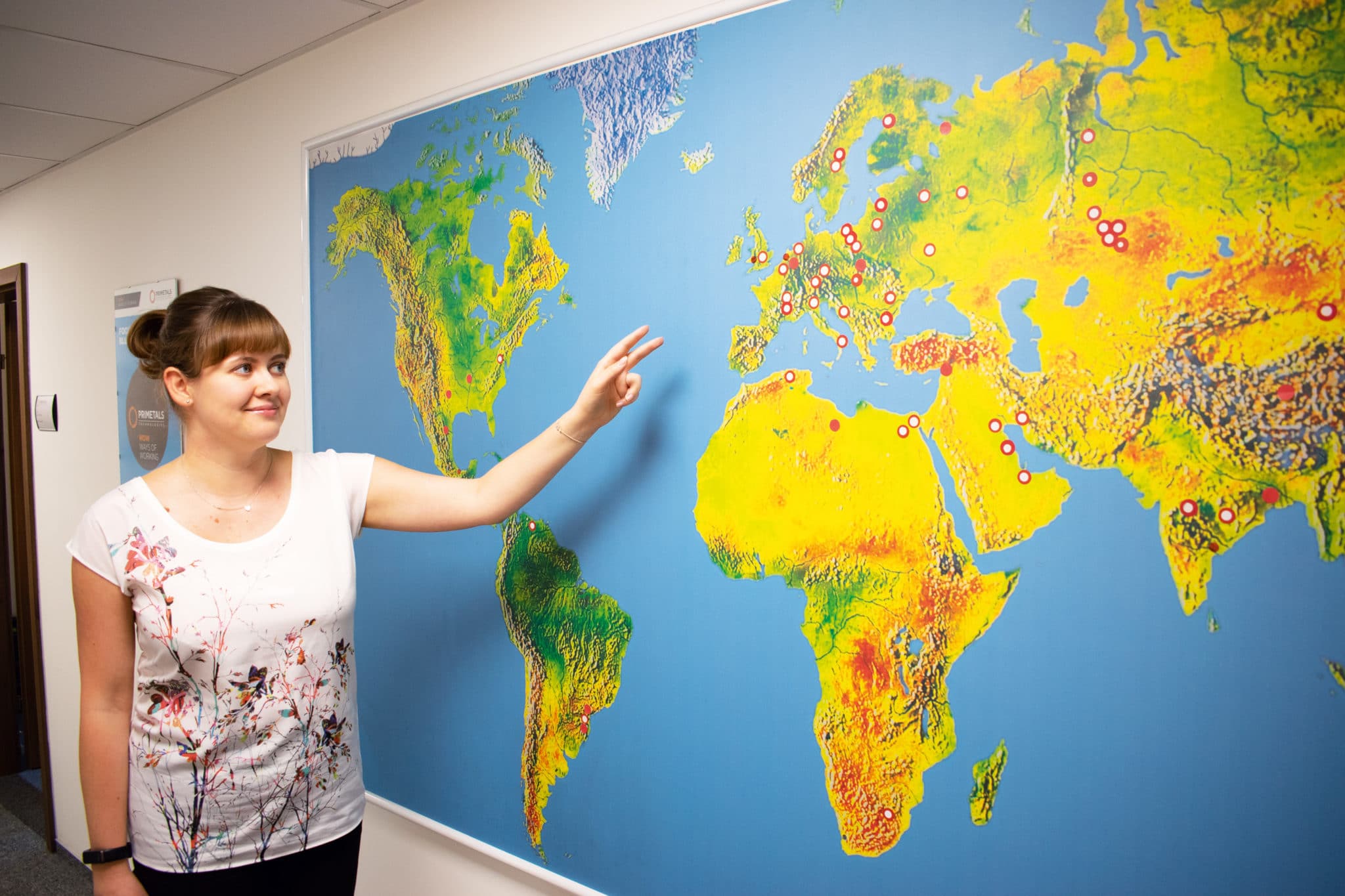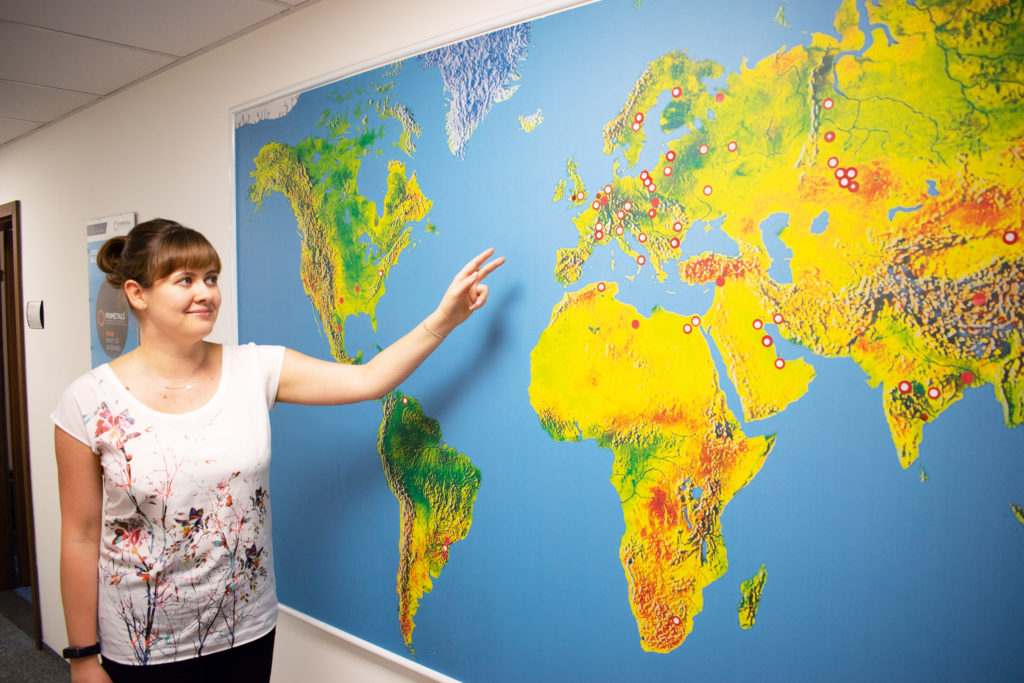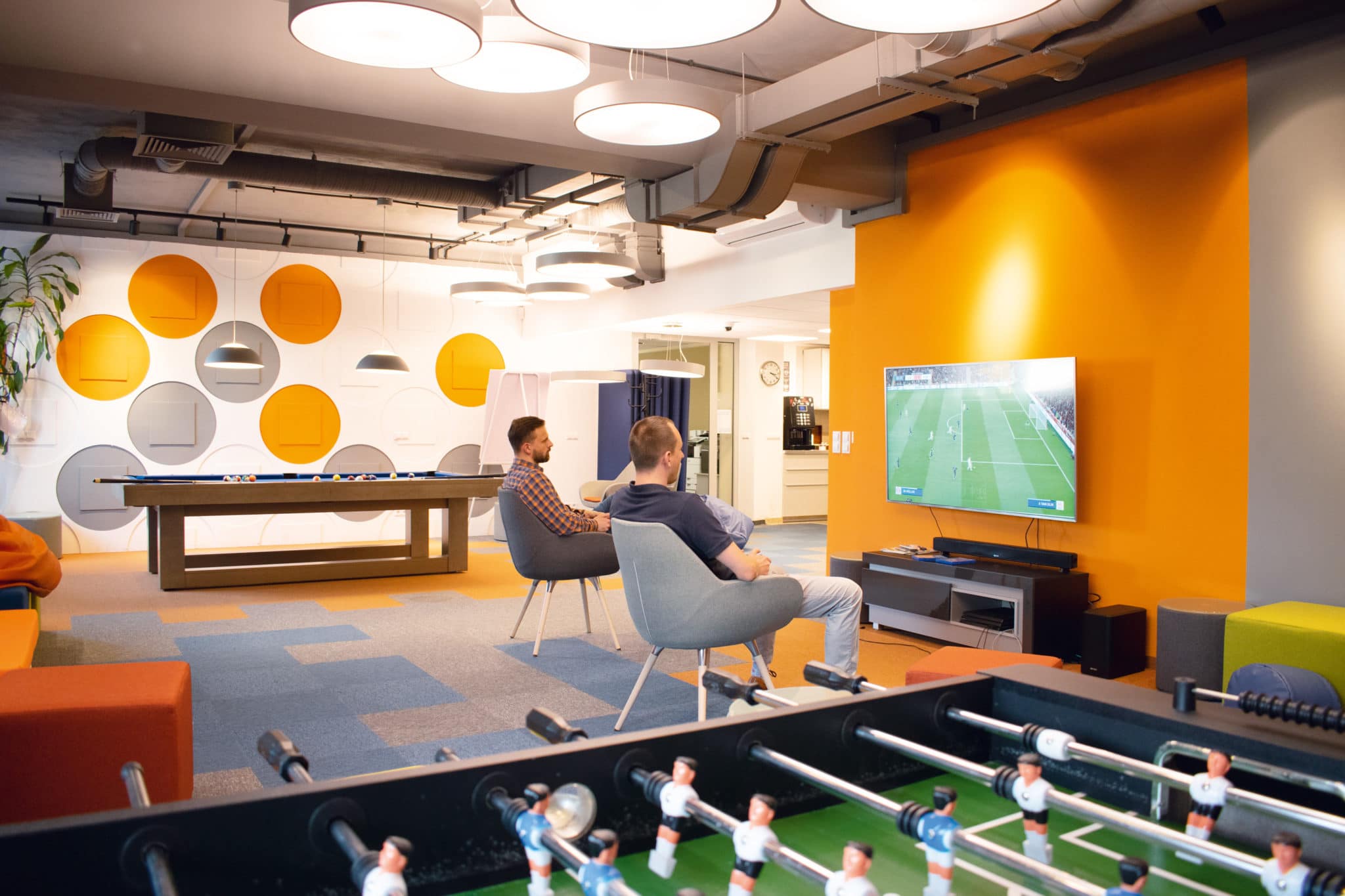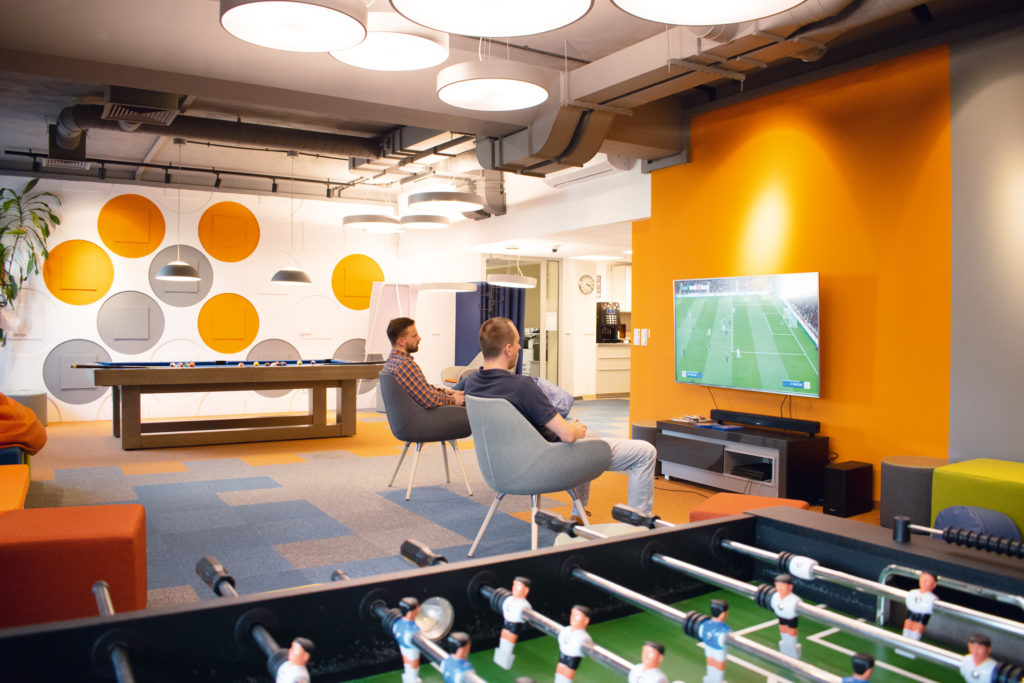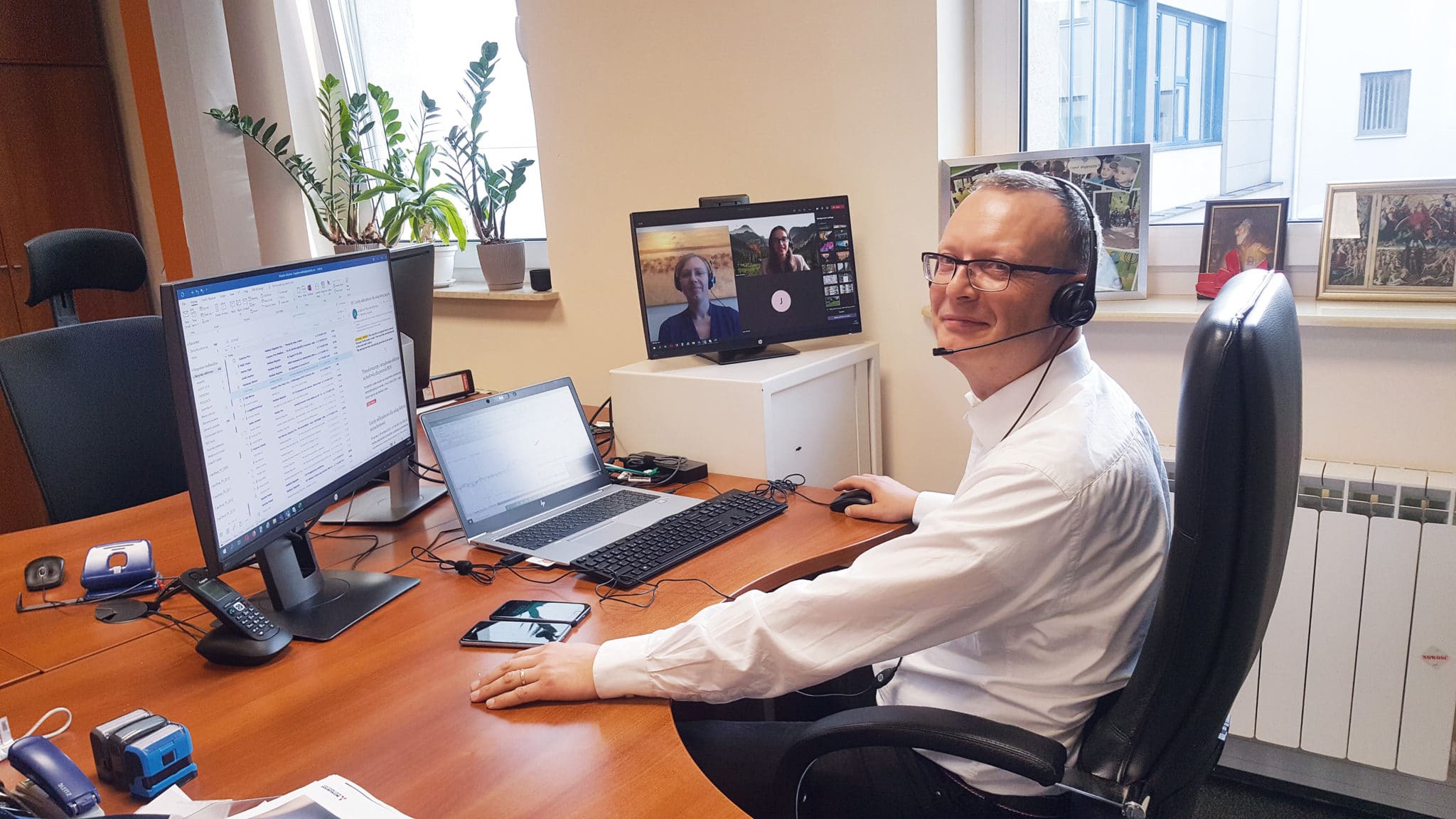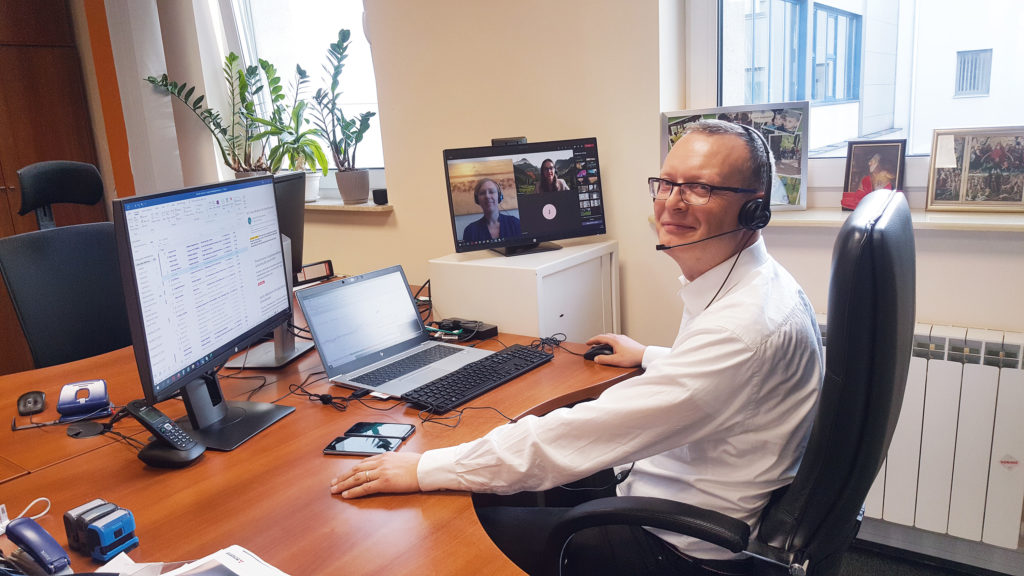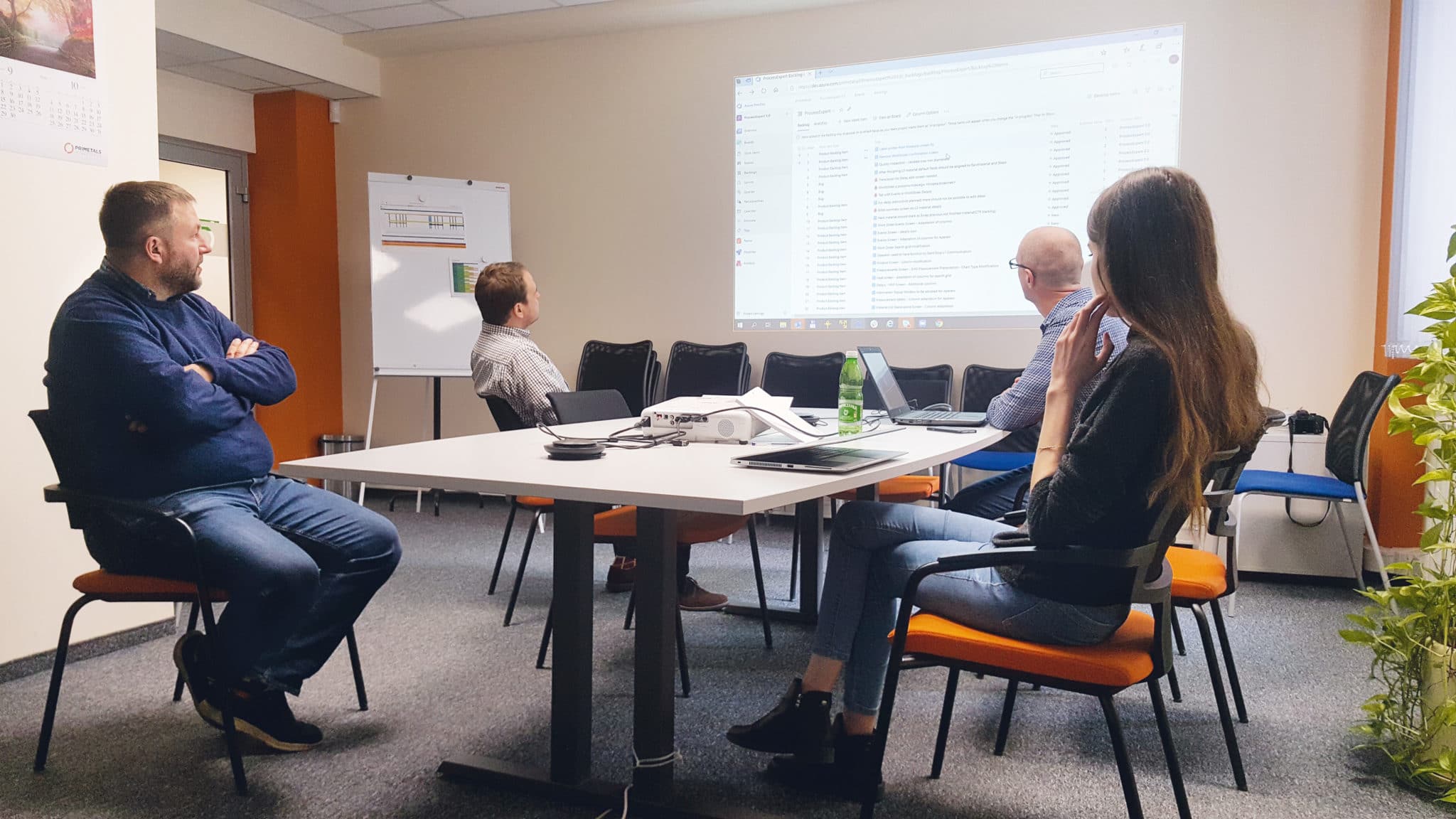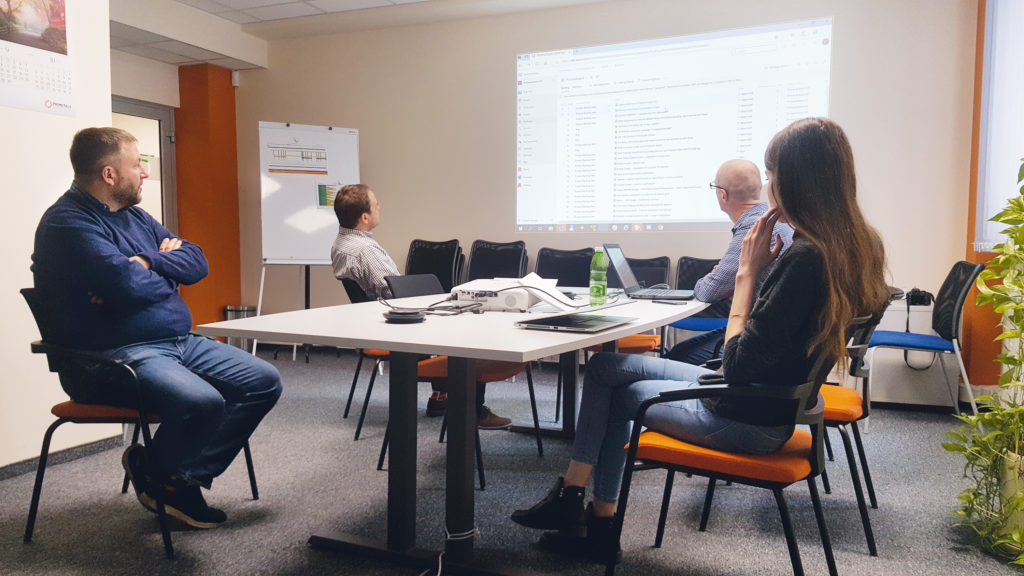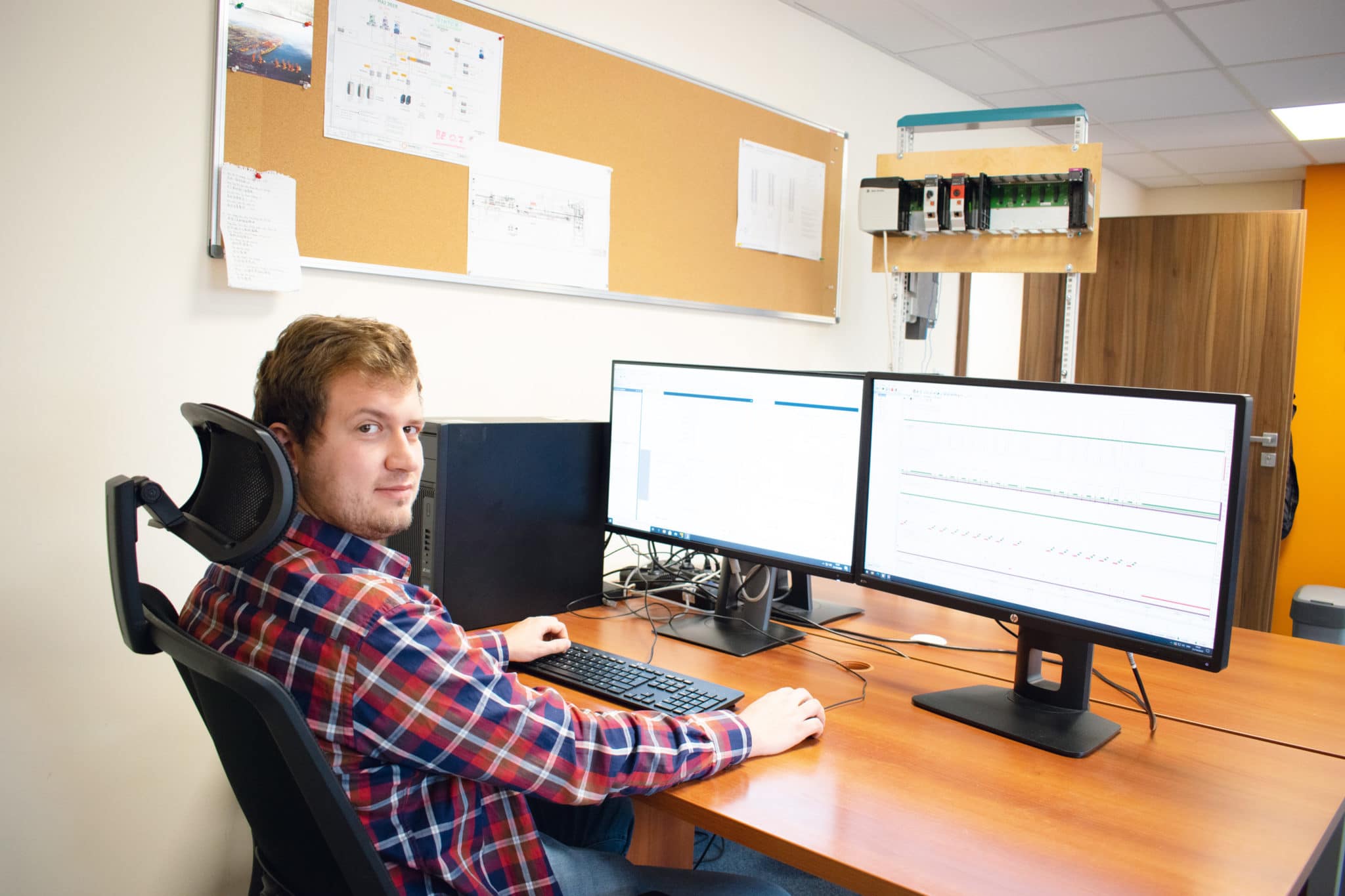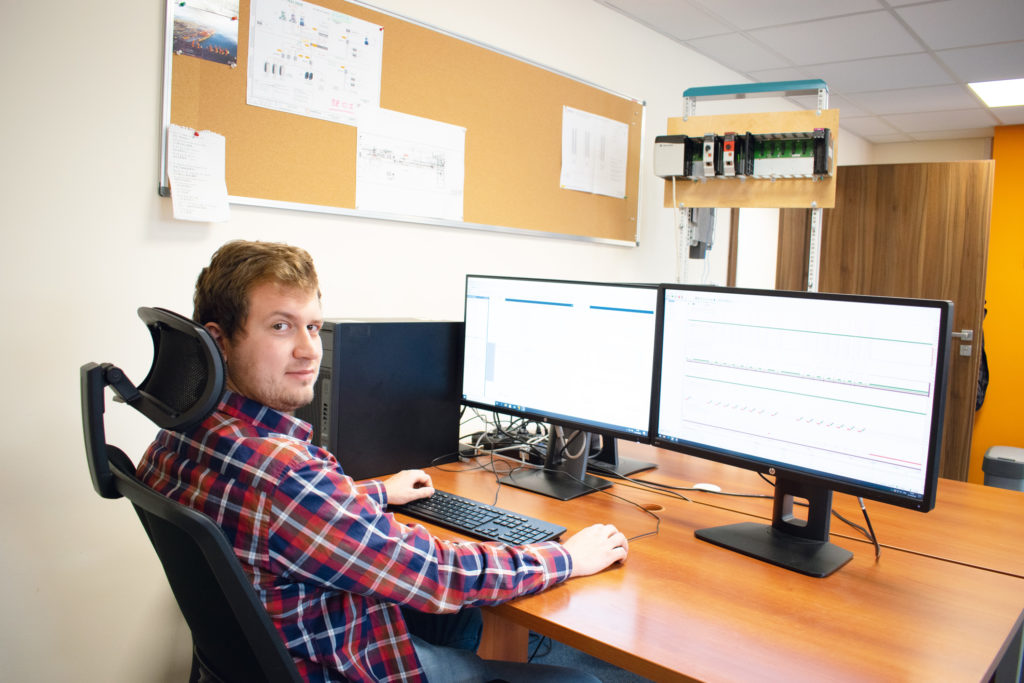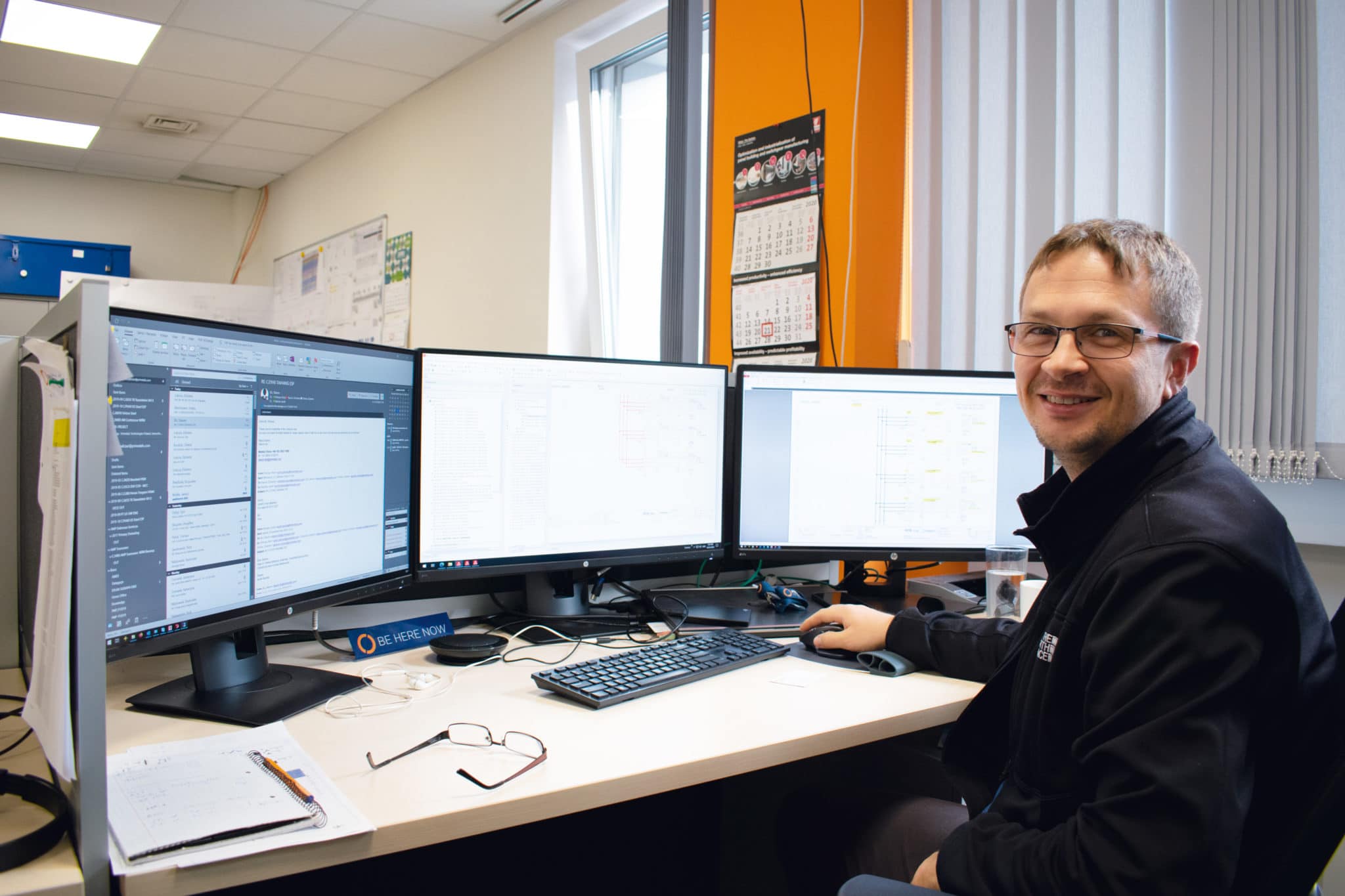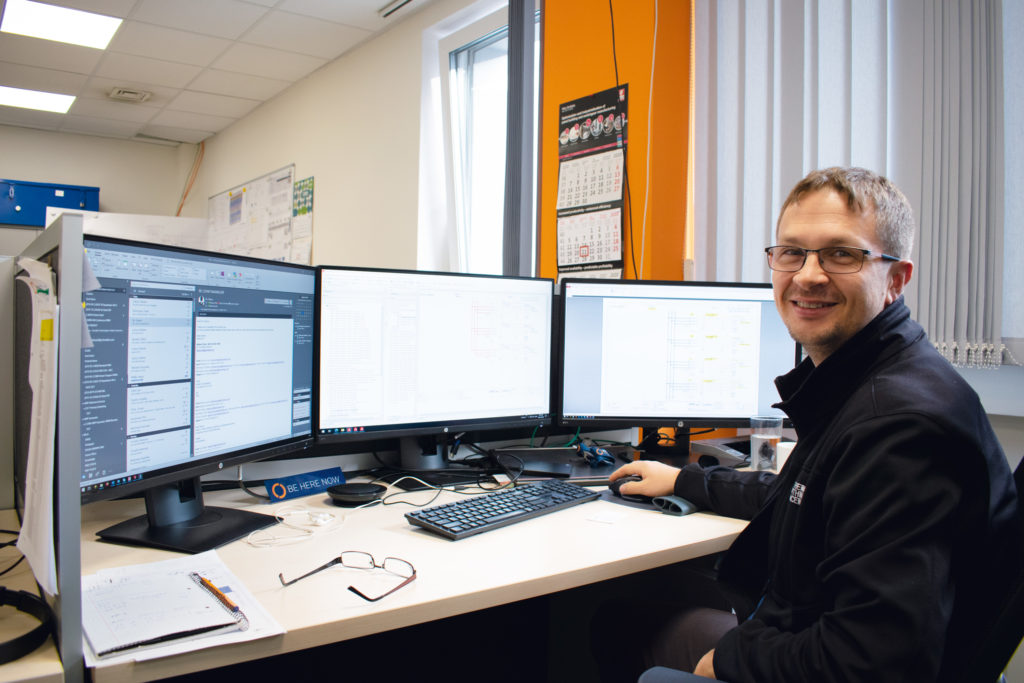 A global mindset
As we pass through the corridor, I notice a giant wall-mounted world map with many red-and-white stickers in the form of dots. "These dots indicate our project activity," Tomanik says. Europe, Russia, and China seem to dominate, but Egypt and Saudi Arabia are also getting a fair share of the company location's attention. The staff are visibly proud to have such an international footprint. This impression is soon confirmed by Dr. Niedbała, after we've said our hellos. "We do operate globally," he tells me, "which is why travel is so important to us—at least in normal times." 2020 has been an unusual year in many respects; the travel restrictions in several countries have meant that some projects had to be put on the backburner. "If you consider the current situation, we are actually quite busy," says Dr. Niedbała.
There are a couple of factors that have enabled the location to thrive despite the pandemic. "Our goal at Primetals Technologies Poland is to promote an agile environment," Dr. Niedbała explains. "People are allowed not to be boring. You can take on tasks that are not part of your job description. You can reinvent yourself. This is what keeps us fresh." I had been wondering why it was the CFO who introduced me to the company location, and now I understand. The leadership team strives to lead by example, and Dr. Niedbała simply took it upon himself to show me around when the need arose. "When we hire new team members, we make sure they are a cultural fit," he says. "If you want every day to be different from the previous one, you are the right person." This principle, he says, applies to most roles, but there are exceptions: "In some cases, it's also good to have stable specialists who build up expert knowledge over many decades."
What makes me
proud to be Polish…
Employees of Primetals Technologies share many passions, such as pioneering new solutions for their customers. But every location also has unique qualities. In this section, we catch a glimpse of what makes Poland so special.
I am proud that Poland has integrated well with the rest of Europe and that we are making our contribution to the future development of the continent."

Krzysztof Zątek
Head of Process Automation, Level 2, Downstream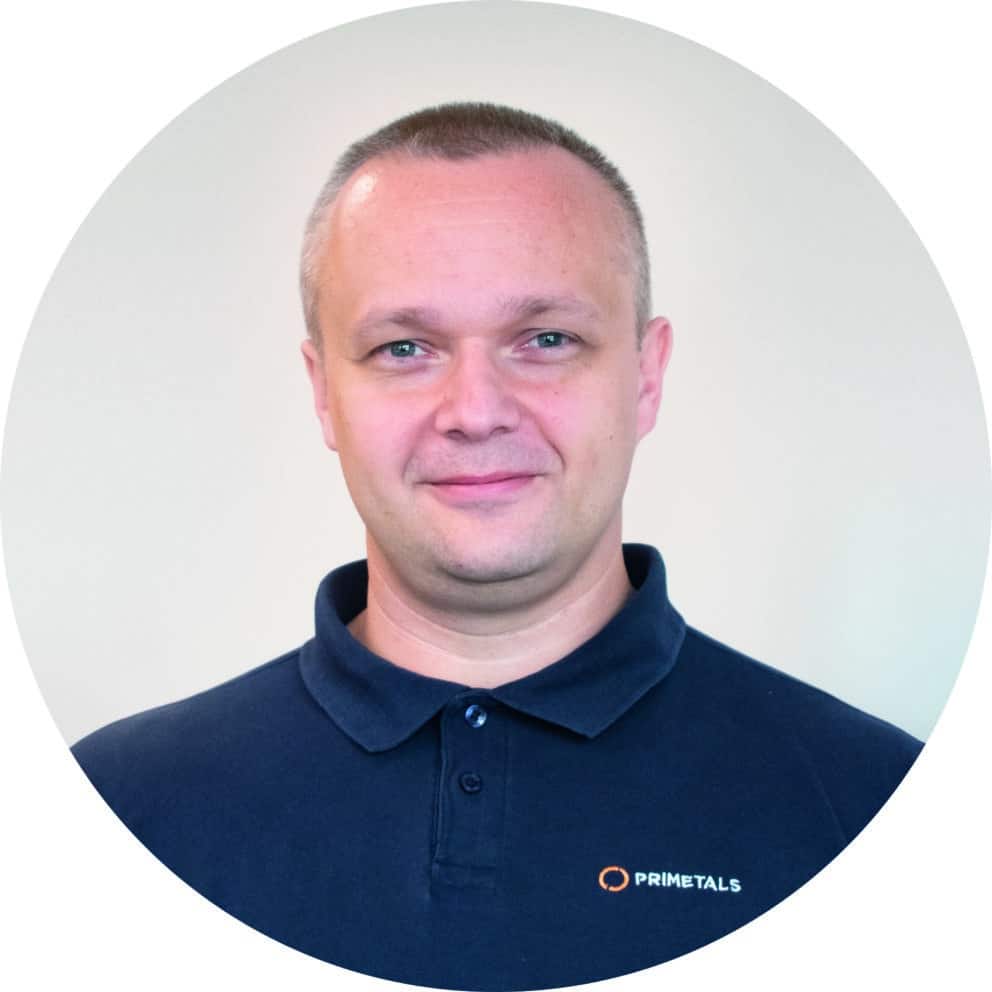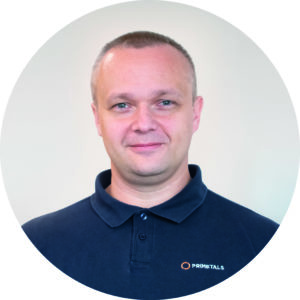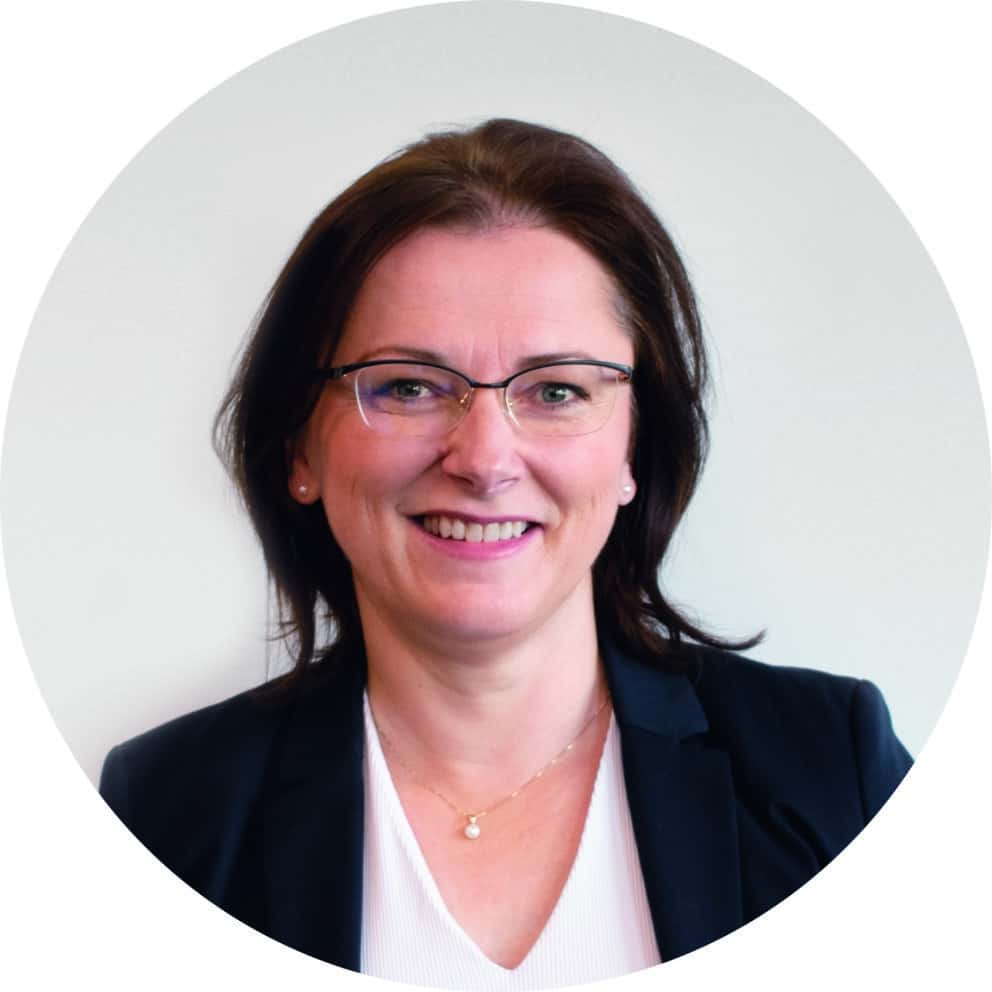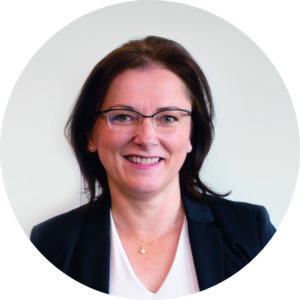 I have witnessed 40 years of change in Poland—from communism to the Solidarity union to the present time. How the Polish people have managed this transition is remarkable."

Elżbieta Łuksza
Delegation Manager, Human Resources
Nationality is something given to you by chance. I am proud of my achievements and those of my team, but this feeling does not necessarily extend to the wider nation of Poland."

Mateusz Natkaniec
Head of Process Automation, Level 2, Level 3, and PMS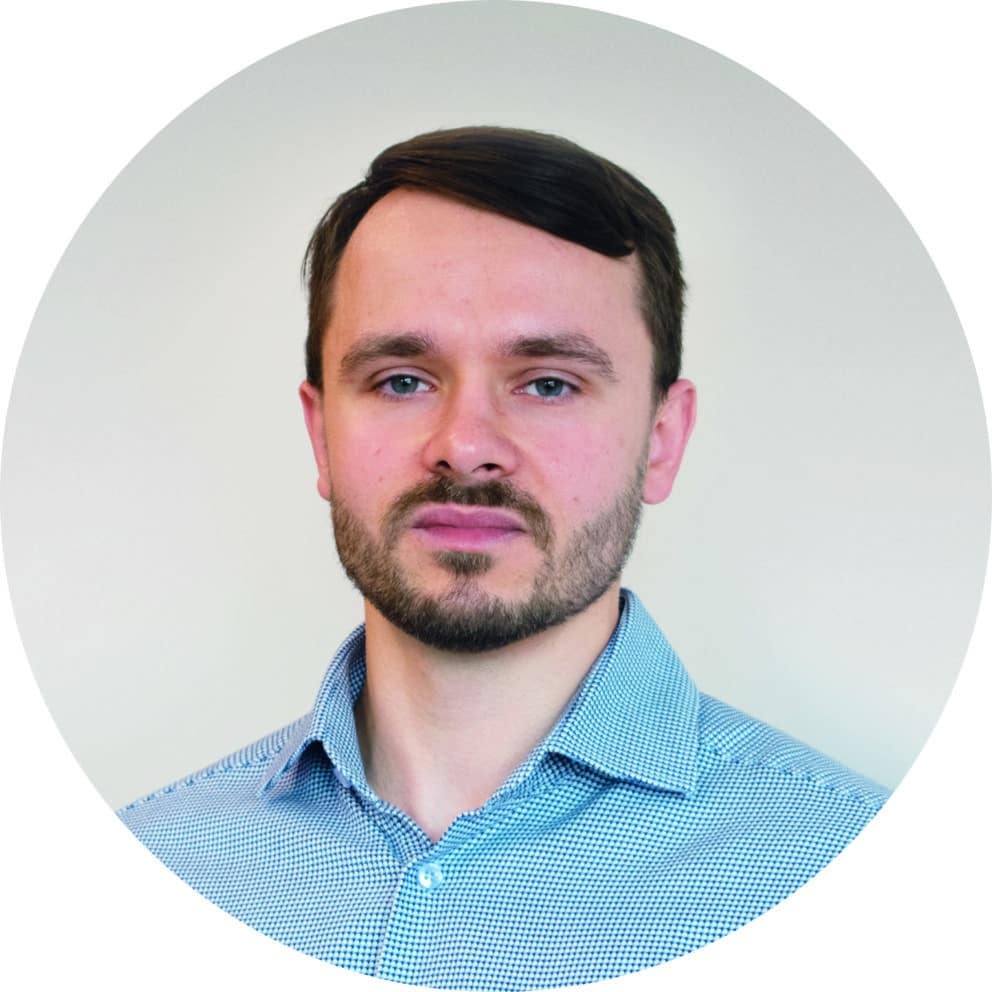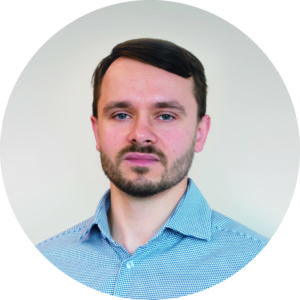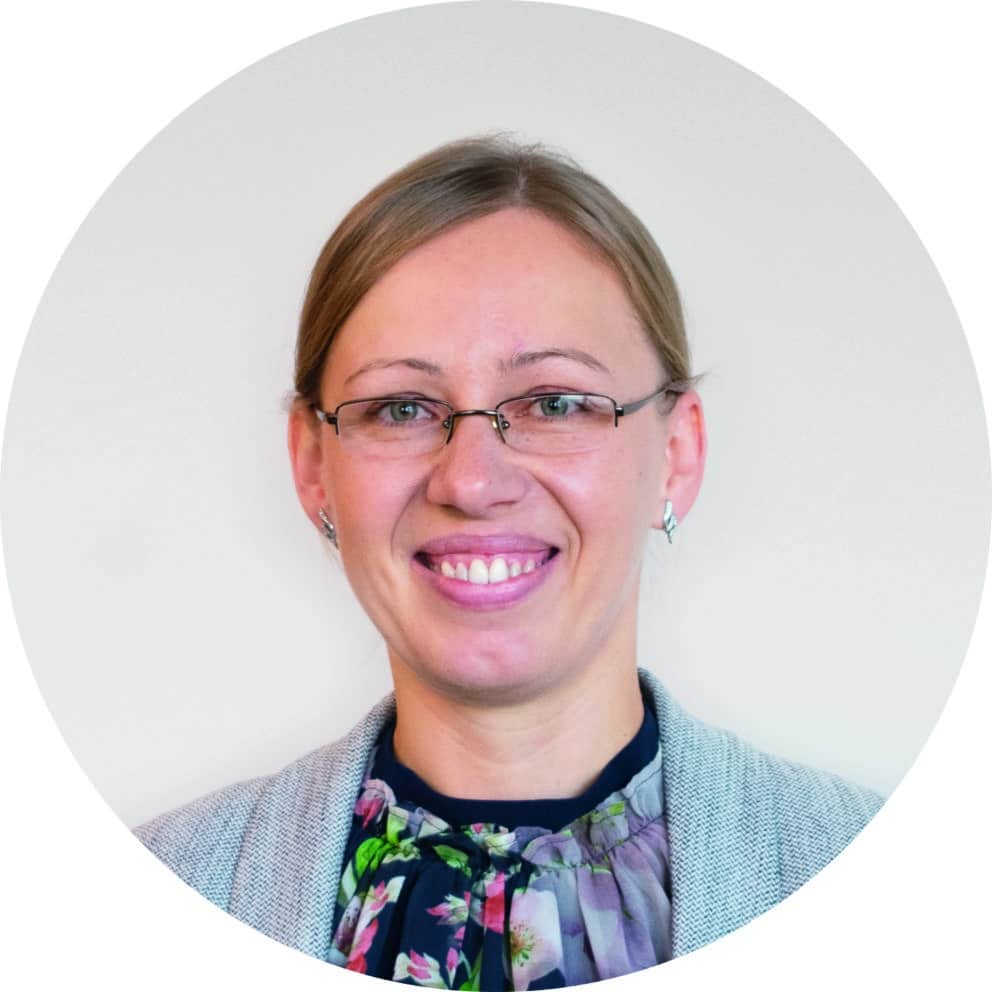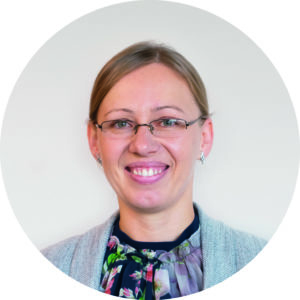 I am proud of the Polish people. We are well-educated and hard-working, and we have an entrepreneurial quality. Polish start-ups have won many competitions. I also adore our nature—from the forests to the Baltic sea."

Ewa Klamka
Head of Accounting, Financial Services
I think our nation was united under complicated circumstances. Despite our checkered history, the Polish heart has remained unbroken. The Polish people are quick to adapt to changes and capable of making the most of limited resources."

Szymon Hałat
Deputy Head of Melt-Shop Automation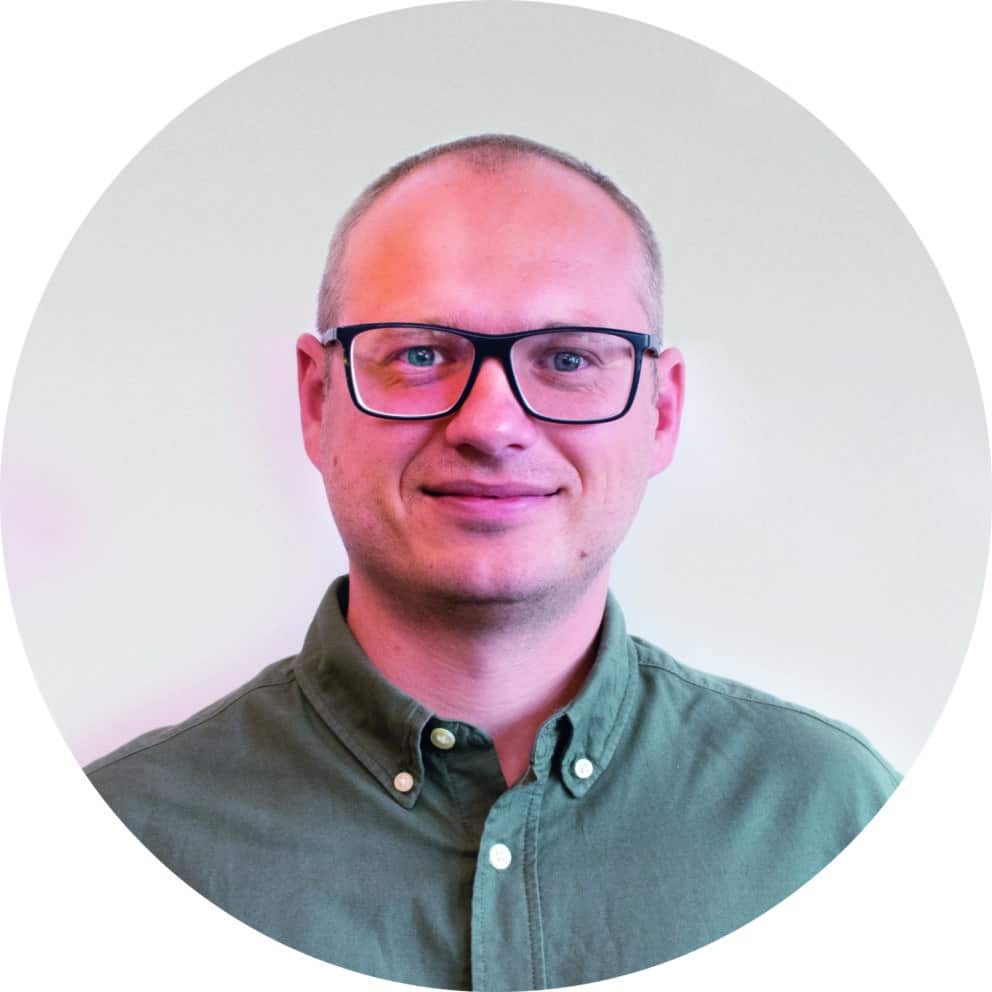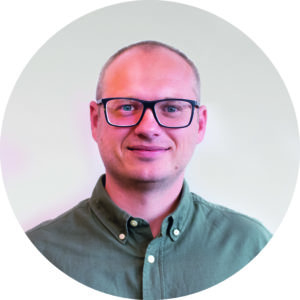 The power of agility
The word "agile" has many meanings at Primetals Technologies Poland. It not only encapsulates the working culture at large but also describes the way software is developed. Dr. Niedbała invites me to join a Scrum meeting, where a group of programmers is discussing changes to their code. The software in question is a process-automation system for long-rolling plants called "Process Expert"—it is one of the location's flagship solutions. New features need to be implemented, and there are some customer requests, as well. The objective of the meeting is to set the right priorities. About two thirds of the team are working from home and everyone in the room is social distancing. Although the meeting is led by the "Scrum Master," I can sense that there is no strict hierarchy and that everyone is on the same level, irrespective of their position in the company. It is part of the Scrum philosophy to encourage self-organization through an "agile management framework"—which means that it is less important how you achieve your targets, as long as you meet your deadlines and align with your team.
Much of the location's workforce is made up of millennials; at the time of my visit, the average age of the location's employees is 35. The atmosphere at the location is vibrant and dynamic. The location houses a recreational area, with a soccer and a billiard table, a dart board, two PlayStation systems, and super-comfy chairs. "When recruiting, we compete with many other companies in the IT sector," says Dr. Niedbała. "We found that we had to offer things like this gaming room, free coffee and soft drinks, and flexible hours to attract the best talent in town." He tells me that new employees react differently to the "panem et circenses" offering: Gen-Xers are genuinely surprised; millennials take these things for granted.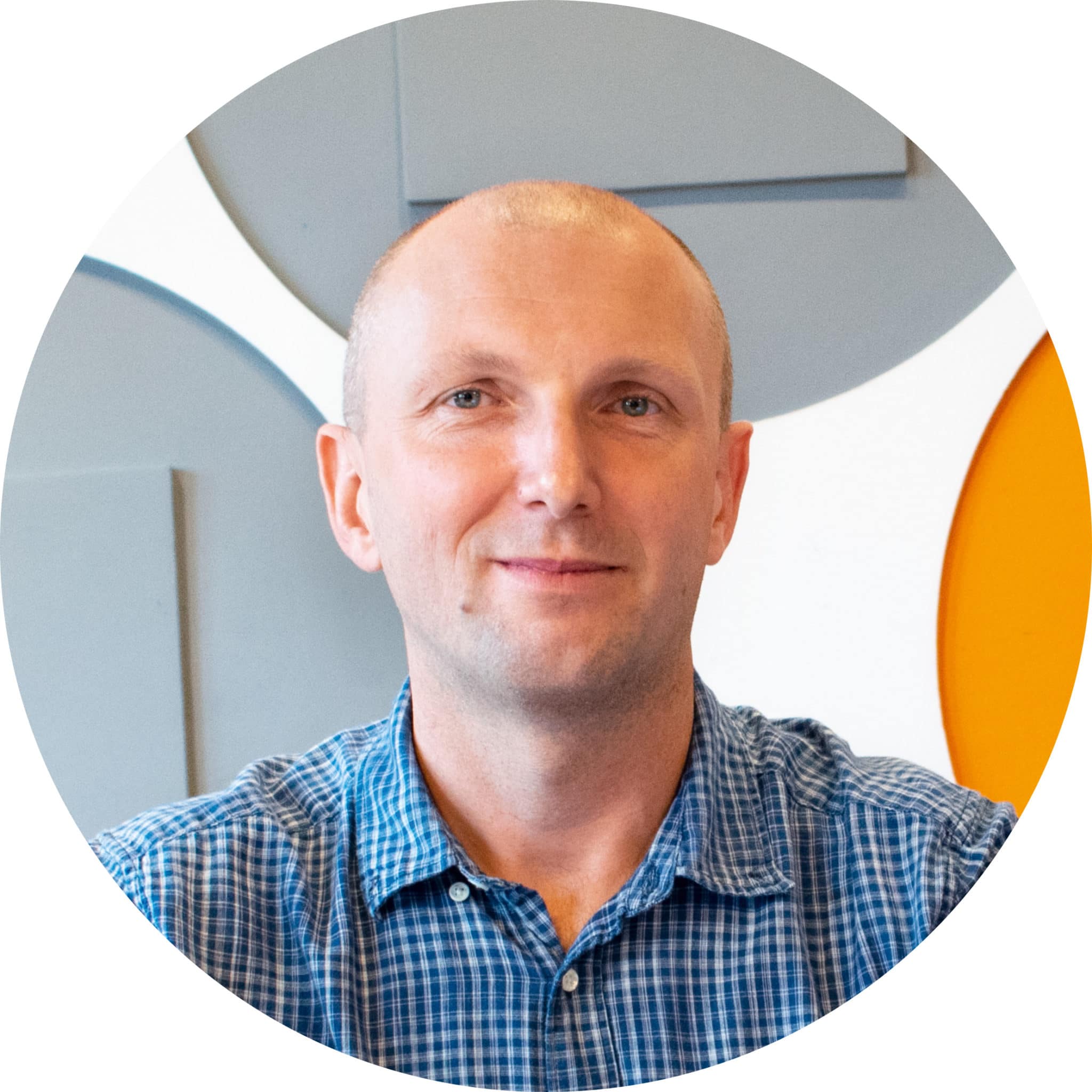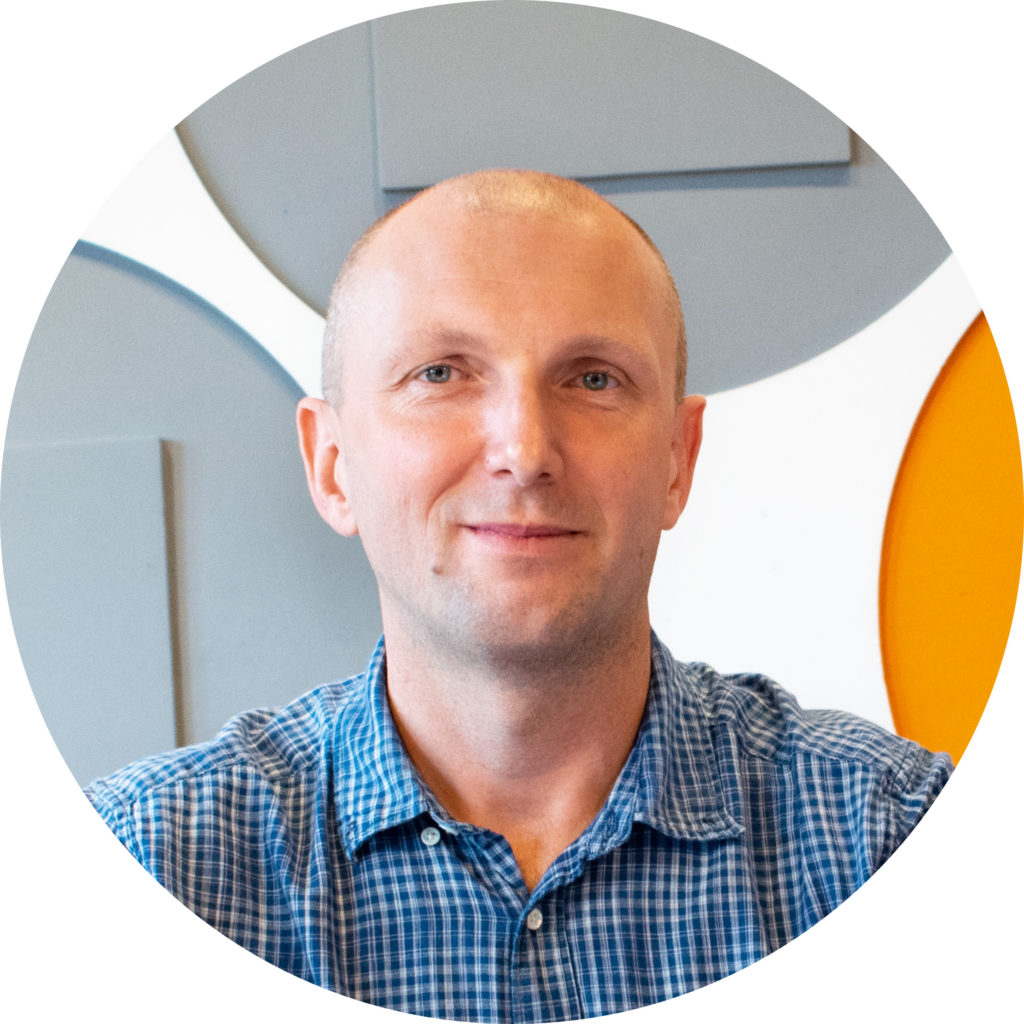 Interview with
Szymon Franczyk
Creating future-proof software solutions
Szymon Franczyk is one of Primetals Technologies Poland's drivers of innovation. He is a team leader in Level 2 automation.
Is there any innovation that you are particularly proud of?
Franczyk: That would be our Process Expert long-rolling mill automation solution. We wanted to design something that was going to be future-proof and easy to adapt for new customers. Process Expert is browser-based and has a modular structure, so that any modification of the code only involves one dedicated part of the software.
Are there any "tricks" you use to promote creativity and inventiveness?
Franczyk: I try to surround myself with people who volunteer new ideas or make innovative contributions by asking the right questions. They can be a true eye-opener. Also, our Scrum methodology is helpful in generating new ideas because you work your way backward from customer expectations; how you achieve these results is up to you, your team, and your collective creativity.
Is creativity something you are born with, or something acquired by training?
Franczyk: I have an 8-year old son, and from watching him I have come to believe that creativity is something you are born with. However, to nurture creativity, you need to make certain experiences and be given the right opportunities. You depend on the world you grow up in to give you the information you need to process your thoughts and ideas.
Experts in automation
The next stop on my tour through the company location is with Szymon Hałat, the melt-shop automation guru at Primetals Technologies Poland. Hałat has been with the company for 17 years, which makes him the ideal person to tell me about the future of Level 1 systems. "Self-diagnostic functions will become more wide-spread," he says, and assures me that eventually the "smart caster" will arrive in steel plants, with all the power of artificial intelligence under its belt. Just like his colleagues, Hałat embraces the philosophy of agility: "In all my years at the company, I have never done the same thing twice. There is always a new challenge, a new problem to solve. Our customers are working with different systems, different standards, and different targets in terms of the steel grades they want to produce." What was it that first got him interested in industrial automation?
"I realized that when I programmed Level 1 systems for steel-plant equipment, what I did on the screen was immediately translated into powerful movement inside the plant—one click on the screen, and the ladle turret started to turn. It was utterly exciting, and there was no room for error." His eyes light up as he talks about his very special software; I can tell that Hałat is a perfectionist, and for all the right reasons.
I then meet Mateusz Natkaniec and Krzysztof Zątek, both team leaders in Level 2 software development and Level 3 implementation, which implies that they not only oversee process-automation efforts but also the implementation of the production-management system (PMS) offered by Primetals Technologies. Both speak flawless English, especially Natkaniec. "I worked on-site in Pittsburg, Pennsylvania, for two years," he says. Has the Covid crisis changed people's minds and hearts in the global steel industry regarding the importance of digitalization? "Definitely, yes," he says. "Many things that seemed impossible a year ago have now become a reality." Krzysztof Zątek shares the same view: "Almost every aspect of our lives has become more digital, and this extends to our daily work with customers in the steel industry." Both men are conscious that it can be hard to explain the full potential of digitalization in metals production. "Many of our customers want to see working demos of our solutions to get an idea of their real-life impact," says Natkaniec.
Making a connection
My next stop is at the labs of Paweł Hammer and Piotr Pelczar, who work in the company location's basic automation departments. Hammer is busy writing code for programmable logic controllers, or PLCs, which are small, rack-mounted, scalable computers that can withstand the tough environments of industrial settings such as steel plants. Hammer says that most of his software first runs in emulation sandboxes and is thoroughly tested before it is "downloaded" into the actual PLCs. Walking around the lab, I notice Siemens and Allen Bradley PLCs. "We aim to support multiple platforms. It enables us to work with a greater number of steel producers, who often have legacy equipment installed," Hammer explains.
Piotr Pelczar has an equally interesting job. His work desk looks impressive with no fewer than three large-sized screens, which display something that looks like the blueprint of an electric circuit. "These circuits are my life," says Pelczar. Or at least a big part of it. I learn that there are European and American ways of drawing these designs, and that a major evolution has taken place: copper cables were replaced by Ethernet cables many years ago; these days, Pelczar relies on the Profinet standard for significantly greater reliability of data transmission. When he's not drafting new designs, Pelczar goes on site to help contractors with the installation. This usually takes place during, not after, the fundamental construction phase of a project and can take many months. "I used to spend about 80 percent of my time on site," says Pelczar. He now has a family and chose to cut his time abroad to 30 percent. "That is still a lot," I suggest. "Sure, but I like it," Pelczar replies enthusiastically.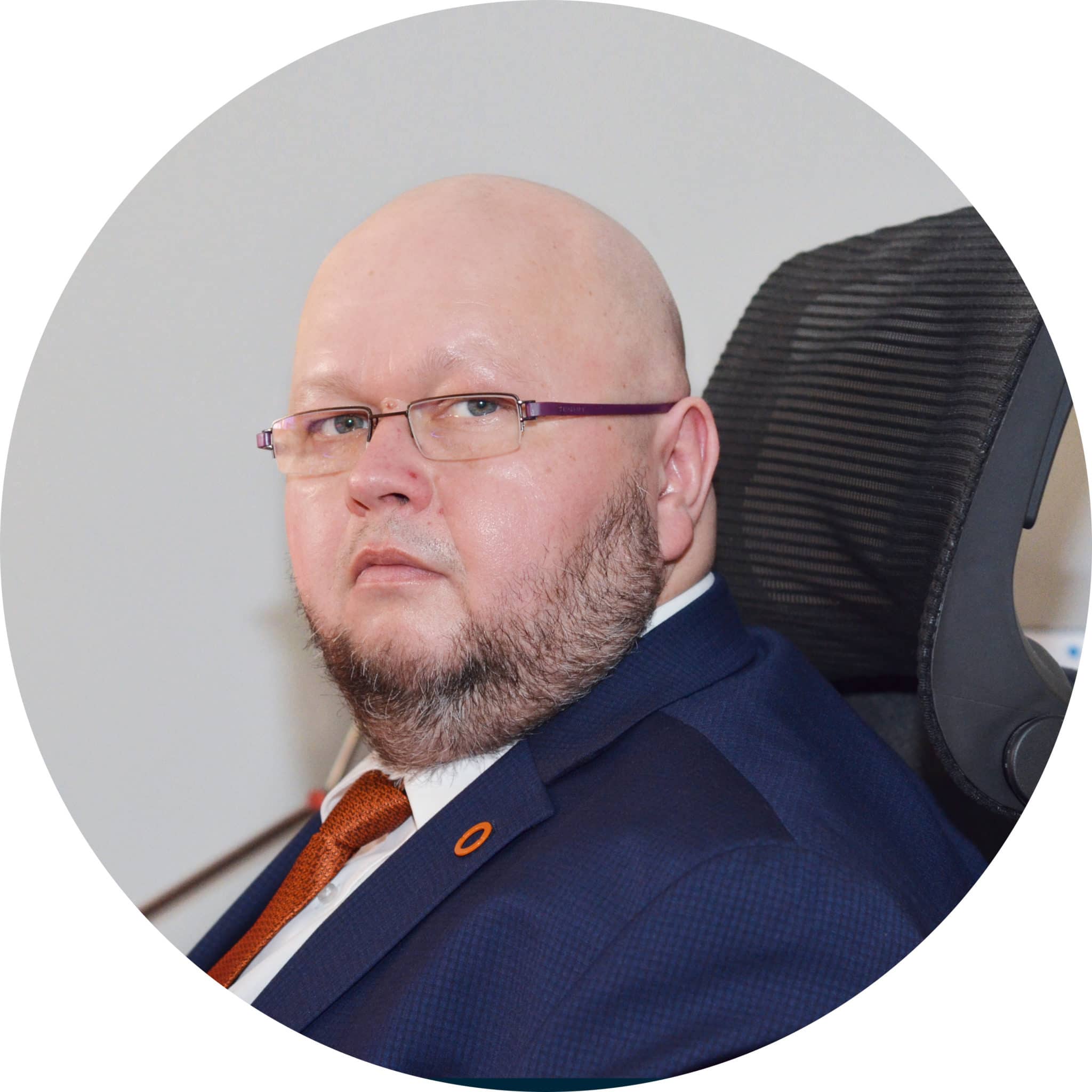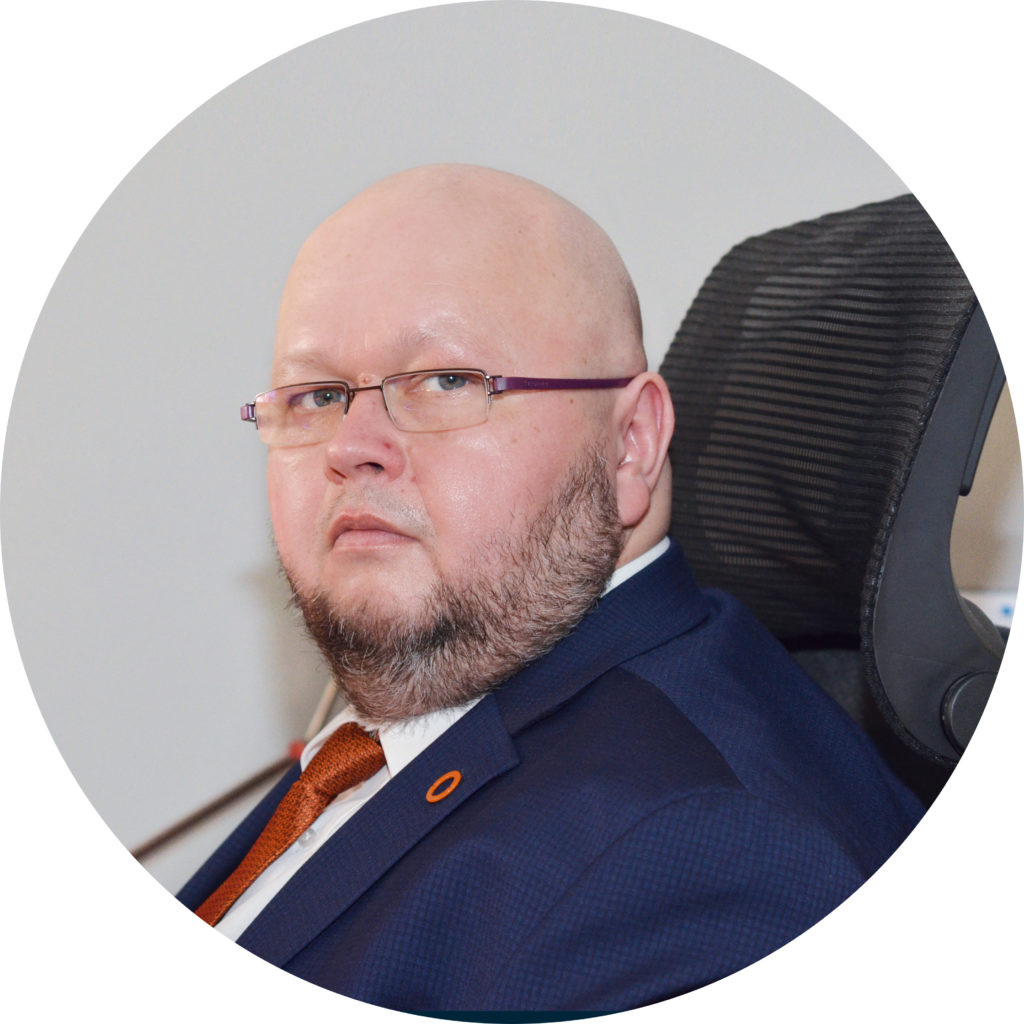 Interview with
Piotr Czupryna
Imagination without limits
Piotr Czupryna is CEO of Primetals Technologies Poland, which comprises the company locations in Cracow and Rzeszów, both in southern Poland. Czupryna has been with Primetals Technologies (and predecessor companies) for 22 years. In his role of CEO, he has doubled down on the entrepreneurial spirit of the Cracow company location, extended its portfolio, and worked toward a truly global footprint. With 400 references worldwide, Czupryna and his team continue to push the limits.
When did you join Primetals Technologies?
Czupryna: It was April 1998, when I was still at university. One of my professors told me about a company in Cracow that was developing a software solution for the steel industry and who were looking for young people, willing to travel, with knowledge of English, and good software skills. I knew a lot of people at the time who were joining new, fast-growing software companies in Cracow, and they were earning well, so seeing it as a good opportunity I decided to apply.
So you were looking for more than just a desk job?
Czupryna: The opportunity to travel, to visit new places, and to meet people from all over the world, was extremely tempting—despite the picture I had in my head of steel plants being dirty, dusty, and noisy places. Somehow I found the steel plant to be more attractive than the sterile environment of a programmer's office. After I joined the team my first project involved a continuous casting line in China. In November of 1998, I found myself on site in Hangzhou in Zhenjiang Province, China, a city described by Marco Polo as heaven on earth. I found it wonderful.
How would you describe the wider agenda of the Cracow company location?
Czupryna: From the very beginning, the Cracow organization had two main goals: to service the market in Poland for the parent company, and to provide high-­quality engineering resources in the area of software engineering for global large-scale projects. I added two more dimensions—we started to offer our own portfolio elements to steel producers worldwide, and we became a hub for higher-level software development within Primetals Technologies.
How would you describe the current situation in the Polish steel industry?
Czupryna: Like everywhere else in the world, steel intensity is falling—perhaps not as quickly as in Western Europe—, and as a consequence of environmental considerations and increasing labor costs, production has become more expensive. Our customers here in Poland are struggling to balance cost-effective production against keeping their carbon footprint to a minimum, while also supplying increasingly sophisticated products. The installed capacity of their plants is higher than their production figures.
What's the outlook for the global steel business?
Czupryna: The market as it currently exists will begin to shrink as steel production drops on account of falling steel intensity. Having said that, there will be a new market driven mainly by decarbonization, digitalization, the development and manufacture of advanced steel grades, and the optimization of the production process. Other factors include the transformation of global supply chains, governmental initiatives and regulations, as well as new green-production technologies.
Are there any technologies beyond metals production that intrigue you?
Czupryna: I'm fascinated by information technology, because it has had such a massive and far-reaching impact. I'm expecting to see some innovative developments in thermonuclear fusion, as well as the growth of hydrogen in the automotive and industrial sectors.
In your view, what are the limits to innovation?
Czupryna: There are none. If something is physically possible, it will be realized one day.
From Poland to the world
Before I sit down with the leadership team to discuss my impressions, I have a chat with the administrative staff. Elżbieta Łuksza is the location's delegation manager. She knows all about international travel, and it is not hard to guess that Covid-19 has made her job even more, well, interesting. While speaking with her, I finally understand something that I've been noticing during my time in Poland, but was unable to put into words. Where does the Polish entrepreneurial spirit come from? What are the roots of this unique mix of optimism and realism? "I was 18 years old," Łuksza explains, "when communism ended. I still remember the empty shops and the desolate buildings. We went from communism to Solidarity to the here and now, and I am so proud of what we achieved as a nation." It is part of the Polish mentality not to be burdened by the country's checkered history; rather than wrestle with it, the Poles embrace their heritage and make the most of it, with considerable bravery, confidence, and determination. They focus on the future, on the possibilities, and on how to make a difference in this world. And for the world of metals production, I can't help but feel that Primetals Technologies Poland is doing a lot.
My concluding meeting with CEO Czupryna and CFO Niedbała allows me to put my observations into context. The location was founded in 1992, and just like Poland itself, underwent several transformations. In recent years, the team successfully entered new markets: while collaborations with other Primetals Technologies entities remain crucial, the location now also executes its own projects. This development was an important contributor to overall growth—and in recognition of the location's business strategy and success, Primetals Technologies Poland was awarded the "Gazela Biznesu" by Polish business daily "Puls Biznesu." Over time, the location has accumulated more than 400 references all around the world and has grown to a head count of 95. "It is our ambition to think globally," says Piotr Czupryna. "What I appreciate about the steel industry is that it is much like a worldwide family, where you are rewarded for networking and for sharing your experiences with others."
As I leave Kraków, I begin to think about how best to tell the story of the company location, how best to convey what the staff and the management team care about most. It strikes me that I learn so much about leadership on these trips—and about the extent to which mentalities and mindsets translate into everyday work practices. I remember something Dr. Niedbała told me in the recreational area—the room with the billiard table and the PlayStations. "As leaders, we have to balance 'doing the right things'—making strategic moves—with 'doing things right'—ensuring smooth business operations," he said. "We must do both to enable everyone at Primetals Technologies Poland to stay agile, to collaborate, and to be open to the change that may become necessary to pioneer the future of the company." As I accelerate to 140 km/h, the voice on the radio tells me that the Czech Republic has just gone into lockdown. Would Austria follow suit? Would I get home okay? In times like these, "doing things right" may not always be easy. But it matters that we try. And that we stay agile.
Experiencing the city of Kraków
and the spirit of Poland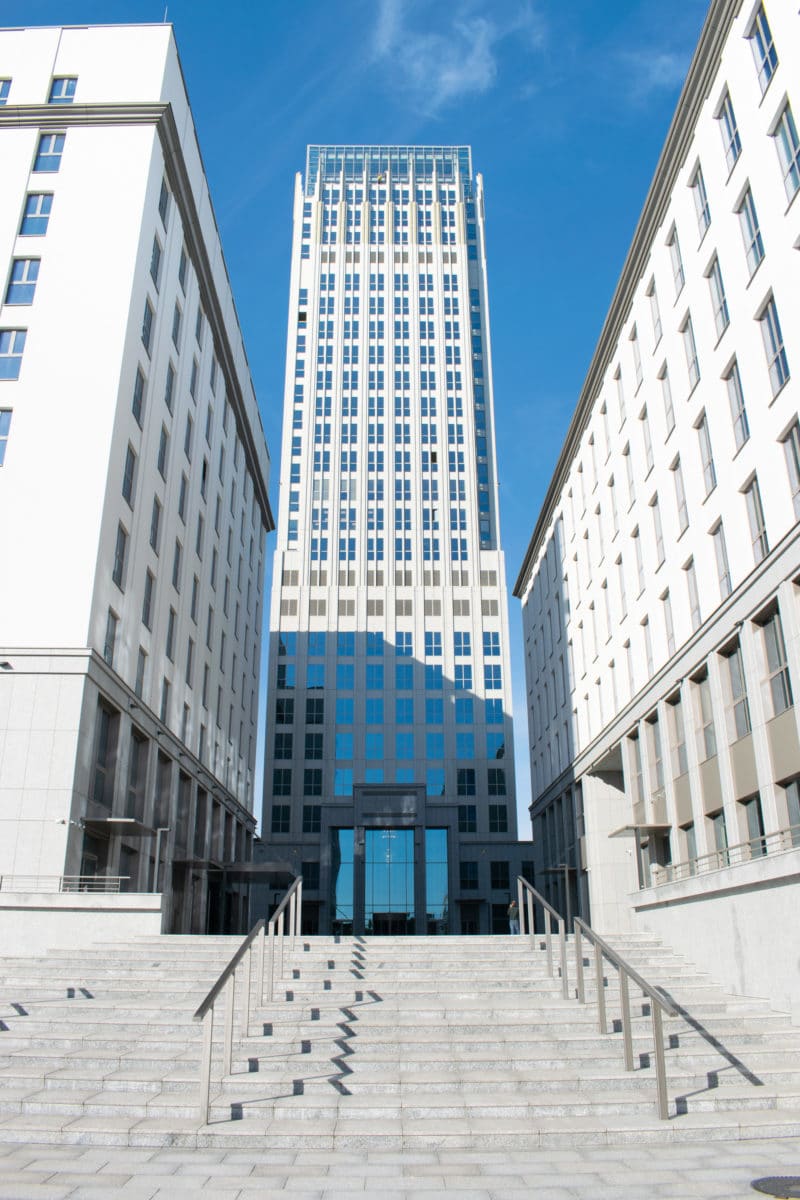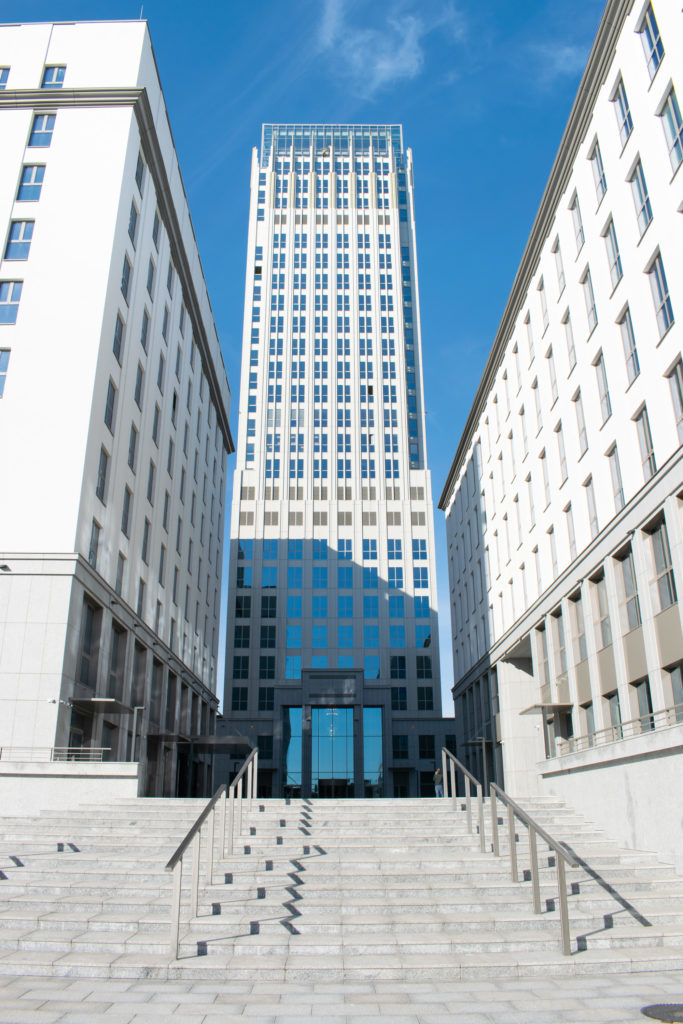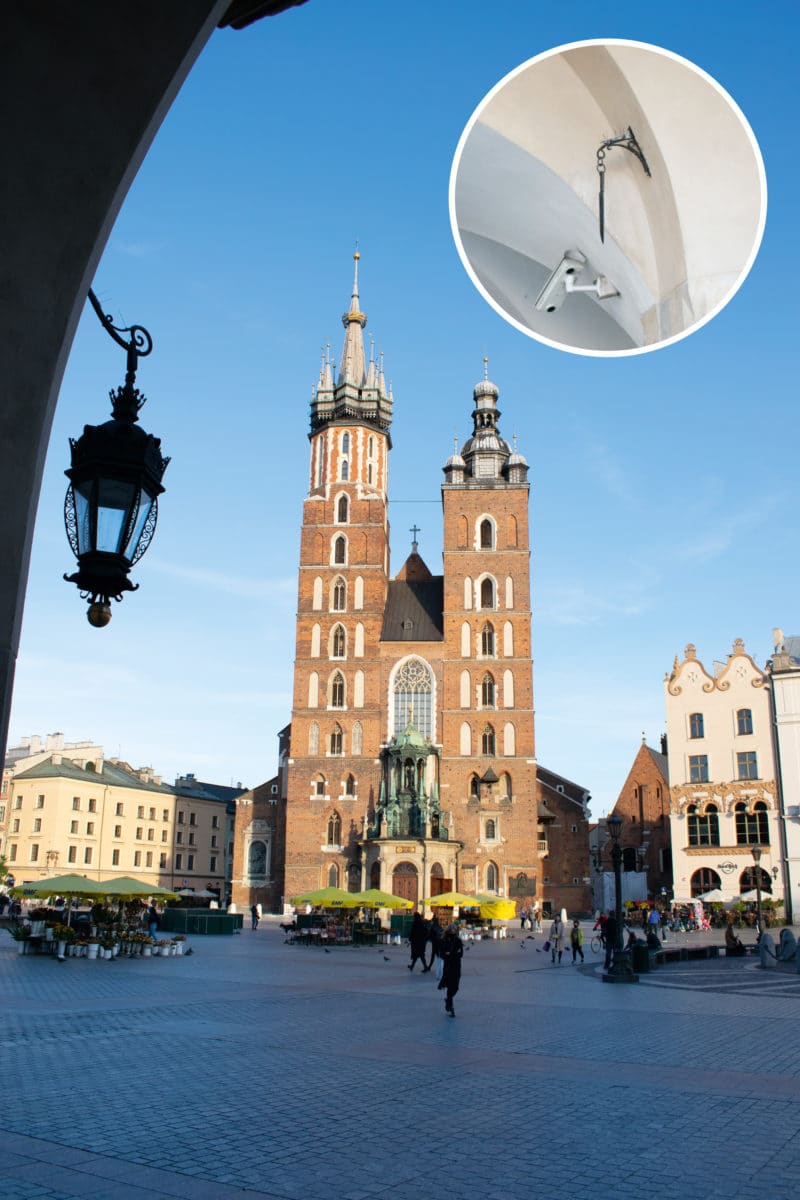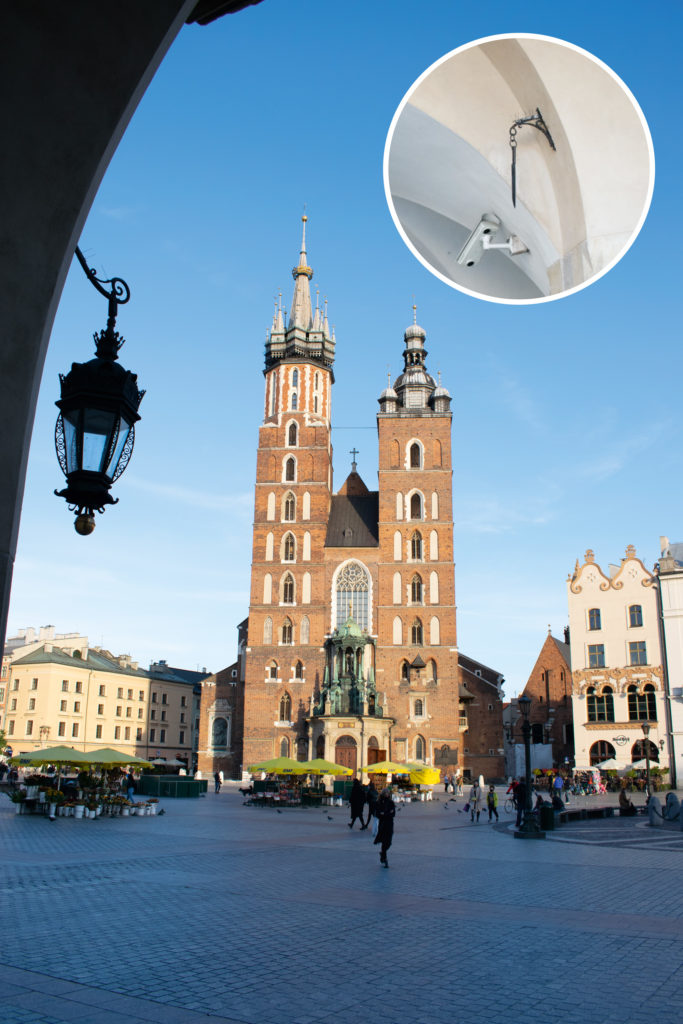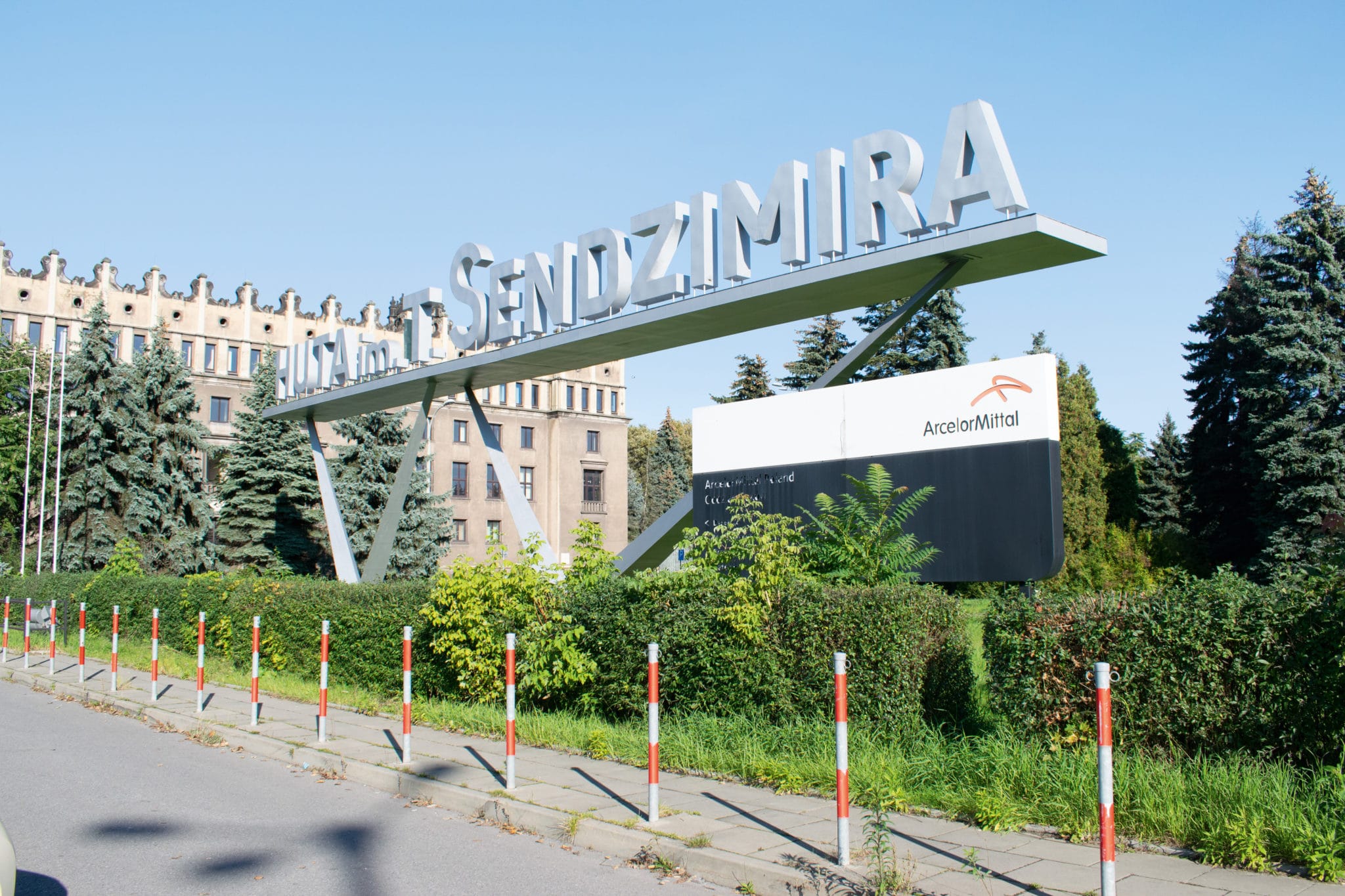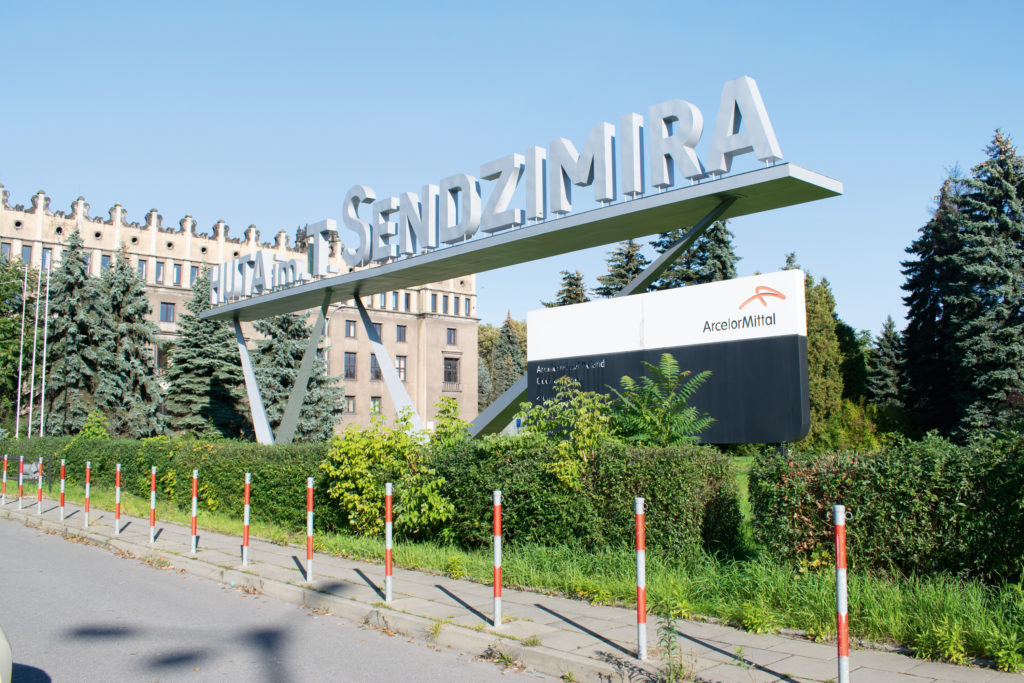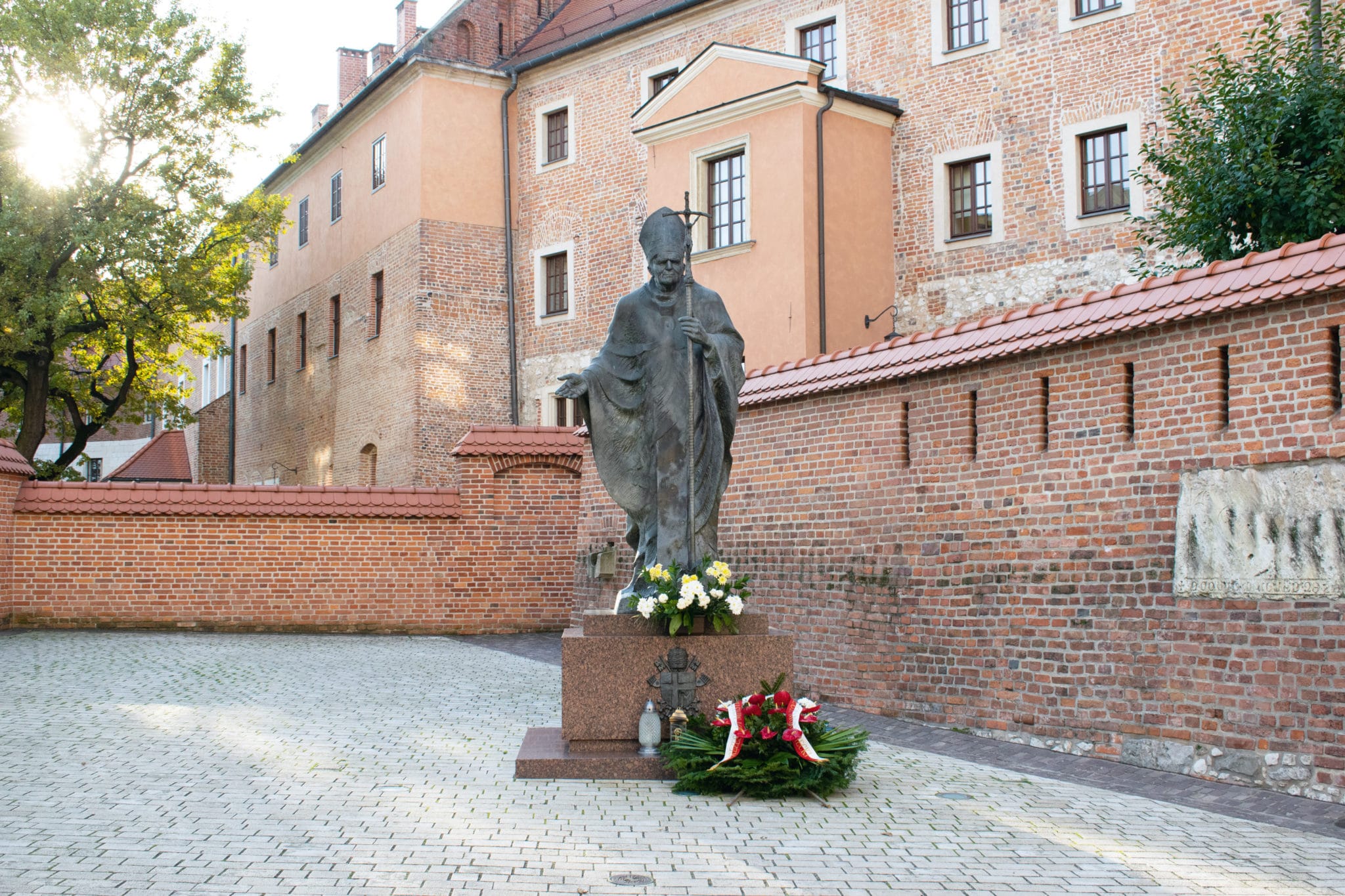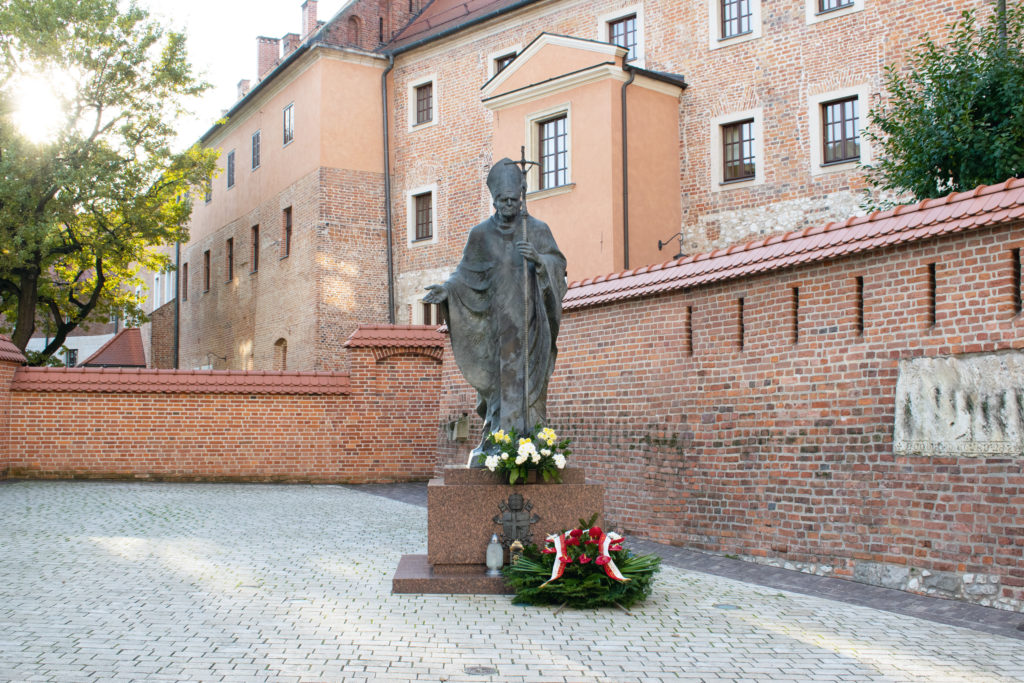 MORE INFORMATION

Covid-19 disclaimer: We followed strict hygiene and social distancing protocols in the creation of the article.