At Primetals Technologies, we constantly strive to pioneer new and groundbreaking solutions for the steel industry. We work with passion, inspired by our close partnerships with steel producers from all around the world. Another source of inspiration are the great pioneers that have come before us—innovators who have made a profound impact on the way we live and changed the course of history. In this series, we look at the life, the challenges, and the achievements of some of the most outstanding pioneers of all time.
The time is just after midnight on May 4, 1975. Without warning an avalanche sweeps through Mount Everest's Camp II at 9,000ft, burying the team of 15 mountaineers and six Sherpa guides as they sleep in tents. Crushed beneath four other members of the team and briefly knocked unconscious, Junko Tabei is rescued by Sherpas from a neighboring tent and revived. It is days before Tabei can walk normally again. Undeterred, she collects herself and forges on into the death zone—alone except for her Sherpa—, reaching Everest's south summit twelve days later. Dealt yet another hand of uncertainty on discovering a narrow icy ridge that forms part of the border between Nepal and Tibet—and flanked by spine-chillingly vertical 15,000-foot drops—Tabei finds herself on the brink of a decision that will cement her place in history.
Junko Tabei (pronounced tah-bay-ee) would have been no stranger to teetering on the precipice, having spent most of her life treading the knife-edge between inequity and emancipation. In 1970s Japan, men were the undisputed breadwinners; even working women were considered little more than tea ladies, while promotion in the workplace was inconceivable. Which makes it all the more remarkable that housewife Tabei—who was frequently told she should be "raising children instead"—managed to find enough sponsorship to fund an all-female expedition to the summit
of Mount Everest.
My impression of Tabei is one of strength, clear-mindedness, and determination. She believed in a person's will to succeed, and that all goals are achievable one step at a time."


Helen Y. Rolfe
Co-Author of "Honouring High Places"
DID YOU KNOW …?
… that around 75% of Japan is mountainous and the country has produced several world-class alpinists, including Yuichiro Miura and Ken Noguchi.
… that on November 19, 2019, a Plutonian mountain range was named in Tabei's honor: Tabei Montes. It follows the naming of land features for Sir Edmund Hillary and Sherpa Tenzing Norgay, Hillary Montes and Tenzing Montes. New names of features on Pluto honor historic pioneers who crossed new horizons in the exploration of the Earth, sea and sky, according to the International Astronomical Union (IAU).
… that the 4ft 9ins Junko Tabei was a housewife and mother of a 3-year-old daughter at the time of her Everest ascent, and by the time of her death had scaled the highest peaks in more than 70 countries.
… that the death zone is the point above 8,000 meters where there is insufficient oxygen for humans to breathe.
… that it was so difficult to find sponsorship for the Everest expedition that, to save money, Tabei's Ladies Climbing Club fashioned waterproof pouches and over-gloves from recycled car seats and made their own sleeping bags. Tabei also worked as an editor and taught piano and English to further subsidize the expedition.
Defying the stereotypes
Tabei was stigmatized as a weak child, with no sporting prowess and a susceptibility to regular bouts of pneumonia. Nevertheless, a passion for mountaineering was ignited on a primary school climbing trip to Mount Nasu, aged just 10. Captivated by the rocks, the landscapes, hot springs, and alpine smells, it was a revelationary trip that changed Tabei's life and made her even more hungry for the kinds of physical experiences that were only possible outside of the classroom.
While studying English literature and education at Showa Women's University in Tokyo, Tabei became envious of a group of male students who were members of an alpine club. Inspired by her experiences at university and to a large extent driven by the way she had been treated by male climbers, some of whom believed Tabei was only looking for a husband, she founded the "Ladies Climbing Club" (LCC) in order to realize her dream of taking an all-female team of climbers to the Himalayas. Unprecedented in Japan, the club got off to a rocky start: at the time it was mandatory for any climbing club with aspirations of trekking the Himalayas to be a registered member of the Japan Mountaineering Association, and it took more than one application before the LCC was accepted. Once approved, though, it allowed the club to make the groundbreaking 1970 Annapurna III expedition in Nepal.
Bolstered by the success of Annapurna III, the LCC then set its sights on Mount Everest. Inevitably, the male alpine community at once declared the expedition impossible. Not only was the club forced to work relentlessly to obtain a highly restricted climbing permit for Everest, but Japan was also going through the oil shock of 1972/73 that hit the economy hard and made it incredibly difficult to secure funding—not least for an all-female group of mountaineers. Fortunately, major newspaper Yomiuru and TV station NTV came through with eleventh-hour sponsorship, but each member of the climbing team still had to come up with 1.5 million yen out of their own pockets, the equivalent of Japan's average annual salary at the time.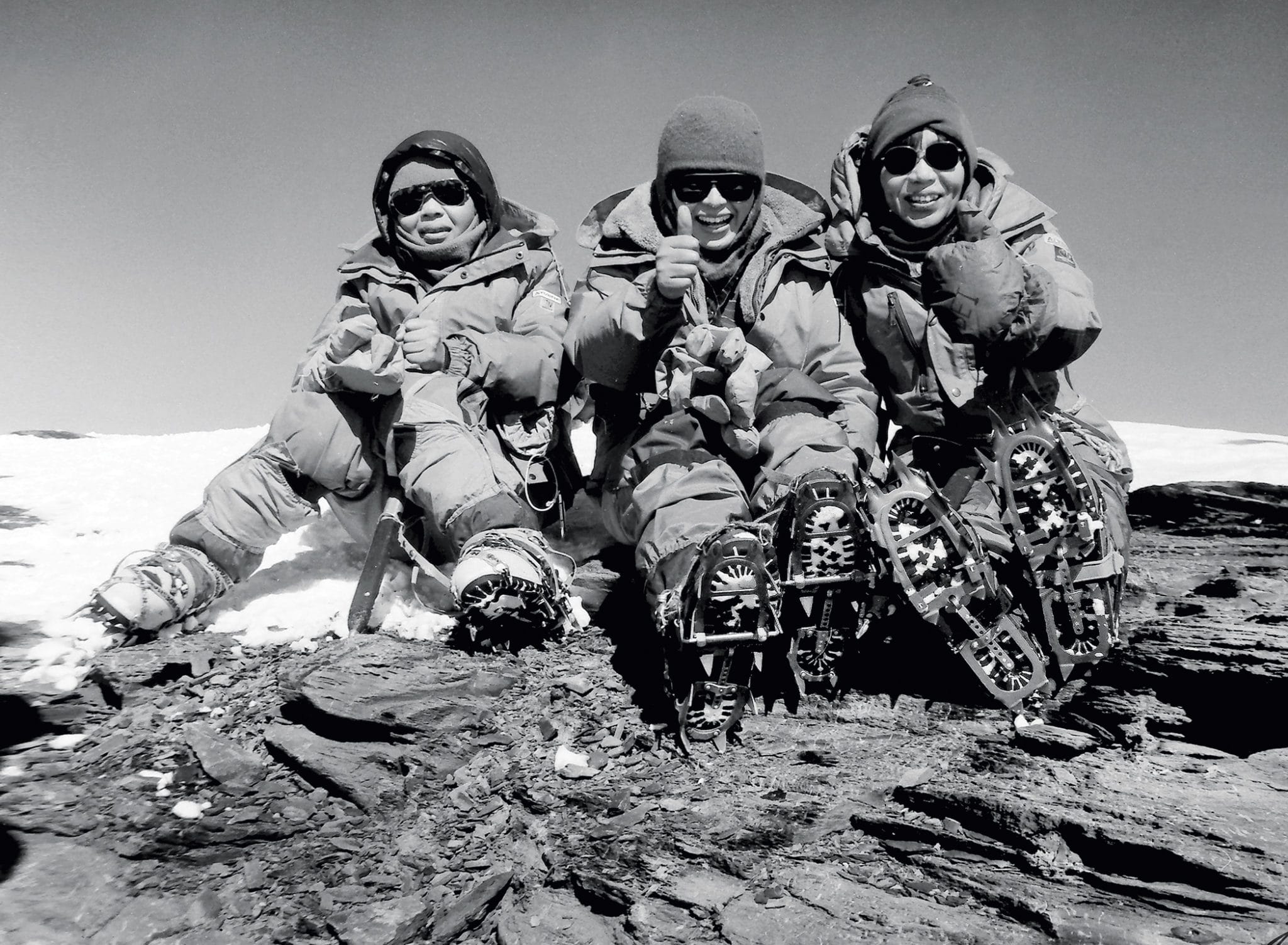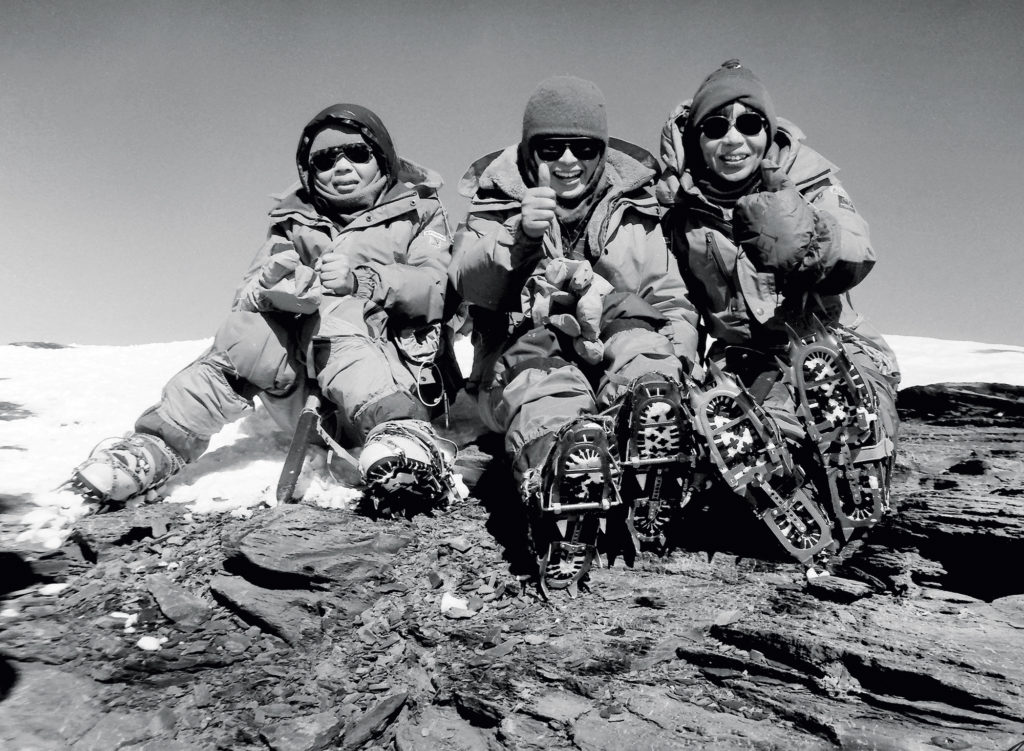 On the precipice of greatness
The expedition to the summit of Mount Everest began in early 1975, following the same ascent pioneered by Sir Edmund Hillary and Sherpa Tenzing Norgay in 1953. But despite all the meticulous planning, nothing could have prepared the team for what happened in the early hours of May 4, when the avalanche devastated Camp II. Tabei had to be revived after being unconscious for about six minutes, and was forced out of action for three days until she could walk properly again. Yet there was never any question of quitting.
On May 16, Tabei and her Sherpa guide Ang Tshering, having been forced to leave the rest of the team behind, reached the South Summit of Mount Everest. The peak was now tantalizingly close, but despite all the physical and mental challenges of high-altitude climbing that she had already conquered, there was one more seemingly insurmountable obstacle that left Tabei facing potential heartbreak: a dangerously narrow, icy ridge that she had not expected at all, and that threatened to derail the expedition at the final hour. "I had no idea I would have to face that, even though I'd read all the accounts of previous expeditions," she later told The Japan Times.
The summit of Everest was beautiful, without a single man-made object in sight. I was the first woman there."


Junko Tabei
The fearless Tabei figured out that by straddling the ridge and crawling sideways with her upper body on the Chinese side and her lower body on the Nepalese side, she could make it all the way to the top. Becoming the first woman to scale Mount Everest was a milestone achievement not only for female climbers, but for women everywhere. Typically modest, Tabei said of her achievement in a 1996 interview with Sports Illustrated, "All I felt was relief."
When Tabei returned home after the expedition she became a reluctant celebrity, receiving messages of congratulation from the Japanese government and even the medal of honor from the Nepali government. She said, "I did not intend to be the first woman on Everest," and in fact said she preferred to be remembered as merely the thirty-sixth person to have done so.
Tabei's simple love of mountains, combined with the hunger for new experiences she had felt as a child, kept her motivated for many years to come. After the Everest expedition, Tabei went on to complete the Seven Summits, the highest mountains on each of the seven continents, by climbing Kilimanjaro in Tanzania, Aconcagua in Argentina, Denali (formerly McKinley) in Alaska, Elbrus in Russia, Vinson Massif in Antarctica, and Puncak Jaya in Indonesia.
CLEANING UP AFTER THE CLIMBERS
In February 2020 the Nepalese government announced an ambitious plan to mobilize its army to clear 35,000 kg of garbage from Everest and five other Himalayan peaks: Lhotse, Pumori, Amadablam, Makalu, and Dhaulagiri. The cost is estimated at 860 million Nepali rupees ($7.5 million). This compares to the 10,000 kg of waste cleared from the region the previous year.
Garbage includes objects such as oxygen and cooking gas cylinders, climbing gear, and food wrappers jettisoned by climbers—as well as the unrecovered bodies of climbers themselves, some of which have been on the mountain for decades. In 2019, eleven deaths were recorded on Everest, and with iced bodies weighing as much as 150 kg, it makes recovery very difficult.
Sustainable mountaineering
In the 1970s and 80s climbing permits for Everest issued by the Nepalese government were restricted to one party per route per season, but the rules were relaxed in the 90s. This unwittingly turned climbing Everest into a leisure pursuit and opened the floodgates to thousands of climbers keen to earn kudos by checking off the Everest box. It meant that those with enough money could hire Sherpas and professional guides to do the heavy lifting, essentially making the ascent less of a challenge. Purest Tabei lamented the shift toward this kind of "big entertainment" and commercialization, calling these types of climber "Intensive Care Unit" climbers because of the life-support they could fall back on. She was adamant that "Climbing
the mountain is its own reward."
Ultimately, though, it made Tabei aware of the environmental damage being done to Everest as a result of the huge increase in the number of climbers. Once again Tabei found herself following in Sir Edmund Hillary's footsteps, echoing his plea to "give the mountain a rest." Inspired by Hillary's environmental initiatives, Tabei became a champion for sustainable mountaineering, attending Kyushu University as a postgrad to study the degradation of mountain terrain caused by waste left behind by climbers, and also becoming director of the Himalayan Adventure Trust of Japan, a non-profit environmental group dedicated to preserving mountain environments.
Perhaps less well known than many other climbers throughout history, Junko Tabei's story is no less inspiring. There is no doubt that her courage, determination, and sheer love for climbing changed the mountaineering landscape, not just in Japan but globally. Tabei's milestone achievements at the top of the world paved the way for the next generation of female climbers, and toward the end of her life she was able to use her celebrity as a platform for environmental change. Once asked what advice she would give to her younger self, she answered, "Do not give up. Keep on your quest."
Timeline
1939
Born Ishibashi Junko in Miharu, Fukushima, Japan

1958-1962
Studies English literature and education at Showa Women's University

1969
Forms Ladies Climbing Club: Japan (LCC), with the slogan: "Let's go on an overseas expedition by ourselves."

1975
Begins Everest expedition, reaches summit on May 16

1991
Reaches summit of Mount Vinson, the highest mountain in Antarctica

1992
Reaches summit of Puncak Jaya, Indonesia, becoming the first woman to complete the Seven Summits

2000
Completes postgrad studies on environmental impact of climbers on Everest at Kyushu University

2012
Is diagnosed with peritoneal cancer

2016
Dies in hospital in Kawagoe, aged 77

2019
Google commemorates what would have been Junko's 80th birthday (September 22) with a Doodle.