Steel is one of the most versatile materials in the world. It makes up much of our devices, vehicles, buildings, and infrastructures. But what about areas where steel may go unnoticed in our day-to-day considerations of steel? In this series, we look at various examples of how steel has become a part of our world—in the most conspicuous and inconspicuous ways. Here, we explore steel in our homes and offices and how it supports us as we sit, stand, work, entertain, and dine—that is, steel in furniture.
Steel is an undeniable part of our modern landscape. It has been molded and shaped to form monumental objects that make up our cities and support our infrastructures and smaller constructions that even support us as we recline. For artists and designers, steel symbolized the future, an inherently modern material. Designers found ways of combining steel and other materials to produce comfortable objects. These objects made their way into our homes, offices, and buildings, and have become a part of everyday furniture design.
A History of Furniture
As an integral part of furniture, steel has more likely gone as something relatively unnoticed in our daily lives. Look around your workplace or home, and you may be surprised to find just how much metal surrounds us and supports us as we work, eat, and recline at the end of a long day. Steel in furniture goes beyond the typical use of screws and joining elements or accessories but can make up entire furniture pieces. While aluminum is often associated with modern furniture, steel has and continues to play a significant role in furniture design. However, this was not always the case.
At the end of the 19th century, artists and designers began to experience the first instances of mass production of everyday objects. Regarding materials, furniture was dominated by wood, richly lacquered, and embracing bent shapes and layered pieces. Workshops, such as the Wiener Werkstätte—founded in 1903—pushed the limits of craftsman design. After World War I, industrial design and manufacturing shifted. With industrial materials coming into fashion, the founding of the Bauhaus in 1919, and the emergence of their form following function mantra, tubular steel became an integral part of furniture design.
Beyond iconic: The Chair
Although chairs, stools, loungers, couches, and the like are as ubiquitous as steel, it may often go unnoticed that many of them are true masterpieces of art and design that surround us in our everyday lives. Moreover, it may also be striking how many of our most iconic and commonplace pieces of furniture have their foundation in design principles inspired by the modern material of steel. This article's images highlight steel's prominent, subtle, and tactful use in chairs.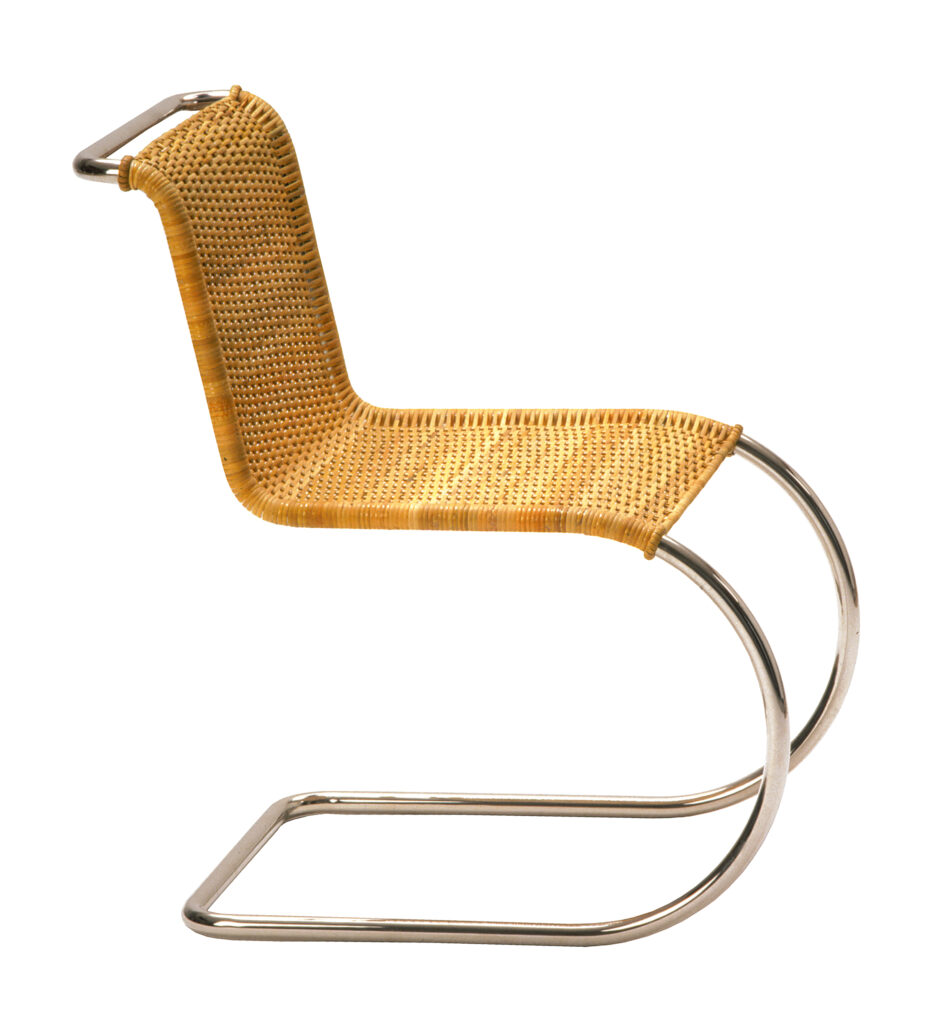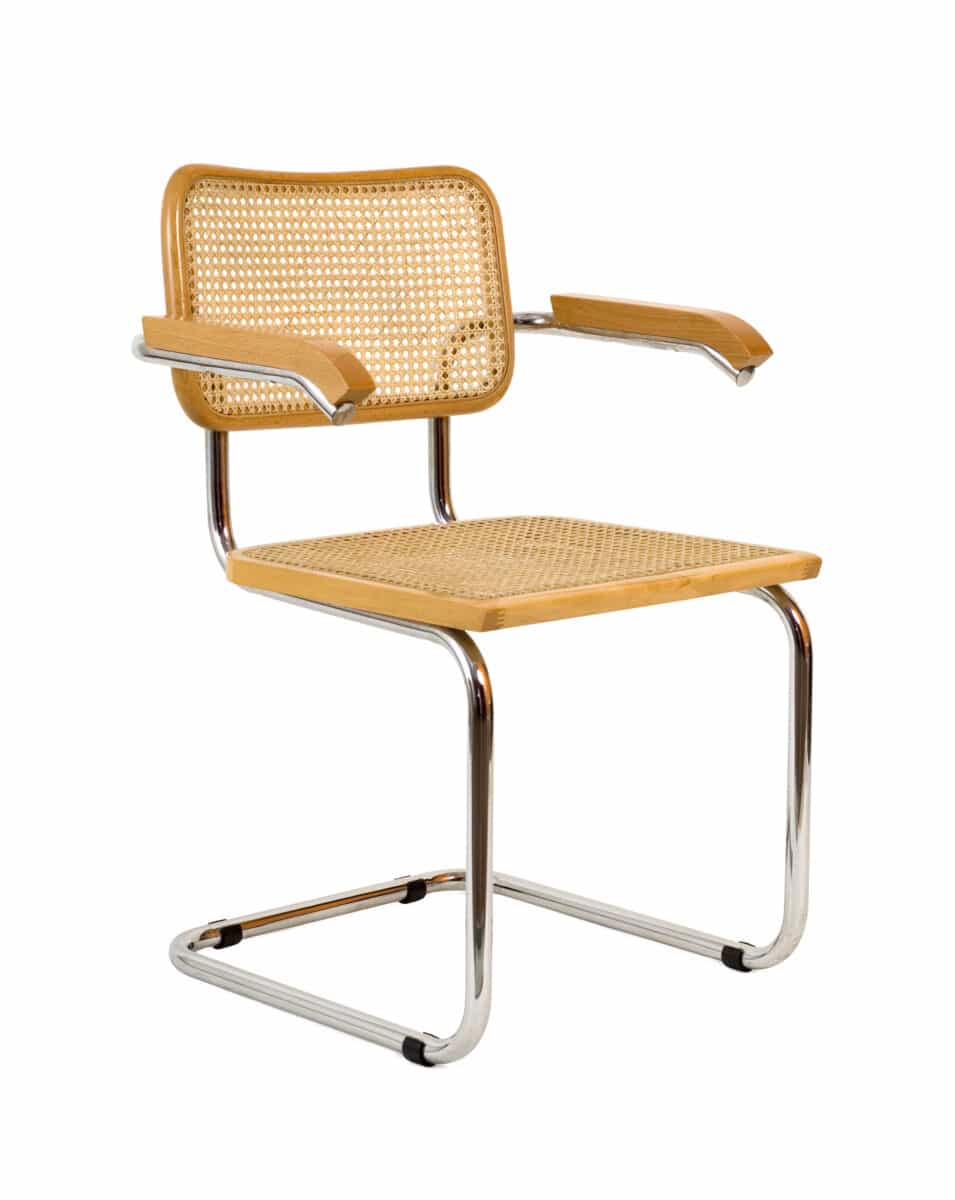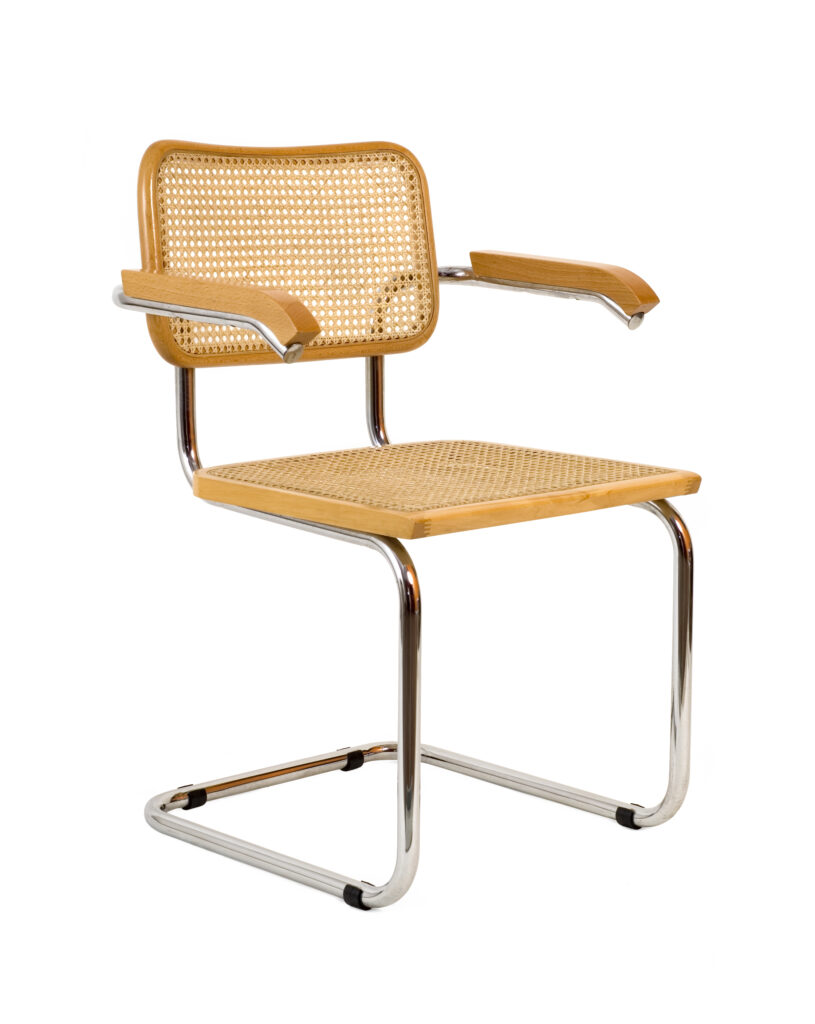 MODERN COMFORT IN STEEL
Perhaps the most recognizable steel element in furniture is chrome-plated tubular steel. What's more, the application of this material has solidly found its place in the design of reclining furniture. Bauhaus professor Marcel Breuer famously utilized tubular steel in his B3 chair, later known as the Wassily Chair, and a breakthrough in functional design.
Other designers who utilized chrome-plated tubular steel include Mies van der Rohe and Mart Stam. It also made its way into Eileen Gray's E-1027 table (featured above alongside the LC2 (1928) armchair designed by Charlotte Perriand, Le Corbusier, and Pierre Jeanneret) and Charlotte Perriand's LC4 chaise longue. However, as time went on, steel in furniture returned to support elements, and during World War II, the use of aluminum and plastics began to gain prominence. By the 1960s, plastics overtook steel in furniture design and showed the most significant potential for mass production.
ELEGANT DESIGNS
While plastics, laminate, plywood, and aluminum diversified the various materials at one's disposal for furniture design, steel has remained a steadfast element since the early 20th century. The association with steel as a cold material has often kept it outside of homes and relegated its presence to offices, professional environments, or outdoor furniture. Still, these objects remain crucial elements of comfort and modern design. Even the modern office chair was conceived with the support of steel elements. Steel as a solid structural material has also given way to its incorporation into dramatic designs, often highlighting its unique strength.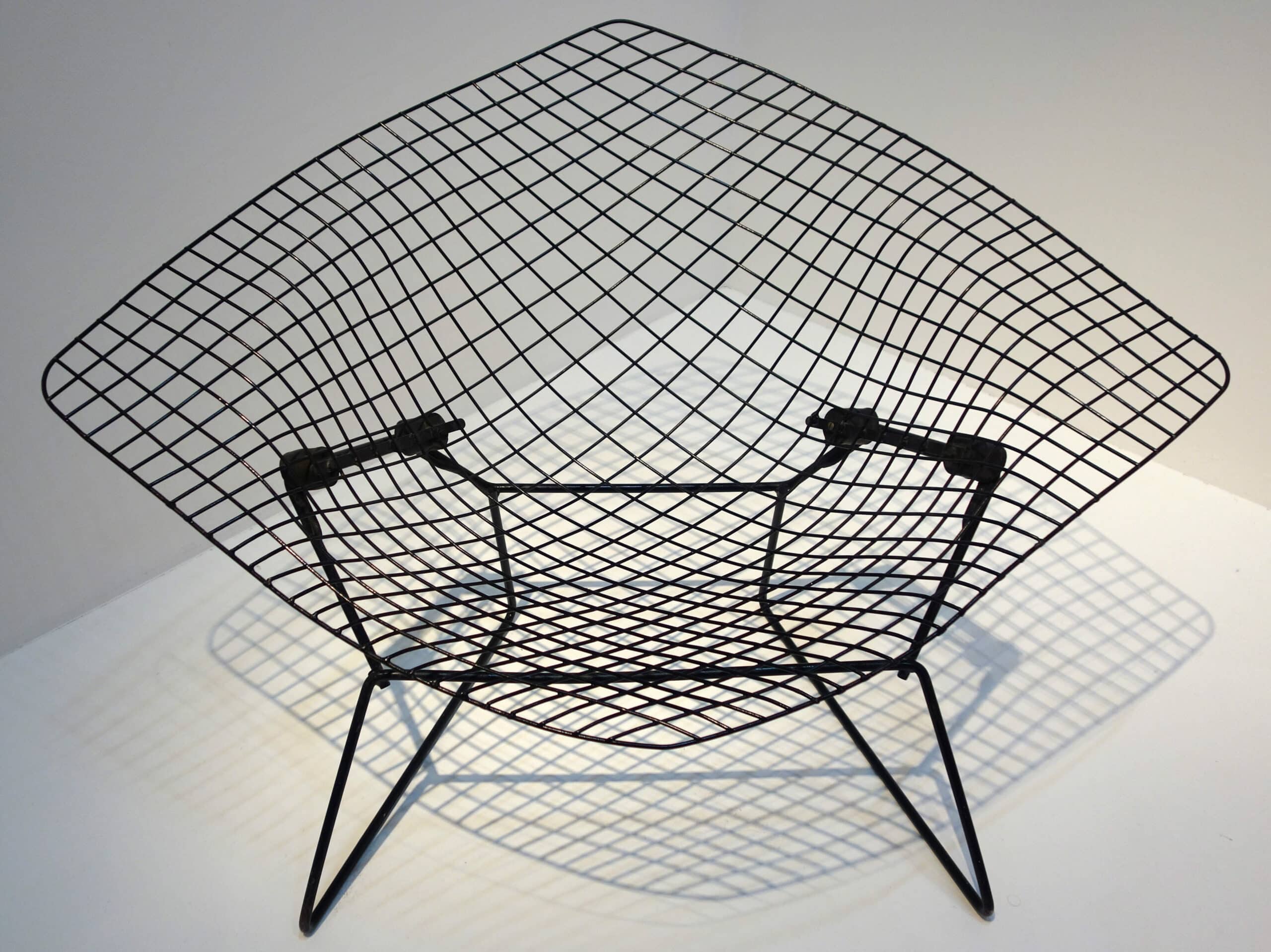 In recent years, steel has reemerged in furniture design, from shelving to office furniture to functional works of art. Part of the inspiration for such contemporary works returns to the mid-20th century, as wood and plastics gradually replaced steel. The mass adoption of aluminum, wood, and plastics afforded certain freedom to explore steel aesthetically. One such experiment is the wire chairs of Harry Bertoia, dating back to 1952. The Bertoia Diamond chair pushes the limits of investigating space by using a wire frame that creates a crisscrossed diamond pattern. Today, elegant pieces of designer furniture surround us in our daily lives beyond Bertoia's concept. And while tubular steel furniture may be most common in an office waiting room or corporate lobby, the representative and inherently modern character of chrome-plated steel tubes remain a fixture of contemporary society.
Women in Design
While names such as Walter Gropius, Marcel Breuer, Le Corbusier, and Mies van der Rohe often ring in the ears of modern design enthusiasts, brilliant women were equally a part of early 20th-century avant-garde movements. They were behind some of the most well-known pieces in the design world. Here are just two examples of women in design.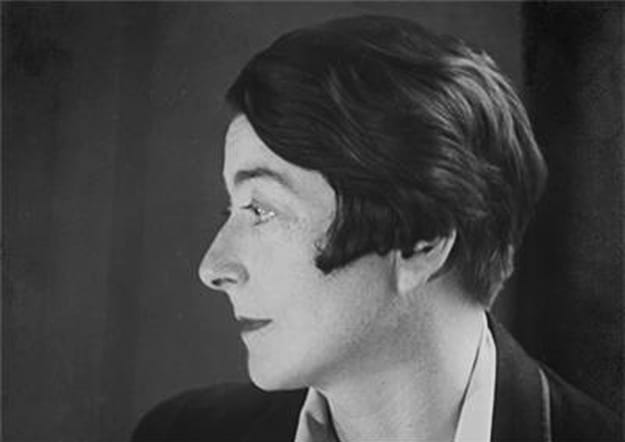 Eileen Gray (1879-1976)
An Irish furniture designer and architect, Eileen Gray represents one of the 20th century's most profound contributors to modern architecture and furniture design. Active primarily in France, Gray made a name for herself with geometric abstraction and the incorporation of exotic woods, lacquers, and even animal skins. In 1923 at the Salon des Artistes Décorateurs, her pieces provoked scathing reviews among French colleagues but were hailed by Dutch designers. With publications in the Dutch journal "Wendigen," Gray attracted the attention of Walter Gropius, and at the Salon d'Automne, she met and became friendly with Le Corbusier. During the mid-1920s, Gray started integrating contemporary materials into her furniture, including tubular steel, aluminum, and glass. These materials are prominent in her villa on the Mediterranean coast, called "E-1027." Perhaps one of the most famous pieces of tubular steel and glass furniture from the last century is the E-1027 Adjustable Table. While applying glass and chromed steel tubes is exceptionally modern, it is also possible to see Gray's desire for multi-functionality. The strength of the steel tubes also allows for the table's unconventional design. Eileen Gray would then continue to design apartments and villas. Later in life, she extended her experiments with materials to the world of plastics.
Lilly Reich (1885-1947)
Although Lilly Reich was born in Berlin, her status allowed her to study in Vienna und Josef Hoffmann in 1908 at the Wiener Werkstätte. Returning to Berlin, Reich studied decorative arts under Else Oppler-Legband, an expert in fashion, needlework, window decoration, scenery design, and interior design. After her first commission in 1911, Reich joined the Deutscher Werkbund in 1912, an institution with close ties to designers and artists at the Bauhaus. In 1924, Reich met architect Ludwig Mies van der Rohe (for more on Mies van der Rohe, see "The Architect of Cities Made From Steel and Glass"). Following this fateful meeting, Reich would go on to collaborate with Mies for nearly a decade. Their collaboration resulted in her appointment as the Bauhaus's head of the weaving workshop from 1932 to 1933. While Reich's work was primarily in upholstery and interior design, her contributions to steel in furniture come with the unique design of the Brno Chair for the Barcelona Pavillion in 1929 and the Weissenhof Chair from the Weissenhofsiedlung in 1927. The simplicity of both chairs is a testament to Mies van der Rohe's "less is more" philosophy, but the brilliance of the design's simplicity is also the interaction between the chromed steel elements and the natural materials. Combining leather, in the case of the Brno Chair, and wicker, in the case of the Weißenhofsiedlung Chair, Reich emphasizes the balance between the modern world and the natural. Reich's career would effectively end in Germany after 1933. Towards the end of her life, she dedicated her time and interests to re-establishing the Deutscher Werkbund and the education of a new generation of designers.