Chinese steel producer Maanshan Iron and Steel, also known as Masteel, recently started a 6-strand combined billet and beam-blank caster supplied by Primetals Technologies at its steel plant in Maanshan, Anhui province, China. The order was placed in December 2021 and encompassed engineering, supply of essential equipment, Level 1 and 2 automation systems, and advisory services for implementation and startup. One of China's largest iron and steel producers, Masteel mainly manufactures steel plates, section steel, wire rods, and train wheels.
Increased Production
The project included a complete casting machine and lasted just 13 and a half months from the kick-off meeting until the first cast. The project team did face challenges related to global supply chain issues and Covid-19 restrictions. However, with a focus on close collaboration and effective communication, the team started the new equipment two weeks ahead of schedule. The caster has an annual capacity of 1.1 million tons and casts structural steel, low alloyed grades for bridges, weather-resistant grades, and steel for the mining industry. It is designed for high productivity—up to 330 tons per hour. Thanks to the new billet and beam-blank caster, Masteel can increase its annual production.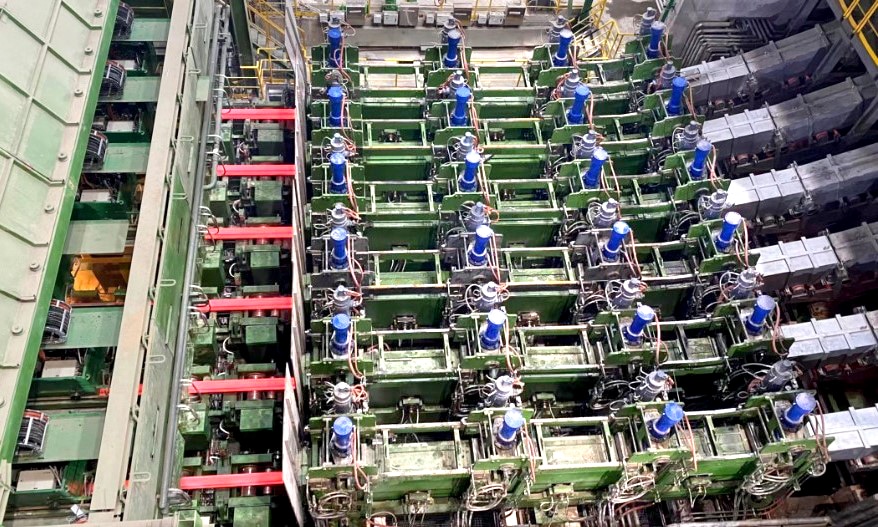 Accurate Cooling Solution
A dual-type oscillator assures state-of-the-art oscillation accuracy, which guarantees optimal mold lubrication and the best possible surface quality. Primetals Technologies' secondary cooling solution prevents any over-cooling of the flange tips and the development of surface cracks. The 6-strand caster also features Primetals Technologies' patented continuous straightening concept for reducing the tension caused by the straightening process.
Maximized Quality
The Level 2 automation system CC Optimizer handles the production planning and records data on heat, strand conditions, and products during the casting process. The process optimization solution also encompasses several expert systems. A cut length optimization system, Yield Expert adjusts the strand to maximize the number of items scheduled for production. Production events and quality-related information are examples of data collected and evaluated by the Quality Expert. The process optimization solution is rounded off by Speed Expert, a system that calculates the optimal casting speed. The process optimization experts of Primetals Technologies were able to execute the complete startup of the Level 2 automation system remotely.
MORE INFORMATION

Click here to read the full press release, access contact details, and find other press resources.