The Long-Rolling Roll Master is a powerful and easy-to-use tool geared toward increasing plant flexibility and performance by providing advanced pass scheduling for continuous and reversing mills, and for both monoblocks and flat blocks. With plant operators under increasing pressure to boost productivity in response to aggressive competition on the steel market, the Long-Rolling Roll Master is the ideal solution for precise management of the rolling mill.
The Long-Rolling Roll Master allows for the easy creation of pass schedules for grooves and guides as well as setup data for smooth mill start and restart based on material database, specific mill design, mill-load conditions, and available rolls. For switching to new steel grades or dimensions, the Long-Rolling Roll Master features a database of more than 200 steel grades and special alloys. Another database for rolls, grooves, guides, and other components contains a plant's own mill-specific data. The system constantly tracks current tool and mill conditions during operation and takes them into account when providing pass schedules, thereby making the most of plant availability and supporting maintenance routines.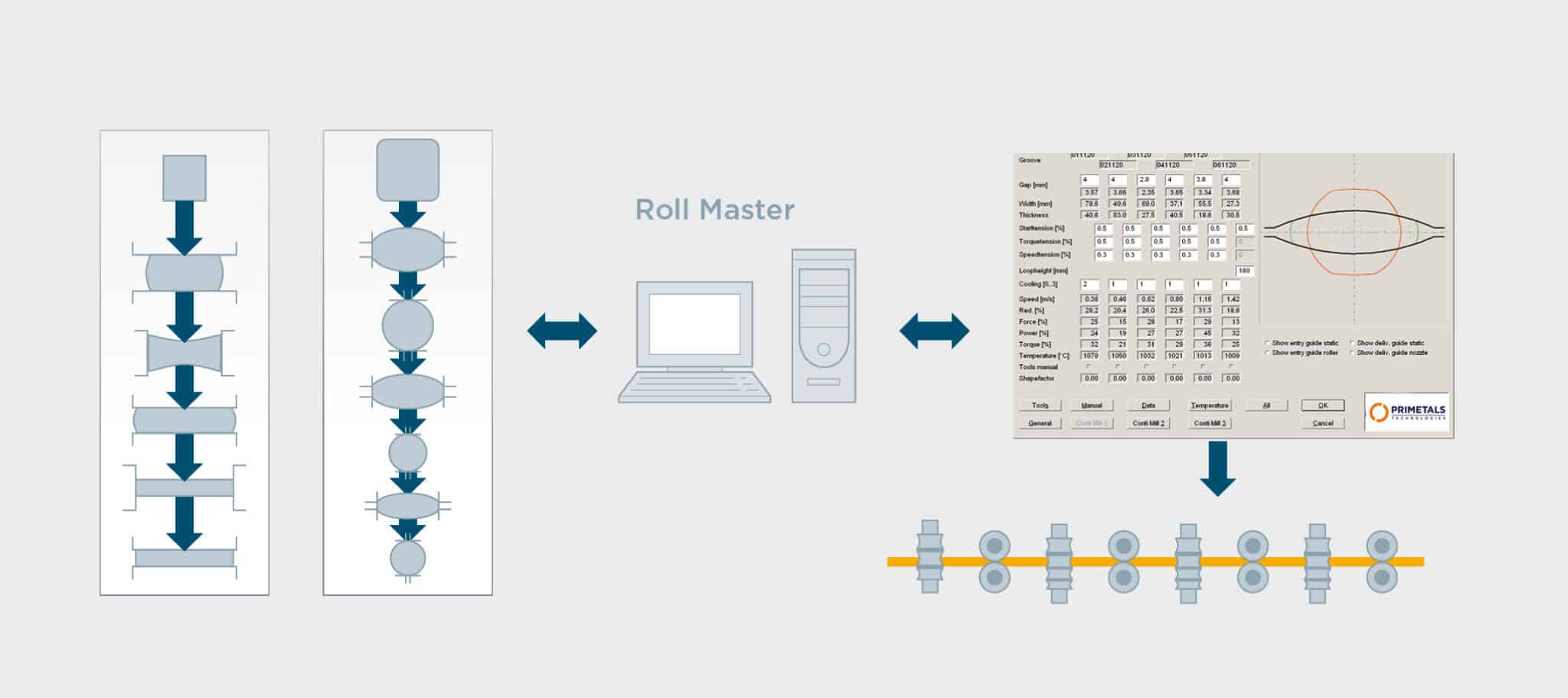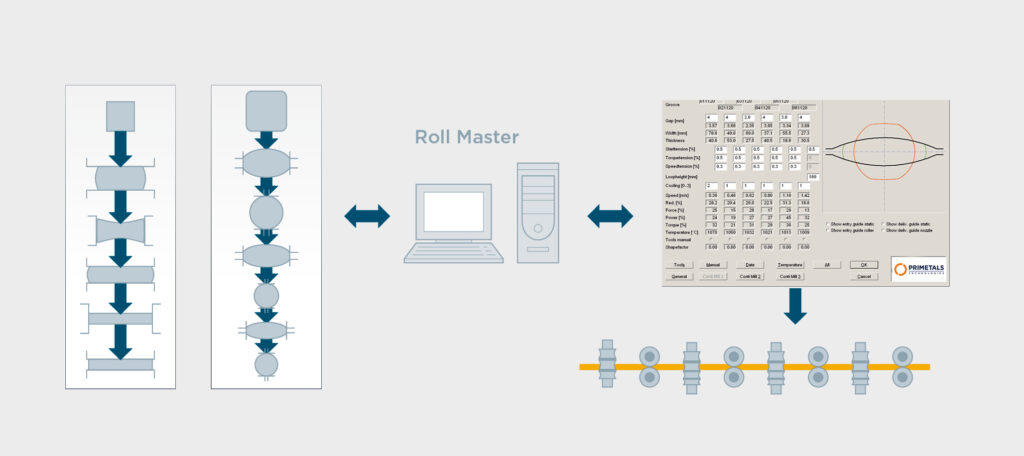 Plant operators are faced with multiple challenges that can be addressed with the use of the Long-Rolling Roll Master. When changing dimensions or steel grades, high productivity can only be maintained with a fast and secure production restart. In order to reduce the cobble rate, mill settings need to be accurate right from the start. And because of groove wear, it can also be challenging to repeat rolling schedules. In general, it is difficult to make precise calculations for the implementation of new dimensions and steel grades. Tests are time-consuming and require in-depth knowledge of the rolling process. Grooveless flat rolling offers high flexibility, but pass-schedule creation and the calculation of mill setup data are difficult to calculate and confirm.
Because the challenges are so complex and wide-­ranging, Primetals Technologies is committed to carrying out a thorough analysis of mill layout, design limits, and drive systems. Primetals Technologies also handles integration of all available tools (rolls, grooves, and guides) into the database as well as adaptation of the Long-Rolling Roll Master to specific mill design and production targets. Calculations and models are tailored to a plant's own processes and interfaces engineered accordingly.
The advantages of the Long-Rolling Roll Master are that it offers greater flexibility and optimized production thanks to computer-based pass scheduling, while smooth scheduling is guaranteed by the material database of steel grades.
The Long-Rolling Roll Master can be seamlessly integrated into long-rolling automation concepts, but is also available as a stand-alone product, making it ideal for retrofits and upgrades. Due to its modular design, it can easily be adapted to meet the specific requirements of any plant. The Long-Rolling Roll Master is a proven
solution and has so far been installed at over 25 mills worldwide.