This post is also available in: 简体中文 (Chinese (Simplified))
In April 2013, a contract for the supply of a cold-rolling complex in Tangshan was signed between Primetals Technologies Austria and Tangshan Iron and Steel Group Co., Ltd. (Tangshan Steel) – a member of the HBIS Group, China's largest steel producer. The clear target for the new mill was to produce highest-quality cold-rolled coils for the automotive industry in the shortest time possible. This ambitious undertaking was met with flying colors: the first coil was produced on January 15, 2015, just 21 months after contract signing.
Highest-quality steel coils are increasingly in demand by China's automotive industry. To meet this trend, Tangshan Steel launched a project to extend its existing cold-rolling and strip-processing facilities with the new Cold-rolling Complex No. 2. The project comprised a coupled pickling line and tandem cold-rolling mill (PLTCM) with a rated capacity of 1.6 million t/a, a continuous ­galvanizing line capable of processing 440,000 t/a, and a continuous annealing line for the treatment of 750,000 t/a of steel. The cold-rolling complex also includes a new roll shop and an acid-recovery plant for the pickling of more than 2 million tons of steel strip per year.
Hot coils at the entry of the PLTCM range in width from 700 mm to 1,620 mm with a thickness of 1.5 mm to 6.0 mm. The galvanizing and annealing lines accept strip with widths from 700 mm to 1,600 mm and thicknesses from 0.2 mm to 2.5 mm. The cold-rolling mill was designed and built in a 5-stand, 6-high configuration and features the SmartCrown intermediate roll-shifting system for flatness control. Work-roll and intermediate-­roll bending complement the flatness actuator systems on all mill stands. Stand No. 5 is additionally equipped with a multi-zone cooling system. In order to cope with the upper level of advanced high-strength steels, each mill stand is capable of exerting a total rolling force of 35,000 kN. The total installed mill stand power is 32,000 kW. At the mill exit a carousel tension reel is mounted below the strip passline. With this arrangement, finished strip can be inspected in the inline inspection station on the basis of inspection samples cut by a rotary shear downstream of Stand No. 5.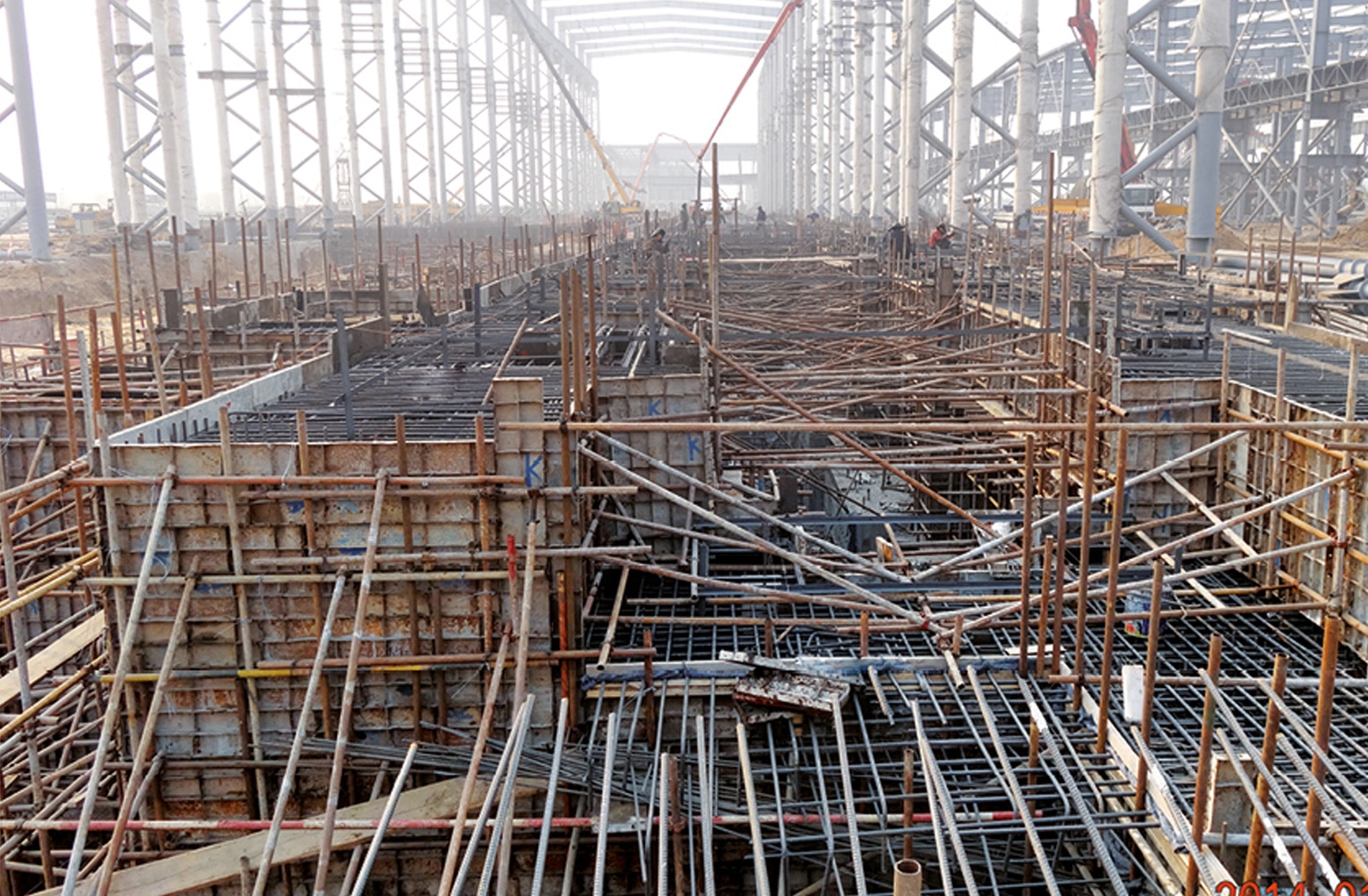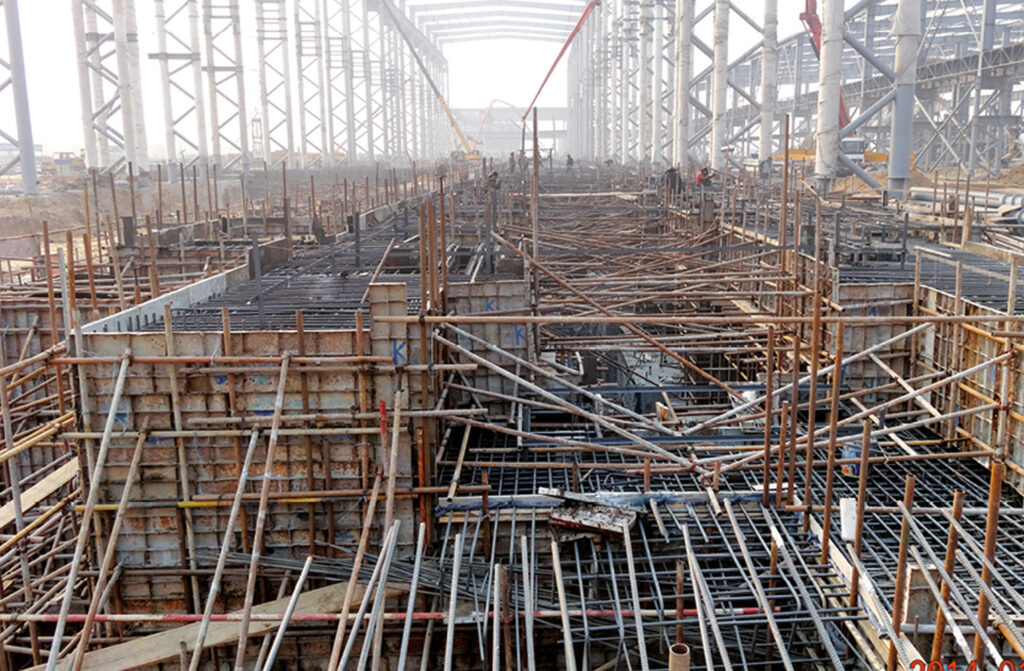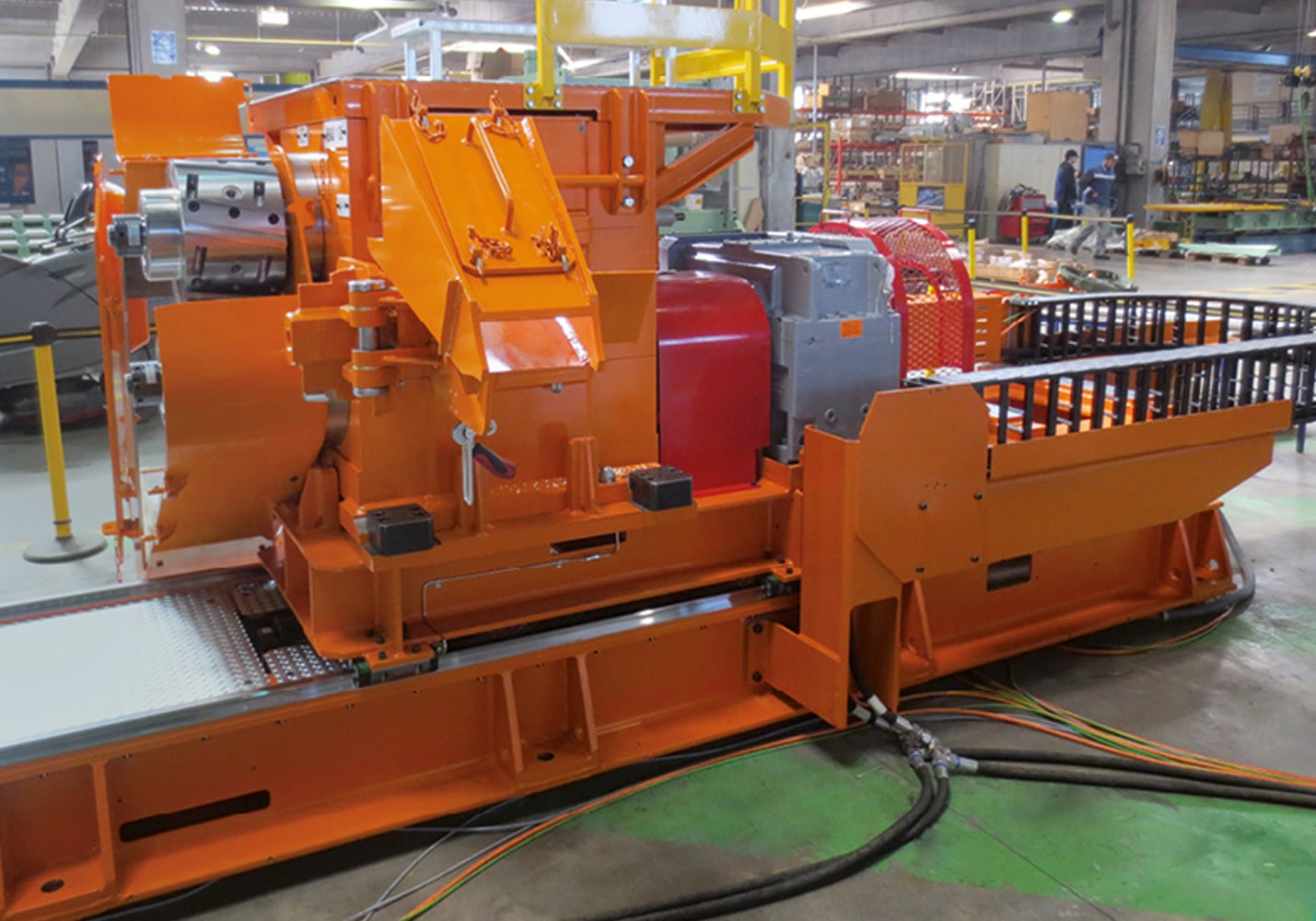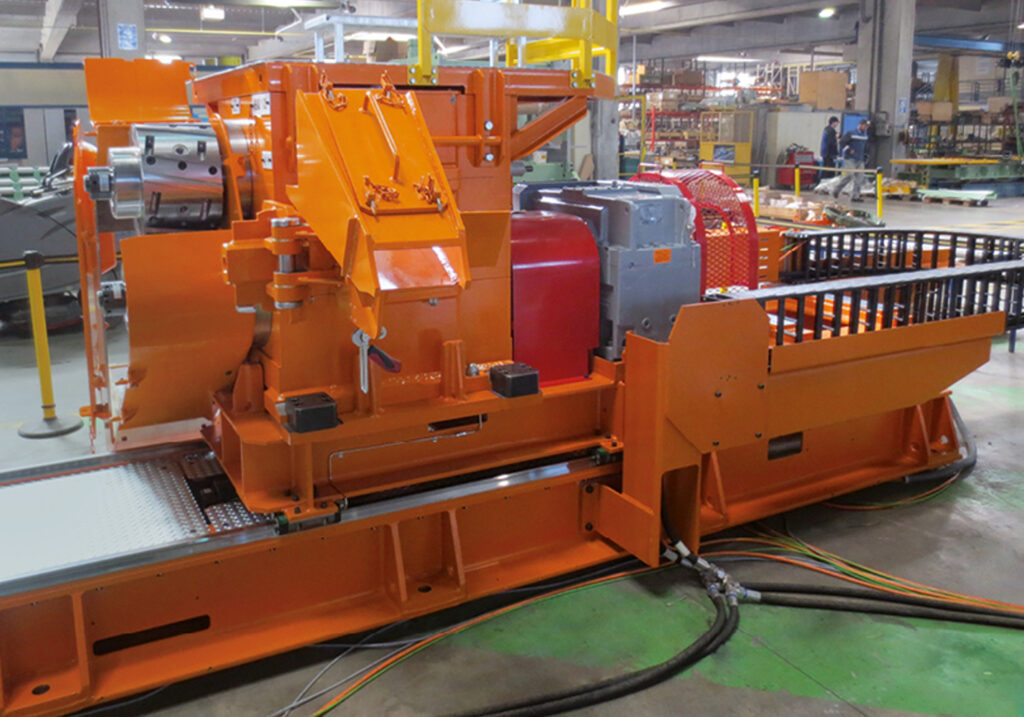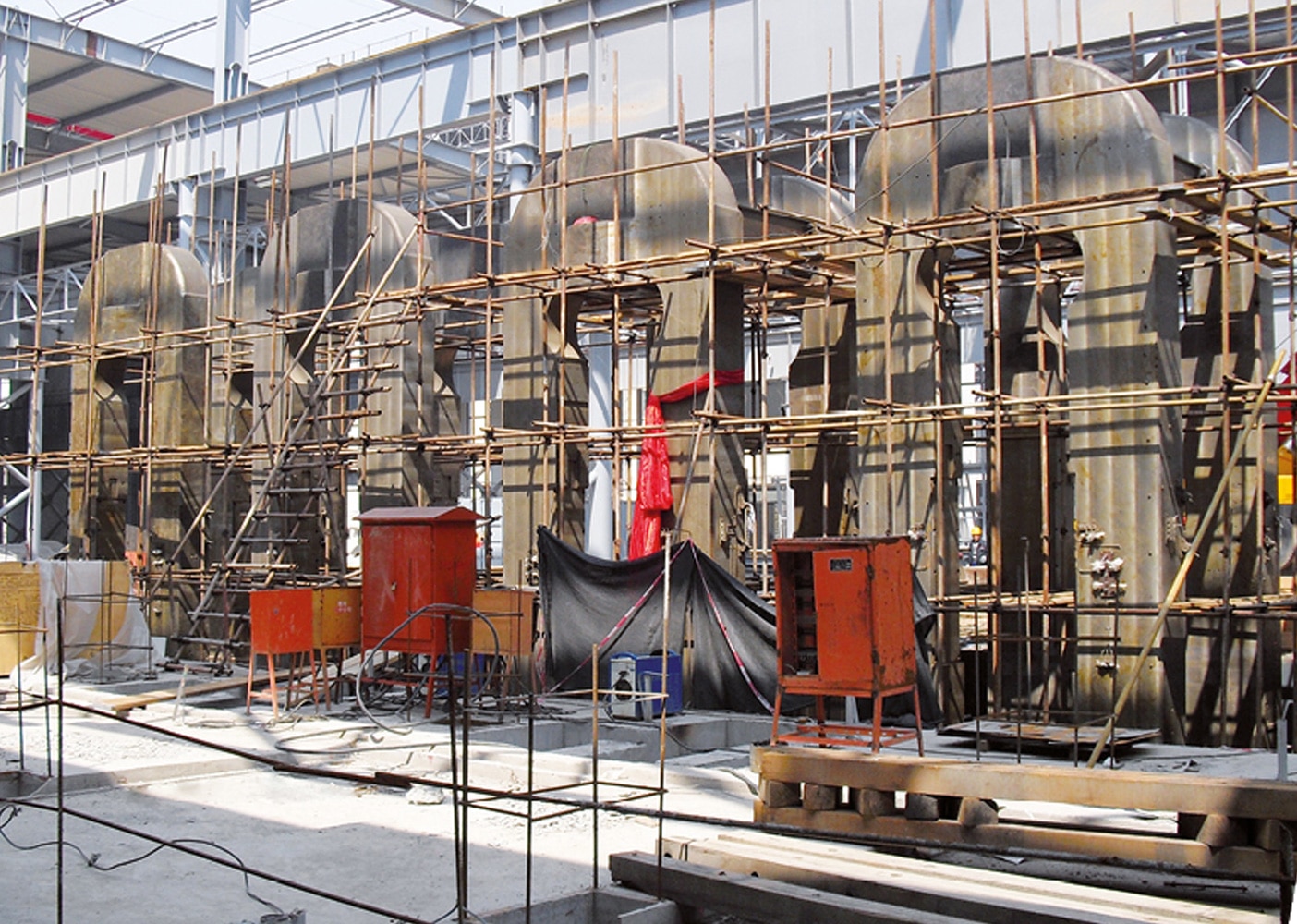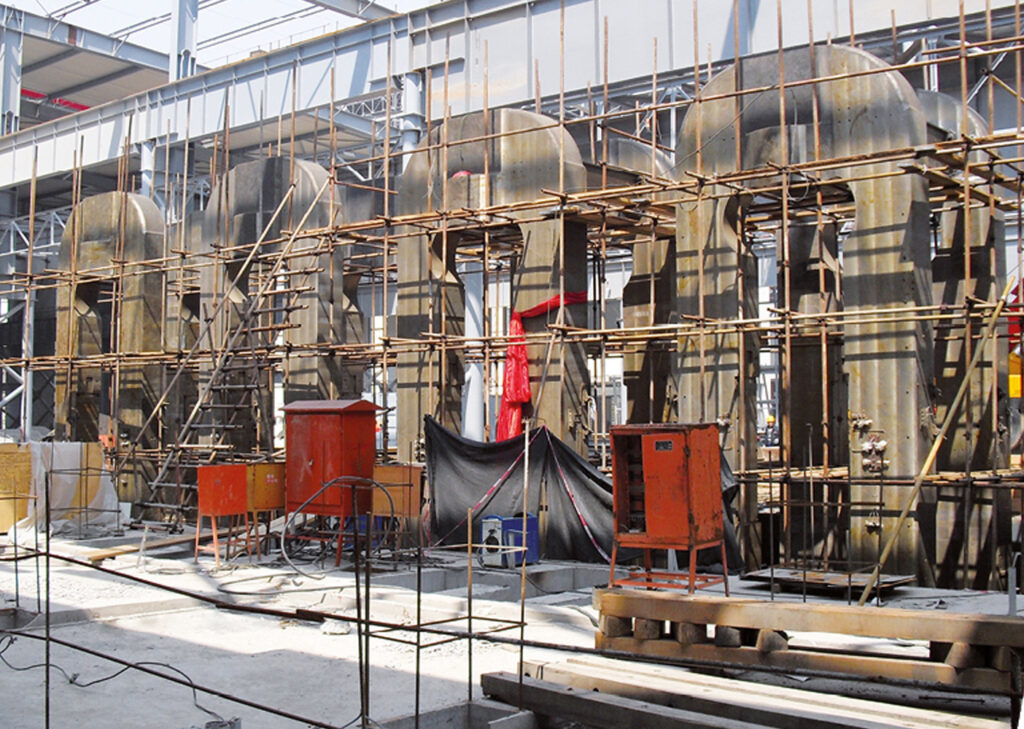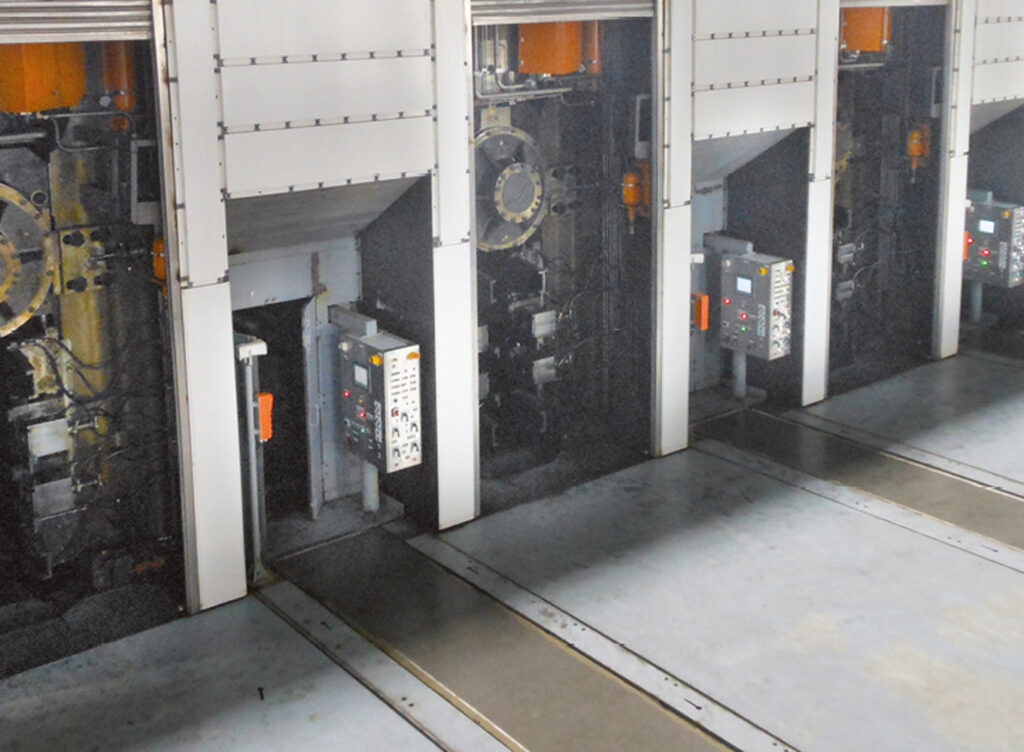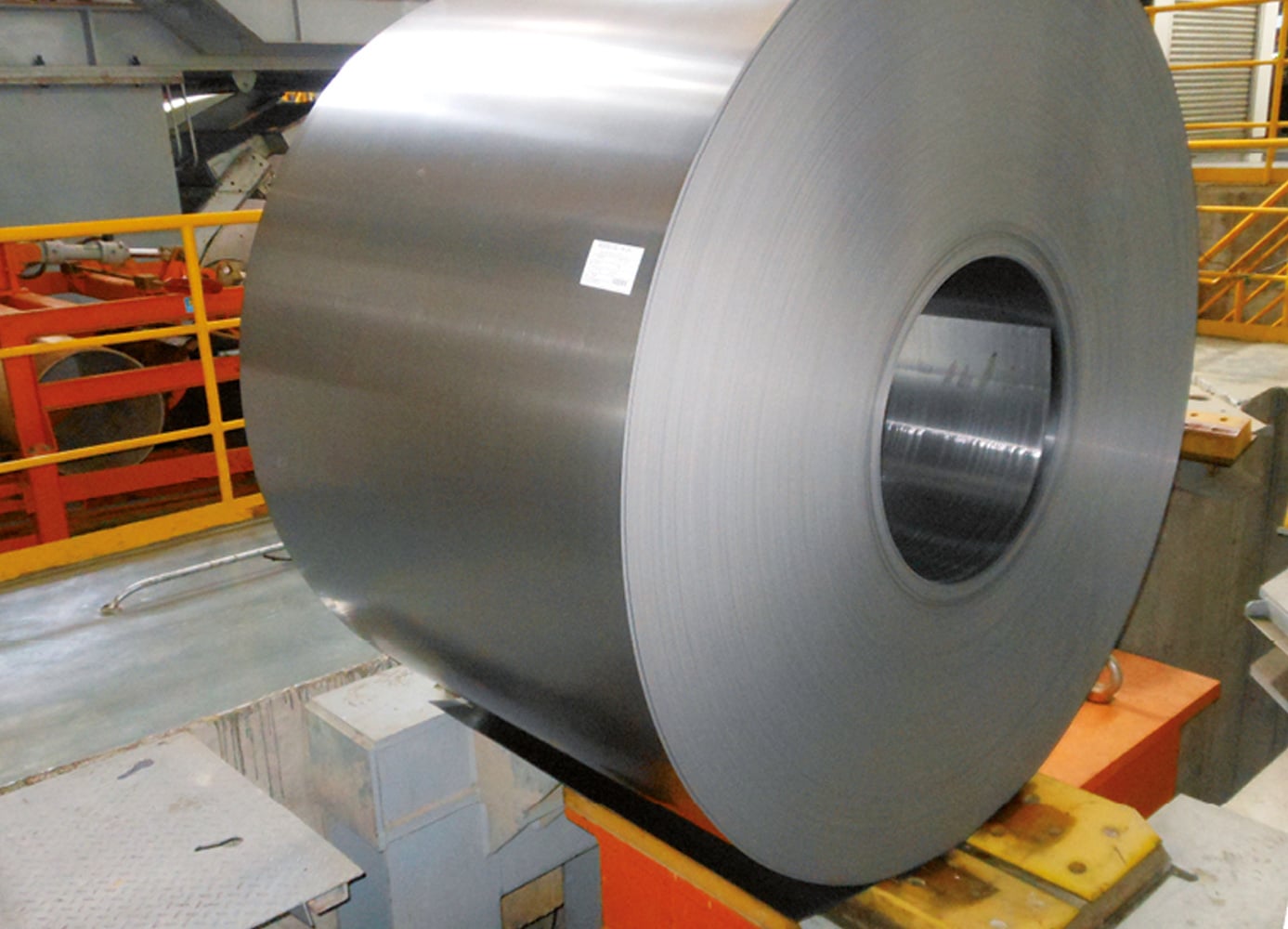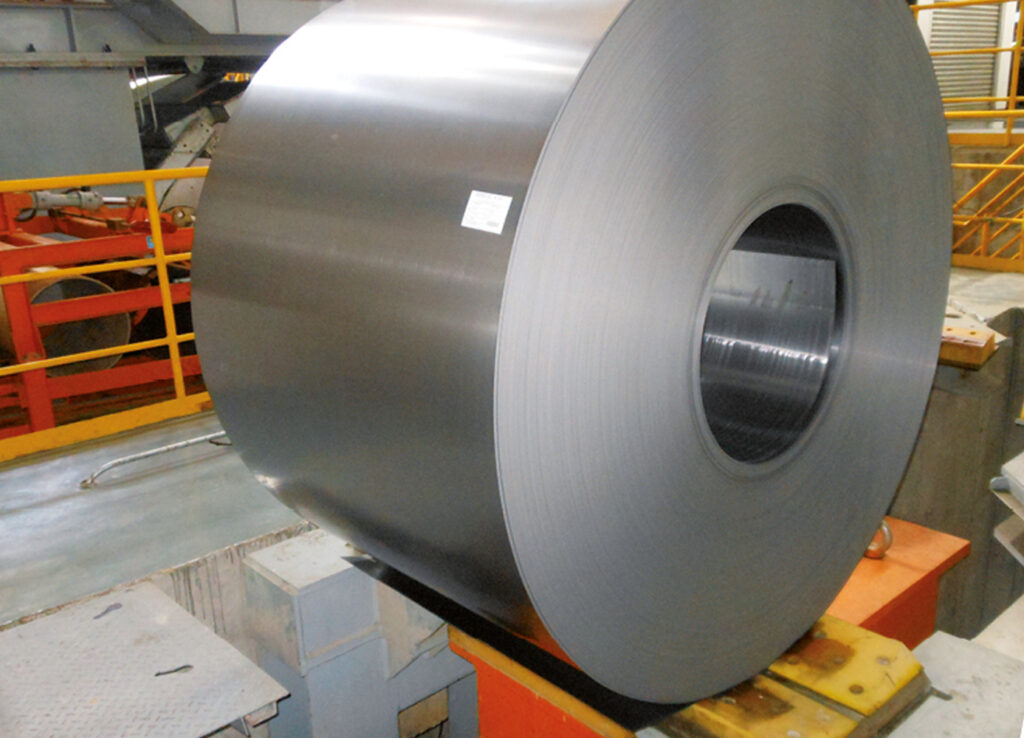 Fig. 2: Project timeline from contract signature to preliminary acceptance certificate. Photographs from left to right: construction activities in the cold-rolling complex area; side trimmer workshop testing; installation of the cold-rolling tandem mill; the completed cold mill; outstanding cold-rolled coil ready for the market
Fast delivery, plant start-up, commissioning and ramp-up
A remarkable aspect of this project was the extremely short execution period of only 21 months from the contract signing to the first coil (Figure 2). A smooth transition from the pre-project to the project phase and a strong focus on an optimized supply and engineering concept with a large share of local manufacturing were decisive for this achievement. Primetals Technologies China held sole responsibility for Chinese equipment supply, which further expedited project progress. Minimum transportation times were achieved, which was crucial for starting construction activities on schedule. Moreover, thanks to intensive design discussions with the customer right from the beginning of the project, key topics could be thoroughly addressed at an early stage. An additional success factor was that the Primetals Technologies China office was deeply involved in all phases of the project – from engineering and manufacturing up to plant start-up and commissioning. The close cooperation between engineers from Tangshan Steel and Primetals Technologies also ensured that Chinese manufacturing standards were implemented from the beginning, so no drawings had to be converted.
In order to guarantee high equipment manufacturing quality, supervision was jointly performed by the Chinese and European teams of Primetals Technologies with customer participation during final inspection. To fulfill the high demands with respect to the automation system, the advanced electrics and automation solution was comprehensively pretested during integration tests at the Primetals Technologies office in Erlangen, Germany, again with participation of the Tangshan Steel project team. Supervision of the erection companies was carried out by Tangshan Steel to ensure strict adherence to the challenging time schedule.
The well-coordinated final erection stage enabled an efficient transition to the cold commissioning phase. All of the above factors were decisive for the rolling of the first coil on January 15, 2015, which was of sellable quality. After production of the first coil, commissioning was carried out at a high pace by Tangshan Steel and Primetals Technologies. Production ramp-up of the mill to nominal capacity quickly followed. Output rates of 300 t/h and higher were achieved as early as 14 days after the first coil was rolled. Just six months later, more than 13,000 coils were sold on the market. Following the successful completion of the performance tests, the preliminary acceptance certificate (PAC) was signed in September 2015.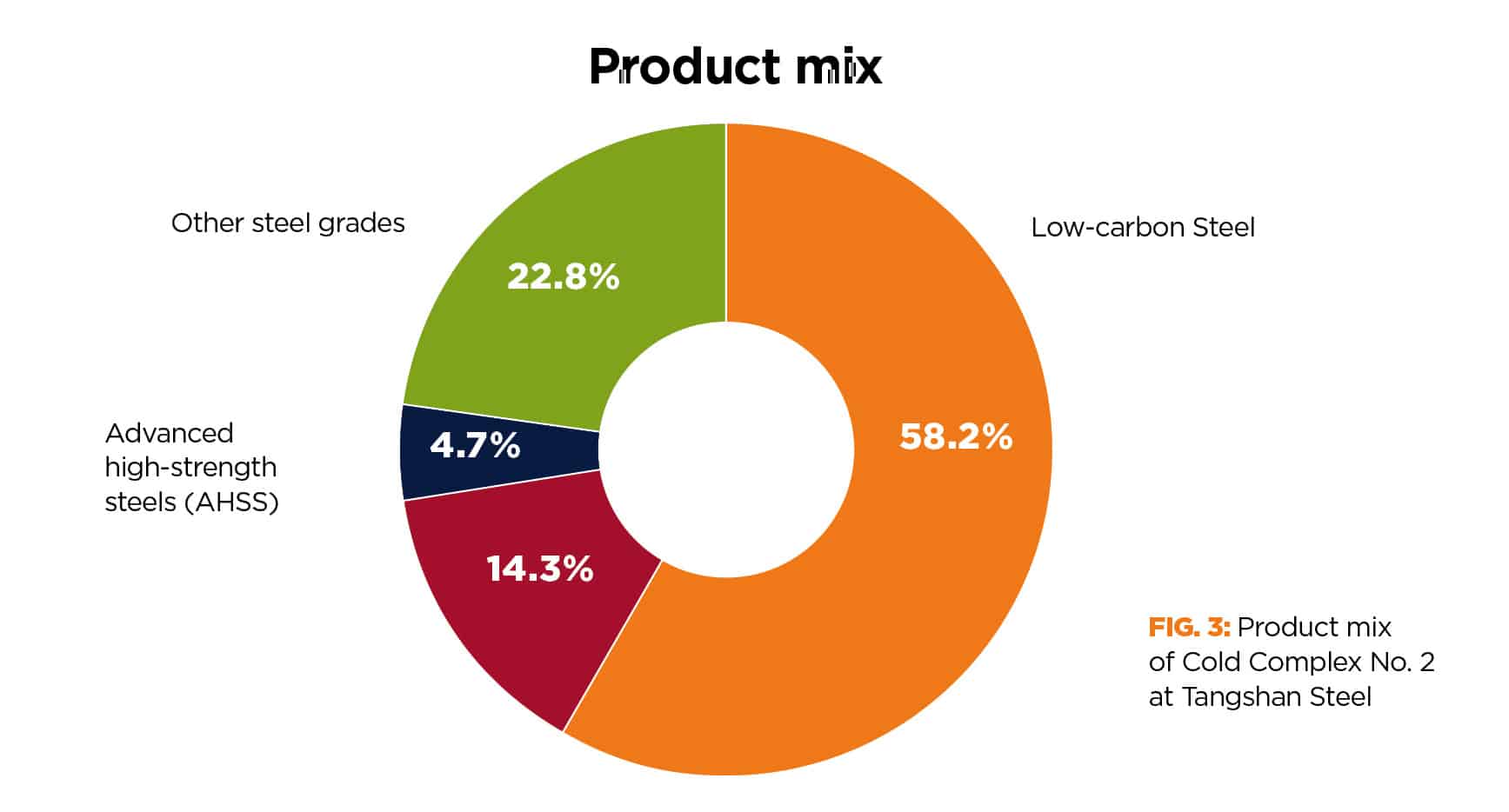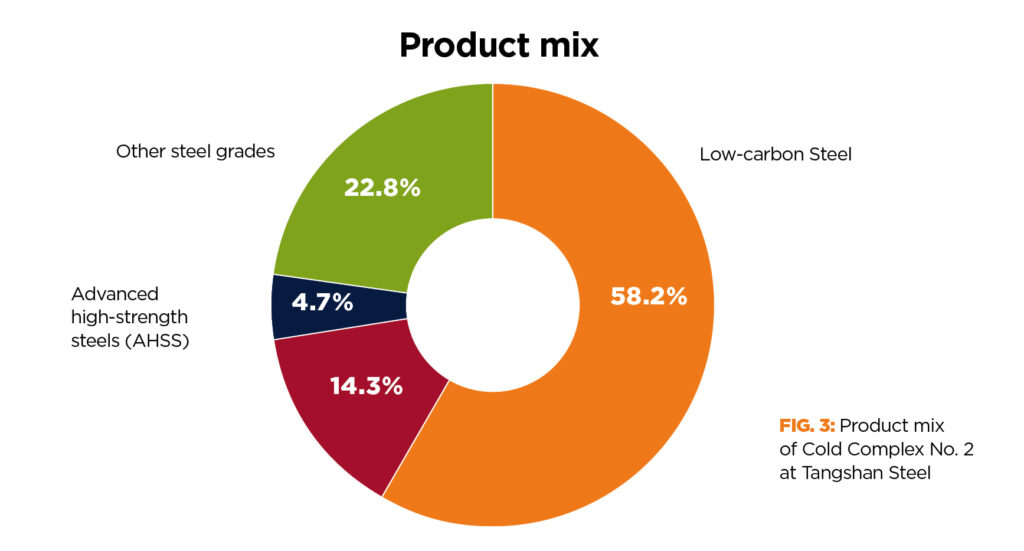 Outstanding products
Ever since the start-up of the new Cold-rolling Complex No. 2, a strong focus has been placed on extending the product mix in order to meet market demands. Besides high-quality commercial grades, soft interstitial-free (IF) grades and advanced high-strength steels (AHSS) are included in the weekly production schedules. In this context, the continuous optimization of product-quality parameters is a key focus of Tangshan Steel's engineers and operators together with Primetals Technologies. Specific attention is also placed on rolling thin-gauge material. So far, products with an exit thickness of 0.2 mm have been rolled successfully. However, the declared goal is to roll product gauges of 0.18 mm, which is below the designed minimum strip thickness for the cold-rolling mill.
With an eye to the future
Completion of the Tangshan Steel cold-rolling complex has set a company milestone for the production of automotive steel grades. With an eye to the future, Tangshan Steel intends to further extend and diversify its product range in order to enter additional markets for special steel grades (Figure 3). Technicians from Primetals Technologies therefore investigated and implemented the required upstream plant solutions to enable this product mix extension. Currently, an extended know-how package is being provided to Tangshan Steel, which will allow the company to expand its scope of products and to optimize overall production.