The progress of digitalization in many industries is creating new opportunities for the improvement of overall efficiency and quality in steel production. At the same time, end-customers are demanding steel products at higher quality levels. They look for tailor-made steel-grade solutions, short development times for new steel grades, and the manufacturer's ability to swiftly respond to quality deviations that have resulted in rejections. The number of customers requesting zero-defect products is constantly growing. As a consequence of this trend, steel producers need to target even higher quality levels, increased process stability, greater process flexibility, and high production efficiency, in order to be successful at manufacturing challenging products for demanding customers.
This means that steel producers need to become even more capable and to use a system that ensures accurate and stable control of all process parameters. Producers require quick and complete access to quality- and process-relevant data, a deep understanding of how a change in process parameters will affect the properties of their products, and the know-how to develop products quickly and successfully. To meet these requirements, Primetals Technologies has developed and introduced the Through-Process Optimization (TPO) solution, which targets the smart, digital interconnection of various process units and the accumulation of know-how along the entire steel-production chain.
Genealogy for each product
The basis of the intelligent Through-Process Optimizationsolution is the Through-Process Quality Control (TPQC) system, which creates a central database by receiving quality- and process-relevant production data from all production units via the Level 1 or Level 2 automation systems. Additionally, laboratory measurements and data from all types of sensors and equipment are centrally stored. The TPQC creates an information-rich genealogy of each individual product that is processed, and makes it possible to retrieve process data of all production steps for every inch of the product. This allows users of TPQC to track quality issues in very little time and analyze them by reviewing process data for all relevant production steps, which is key for fast troubleshooting and claim management.
The essential functionality of TPQC is to ensure desired product properties and increase quality levels by monitoring all quality-relevant process parameters along the full production route at defined quality gates. Therefore, communication between the production-management system (PMS) and individual automation systems of each production unit is required to evaluate distinct steps of the production process. To ensure a continuous increase in achievable quality levels, the TPQC system allows for the implementation of freely editable rules, which are used for the execution of conformance checks during production.
In the event of deviations, TPQC supports operators and quality engineers with root-cause analyses and automatically generated suggestions for corrective and compensational actions. Thanks to the system's customizability, users can implement and preserve their process- and product-oriented know-how by creating and implementing rules tailored to individual steel groups or grades. The integration of all processing units into one interconnected TPQC-based network also permits the creation of "through-process" rules, which extend the corrective and compensational actions to the preceding and subsequent productions steps.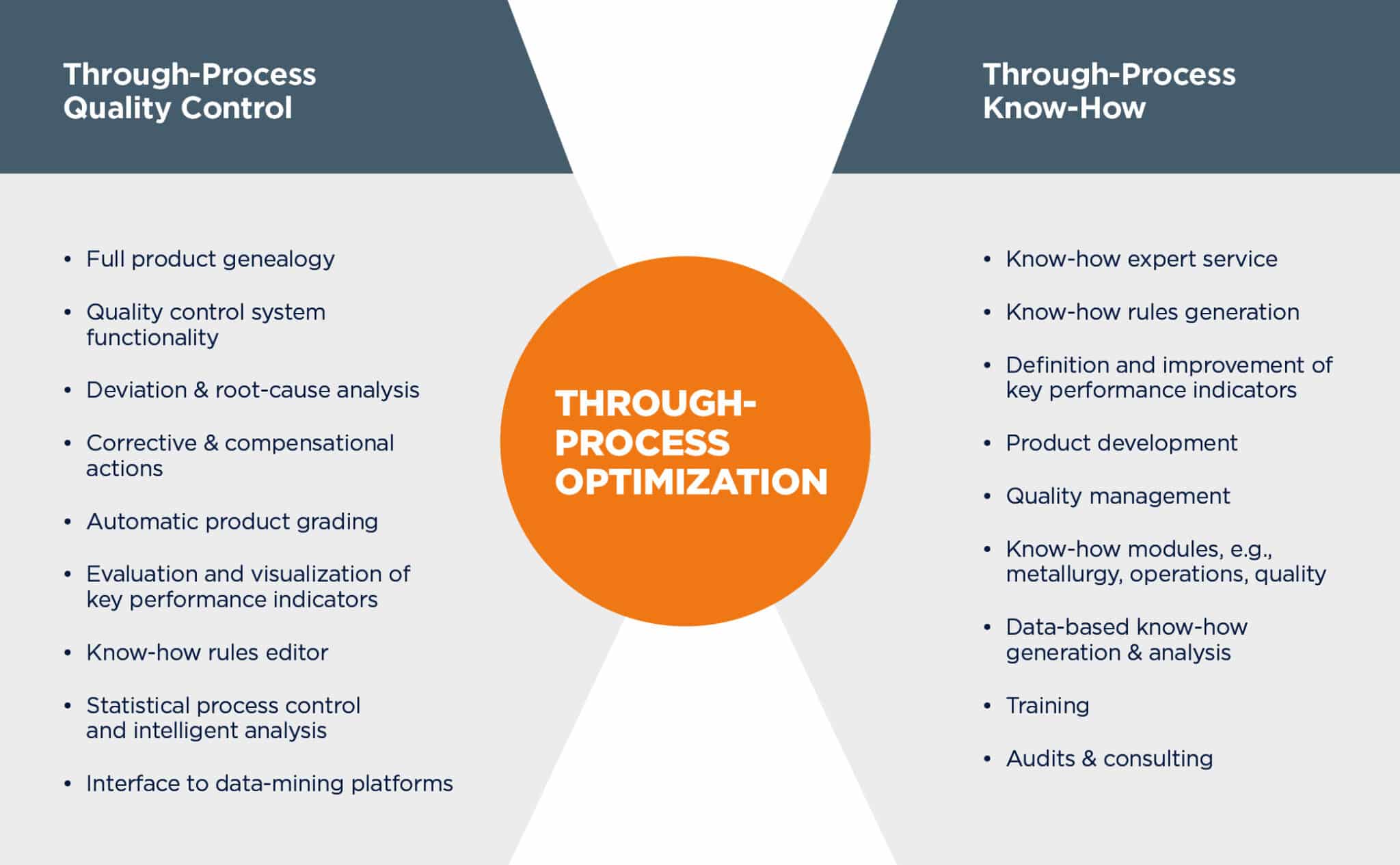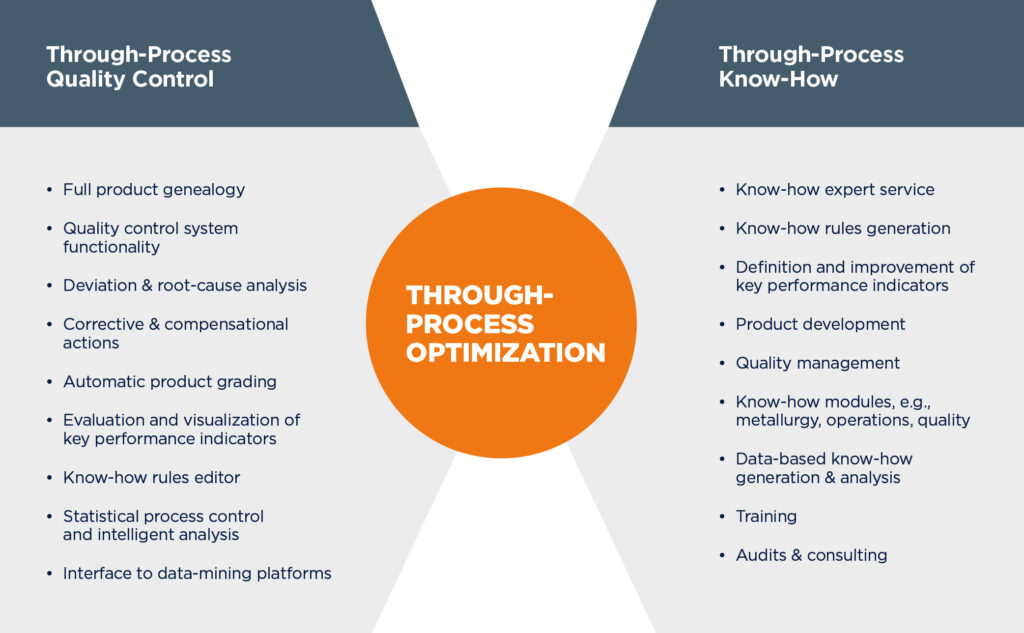 Main benefits of Through-­Process Optimization
Improved yield and productivity
Improved product-quality levels
Production of more advanced products
Far greater product-development capabilities
Benchmarking (KPIs)
Archival system for quality and process data
Faster claim management
Shorter time-to-market for new products
Build-up of know-how using the TPQC ­system
KPIs to ensure quality
The centralized collection of data enables the generation of key performance indicators (KPIs), which convey information about technical and business-related achievements and illustrate what progress has been made. Possible targets are new product-quality or process-efficiency levels, both related to individual processing steps or the entire production chain (throughout the complete production process, hence the attribute "through-process"). TPQC implements various types of graphical human-machine interfaces to support staff members from the quality and production departments, as well as top-management executives, in monitoring and benchmarking production conditions with respect to specific targets that are in alignment with the KPIs.
Statistical process control
The TPQC also includes statistical process control (SPC) functionality to confirm that production processes stay within their predefined operational range. Besides improving product quality and process stability, SPC also supports maintenance scheduling and helps in detecting deviations and drifts of various measuring equipment.
Machine learning capabilities
Big data mining and machine learning techniques can be introduced into TPQC via an interface that enables the direct and user-friendly transfer of data to commercial analytics platforms. Outside expertise can be obtained, for instance, when quality or process issues arise. All acquired data is structured and bundled by the genealogy function, which makes it easy to handle even highly detailed inquiries about product properties.
Know-how for system tuning
For the implementation of Through-Process Optimizationand in order to resolve specific problems, Primetals Technologies supports its customers with its own experts and with external consultants. These specialists are highly experienced and cover various disciplines, acting as consultants for a wide range of topics; for example, plant operation, quality management, maintenance, or end-customer qualification. Primetals Technologies also provides training sessions for steel producers who decide to implement Through-Process Optimization. In close cooperation with the respective customer, the team of experts devises and incorporates an optimal set of rules into the customer's TPQC system. These rules will ensure better control of the steel-production process, optimize product-quality consistency, and improve general plant operation. Overall, the Through-Process Optimization solution of Primetals Technologies is a powerful enabler for the digital advancement of steel production.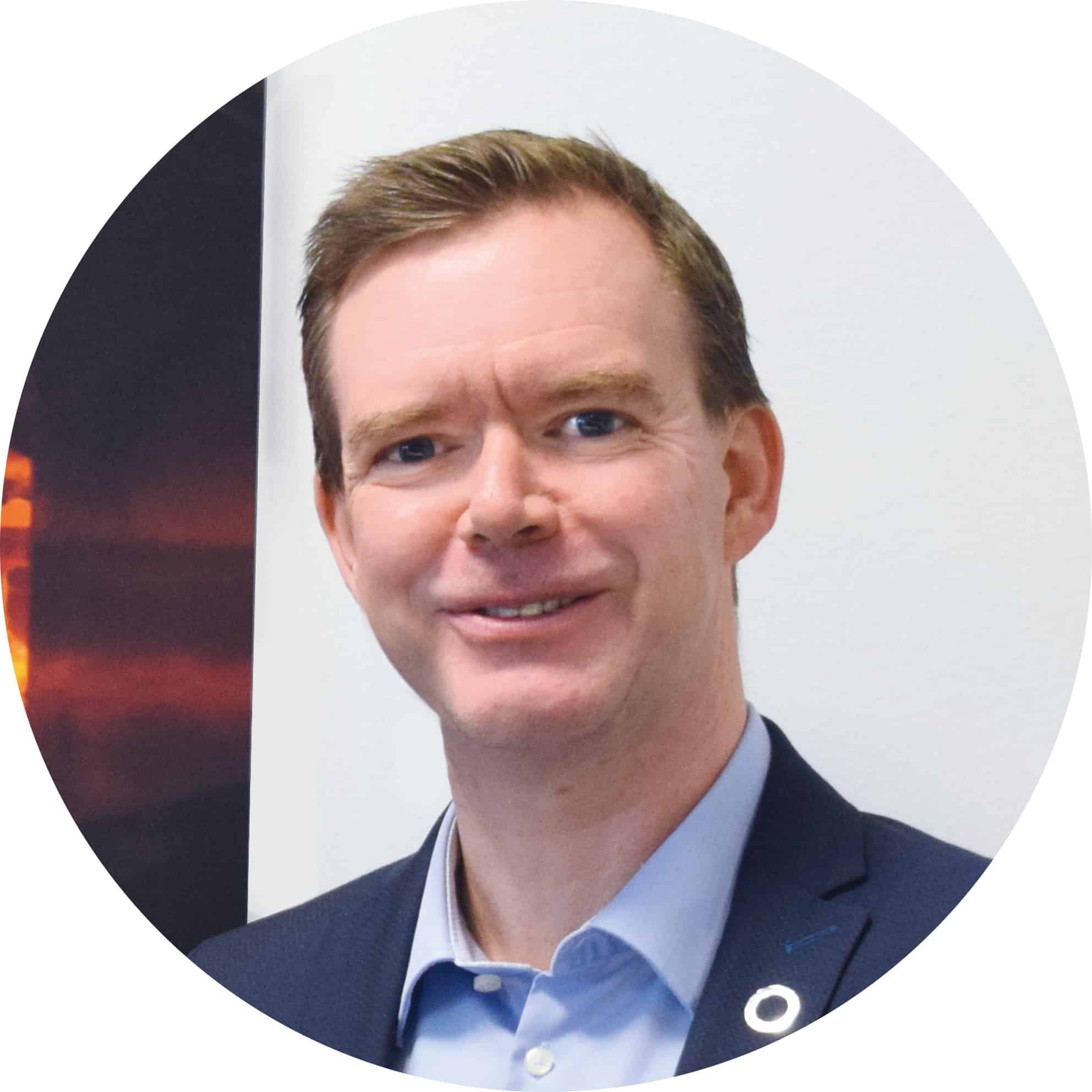 Interview with
Dr. Thomas Pfatschbacher
PROMOTING THE DIGITALIZATION OF STEEL PRODUCTION
Dr. Thomas Pfatschbacher is Head of Technology and Innovation for Casting & ESP, Rolling, Mechatronics, and Through-Process Know-How at Primetals Technologies. Pfatschbacher co-initiated and facilitated the development of the Through-Process Optimization solution, and led the Mechatronics Competence Center in Linz, Austria.
In a nutshell, what are the main goals of Through- Process Optimization?
Dr. Pfatschbacher: Simply put, our Through-Process Optimization (TPO) increases production efficiency and end-product quality at our customers' steel plants. This is not just an ambition. We can reliably achieve this with our TPO solutions and services. TPO consists of our new intelligent Through-Process Quality Control (TPQC) system and our Through-Process Know-How (TPKH) packages. In essence, it is already a highly advanced solution for the digitalization of steel production. TPO is a comprehensive solution that optimizes the entire production process—from the liquid phase to finalized products such as galvanized steel coils. The new and quite revolutionary aspect is that TPO combines data and information with all kinds of application knowledge; for instance, with operational, metallurgical, quality-assurance, and process know-how. All of this information is then brought together and digitalized by our Through-­Process Quality Control (TPQC) system, which we use to create customer-specific "know-how rules" to guide production.
What was the biggest challenge in developing TPO?
Dr. Pfatschbacher: There were two. The first challenge was to bring our excellent experts from all individual process units together and ask them to think outside of the box, in order to get a precise understanding of the interdependence between different production stages. Overall end-product quality and operational efficiency are not just the sum of all contributing parts but of their optimal alignment, and this required significant research and permanent optimization. The second challenge had to do with finding a way of digitalizing know-how. It took significant effort before everyone involved started to believe it was possible at all. Even I myself was sceptical in the beginning. But today, the know-how rules we create enable the TPQC to act as an interactive digital assistant that gives advice and support. And we know now that the system has immense potential for future applications.
What does "artificial intelligence" mean to you?
Dr. Pfatschbacher: Artificial intelligence (AI) is a topic that we are actively dealing with. For me, it is the combination of data analysis—often "big data" analysis—with statistical and mathematical methods, algorithms, and domain know-how, the latter of which is always needed for AI to work. It is unfortunate that sometimes these factors are forgotten, because discussions about AI tend to get somewhat esoteric without them. I am convinced that the steady increase in processing power and data-storage capabilities will enable new solutions and different kinds of "self-learning systems."
How is machine learning used in the TPQC system?
Dr. Pfatschbacher: On the one hand, we are very proud to have exceptional physics-based models for our production plants, in order to capture production processes and evaluate product properties. On the other hand, machine learning is becoming increasingly powerful. We are already using it in several ways. To give you an example, we employ machine learning to implement data-based decision modules and algorithms, to monitor trends, and to introduce corrective actions. We are also developing methods for the classification of defects found by surface-inspection systems. And there are more applications to come.
Among all the "Industry 4.0" technologies Primetals Technologies offers, which is your favorite?
Dr. Pfatschbacher: To be honest, my favorite would be the TPO solution. Before joining Primetals Technologies, I worked at the Austrian steel producer voestalpine for almost 15 years. This has given me invaluable insight into the "customer side" of things, and I am fascinated by how much TPO can already support our customers in the steel industry. 10 to 15 years ago, TPO was merely the vision of a handful of innovative and creative people. Today, it combines vast amounts of mechanical, automation, metallurgical, process, and operational know-how, all of which is essential for optimum performance. So I am glad to be a driver for digitalization at my company.