Rio de Janeiro is known for its exuberant cultural assets—such as Samba, the Carnival, and the statue of Cristo Redentor. But the city is one of many faces. While the local population and tourists all appreciate the beautiful beaches, the seaside connection is also of great benefit to the steel industry. The Primetals Technologies company location in Santa Cruz, part of Rio's West Zone, operates one of the company's largest metallurgical services workshops. Editor-in-Chief Dr. Tom Widter reports from Brazil.
"Cabin crew, prepare for landing." Finally, the words I have been waiting for. Everyone on the plane has returned their seats to an upright position, and those of us looking out of the window see a darkened sky as the plane fast approaches Rio de Janeiro. The flight from Munich, Germany, has taken 12 hours and while many passengers are visibly exhausted, the sight of Brazil's former capital, the country's second-largest city, is breathtaking. It is 7 pm local time on a day in mid-August, which means that it's winter in the southern hemisphere. But even from up high you can sense Rio's enormous energy, which is palpable even when it's not carnival season. The bird's eye view reveals lights that are different from any place I've visited: a seemingly endless carpet of yellow and orange sparkling dots. Like fire—or liquid steel flowing from the converter during tapping.
Exiting the aircraft, I catch the scent of Rio for the first time. It is a mix of sea air and a sweeter note of vegetation that I can't quite pinpoint—perhaps flowers or cacti? Humidity levels are substantially higher than those of summertime Continental Europe, making the temperature feel higher than it actually is. People are warmer, too: Even Brazil's border force officers welcome me with a friendly smile, and the taxi driver manages to entertain me with stories from his life (he was born and bred in Rio, the term is "Carioca") even though he does not speak English and I don't understand Portuguese. My hotel is located in an area called "Recreio" in Rio's West Zone. It is close to the ocean, a beautiful spot, and people are still playing volleyball and enjoying drinks and loud music at the sandy beach. Much too tired from the journey to join the party outside, I immediately take the elevator to my room, take a shower, and soon fall asleep to the sound of booming bass drums.
The West Zone of Rio
The next morning, I meet my colleague Paula Santana in the hotel lobby, who will be my guide during my visit of the Santa Cruz company location of Primetals Technologies. She has already ordered a special taxi—special in that the driver is permitted to enter the premises of local steel producer Ternium, a shared site that is also home to Primetals Technologies. Santa Cruz, much like Recreio, is part of Rio's West Zone and features the same coastline. Still, it takes us about an hour to get to the company location, with a brief stop at Ternium's main gate, where security staff meticulously check our identities and authorizations.
Just before we arrive at the company location, Santana and I spot dozens of slabs and enormous raw-material storage areas. "Those are fairly recent," she says. Ternium must have upgraded its logistics, and, as a result, the Primetals Technologies complex feels even more immersed in the immediate reality of metals production. Our destination, the main office building, is a 3-storey structure. Santana gives me a quick guided tour. Everyone is working in air-conditioned environments, which makes life easier in the Brazilian winter and especially in summer, when temperatures regularly exceed 40 degrees Celsius. As we pass the office of CEO Eberhard Karnitsch-Einberger, I realize that he has left his door open. "Tom, come in," he says, and explains to me that he hardly ever closes his door. "It is a signal to my team that I am always available if they need me." Open and compassionate communication, he explains, is one of the pillars on which the work culture at Primetals Technologies Brazil rests, and the CEO must serve as a role model.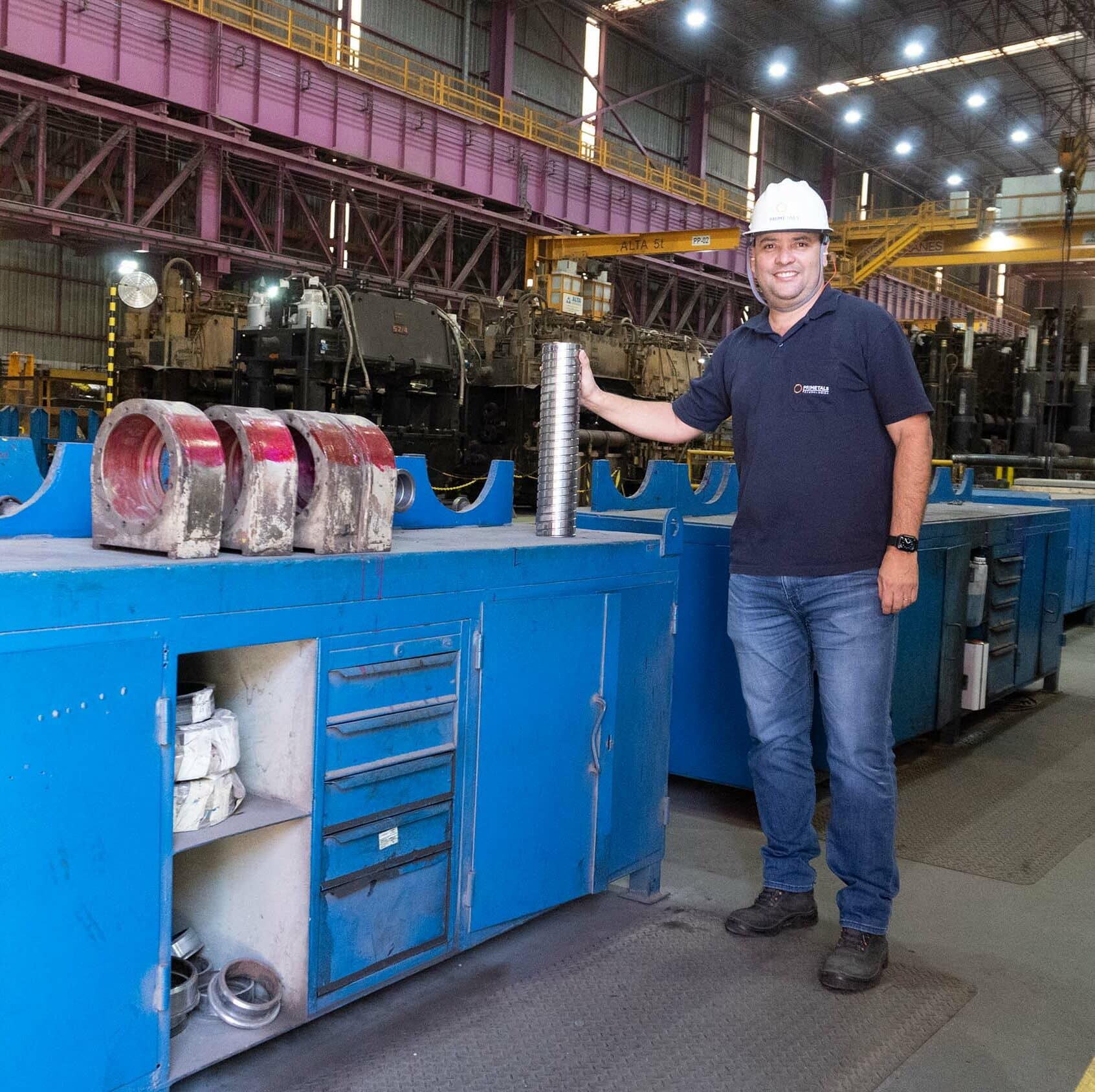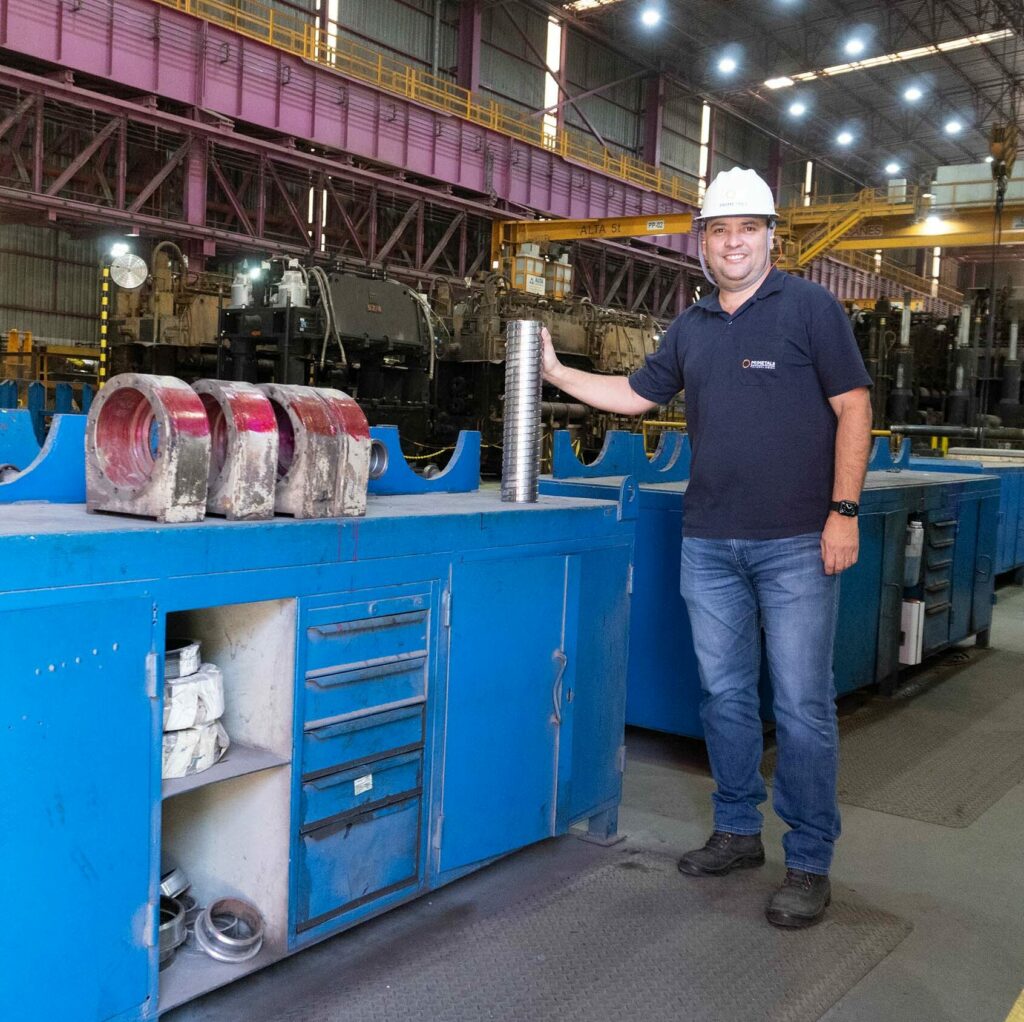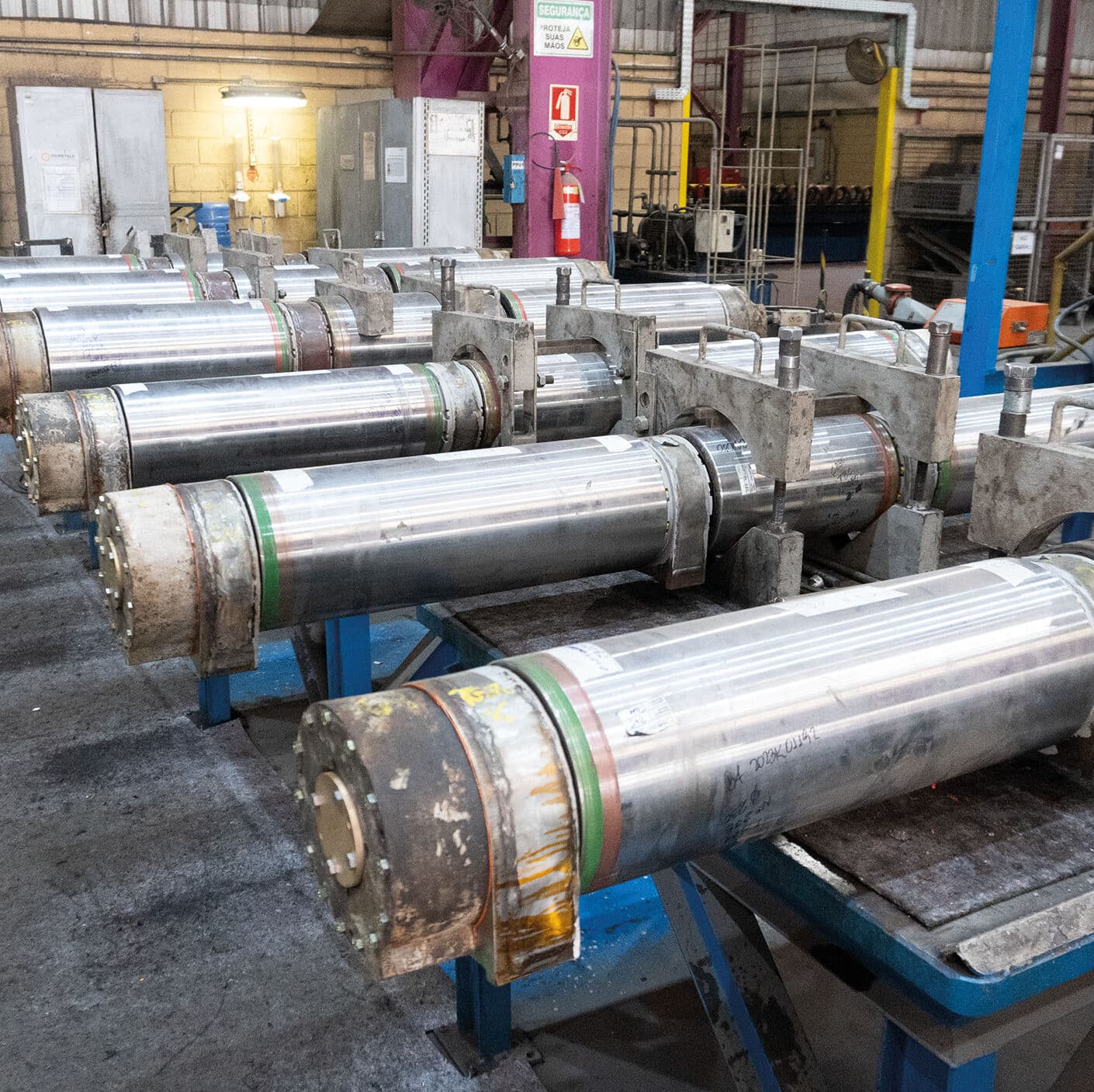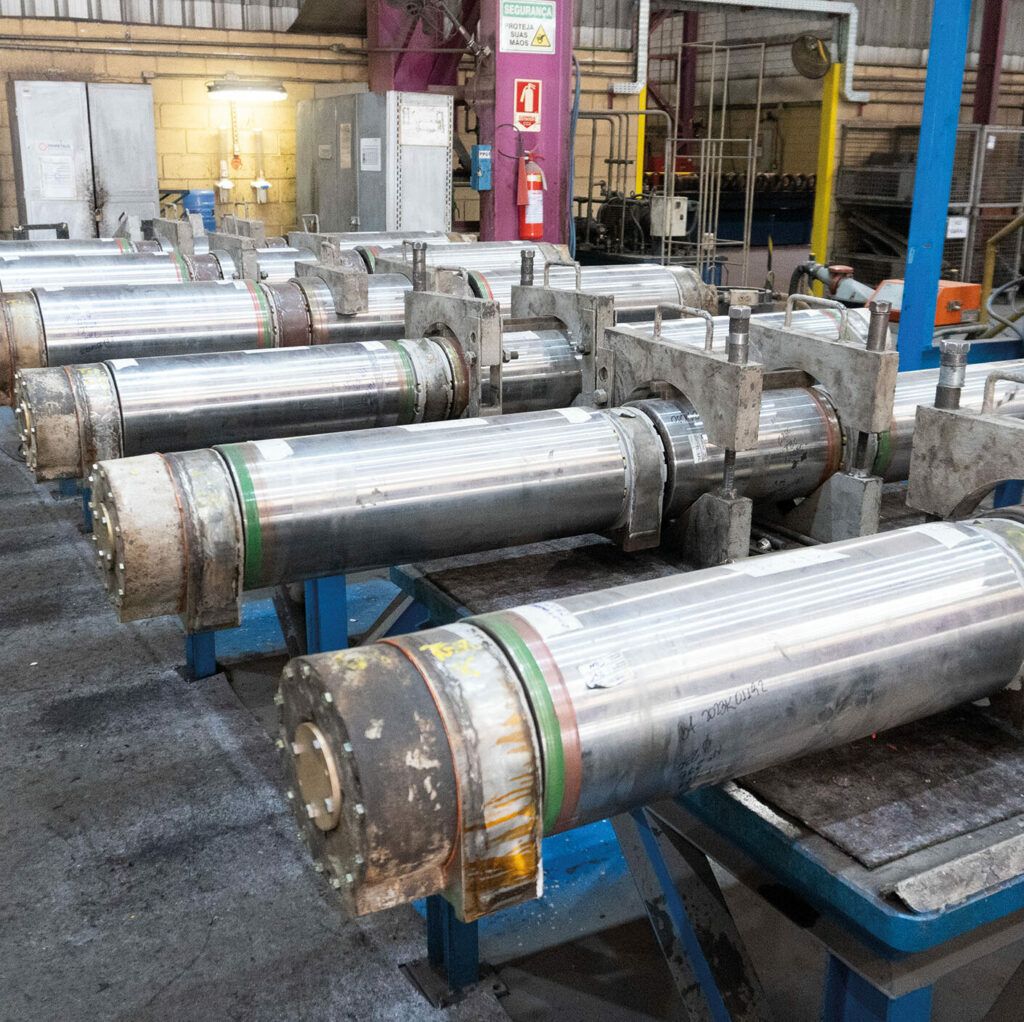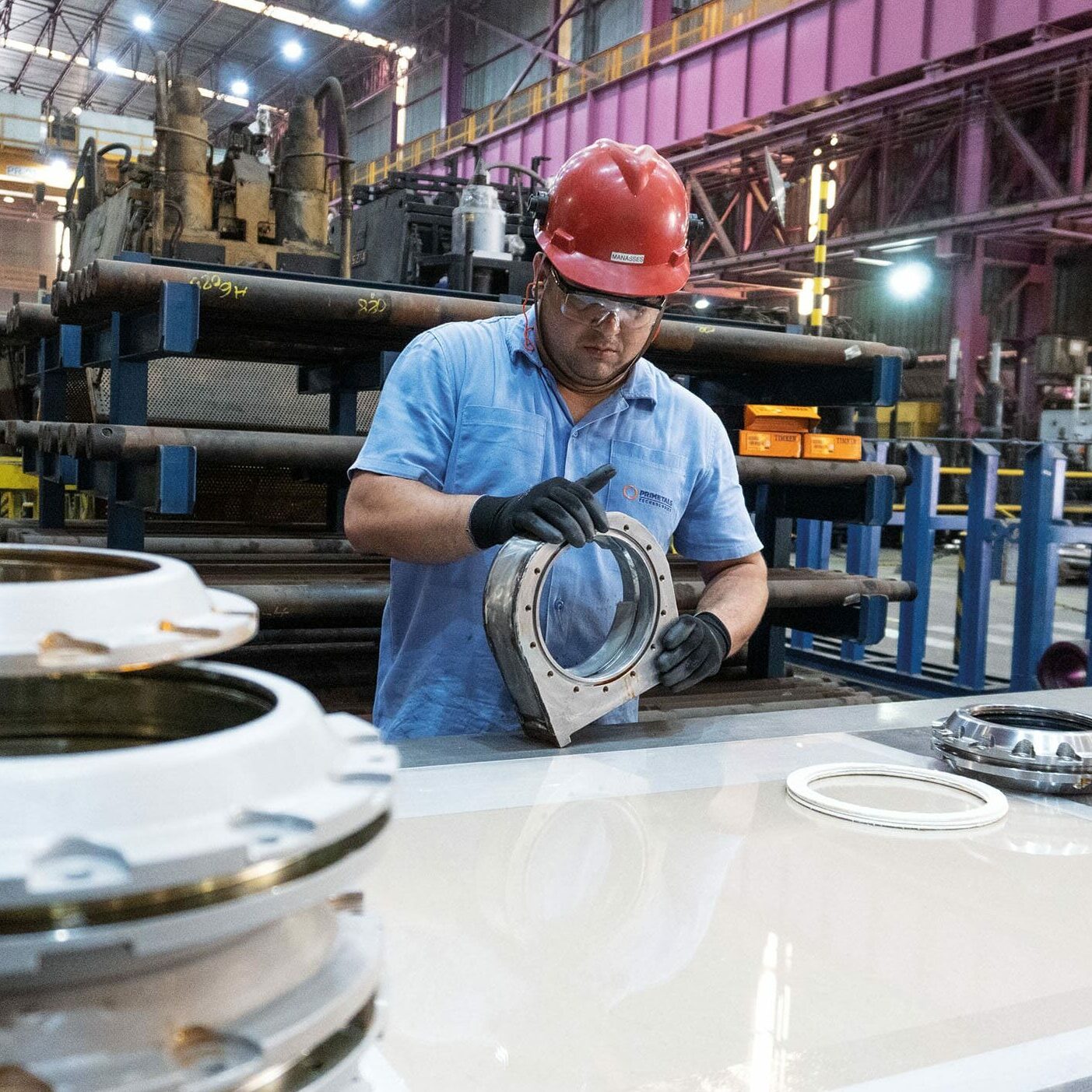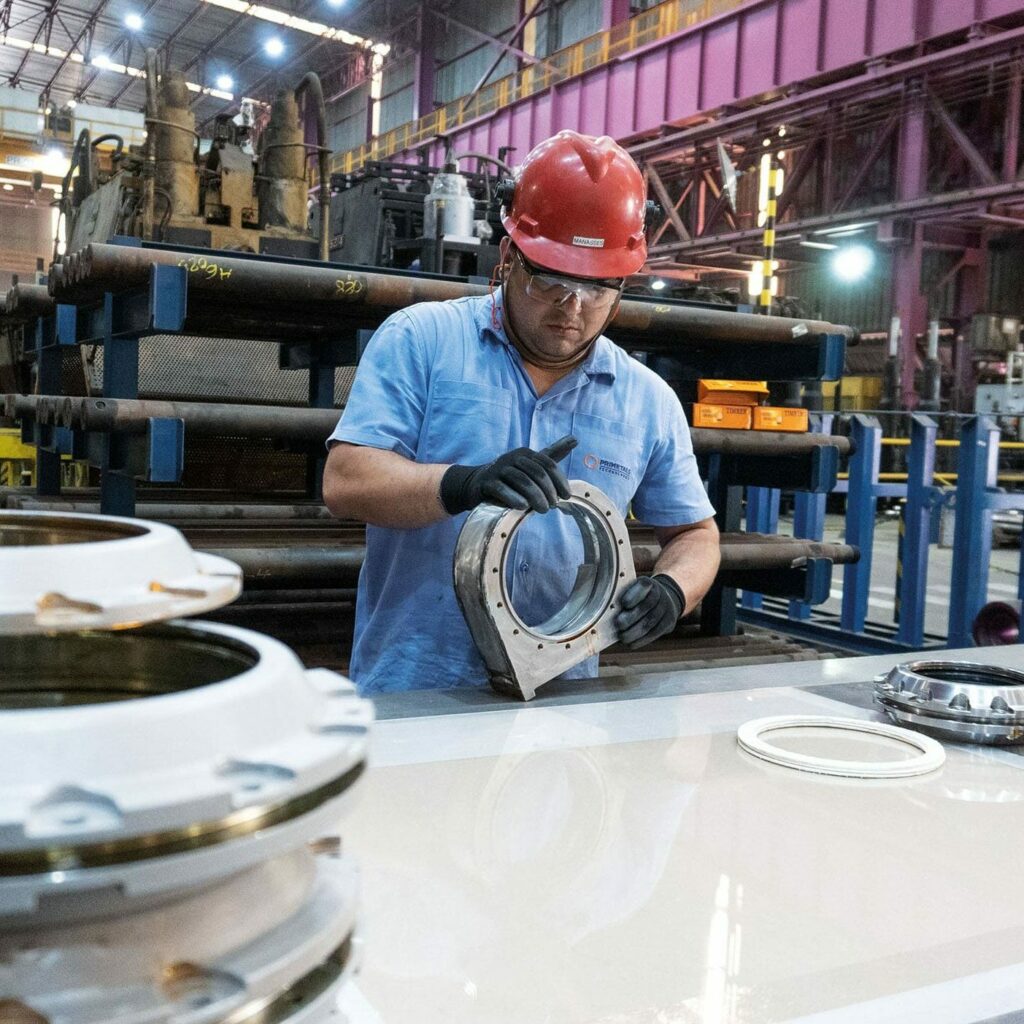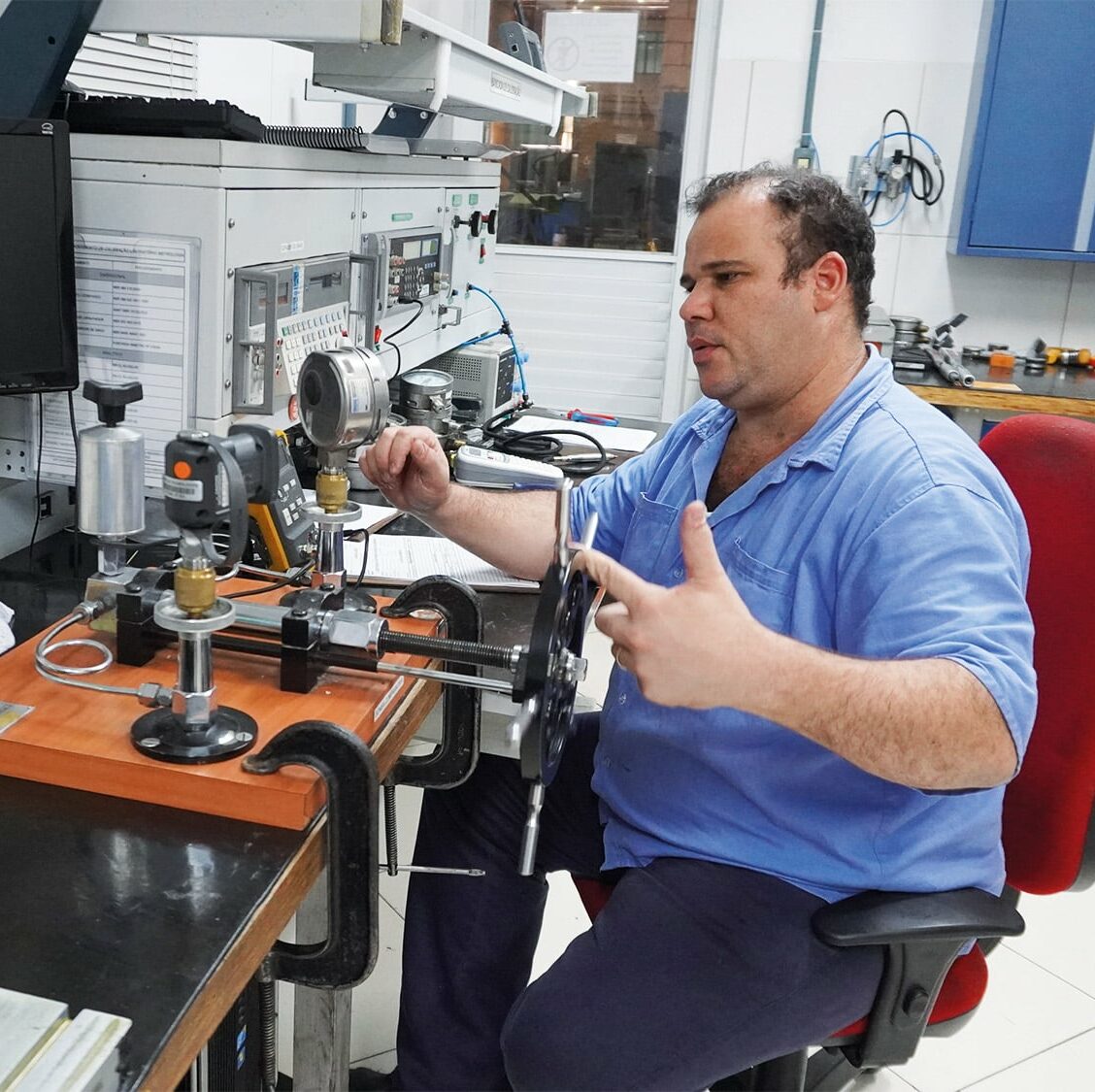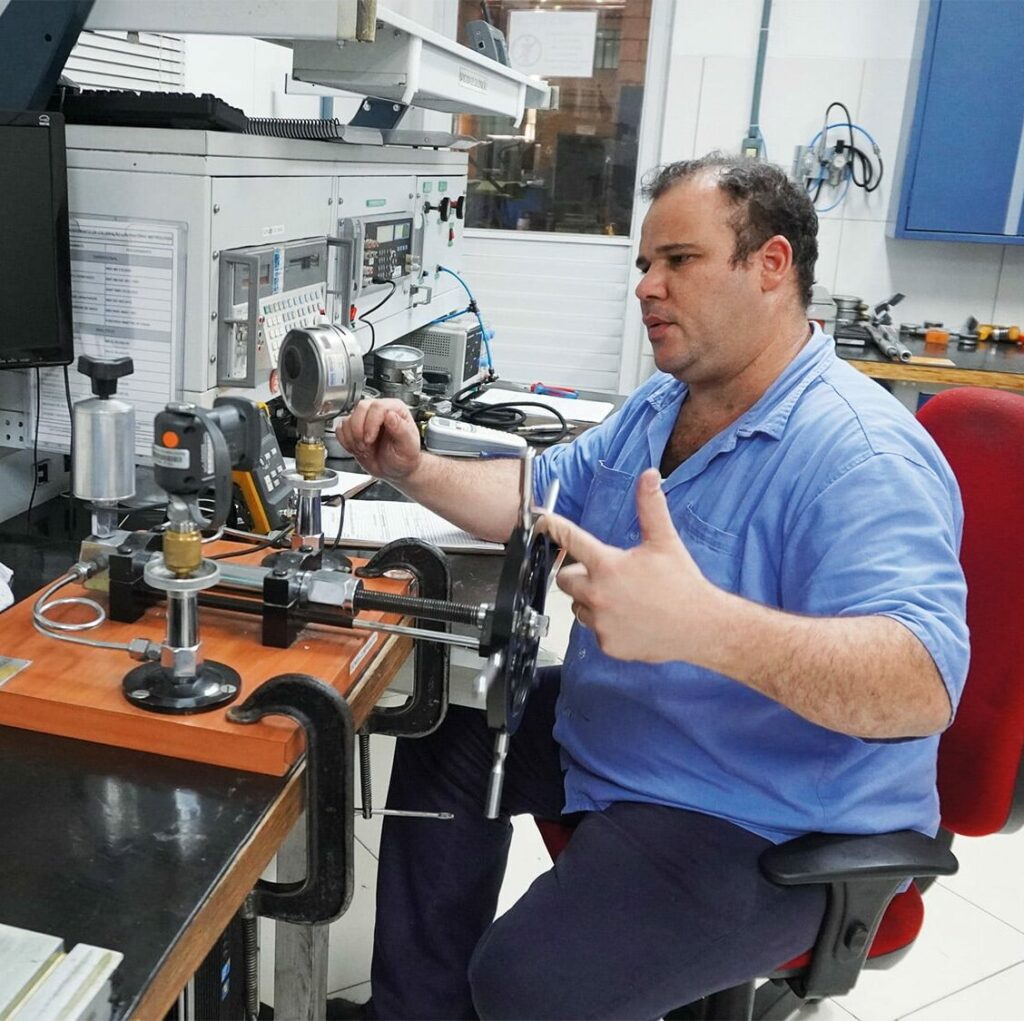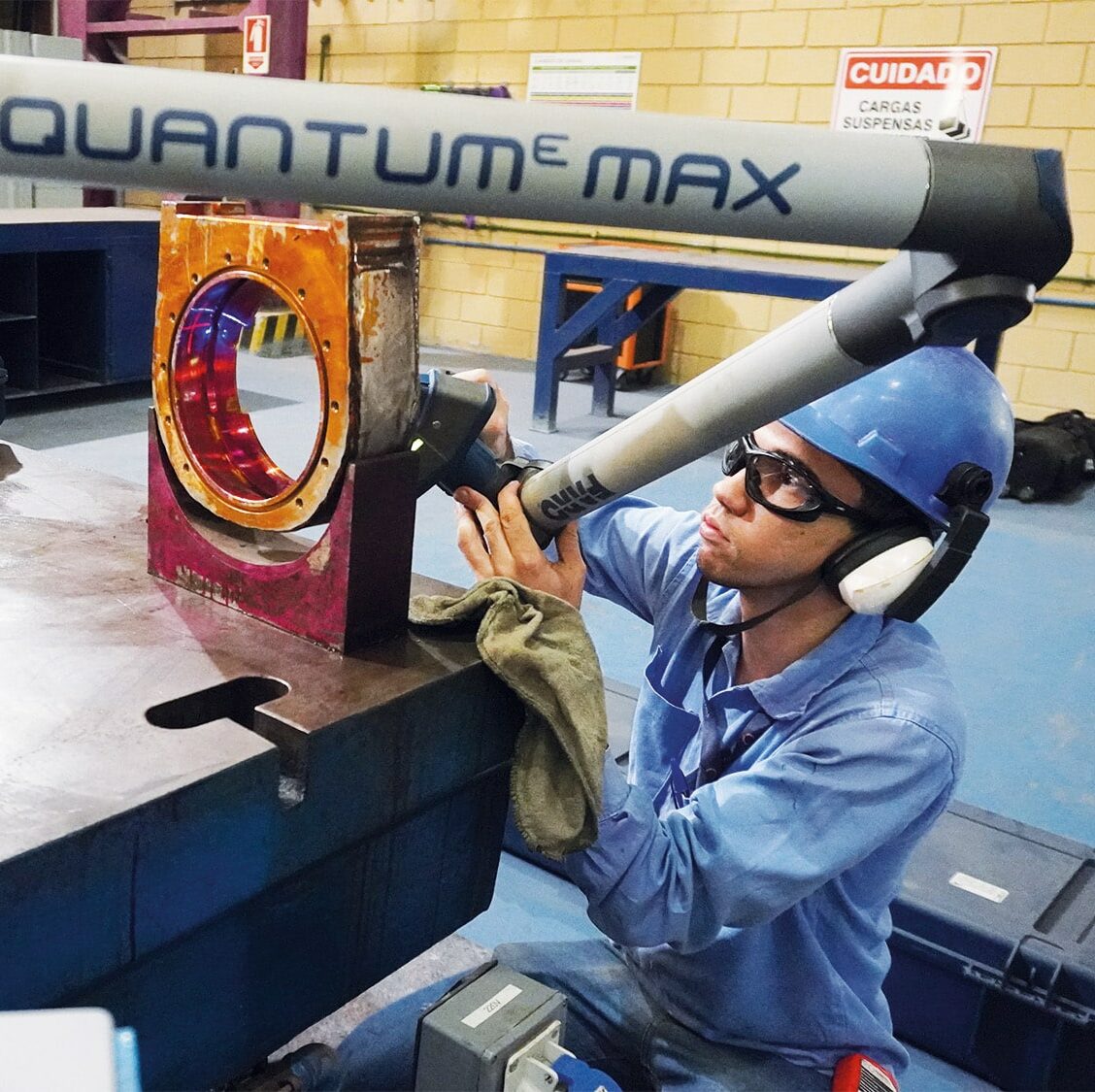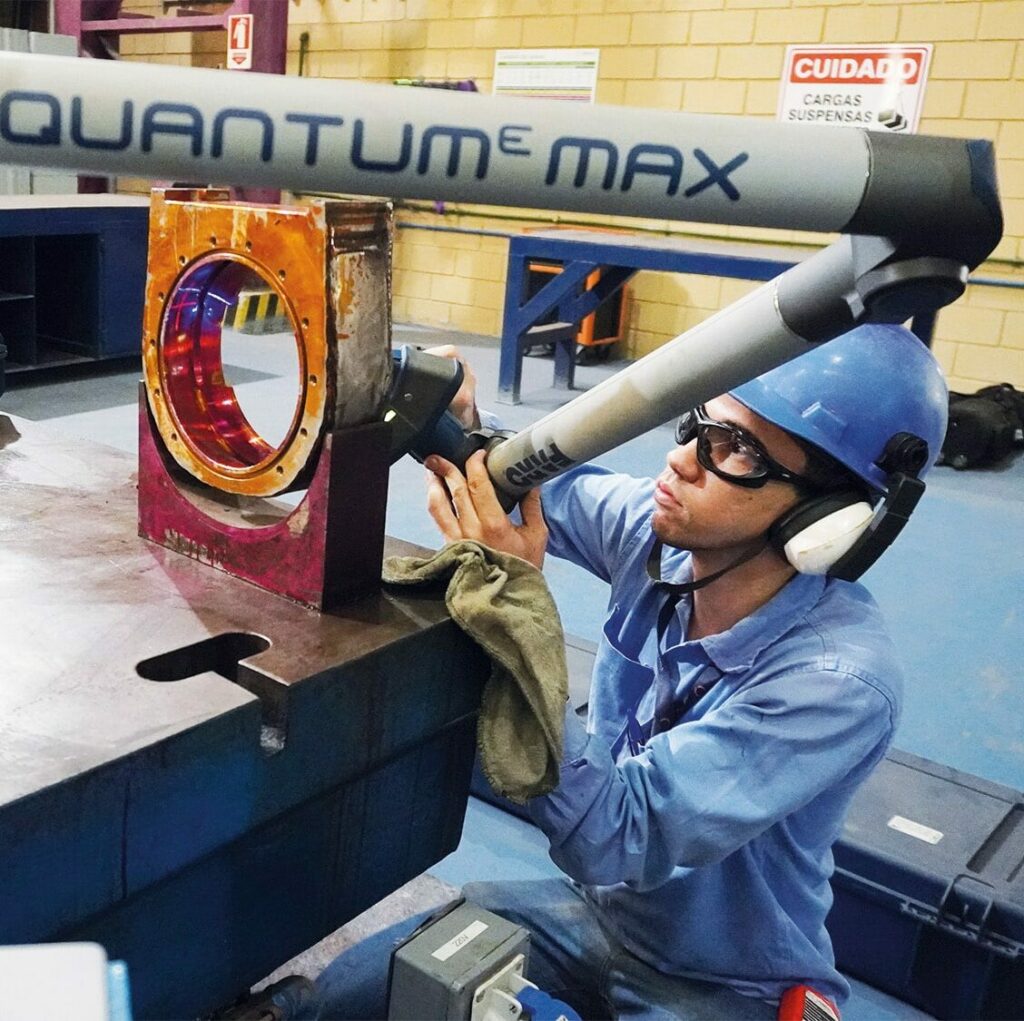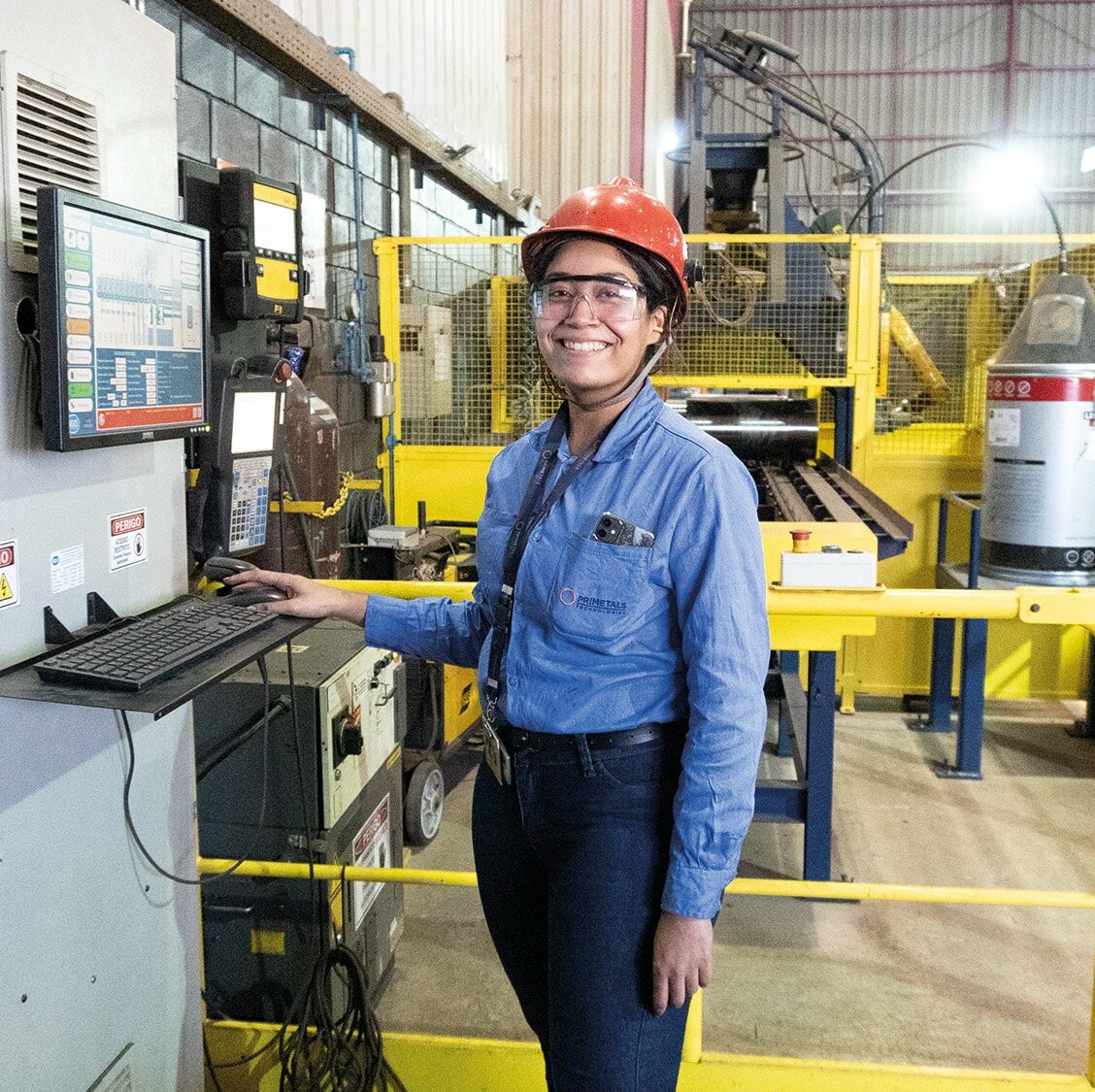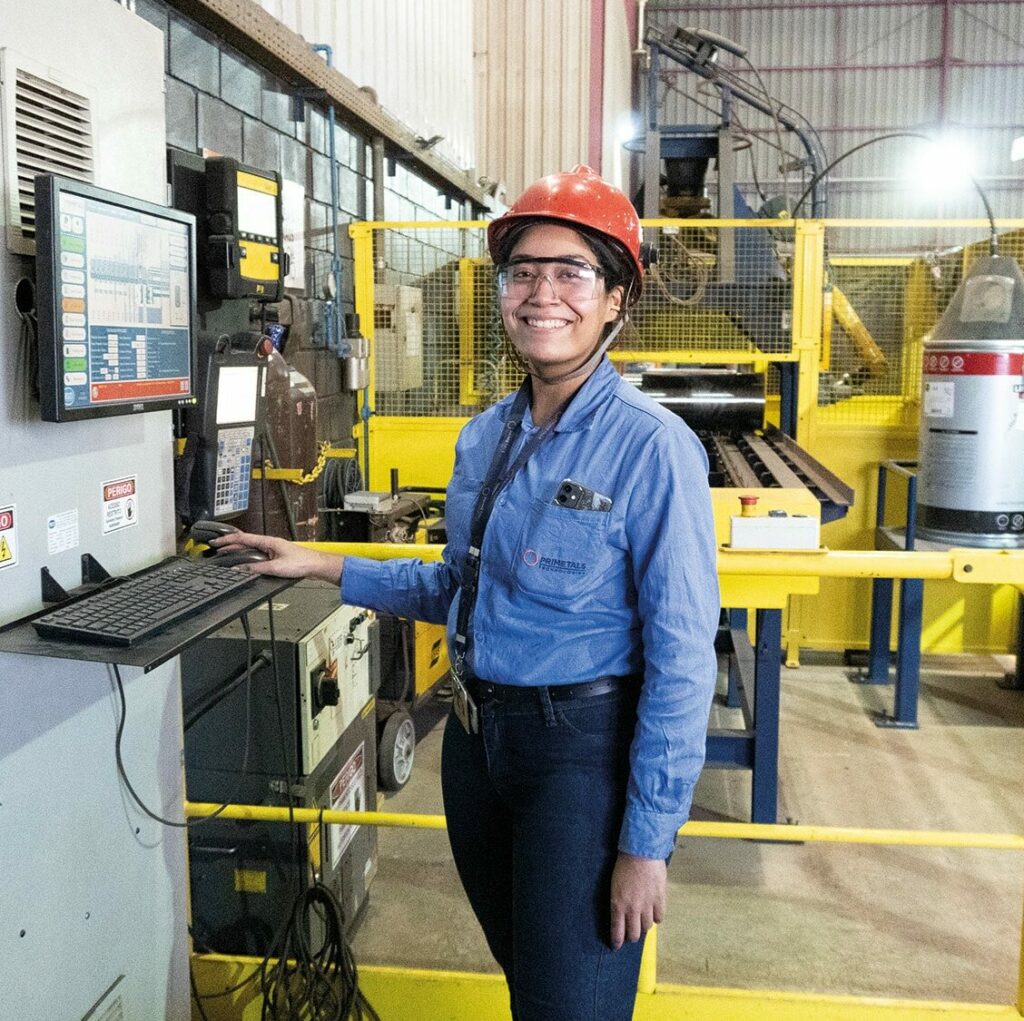 "Have you visited our workshop yet?" Karnitsch-Einberger asks. I have not. "The workshop is the cornerstone of our service activities, which are at the core of what we do here in Santa Cruz," he says. "Not everyone in the steel industry understands the value of the next-level services we provide," the CEO continues. "There is still the misconception that we only provide spare parts. The reality is that we play an important role in the day-to-day operations of the steel producers we partner with. For instance, we make sure that Ternium's continuous casters are always in optimal shape, and we will point out any production-relevant aspects that could be improved. It is a very deep collaboration, and our customers benefit from our metallurgical expertise. With some of our service contracts, we are paid per ton of steel produced. We therefore have a keen interest in keeping things running as smoothly as possible."
Touring the Workshop
Curious, I head off to the workshop. Karnitsch-Einberger has arranged for workshop manager Hasley de Almeida to accompany me through what will turn out to be the largest Primetals Technologies workshop I have visited to date. The site is divided into two sections, the first of which is geared toward caster maintenance and has expanded its scope quite considerably in recent years. "We are now able to execute practically every facet of caster-component reconditioning," de Almeida says, and he shows me a finalized part so evenly made that it could belong to a statue. "This is a component of a caster mold," he explains, "and while we do buy in the pipes from a third party, all other manufacturing steps are done here."
Whenever they receive equipment from steel producers for reconditioning, everything first runs through a thorough quality check. Based on this assessment, workers will perform precisely the procedures required to upgrade the part to "as new" condition. De Almeida directs my attention to seven enormous caster rolls, which apparently were recently serviced for steel producer Gerdau. "We may be located on Ternium's site and have an extensive and long-standing partnership with them," he says, "but they are not our only customer." De Almeida and his team also keep plants of Gerdau, CSP, CSN, Usiminas, and ArcelorMittal running, and their list of customers is likely to grow in the years to come.
"Bearings always need to be inspected," the workshop head explains, and he takes me to a special testing station. A colleague wearing a huge pair of headphones is touching the rolls, which are slowly rotating, with something that looks like a high-tech magic wand. "This process is an in-house development," de Almeida explains. "You see, the bearings at the center of the roll need to be replaced every time we do a service. But side bearings may be used for two cycles, depending on wear. With this testing station, we determine the condition of the side bearings by listening to the sound they make." After this initial examination of the rolls, they are dismantled and, piece by piece, restored to perfect condition. This includes steps such as welding and machining.
Once the reconditioning work is complete, the bearings are put back together again. The inner parts of the bearings are checked in detail using a large magnifying glass with a built-in lamp. It's a lot of manual high-skilled labor. "We have recently started to use different, more technologically advanced components for the bearings," says de Almeida. "They are called 'XLL,' which is short for 'Xtra Long Life,' and are giving us great results." We watch another worker reassembling a bearing, and I find it remarkable how "new" the serviced part looks. De Almeida and I continue our journey through the workshop, and as we turn the corner, we see almost a dozen caster segments lined up, waiting for the reconditioned rolls to be reinstalled. How many of them can the workshop handle per month? "It depends on the circumstances, but I would say up to eight," de Almeida reveals. He is a busy man.
what makes me proud to be brazilian…
Employees of Primetals Technologies share many passions, such as pioneering new solutions for their customers. But every location also has unique qualities. In this section, we catch a glimpse of what makes Brazil so special.
Brazilians are very innovative people. We use our creativity to support others and become more efficient. In our professional lives, we apply this skill to make our customers happy."

Pedro Elias
Process Engineer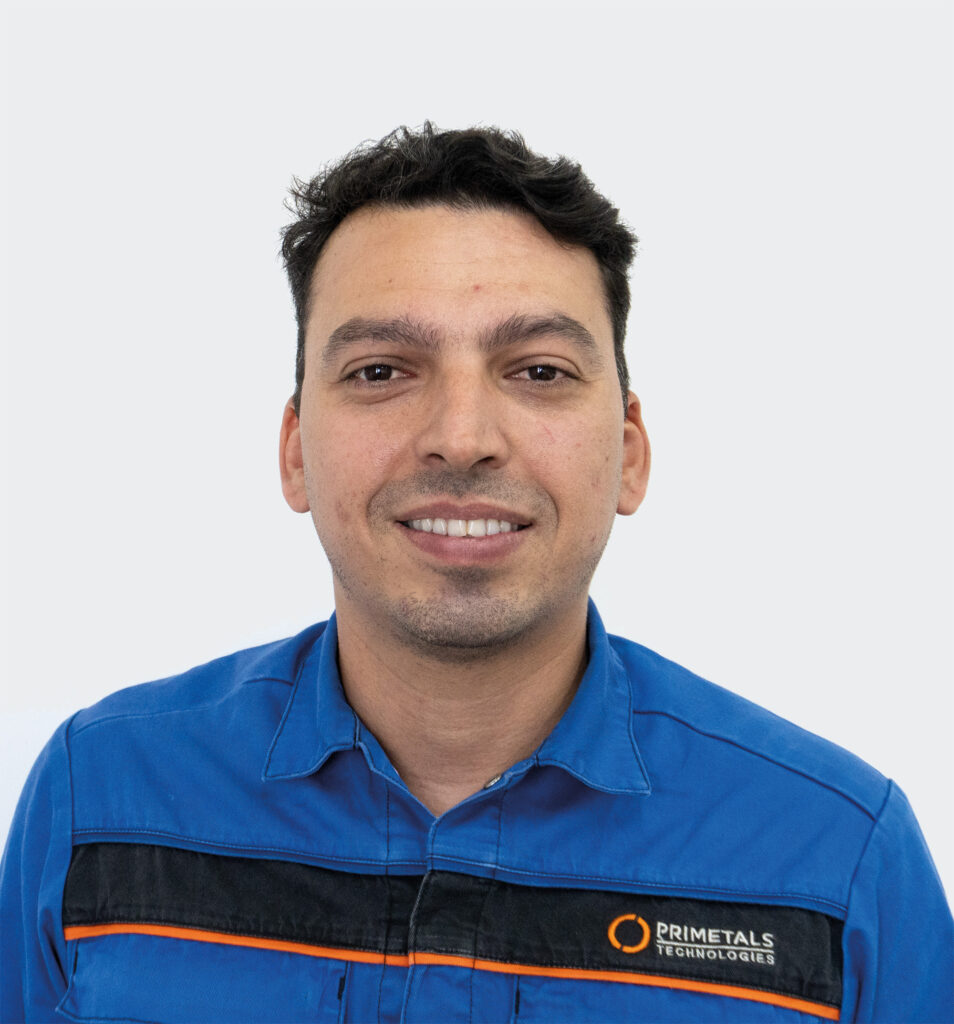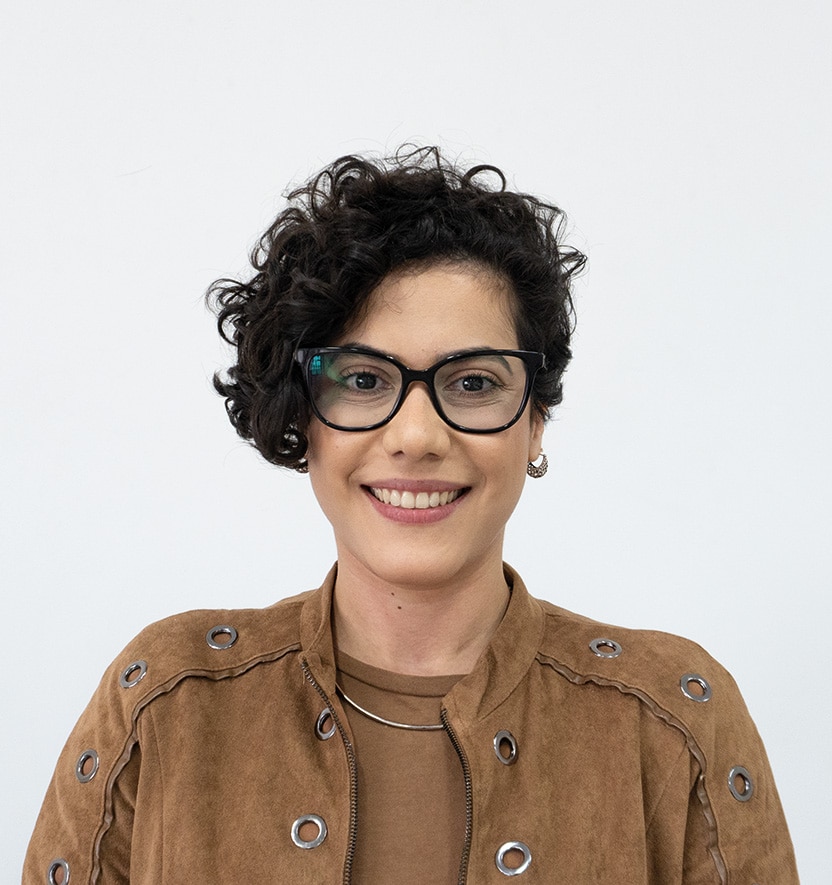 We are a very empathetic nation. Every day, you can observe someone helping a stranger in the street. I recently had a phone conversation during a train ride. When I told the person that they had just been chosen for a role at the company, everyone on the train celebrated the new employee's success."

Camila Dias
HR Analyst
Brazil is a large country and I love traveling and exploring the many different regions. I particularly value the beauty of our nature, cities, and culture, which are outstanding."

Cassiane Oliveira Martins
Welding Machine Operator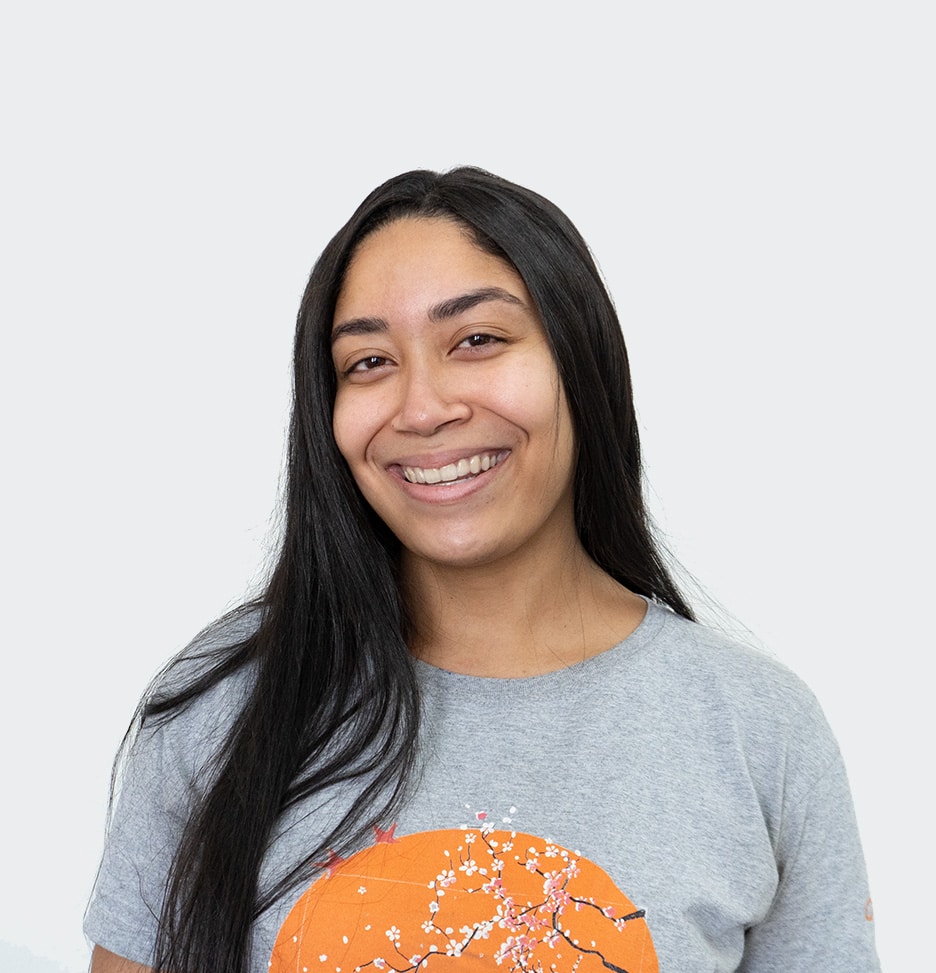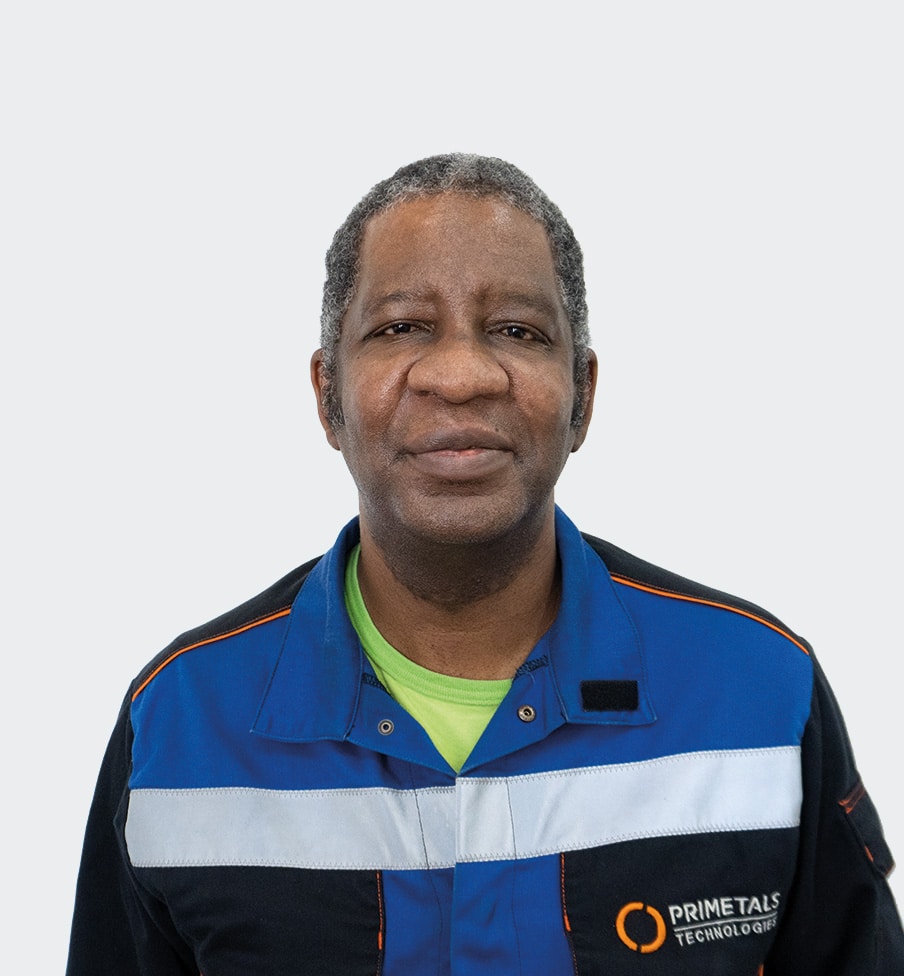 There is a lot of solidarity in our society, which is something I really appreciate. I also like our tropical weather."

Marcelo Vieira Barbosa
Senior Safety Technician
We had to overcome substantial challenges in recent times, such as the pandemic and political hurdles. I am proud of the fact that we came out of this period as a stronger nation."

Thiago de Oliveira Martins
Nurse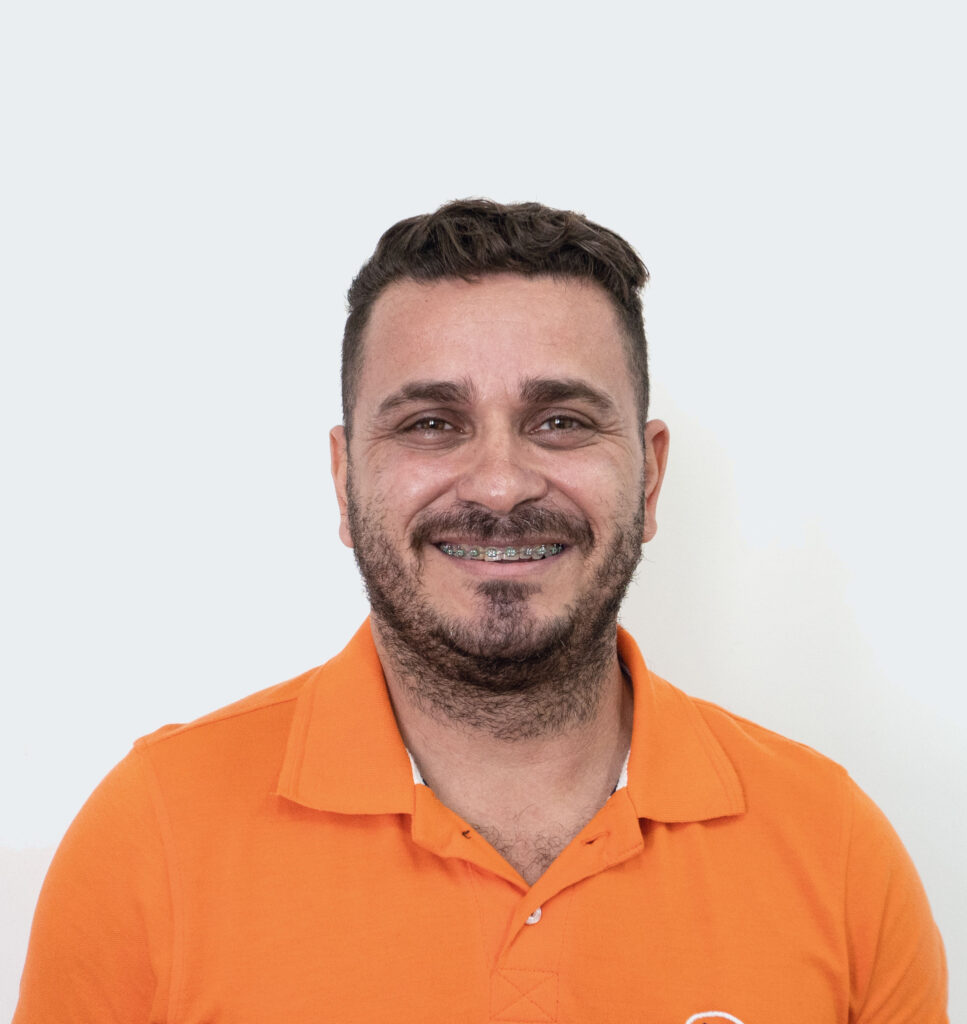 A New Life for Copper Plates
Of course, caster rolls are only one aspect covered by the workshop. Copper plates for the caster mold are another: they come in various sizes and with or without thermocouples, which let operators monitor the heat distribution inside the mold. They too are first disassembled and then reconditioned on a parts basis. The process involves submerging the plates in a nickel bath.
De Almeida and I walk up the stairs to the seven nickel-­plating tanks the workshop is using. They are each filled with a green solution that facilitates the electro-deposition process. "Most plates stay in the tank for around six days," de Almeida says. He explains to me that the resulting nickel layer makes the plates more resistant to wear and increases it lifetime. The chemistry of the solution in the tanks is a critical factor and is continuously kept in check. In fact, just next to the tanks, I discover a small laboratory that monitors the active ingredients in the solution. Like any high-end chemical lab, it is filled with test tubes of all shapes and sizes and lots of electronic measuring equipment. Two staffers are entering test results into the lab's IT system.
One Workshop, Many Labs
The workshop actually has more than one lab. In order to determine the quality of the cooling nozzles used in caster segments, the staff have developed a dedicated spray test facility. The first step in testing a nozzle is to mount it onto a special water pipe that hovers above a meter-long grid that features dozens of slots—all inside a tank made of metal and glass. The setup is completed by a camera, all rugged-looking and likely built for maritime use. Three, two, one, go: One of the workers flips the switch, and water comes bursting out of the nozzle. The crucial question is exactly how much water ends up in each of the slots of the grid underneath—it's about the distribution of the liquid. This is what the testing station reveals. The result is then compared to benchmarks by a computer system, which lets workers examine everything on a single screen. Only the good nozzles make it back into the caster segment.
De Almeida next takes me to the workshop's second section, which is dedicated to "offline" procedures—machining, mostly. Among the powerful equipment designed for processes such as drilling and turning, we find a small booth that houses the calibration lab. Inside, Carlos Eduardo Gomes, a maintenance electrician, is busy checking and adjusting some of the meters used by his colleagues. Gomes relies on a selection of digital and analog tools to ensure that the gauges remain reliable little mirrors of reality. Some of his tasks require a good set of fine motor skills, and I get the impression that working with meters, much like assembling watches, is a craft all of its own.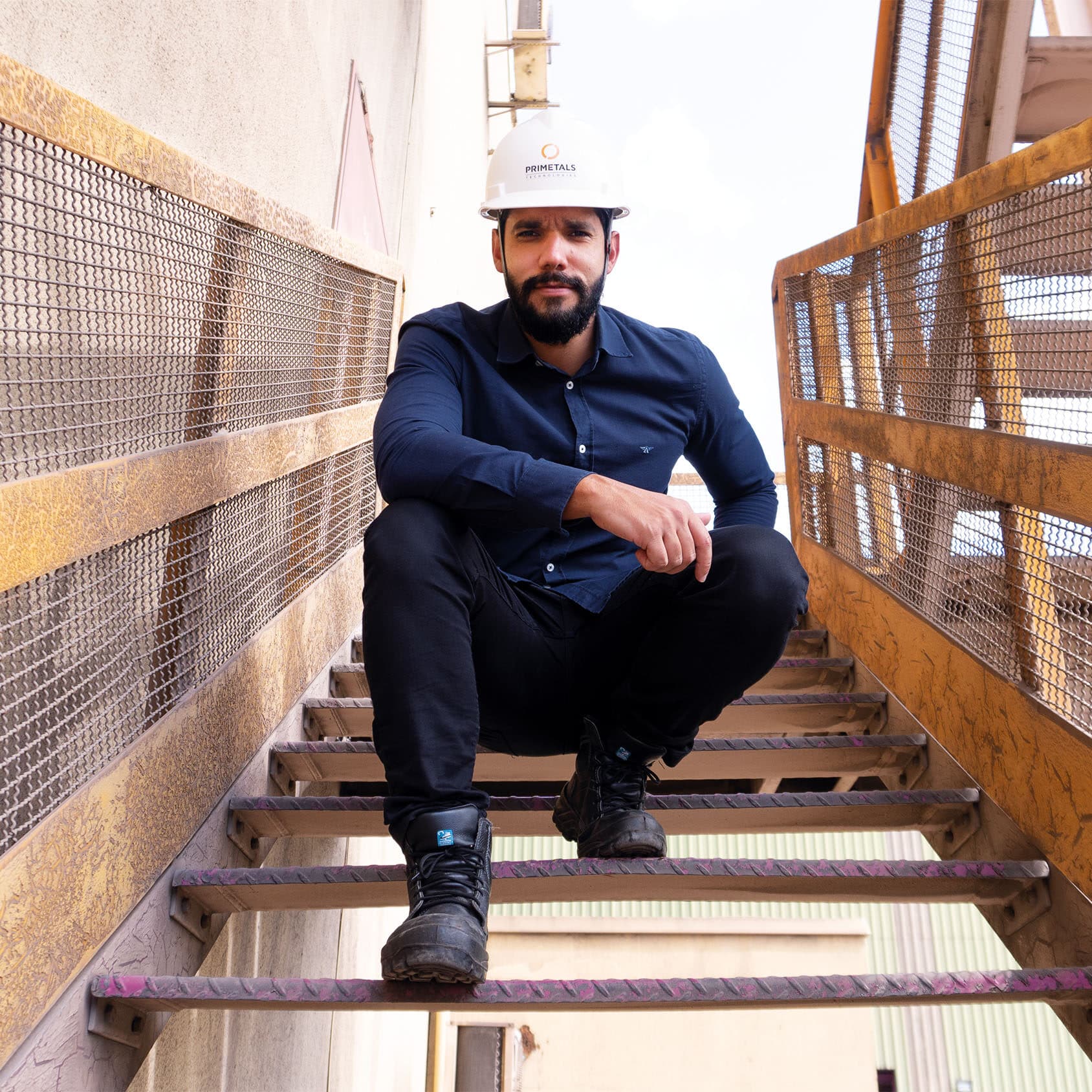 Interview with
Hugo Veiga
MAKING DIGITAL TOOLS


UNIVERSALLY ACCESSIBLE
Hugo Veiga is the Santa Cruz location's industrial digitalization coordinator. He aims to capture information right at the source.
What, in your view, will be the biggest challenge of the metals industry going forward?
Hugo Veiga: We are at a point where we must learn to use our resources in the smartest way possible. Making our processes sustainable will be an important challenge. Plus, digital solutions will connect technologies and people much more comprehensively than ever before. One objective will be to combine human intelligence with artificial intelligence.
How much more digital can metals production become?
Veiga: To me, the main purpose of digitalization is to be able to connect with customers and suppliers, establishing one big network. This digital collaboration will make businesses more agile, transparent, and reliable. So there is no choice, we all have to become much more digital enterprises.
Are there any aspects to Brazilian culture that facilitate innovation and technological progress?
Veiga: It is part of the Latin mentality to adapt well to new situations. We are highly creative and can deal with unexpected scenarios. When you innovate, you often start from scratch and have only few points of reference in terms of where to go, so this quality comes in handy. Every time is different from the time before, therefore you must improvise, have good ideas, and find new solutions.
Integrating Digital Solutions
As de Almeida and I continue to explore the workshop, I notice an area marked with the sign "Qualidade 4.0," which translates as "Quality 4.0." The name reminds me of the term "Industry 4.0"—was that the intention? "Yes," says de Almeida. "It is our goal to capture as much data as we can early on, and in digital form. We can measure components as they come in, and even more importantly, as they leave the workshop. It is a quality control measure and allows us to keep track of the precise condition in which serviced parts are sent back to the customer." The team decides to give me a demo. "This is a Faro arm," de Almeida says, pointing to a sophisticated-looking digital measuring device. I realize that I have seen this kind of device before when I reported from the Sheffield company location. However, de Almeida's team uses the arm in a way that's entirely new to me. Not only do they rely on the arm's point-­measuring function, but they also examine parts by activating the built-in three-dimensional laser scanner. The latter is quite a sight and has a futuristic feel to it, with the arm emitting blue and red light beams. After a fast scanning procedure, the entire spare part has been captured and can be studied in virtual form on a Windows computer.
Digitalization is taken very seriously at the Santa Cruz workshop. De Almeida introduces me to Hugo Veiga, who orchestrates the location's Industry 4.0 efforts. Much of his work is based on the Maintenance and Asset Technology solution (MAT) developed by an international team based in Linz, Austria, and other company locations. Veiga's role is to implement MAT at the Santa Cruz workshop and to expand its capabilities. "Would you like to learn more?" asks Veiga. We walk back to the site's main office building. Veiga, who always carries a tablet computer, turns on his PC and opens PowerPoint. "Here, you can see all the data sources we are currently using," he says, "and the ones we will be adding in the future." Among those sources, Veiga not only lists the customers' spare parts and workshop tools, but also third-party equipment and something he calls "MAT Mobile." Veiga smiles: "I love the name, it's so close to the 'Batmobile.' But its purpose is quite serious. It is a solution we are creating to let workers input information as they get it. This streamlines our workflows and ensures that we have a complete digital record on every single spare part we service." The data is then securely stored in a customized cloud-computing setup and made accessible on various visualization devices. It's a strong concept, and Veiga says they are making good progress, incrementally building the system on a module-by-module basis.
Karnitsch-Einberger's office is close to Veiga's, so I decide to check if his door is still open. It is. "Tom", he welcomes me back, "what did you think of the workshop?" I tell him that I was impressed with its size and the diversity of tasks executed. Karnitsch-Einberger gives me a smile of recognition. I sense that he is quite proud of his team's capabilities, but there is something else he wants to highlight. "Diversity," he says, "is actually a key principle here in Santa Cruz. "It's very important to me that people feel valued at Primetals Technologies Brazil, regardless of skin color, gender, or age. We recently hired a new welding machine operator, she's in her early twenties, determined, and one of our best staffers."
Land of the Future
Embracing diversity, says Karnitsch-Einberger, is crucial to future-proofing a business. The same is true of energy efficiency and the circular economy. "A little while ago, we swapped all our light bulbs for LED lights," he says, to show that bringing about change does not have to be hard. "We have also drawn up a new waste-­management strategy. Everything we once used to throw away, in our offices and the workshop, is now collected, sorted, and handed over to recycling companies. These days, we earn some 7,000 euros a month from selling recyclable materials." It is this forward-­looking mindset that Karnitsch-Einberger likes to implement in every aspect of the Santa Cruz location's agenda. The shirt he wears has "Next-Level Services Now" stitched on it. "This is not just a claim," he says. "This is really what we stand for—focusing on what's next." A native of Austria, Karnitsch-Einberger has lived in Brazil for 18 years and has grown to love the country. "Do you know Stefan Zweig, the novelist?" he asks. "In 1936, Zweig wrote that Brazil was the land of the future. I believe this is even more evident today." I think I understand the CEO's conviction. It's about making a meaningful contribution—to a better tomorrow.
Experiencing the location and the Rio De Janeiro Area