For the day-to-day operation in metals plants, working knowledge about the status and functions of all units in the production process is essential. Operators and maintenance engineers work tirelessly to avoid decreased performance, unplanned maintenance, or unscheduled downtimes. However, this job is not only 24/7/365 but involves an unimaginable amount of information. To assist these maintenance staff and operators, Primetals Technologies developed the Asset Life Expert, or ALEX, the condition monitoring assistant for the metals industry.
Today, the modern metals production plant includes innumerable sensors and data-generating systems, which produce a high amount of information. While experienced operators and maintenance engineers bring their years of expertise to the table to monitor and check each step in the production process, navigating "big data" and arriving at the appropriate decision can be challenging. In many cases, an operator makes a decision based on a single alert but loses sight of interdependencies. As a result, these skilled operators, maintenance staff, and engineers become "firefighters," running from one problem to the next. They do not have the time to analyze errors in greater detail to address an issue that may be the actual source. Specialists at Primetals Technologies recognized this issue and developed a digital assistant named ALEX, or Asset Life Expert. Informed by databases full of equipment, process, and production data previously collected, ALEX assists operators and engineers in ensuring plants are operating efficiently, effectively, and safely.
Day-To-Day Challenges
Producers strive to maintain a high-efficiency level to meet global metals demand. Producers rely upon digital tools to record and track production to compensate for various changes. Operators can use sensors, triggers, and alarms to identify areas where production is lacking or where attention is needed to maintain production. Data provided by sensors can orchestrate human resources and maintenance activities around current production to avoid unscheduled shutdowns. However, this information is not simply about detecting a problem and scheduling maintenance but predicting problems and informing operators how to solve them step-by-step.
Thus, the main tasks of a modern monitoring
system are
Monitoring a complete factory
Early detection of a deterioration in the monitored assets
Help find the source of the problem by using an expert system
Reliable and fully automatic 24/7 monitoring
One centralized system for the whole plant
The Condition Monitoring Assistant
When developing ALEX, Primetals Technologies identified the crucial requirements for a digital assistant in a plant. First, various data sources must be able to connect with a digital assistant, including event recorders, (smart) sensors, vibration monitors, technology control systems, process models, and existing monitoring systems. Data should also be able to be provided directly by operators.

Alarms and warnings
As a steel plant operator, you might be frequently overwhelmed by a steady stream of alarms, warnings, and other information from various sources.
Smart and centralized expert system
ALEX evaluates these alarms and warnings using advanced analysis techniques, factoring in additional signals and information such as operational practice know-how, and provides a clearer and faster overview of the condition of your plants.


Condition Monitoring assistance
ALEX provides a fast overview of the status of your plants, with precise and validated information. ALEX recommends intelligent actions that help you to avoid unplanned downtimes and achieve consistently high product quality.
Improved life quality of your assets
ALEX increases your plant availability, reduces maintenance costs, provides online information about the health status of your plant, and helps you to optimize equipment lifetime.

Once the data is collected, solutions are derived by looking at the information from multiple angles. Multiple angles mean ALEX must identify correct and relevant information, detect interdependencies between different pieces of information, and consider operational practice for the plant to find the answer. It is important to note that ALEX will assist the operator in finding the solution for the given alarm with know-how-based recommendations. This process involves examining new recommendations for current errors and alarms based on valuable historical information regarding corrective actions. This information is then displayed in an easy-to-understand description so the operator can select and set a corrective action in motion. This decision is then recorded and will help ALEX improve further.
Finally, ALEX is an assistant. The most crucial factor is the operator in charge of the production and maintenance staff managing the line. The system provides a simple user interface with a clear overview of errors and alarms. It offers in-depth analysis via graphs, links to real-time data for specific sensors, and similar features that quickly and efficiently provide the operator with all the necessary information. For more details, the operator should be able to access technical documentation quickly, for example, circuit diagrams and operation manuals. ALEX is the perfect assistant that provides operators with all the knowledge they need to perform their tasks efficiently and effectively.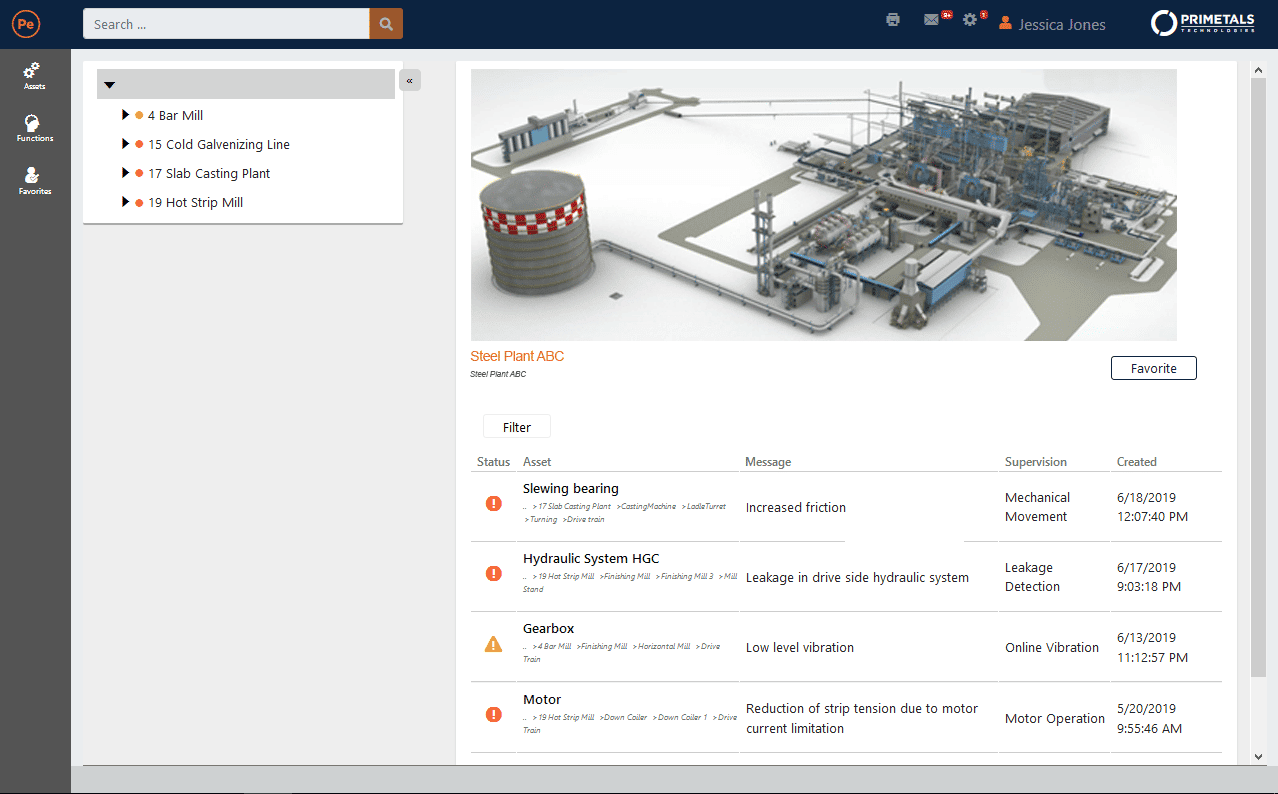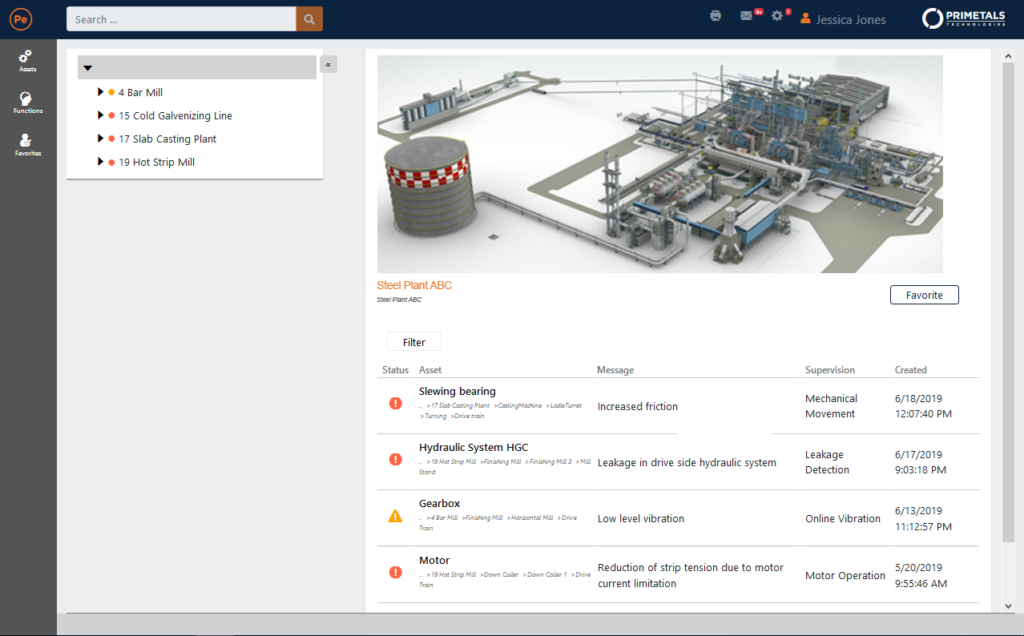 Knowledge Management
One of ALEX's key features is its ability to maintain a vast database and collection of knowledge, including input from operators. ALEX can assess decisions made by plant operators from various situations and arrive at the optimal choice to maintain productivity. The benefit here is that the correct decision is no longer based on an individual operator's instinct but on their ability to apply their knowledge. Focusing on the solution and application of knowledge means a more direct response to problems and smoother operations overall.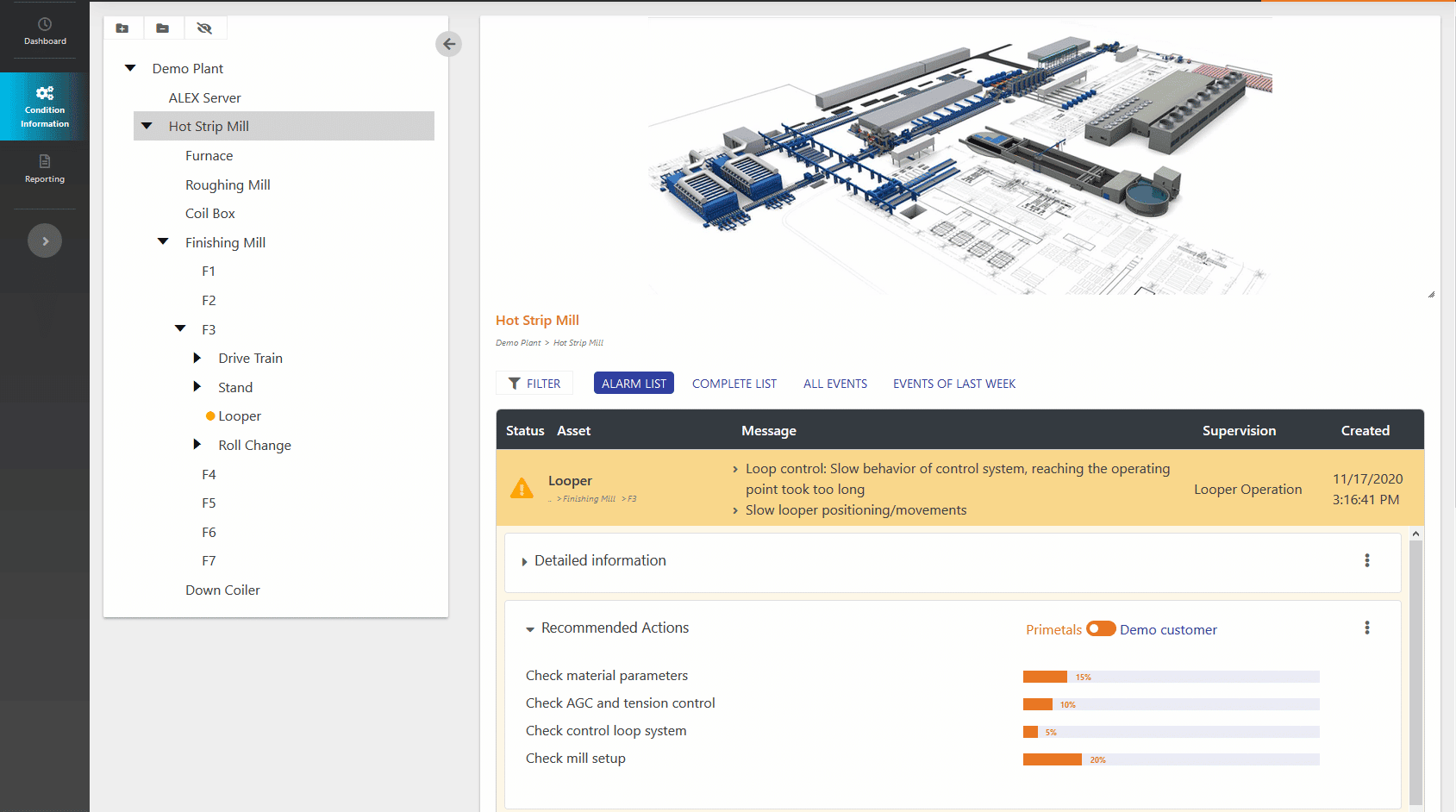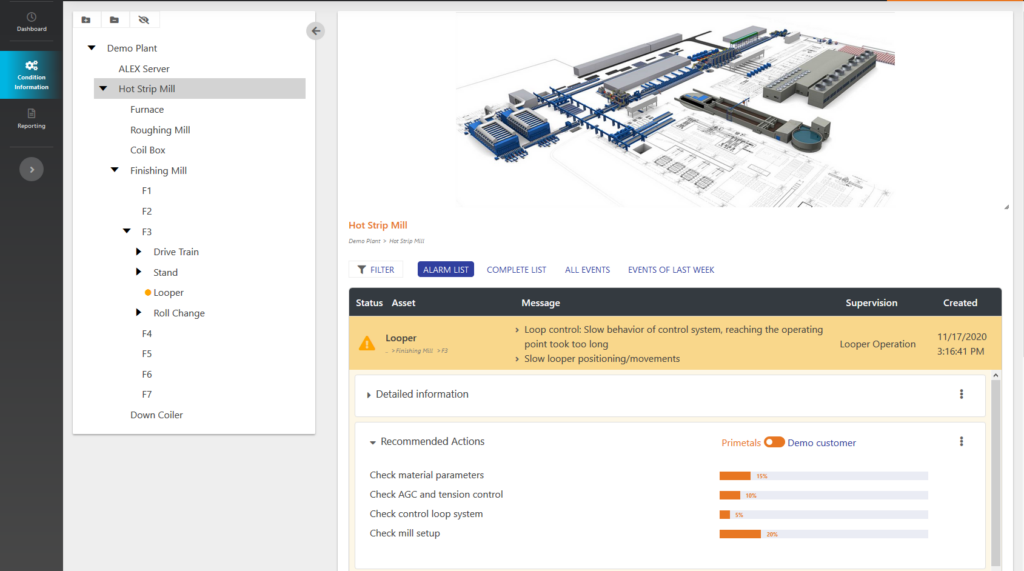 Real Cases Detected by ALEX
In one case, ALEX was in operation at a roughing mill. It issued a warning regarding the edger's control behavior being too slow. An edger is an actuator for the width control at a roughing mill, which keeps the strip width within a specified range. The edger is monitored automatically by analyzing different functions and operations. In this case, a controller performance test, performed during the calibration of the edger, has led to a warning.
After detecting an error, ALEX sent the following warnings:
Slow reaction of the controlled system: dead time too long
Slow behavior of the controlled system: rise time too long
After providing detailed information involving an error in the control loop, ALEX provided various recommended actions with a graphical rating of the relevance of each solution. The primary recommendation was to check the accumulators at the valve stands and edger assembly. As the first relevant suggestion, ALEX correctly identified low pressure in an accumulator in the hydraulic system. The accumulator supports fast dynamic reactions as needed by the width controller. After refilling the gas into the accumulator, the function was back to working at top speed.
ALEX assists almost anywhere in the metals industry, from steel and aluminum to copper production. For example:
Blast furnace
Converters
Electric arc furnaces
Continuous casting machines
Endless Strip Production
Plate and hot strip mills
Cold rolling mills
High-speed rod, wire, bar, and section rolling mills
Processing lines
Dry dedusting systems
Etc.
Typical examples of assets and functions monitored by ALEX:
Monitoring mechanical equipment, like the looper, coiler, or edger in a hot strip mill, influencing material quality or equipment lifetime
Monitoring hydraulic systems, like the wear of servo valves or loss of pressure in the accumulator, ultimately influencing product quality
Monitoring control loops, which can lose their dynamic behaviors and cause a drop in product performance
Monitoring of slow-rotating bearings, e.g., as used for steelmaking converters and ladle turrets, can significantly influence productivity
Supervising smaller drives of bearings, such as those in processing lines, by analyzing the motor current and voltage
Classical vibration monitoring for rotating parts, either automatically or via route-based measurements
Monitoring work roll and coil eccentricity that influence process KPIs
Monitoring of automation equipment such as CPU load, memory space, run time, bus system check, etc.
In another case, ALEX warned the maintenance department of inaccuracy in the wrapper roll at the re-coiler. An abnormal vibration was found and indicated in the drive train by analyzing the motor current and voltage in ALEX. As previously shown, ALEX presented recommendations and graphically displayed the most relevant solution based on cross-checking the database.
ALEX and maintenance engineers can work together with their digital counterparts to analyze and evaluate the best possible actions to keep operations running smoothly.
Condition Monitoring with ALEX
Global demand for metals drives producers to continuously look for product quality, productivity, and flexibility improvements. Thankfully, incremental improvements can easily be determined and achieved. Still, to ensure production remains steady, a plant has to be well maintained, and any equipment deterioration or decrease in yield has to be detected early to avoid unplanned production stoppages.
For modern producers, a condition monitoring system is essential but involves massive amounts of unmanageable data by human operators. However, when paired with ALEX, a condition monitoring assistant, maintenance engineers can work together with their digital counterparts to analyze and evaluate the best possible action to keep operations running smoothly. With a well-designed software architecture, comprehensive database, and flexibility regarding data input, ALEX is the condition monitoring assistant for the metals industry.