German steel producer thyssenkrupp Steel recently produced the first coil on its new 2-stand reversing cold mill, supplied by Primetals Technologies. The mill was inaugurated on October 30 during an event in Bochum, Germany, as a sign of thyssenkrupp Steel's plans. During the inauguration, several special guests gave speeches, including Heike Denecke-Arnold, Chief Operations Officer at thyssenkrupp Steel, and Thomas Eiskirch, mayor of Bochum.
thyssenkrupp Steel wants to significantly strengthen its capabilities in high-strength steels and electromobility so we can differentiate ourselves even more consistently through the quality of our products. For example, with even thinner and stronger sheets, we want to increase the energy efficiency further and therefore the range of electric motors."

Heike Denecke-Arnold
Chief Operations Officer
at thyssenkrupp Steel
With an annual production volume of around 11 million tons of crude steel, thyssenkrupp Steel employs around 26,000 people worldwide. thyssenkrupp Steel has set itself the goal of producing five million tons of CO2-neutral steel annually by 2030. By 2045, at the latest, the German steel producer wants its production to be climate-neutral.
Automation for Thick and Thin
With its back-and-forth operation, the double-reversing mill can roll a particularly thin strip with an end-product thickness down to 0.2 millimeters. Featuring a highly versatile mill concept, the plant can also handle heavier gauges, e.g., products that meet the highest possible strength requirements. Highly skilled operators supported by advanced automation solutions enable these extraordinary strip dimensions.
We are very excited to support thyssenkrupp Steel on its endeavor to further expand in the market for silicon steel. The need for advanced high-strength steel grades used in electric vehicles is projected to rise to extremely high levels over the coming decades. This mill ensures that thyssenkrupp Steel is well-prepared to deliver thinner and lighter steel of very high quality – exactly the type of steel needed in electric vehicles."

Hans-Jürgen Zeiher
Head of Electrics and Automation
at Primetals Technologies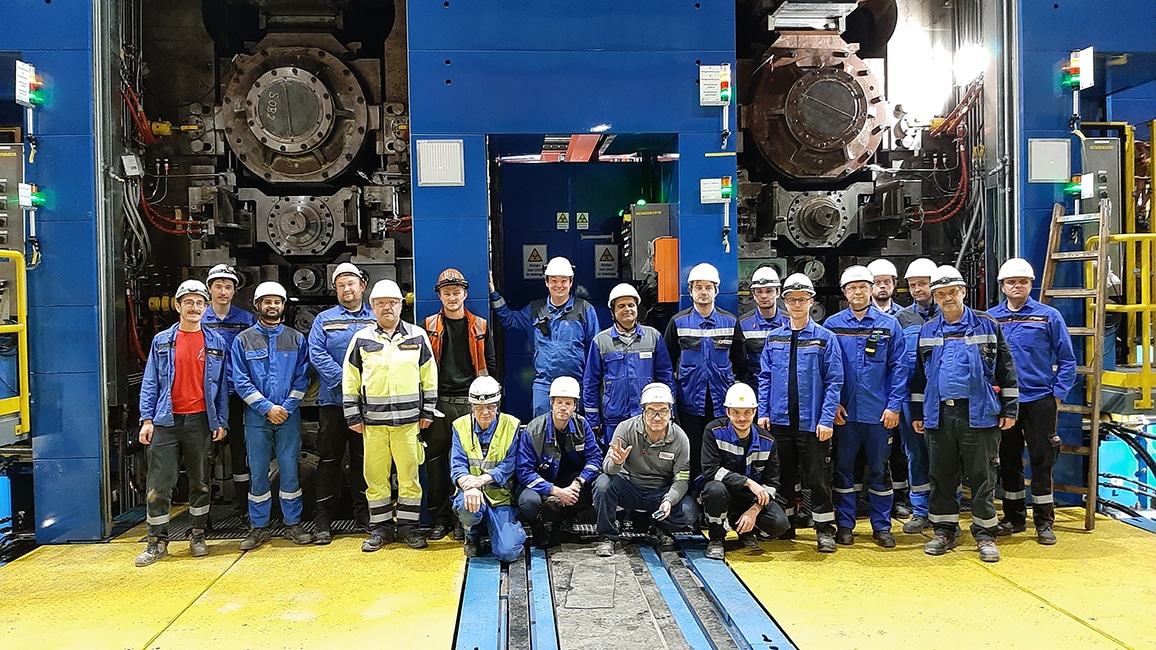 The automation solutions also help to enable the production of extremely thin and strong steel grades possible. The Level 2 automation features compensation algorithms for coiler run out, roll eccentricity, and main drive utilization. In addition, proven process models for roll gap and roll and strip temperatures support control over the rolling process and the settings related to the flatness of the rolled material. The Contactless Shape Monitor, a solution from Primetals Technologies for measuring flatness, is integral to the advanced flatness control system.
Silicon Steel Market Leader
Several factors contributed to thyssenkrupp Steel's decision to select Primetals Technologies as its supplier, one of them being strong references in Asia. The market leader in cold rolling solutions for the production of silicon steel, Primetals Technologies has a 90 percent market share in Asia. Another critical factor is the unique features of the Hyper UCM technology. With this solution, operators can influence the edges of the strip—the most common area for cracks.
A powerful pay-off reel and a strip heating system, in combination with the Minimum Quantity Lubrication (MQL) system, ensure smooth operation at the first rolling pass. The Hyper UCM is based on an optimized combination of roll diameters for work and intermediate rolls. This technology allows mill operators to use work rolls of smaller diameters, a key success factor for achieving extremely light final gauges. Additionally, high-powered tension reels and various lubrication technologies reach higher reduction levels than conventional cold mills.
MORE INFORMATION

Click here to read the full press release, access contact details, and find other press resources.