This post is also available in: 简体中文 (Chinese (Simplified))
A major modernization project was undertaken by Třinecké Železárny in 2013 on its 2-strand wire rod mill in Třinec, Czech Republic. With the addition of pre-finishing stands, water-cooling boxes, Morgan Reducing/Sizing Mills and Morgan High Speed Laying Heads, the mill has experienced significant improvements in productivity, product quality and processing capability.
The first wire rod mill for Třinecké Železárny was installed in 1912, modernized in 1922 and replaced in 1965 with a continuous rod mill. A new 4-strand mill commissioned in 1973 rolled 1 ton, 108-mm-square billets and finished at speeds up to 50 m/s from an 8-stand block. That mill was then rebuilt as a 2-strand wire rod mill in 1999, with a new furnace and roughing mill, a new controlled cooling conveyor, and new reform and coil-handling equipment. These improvements along with other mill updates brought the maximum speed up to 91 m/s on 5.5 mm rod. In subsequent years, Třinecké continued to improve different aspects of its operations, such as coil handling and compacting, logistics, surface quality control, dimensional controls and the water system.
Reasons for modernization
In order to be positioned for future market demands, Třinecké started out by formulating anticipated product changes and targets for mill modernization. Through customer audits, it became apparent that significant disadvantages of Třinecké's products stemmed from obsolete equipment. Marketing studies also revealed potentially growing demand for thermomechanically (low temperature) rolled wire rod, which could reduce or entirely avoid annealing operations before drawing.
Given these study results, Třinecké set out to modernize its 2-strand wire rod mill by focusing on:
Increased quality in wire rod structure, strength and strength uniformity
Reduced production costs
Increased speed to exceed 110 m/s
Greater mill flexibility and time utilization
Improved product tolerances, including ovality
Introduction of new grades with thermomechanical rolling
Production of diameters below 5.5 mm
Increased coil quality
Key modernization elements
In order to achieve all of the production and quality goals of the mill modernization, Třinecké significantly altered the mill areas between Stand 15 of the intermediate train, where the strands split, and the cooling conveyor, and added new equipment. The header image shows the finishing block area after modernization, for comparison with the previous arrangement shown in Figure 2. One goal of the modernization project was to reuse as much equipment as possible – particularly major elements like the existing finishing block. Key elements of the modernization included:
New pre-finishing mills, new process
A new roll-pass design accommodates the limited capac­ity of two existing pre-finishing stands, but to do so required an additional set of high-capacity stands. A new pre-finishing mill was added after the existing stands, consisting of a 2-stand, 230 mm horizontal/vertical (H/V) block, with ultra-heavy-duty (UHD) roll housings for rolling at lower temperatures. The existing block was reconfigured to roll with six stands instead of ten.
Morgan Reducing/Sizing Mill installed
The Morgan Reducing/Sizing Mill (RSM), installed between the exiting finishing block and laying head, is responsible for much of the project's production and quality improvements. The RSM consists of a 2-stand reducing segment with 230 mm housings and a 2-stand sizing segment with close-centered rolls of 150 mm. The RSM design enables the use of single-family rolling throughout the mill, which simplifies the process and increases mill efficiency by reducing roll-change times. Instead of having to change grooves, upstream stands are dummied to provide the proper feed sections to finish roll all products in the RSM (Figure 3).
Morgan Water Boxes and equalization troughs for TMR
The length and placement of the water-cooling boxes was an important consideration, so detailed studies of expected temperature profiles were undertaken for the entire product size range and for all grades planned for the product mix. The additional rolling capacity in the pre- finishing stands and the configuration of those stands in a loop ahead of the finishing block makes it possible to add much more water cooling after Stand 15. New equalization troughs were provided in both rolling lines from the new water box after Stand 15 through to the laying head. A temperature-control system was installed for closed-loop control of each of the cooling zones to ensure the desired temperatures are maintained throughout the process.
Pinch roll and laying head for consistent ring pattern
The modernization included the installation of new pinch rolls and the latest laying head design (Figure 4). A servomotor-operated roll parting adjustment for accurate control of pinch force provides repeatable and high-speed pinch action for tail-end slowdown and speed-up functions. Morgan High Speed Laying Heads use a novel design of integral pipe support with the patented tail-end control deflector with segmented trough. Included as part of the new laying-head technology are SR Series laying head pipes, which produce consistent ring patterns at high speeds and extend life as a result of the patented self-regenerating pipe design.
Cooling conveyor
Modifications to the cooling conveyor system included replacing seven fans and plenum chambers on each line with higher-capacity units, and installing the Optimesh air distribution system for cooling uniformity.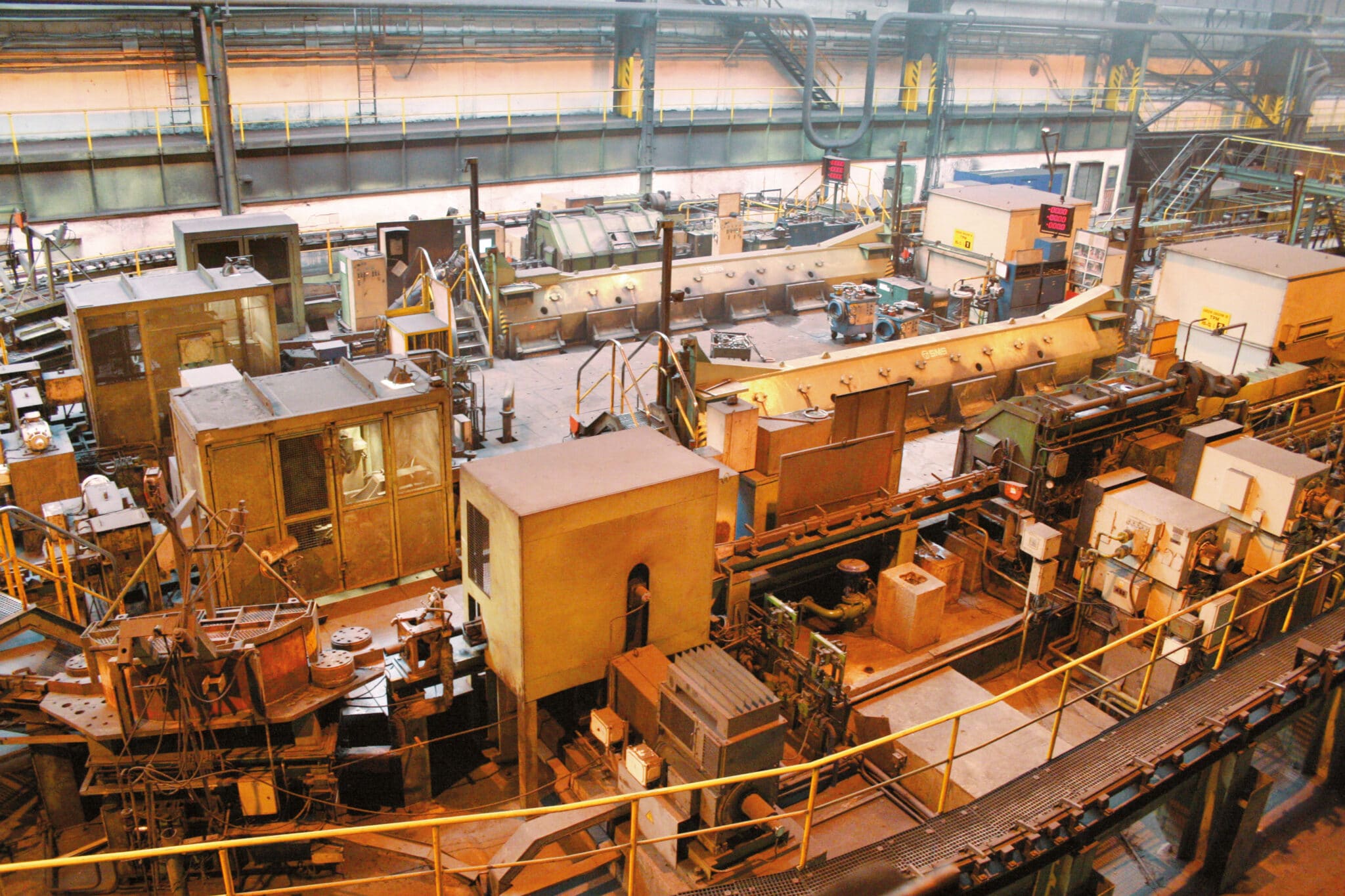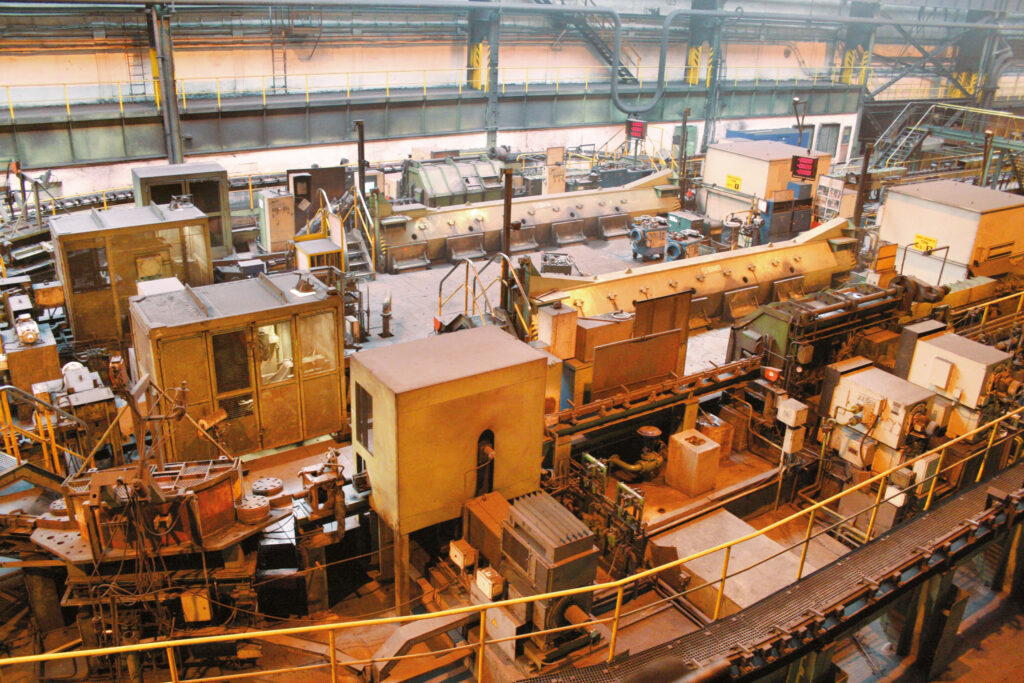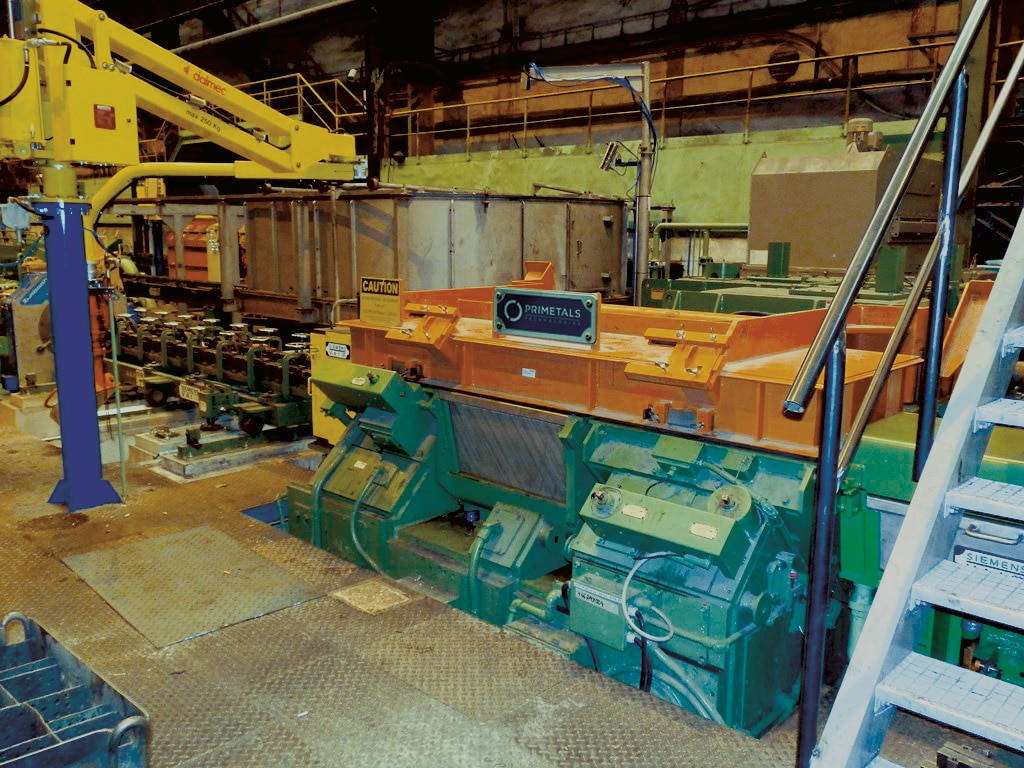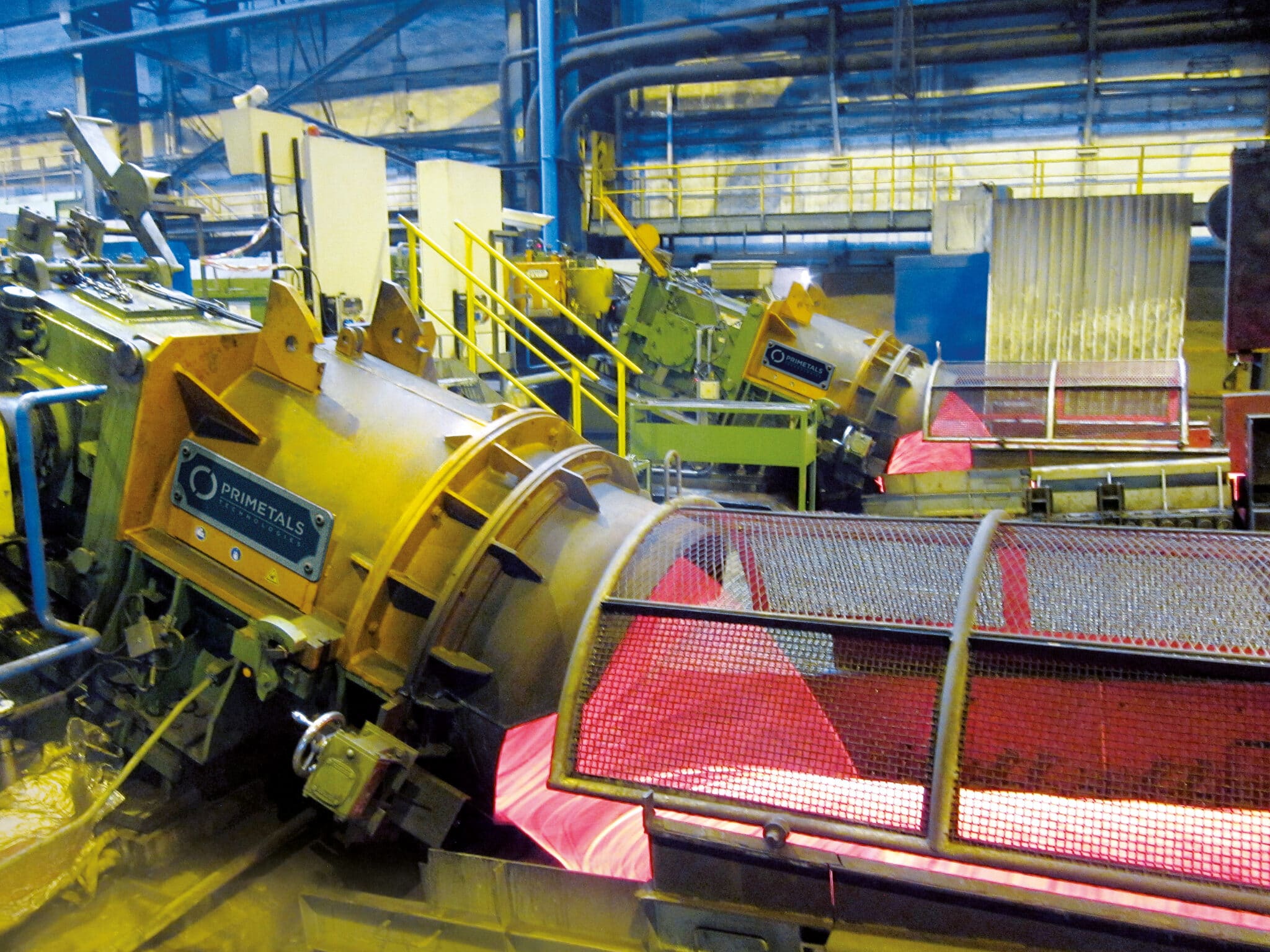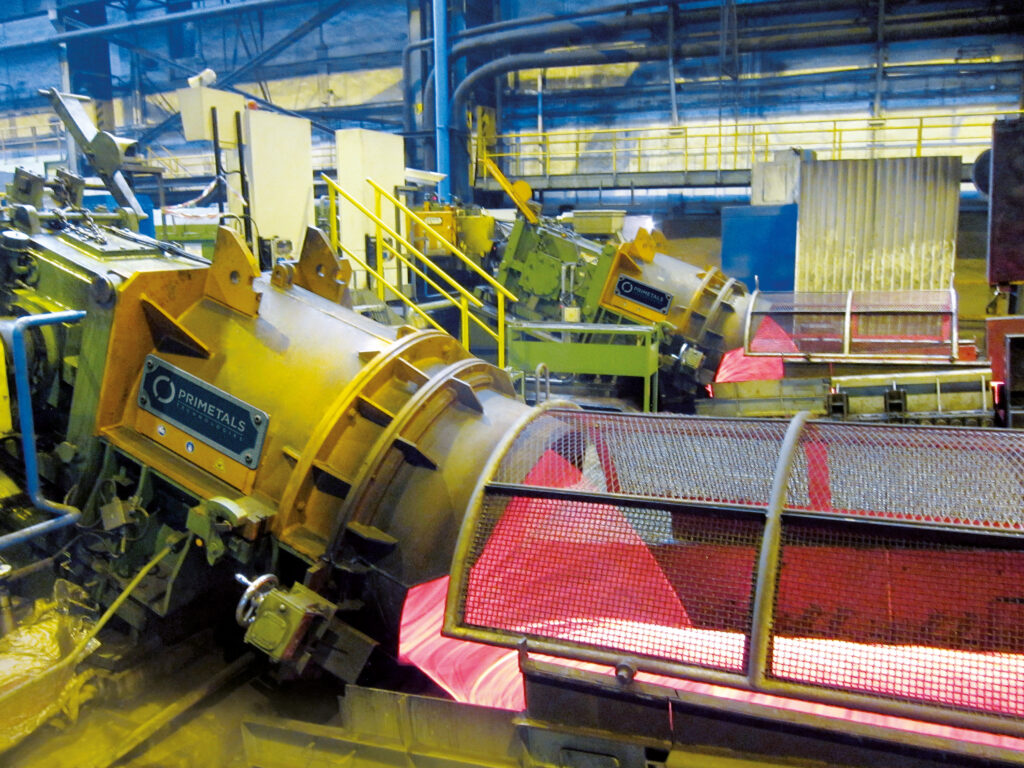 Mill upgrade implementation
Třinecké and Primetals Technologies signed a contract to modernize the mill in February 2013. On-time equipment delivery meant that the mill was ready to roll its first billet in October 2014. The mill met its production target within the first full month of operation, as well as the guaranteed speed of 115 m/s for 5.5 mm and the ±0.10 mm tolerance and 0.12 mm ovality target. The revamped mill is now well equipped for high utilization and productivity.
Technology and quality
Reaching production targets is only important if the rod quality meets customers' exacting standards. Early shipments of rod offered the same high level of quality as before the modernization. Once rod quality met the standards for customers' existing orders, Třinecké could then utilize its modernized equipment to process to its fullest capacity. The capability to thermomechanically roll down to 750°C RSM entry temperature gives Třinecké the ability to operate in ways not possible before. Třinecké can now offer new products and possibly secure cost savings in expensive Cr and V alloying.
Summary
The modernization undertaken by Třinecké in 2013 with Primetals Technologies has achieved a number of quality and production goals, from an improved and expanded product mix to faster speeds and greater mill utilization. The goals were met thanks to a carefully designed layout and equipment selection that fit Třinecké's specific needs.