New products inevitably require a swift response to market demands as well as short-term changes to the operation of rolling mills in order to cope with shifting landscapes. And success depends on both targeted investments with a short ROI, as well as on short downtimes. Primetals Technologies works closely with steel producers to develop sophisticated strategies that enable them to react quickly to market demand, to gradually expand their product range, and to increase productivity and product quality.
Even when business is good, operators of cold-rolling mills are confronted with new challenges all the time. Primarily because their own customers have a relentless appetite for new, increasingly modern products or new materials. This means that steel producers are forced to react quickly to market dynamics and make the necessary product-portfolio adjustments as swiftly as possible. Meanwhile the quickly shifting landscape often pushes existing plants to their very limits—or compromises productivity and quality. The key to remaining competitive is modernization.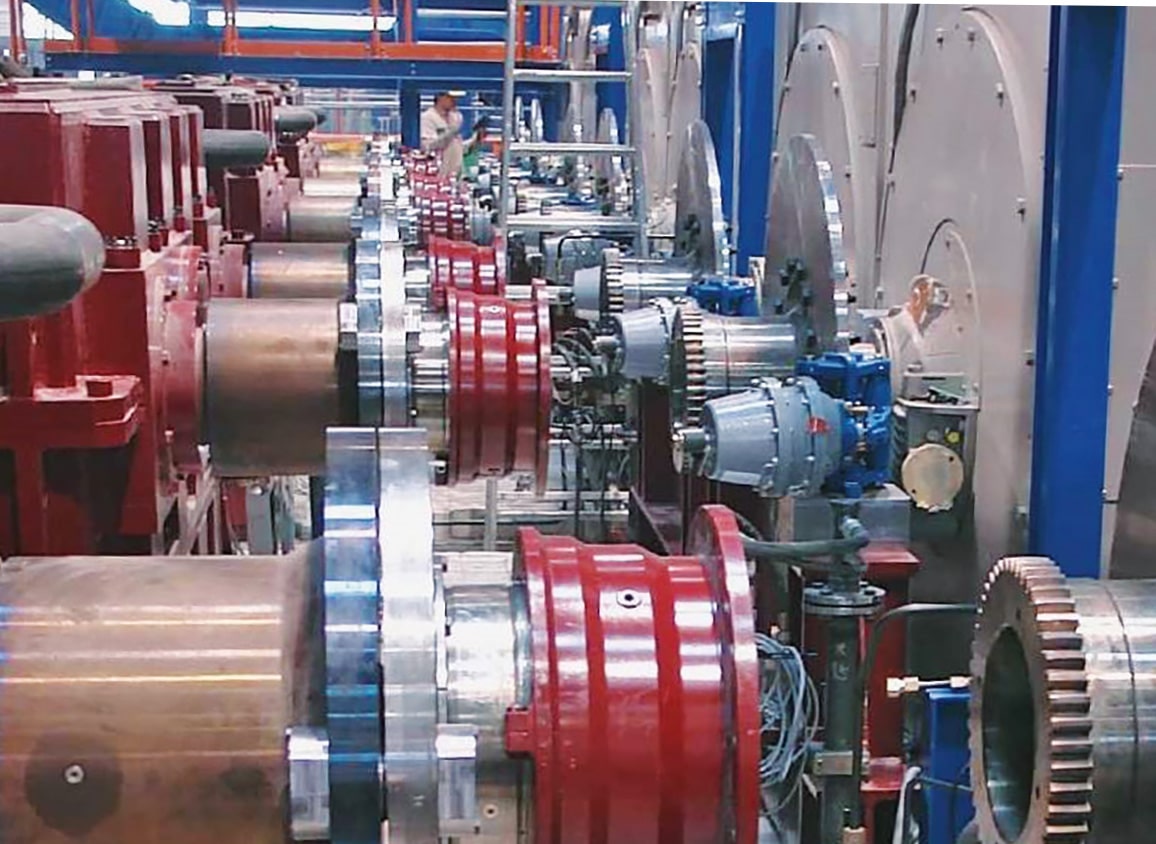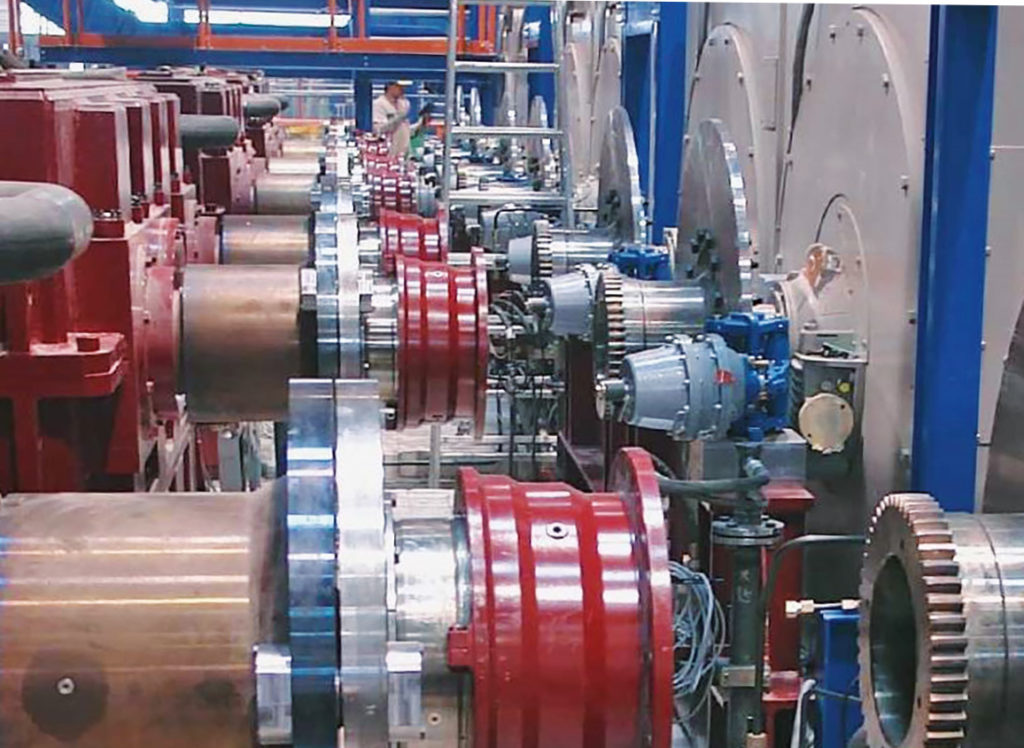 Efficient modernization
Which begs the question, to what extent should a plant actually be modernized? In practical terms, how much investment is required for such an approach to be cost-effective? At the end of the day, capital expenditure needs to ensure a profitable result and a quick return on investment. Even if general modernization might seem the right way to go initially, more often than not it is counterproductive because it involves lengthy downtimes and, more significantly, is extremely expensive. Primetals Technologies takes a very specific, customer-­driven approach to finding the right solution. Competent experts work closely with producers to help them make precisely the right investments in their plants, step by step and always with one eye on the future.
Digitalization should enable different parts of a plant to integrate seamlessly with one another, thereby accelerating workflows and optimizing production. Primetals Technologies' optimized approach first involves analyzing the existing situation at the plant. Any weaknesses, as well as areas where autonomous systems would be beneficial, are identified. The analysis also focuses on expected delivery times and necessary downtimes—and on how long it will take before production is up and running again. In addition, boundary limitations are made with regards to objective, installed base, and plant-related and structural limitations.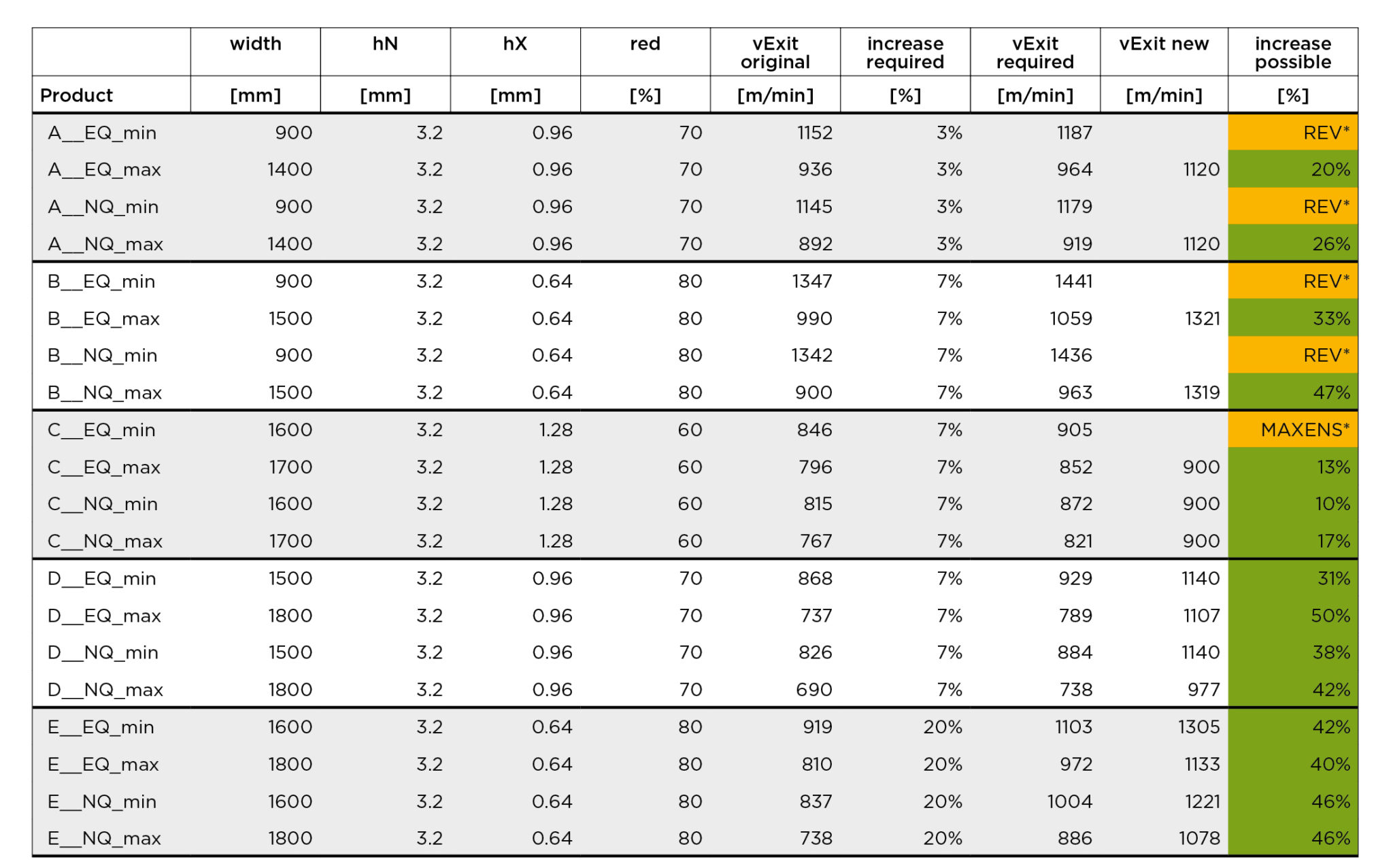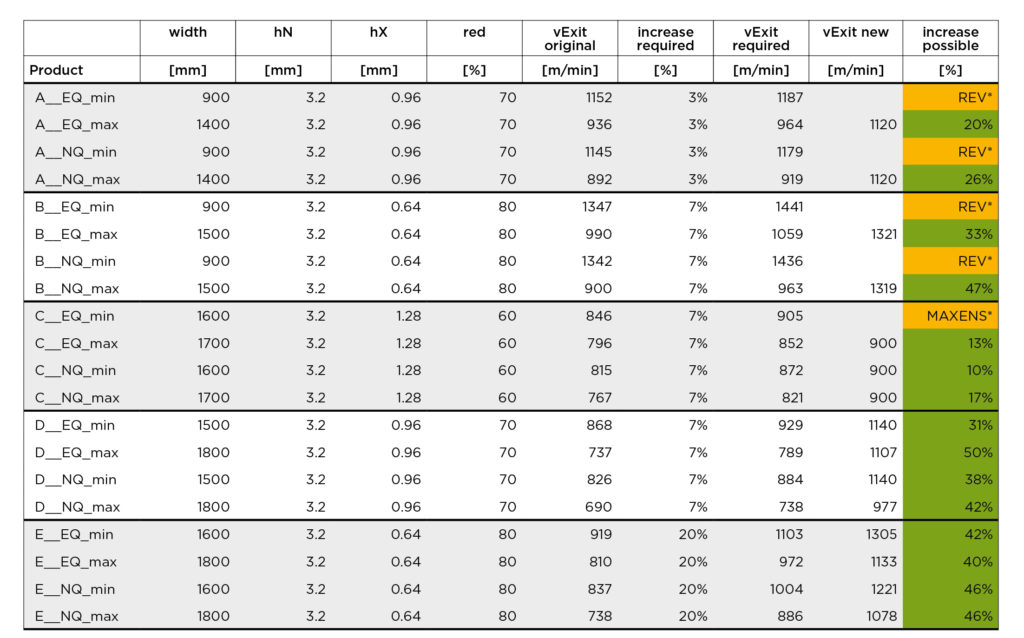 Finding opportunities
Primetals Technologies uses fact-based analyses performed by two specialized online tools, which allow operators of cold-rolling mills to be more flexible in how they plan for the future: The "Process Model" is continually being refined and is capable of calculating the rolling mill pass schedules (see Figure 3). The "Utilization Model" is based on the Process Model and uses its results to achieve maximum capacity utilization and consequently maximum throughput. These two online tools also make possible the creation of targeted process simulations for entire plants—a capability that can be used to highlight production and to plan around bottlenecks, which can be eliminated by taking very specific measures.
Building a strategy
Based on the results of the analysis, Primetals Technologies works closely with the customer to determine the best strategy. This includes addressing any weaknesses in the plant and identifying untapped production potential, as well as strategies for tapping this potential. Ultimately, however, it is important to set targeted priorities: parts of the plant that are initially excluded from investment should still be included in the catalog of measures so that the rolling mill operator can modernize them at a later or more convenient date without significant effort or expense.
Case study: Higher volume, greater reduction
A steel producer from Asia wanted to increase the production volume and reduction performance for certain product groups. Primetals Technologies carried out an analysis and formulated a strategy within 12 months. The plant was put into a planned downtime of only two weeks; afterwards, productivity was restored as quickly as possible. The new product range, the required reduction, and the new technical environment were immediately available, thanks to the pre-parameterized Process and Utilization Models.
Analyzing the plant
Primetals Technologies took a very systematic approach. First a rough analysis of the mechanical, electrical, and automation systems was carried out, based on the following questions:
Which stands are capable of achieving the
targeted reduction rates?
Are there any parts of the production chain that have untapped potential?
How can this potential be tapped?
How does automation need to be modified?
Existing pass schedules, as well as load and reduction distribution at the plant, were also analyzed; as were maintenance and service routines.
DEFINING THE MEASURES
According to the analysis of the customer's current situation, the following measures were necessary: Installation of new drive trains (transformers, converters, motors, and drives) for two stands. Lifting of the checked and verified reserves of the drive trains on the remaining aggregates (e.g. stands, motors) Examination of technical and technological threshold values (e.g. rolling force, torque, power) Definition of parameters for new components to avoid structural measures Optimization of cooling at transformers Securing reserves of existing equipment and new components by expanding process models and plant automation Simulation of new reduction distribution Definition of new plant limits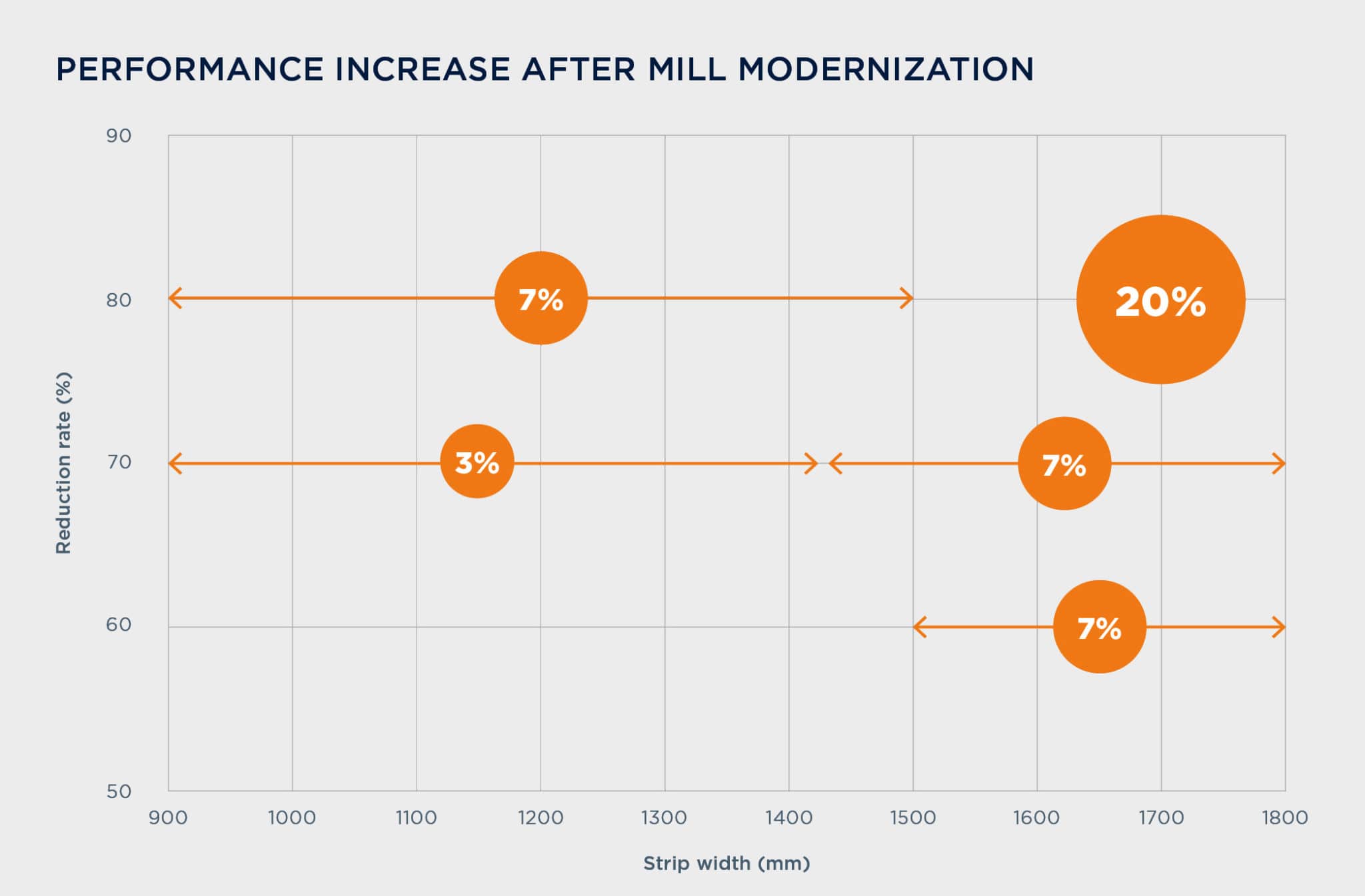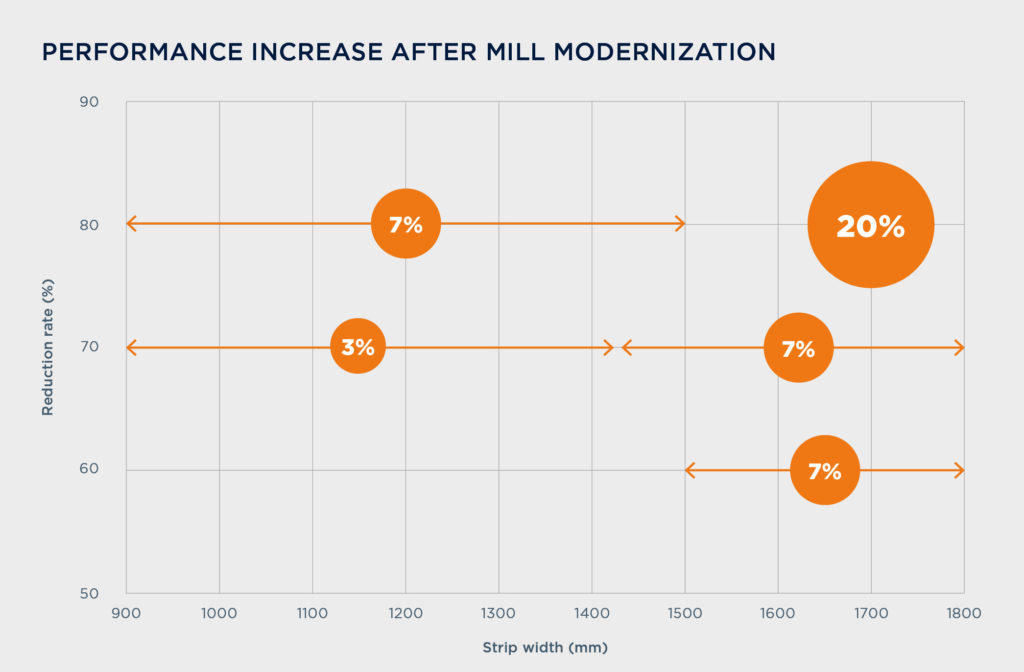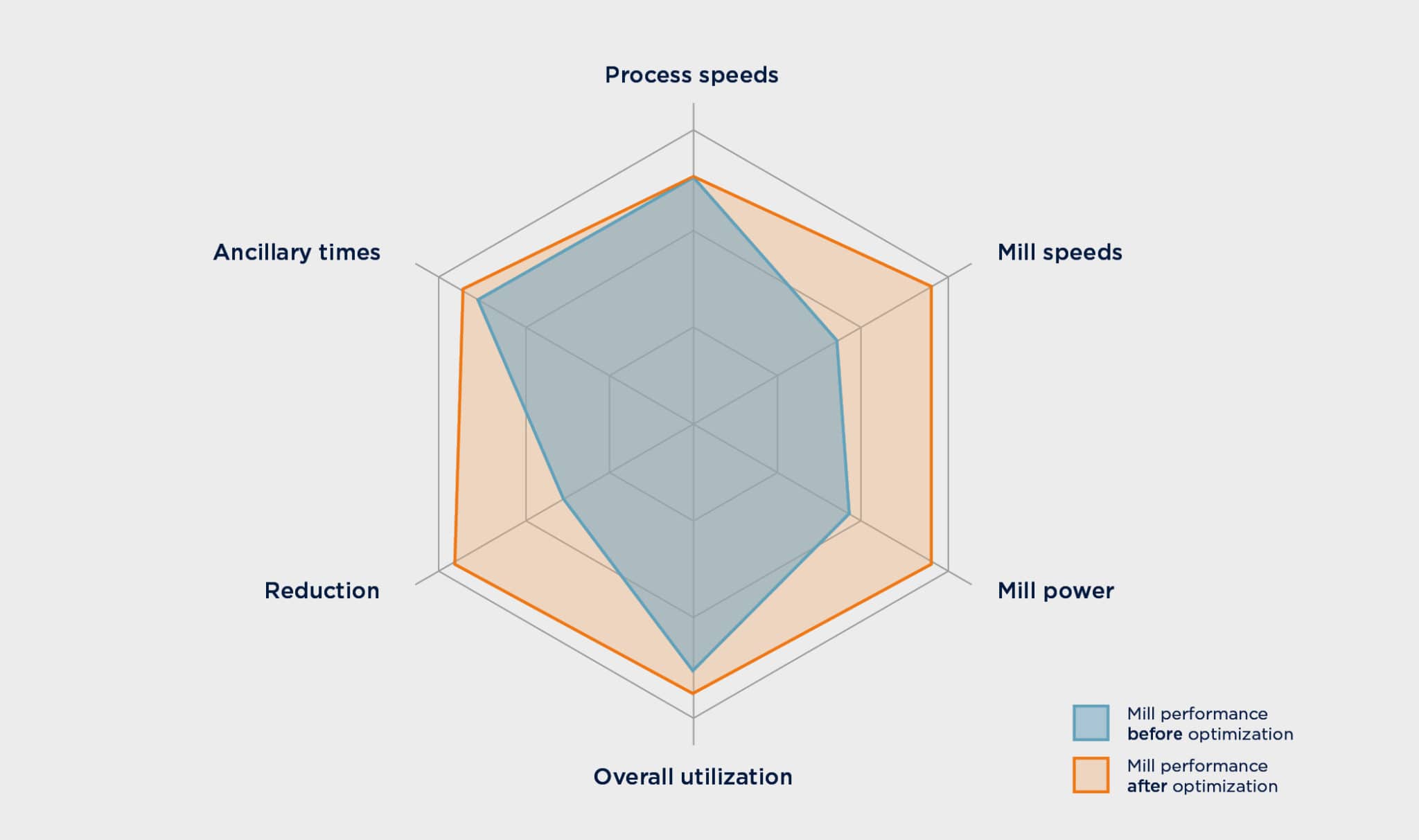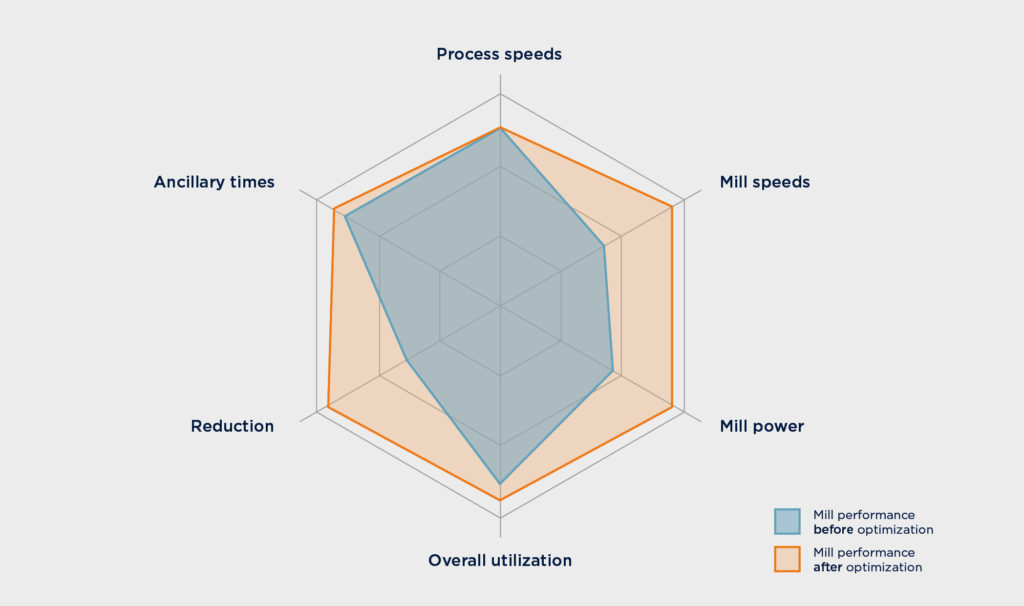 From weak points to strengths
Based on the analysis, those parts of the plant with the greatest influence on increasing throughput and total reduction rate could be identified: in this case it was the bridle rolls at the entry side of the tandem cold mill, the motors, and the stand drives. A number of previously unknown or overlooked weaknesses were also identified and included in the overall analysis. The analysis revealed, among other things, that the existing pass schedules from the process model were not aligned with the production setup at the time. The weaknesses were prioritized and, wherever appropriate in terms of the desired objective, incorporated into the catalog of measures.
This customer also benefited from the use of the tried-and-tested online system developed by Primetals Technologies, the Process Model in combination with the Utilization Model. The Process Model was virtualized with all plant-specific data; this allowed the anticipated results to be verified in advance using current data of the production process. The findings were incorporated into the modernization plan and served as the basis for the system test and subsequent customer training. Based on this simulation, Primetals Technologies, in collaboration with the cold-rolling mill operator, was able to dynamically push to the limits and thus calibrate the plant for specific production segments while tapping the full potential.
The online system effectively visualized the targeted optimization potential of the customer's plant (see Figure 4). Both production and productivity witnessed an increase for all product groups. The plant resumed operation without any loss in production. Declared benefits such as an increase in reduction and mill speed were already evident within the first week of production. The customer was fully satisfied: by optimizing mill power, it was possible to significantly increase reduction and mill speed (Figure 5). Furthermore, the mill is now flexibly able to turn out products and sizes that were previously considered unviable, thereby ensuring long-term stability in planning.