This post is also available in: 简体中文 (Chinese (Simplified))
Arvedi Endless Strip Production (ESP) provides steel producers with cutting-edge technology for the manufacture of highest-quality strip in thicknesses from less than 0.8 to 25 millimeters.
Since the latter part of the 20th century, it has no longer been a marvel for humans to be surrounded by high-tech computers. But back when the first pioneers developed their initial rudimentary circuit designs, public reaction toward their potential success was doubtful. Even Thomas J. Watson, Chairman and CEO of International Business Machines (IBM), stated in 1943, "I think there is a world market for maybe five computers."
Reactions were similar when Italian steel producer and inventor Giovanni Arvedi announced the installation of the first Endless Strip Production (ESP) line in 2006. The majority of the steel community was convinced that endless production would never work. But today, after the successful implementation of the patented Arvedi ESP technology in many plants worldwide, steel producers are opening their eyes to the potential of the still unparalleled technology. The endless strip production plants that exist today are producing more ultra-thin gauges than any other plants. And there's more to come: The revolutionary design of Arvedi ESP has not been standing still since its inception, it continues to lead the industry with new developments and additional capabilities.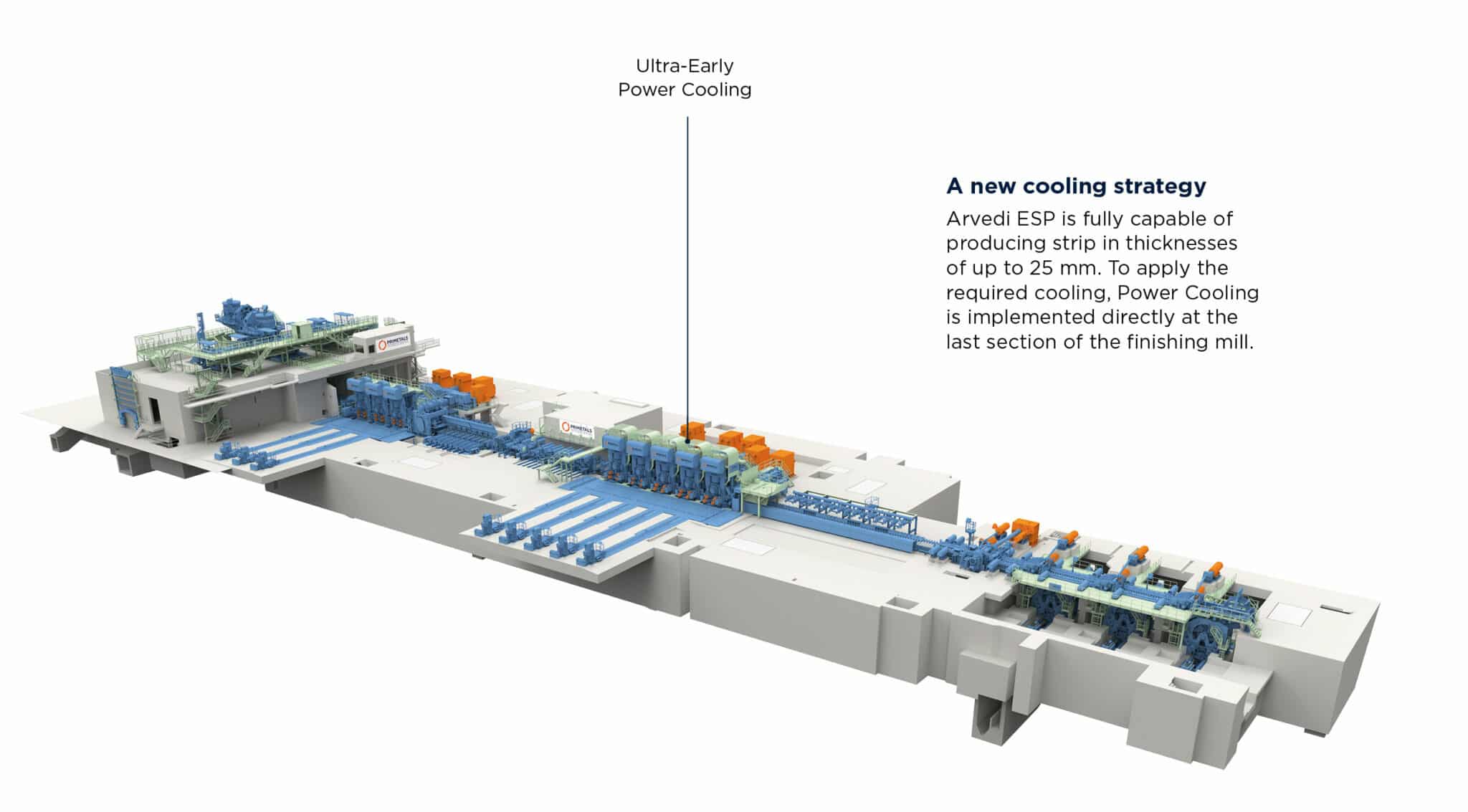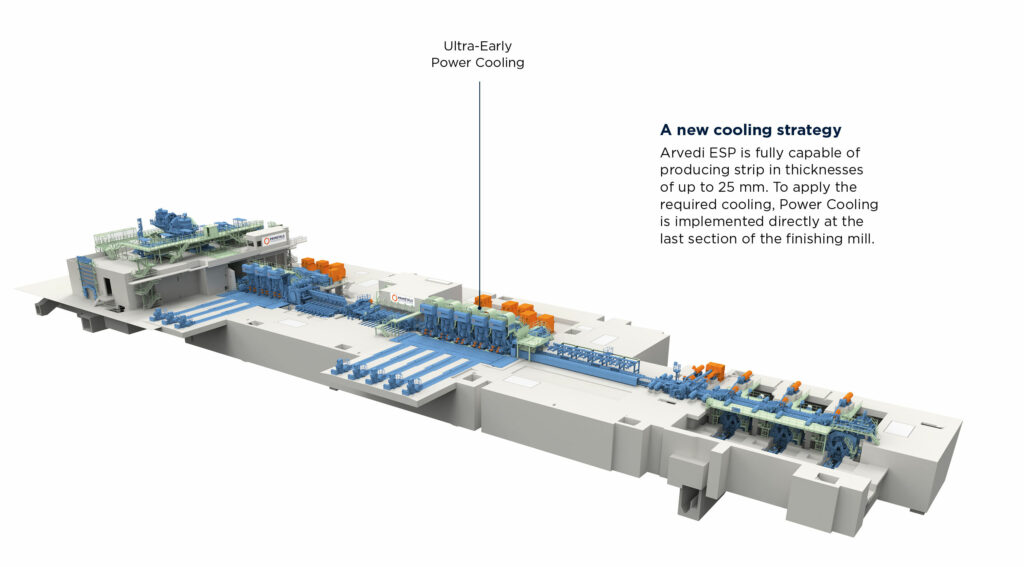 Invented in Cremona, Italy
When the initial Arvedi ESP project was started in Cremona, Italy, it seemed unrealistic to the public to run a combined casting and rolling plant in endless operation, but the project team had the proof of feasibility they required. Mass-flow tests had been executed on the existing ISP line of Arvedi steel, which operated with a heated coil box separating the first and second rolling steps. The main challenge to achieve endless operation was to always ensure the required mass flow from the caster.
Everyone involved was determined to turn the entirely new concept into reality. After ISP upgrades executed by Arvedi and caster upgrades implemented by Primetals Technologies (at that time VAI), a casting speed of 7 meters per minute at the caster could be reached. The main target of the successful test was to verify mold stability as well as the mold- and strand-cooling capabilities of the setup. With the assurance that the caster would be up to the task and capable of providing sufficient mass flow and production stability, the full scope of the Arvedi ESP project, which would make true endless strip production a reality, could be started.
Arvedi's operation and maintenance experts as well as the technology and design specialists from Primetals Technologies worked together to start the world's first endless strip production in 2009. First, the casting and high-reduction mill sections were started up. After the production of a number of test plates, the first mini-coil was produced after fine-tuning and by use of the finishing mill, with the line being coupled to enable endless production.
This startup principle remained the same for subsequent endless strip production installations, but in all of those cases, the startup time was significantly shorter. Today, it takes only six days after the first cast for endless rolling operation to be fully implemented, and while achieving 0.8 millimeters in endless mode took several months at the first plant, this gauge is achieved on current startups within weeks.
As further fine-tuning in the facility progressed, the first Arvedi ESP plant in Cremona evolved from a test and showcase site into an industrial production plant for very desirable high-quality steels. The most important steel grades had to be developed within a very short timeframe in order to serve a market that was interested in coils with uniform material properties from head to tail. A wide variety of low carbon and HSLA steels were developed during the first year of operation. Silicon steel was tested in the second year. After three years, API and dual-phase steel production were implemented.
Inventor Giovanni Arvedi
Giovanni Arvedi pioneered Endless Strip Production in Cremona, Italy, in the early 2000s. Today's ESP technology is still based on his original invention and is second to none in terms of efficiency and process stability.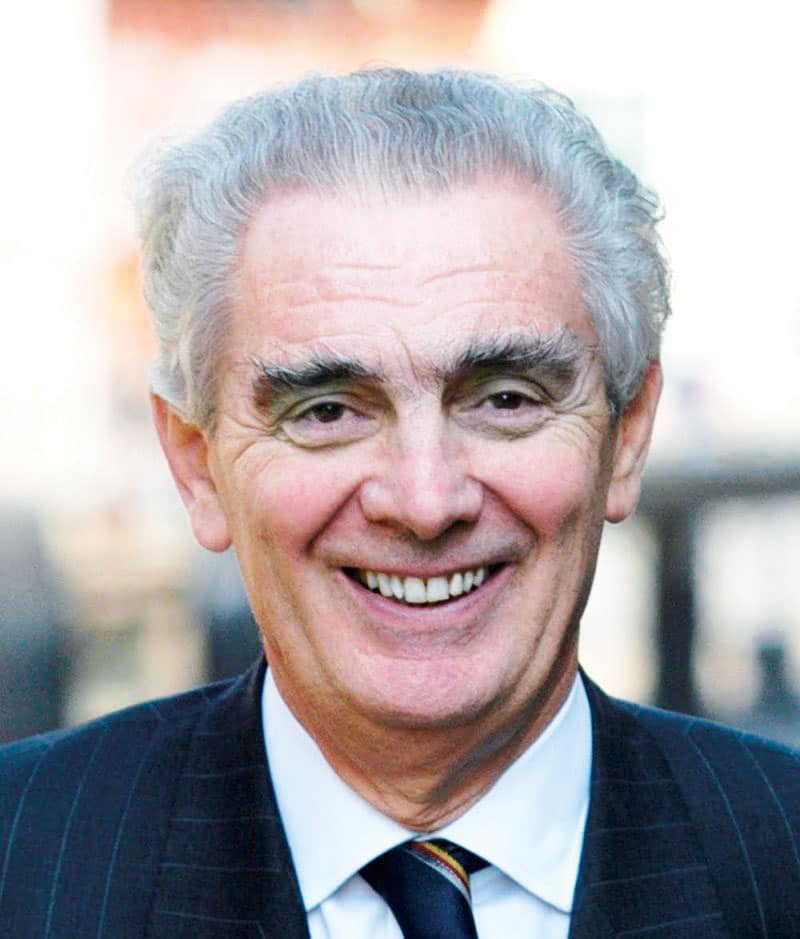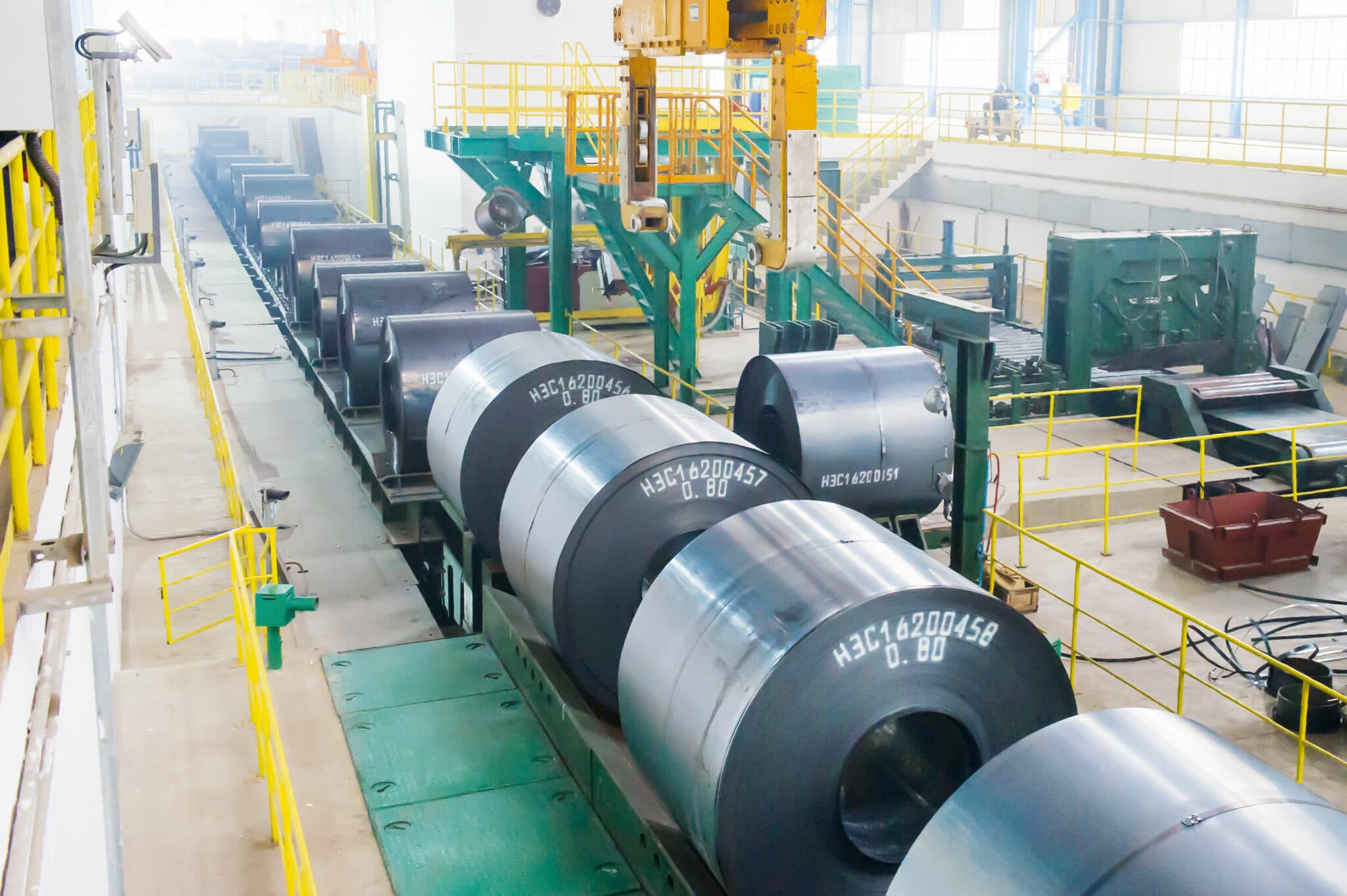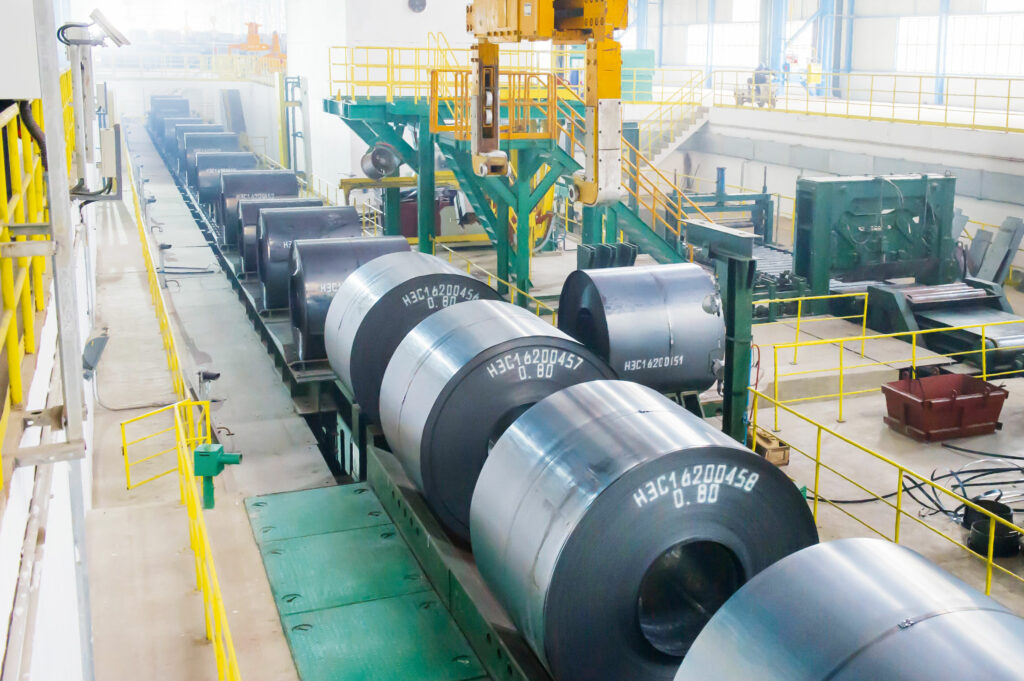 Rizhao Steel's Bold Strategy
In a project that involved the installation of no fewer than five Arvedi ESP lines at one location, Primetals Technologies customer Rizhao Steel of China took the opportunity to become a key manufacturer of uniform ESP material. While it was risky for Rizhao to make the associated investment during an economic crisis with vast overcapacity in China, the project was also a highly attractive future-oriented proposition. It was essential that construction would be executed very swiftly, and Rizhao Steel, together with Primetals Technologies, managed to start up the first line after only 20 months.
Rizhao Steel were aware of the fact there would not be any substantial market for cold-rolled substitutes in China before 2015, but they had a clear strategy. They defined a plant setup with five ESP lines followed by pickling and galvanizing lines, completely omitting cold-rolling plants. The ultra-thin cold-rolled-strip substitute is a highly welcome premium product today—not only in China but also in the rest of the world.
The new Arvedi ESP lines installed at Rizhao Steel are exhibiting stable performance, providing Rhizao Steel with an ideal basis for rapid product development. The new production setup will enable the company to enter the market with some of the most relevant steel grades. Currently, a wide range of products is already being produced on ESP lines, and more grades are being tested and further refined.
Process Stability Is Key
Extraordinarily high process stability is a consequence of fewer production interferences and less frequent setup changes across the full production chain—from the caster down to the laminar-cooling section, which comes ahead of the coiling of the finalized hot-strip product. The endless production mode serves to ensure higher process controllability and increased homogeneity of the final products' properties, and it maintains stable production windows for all products.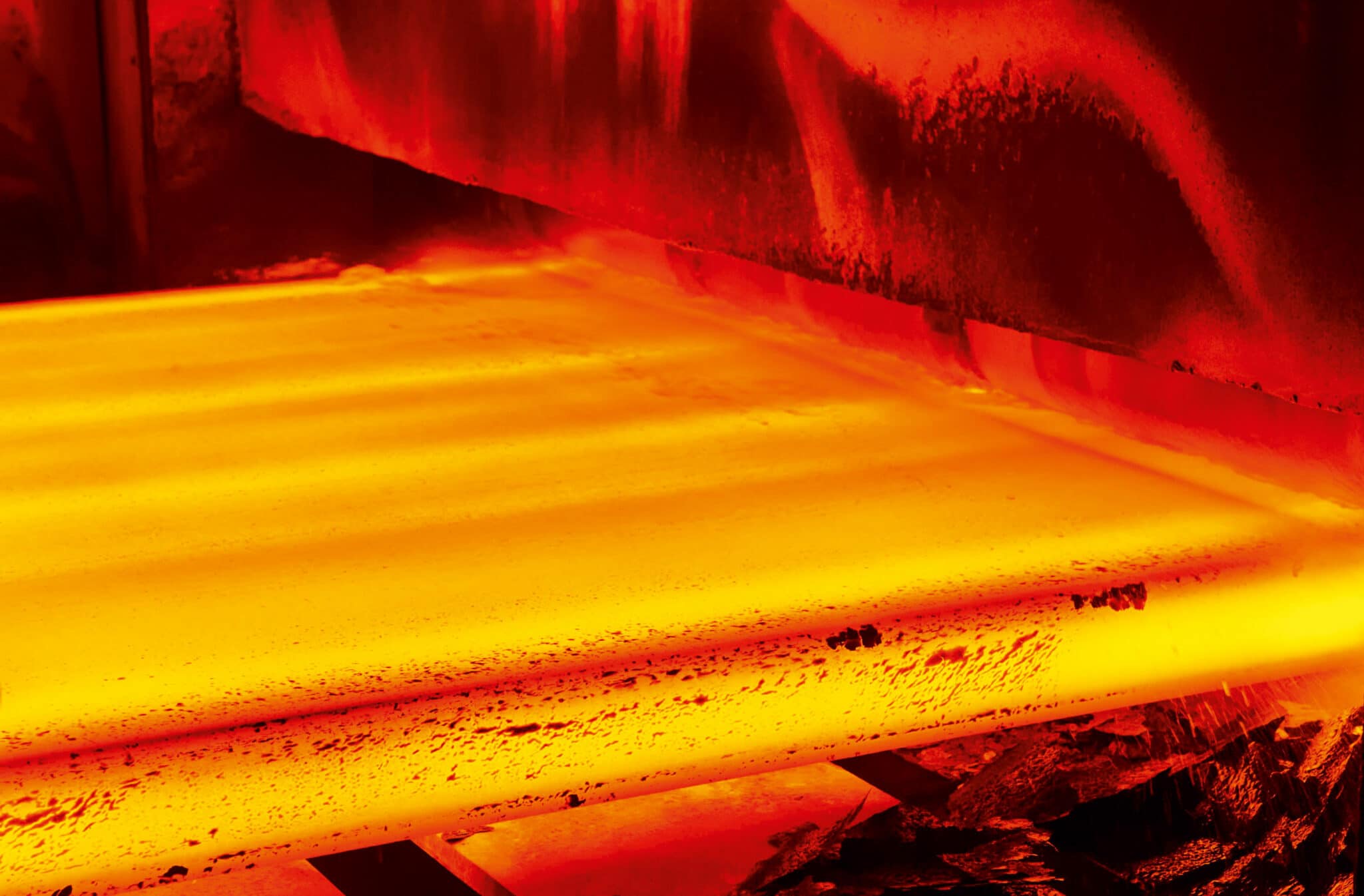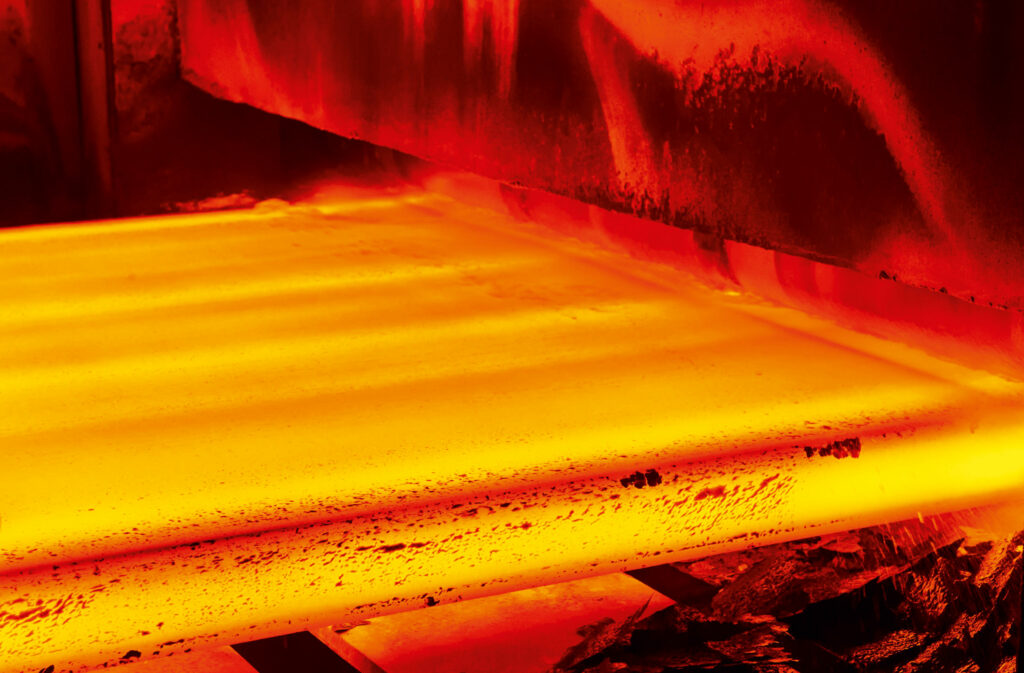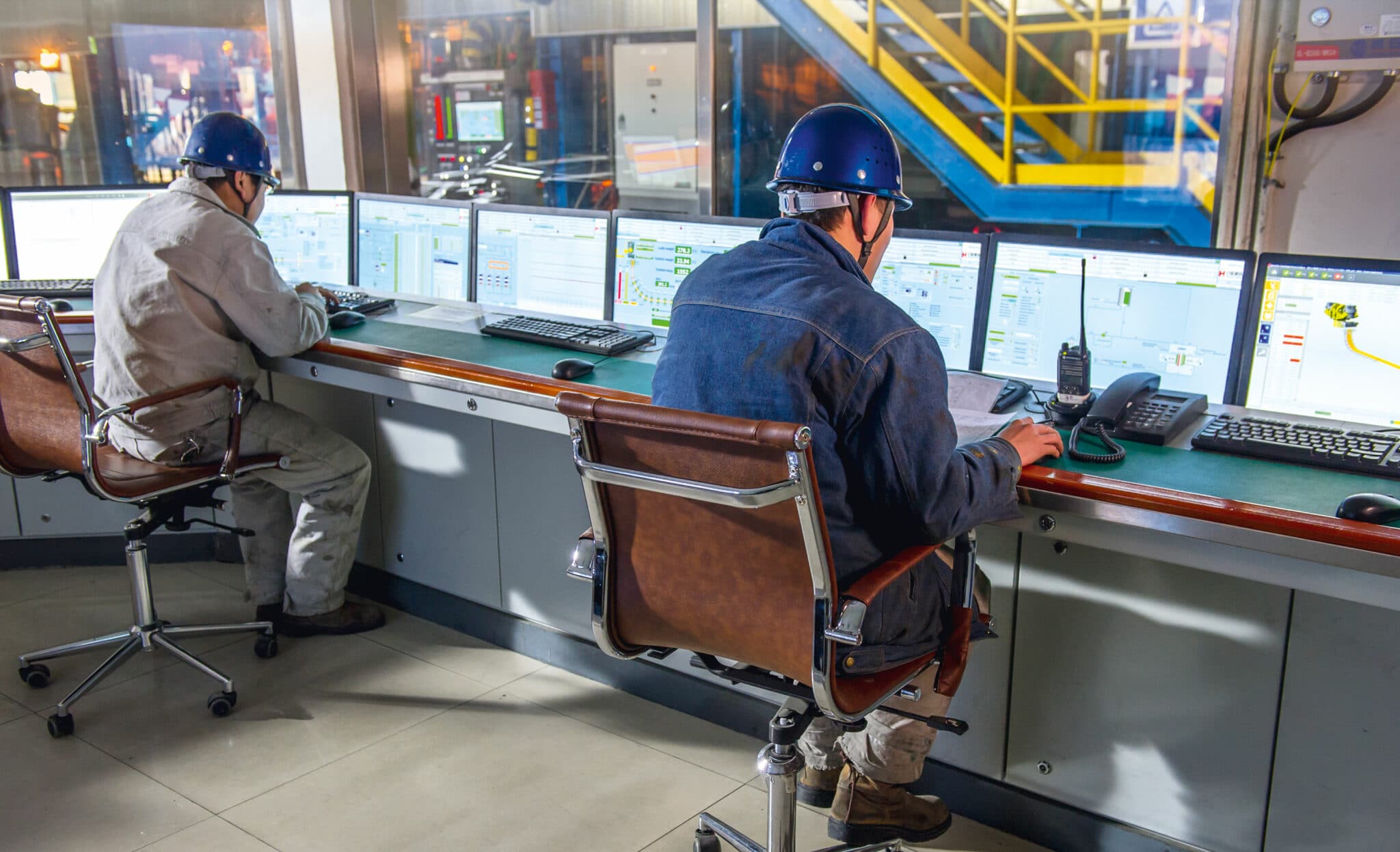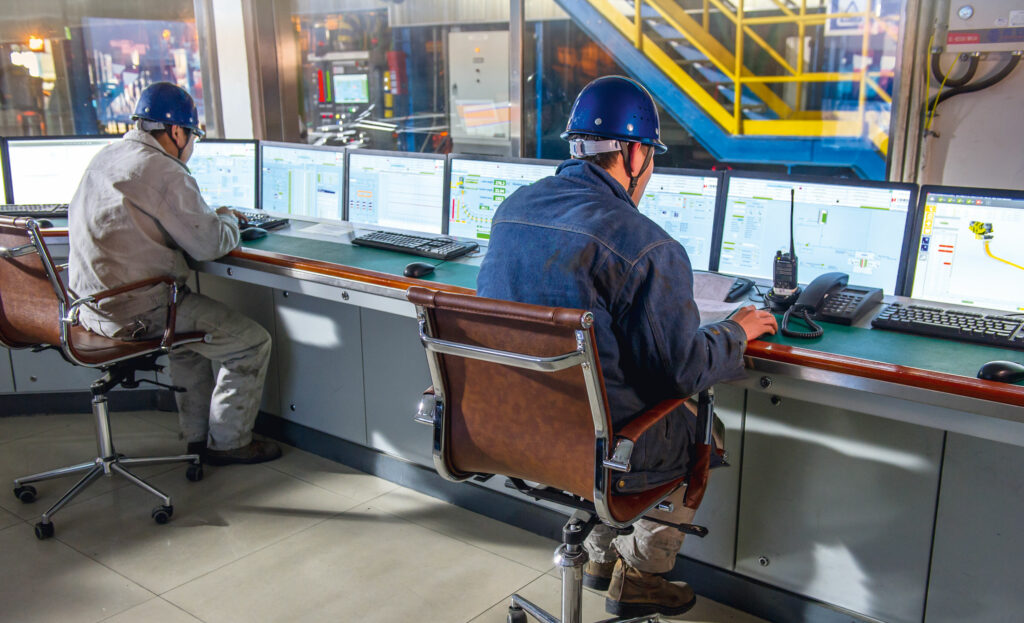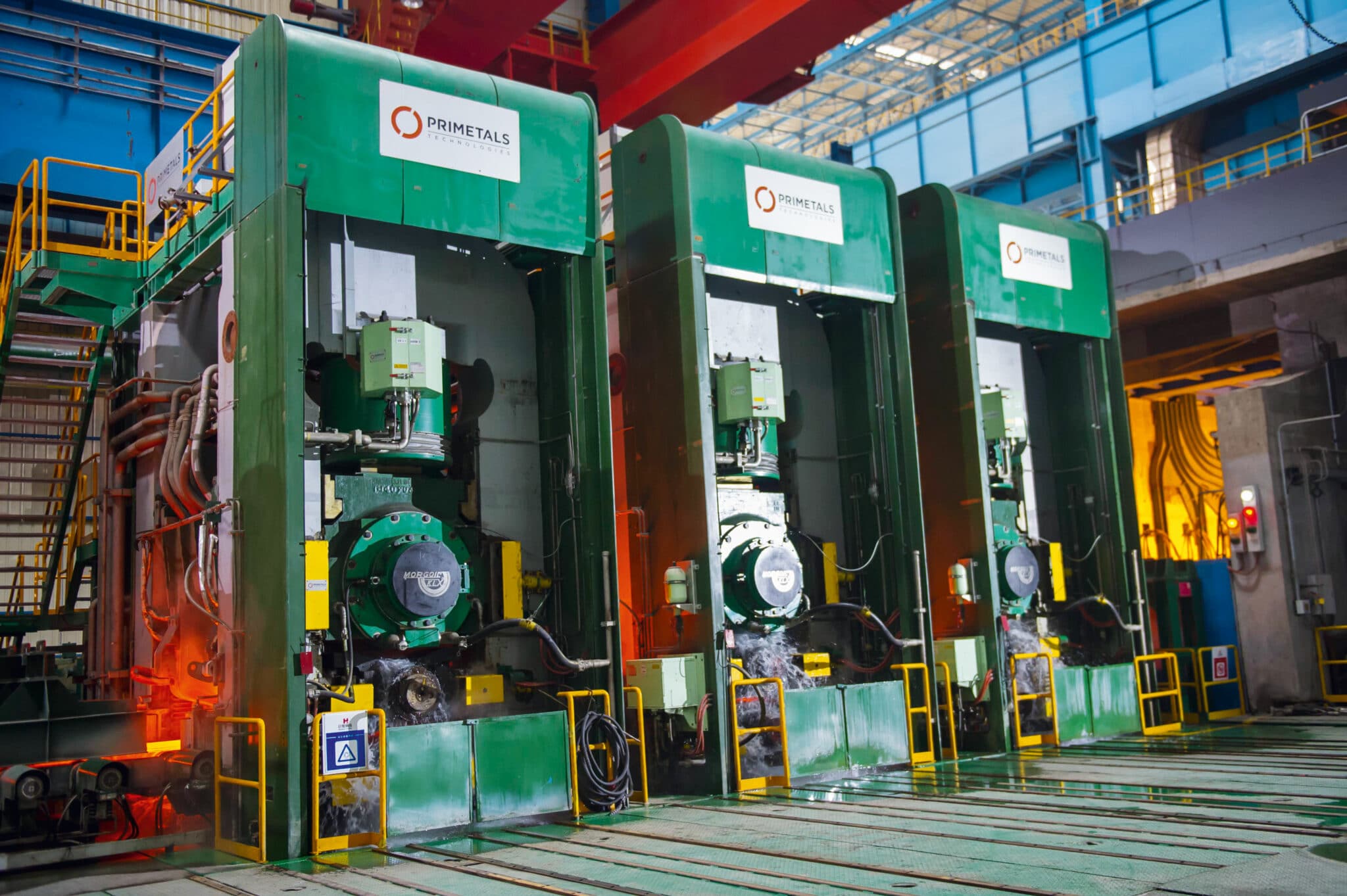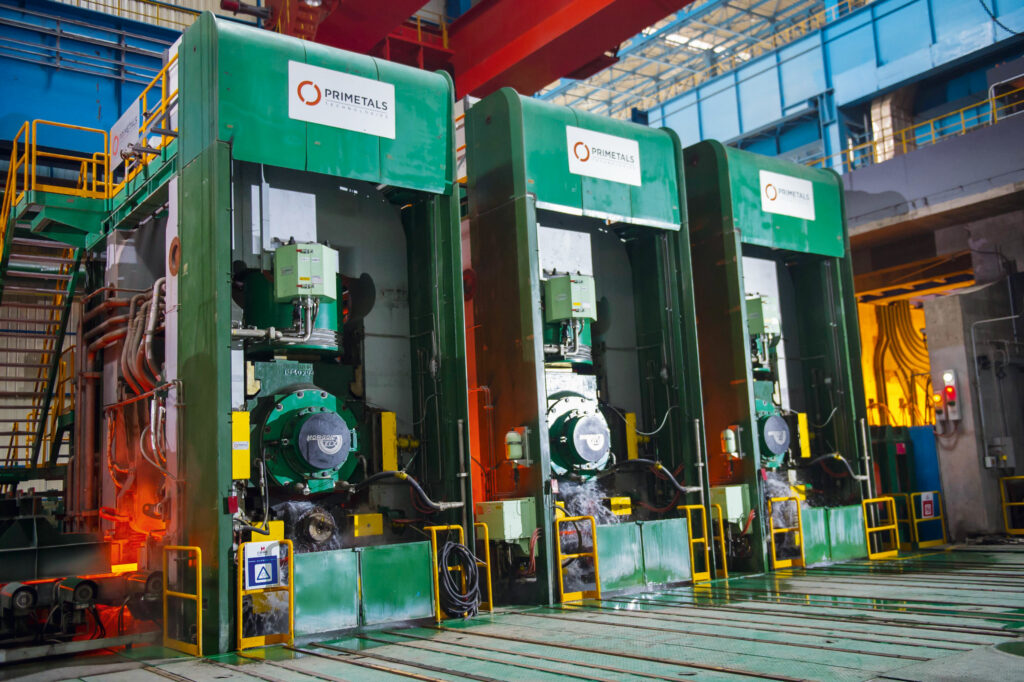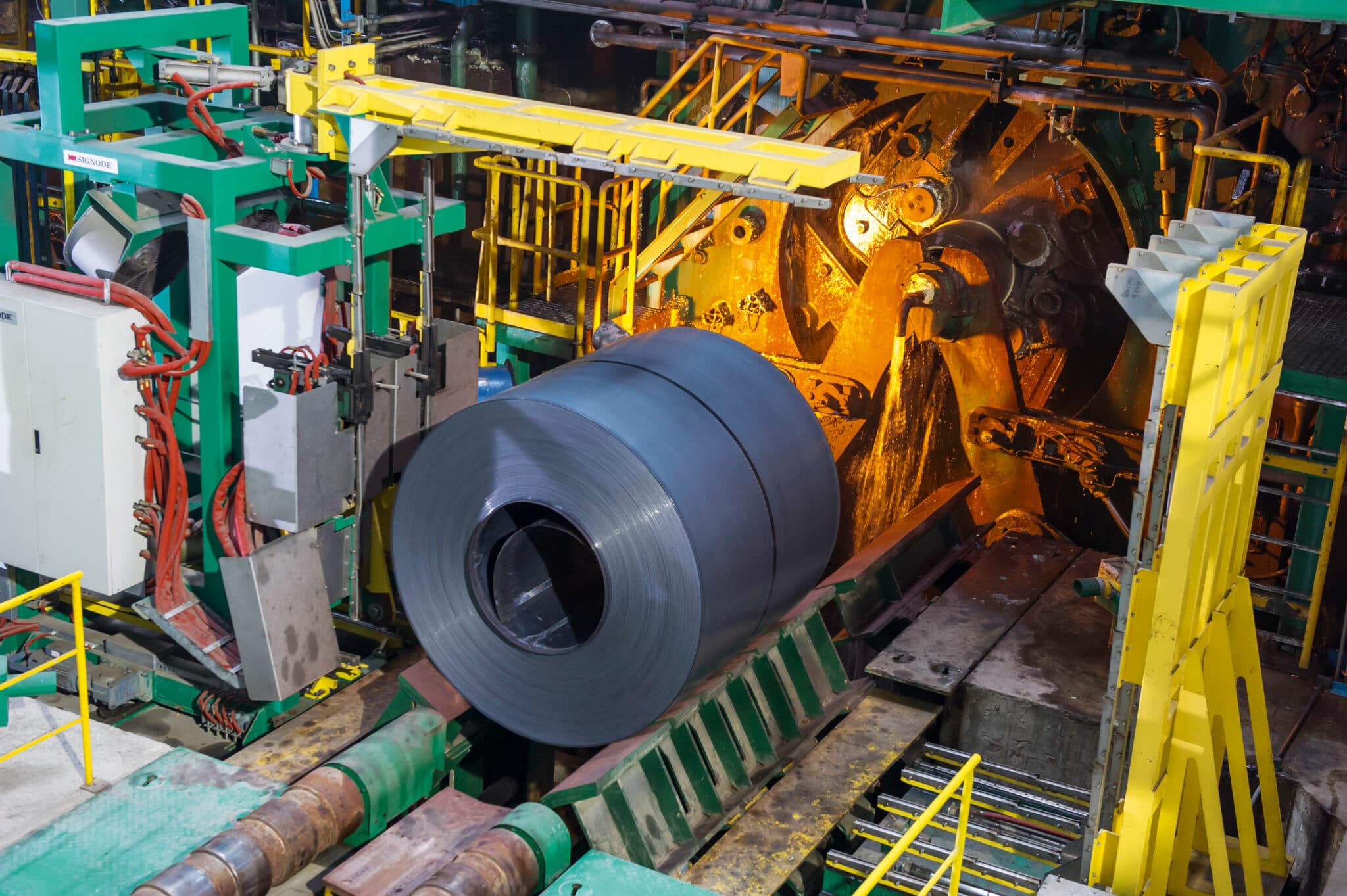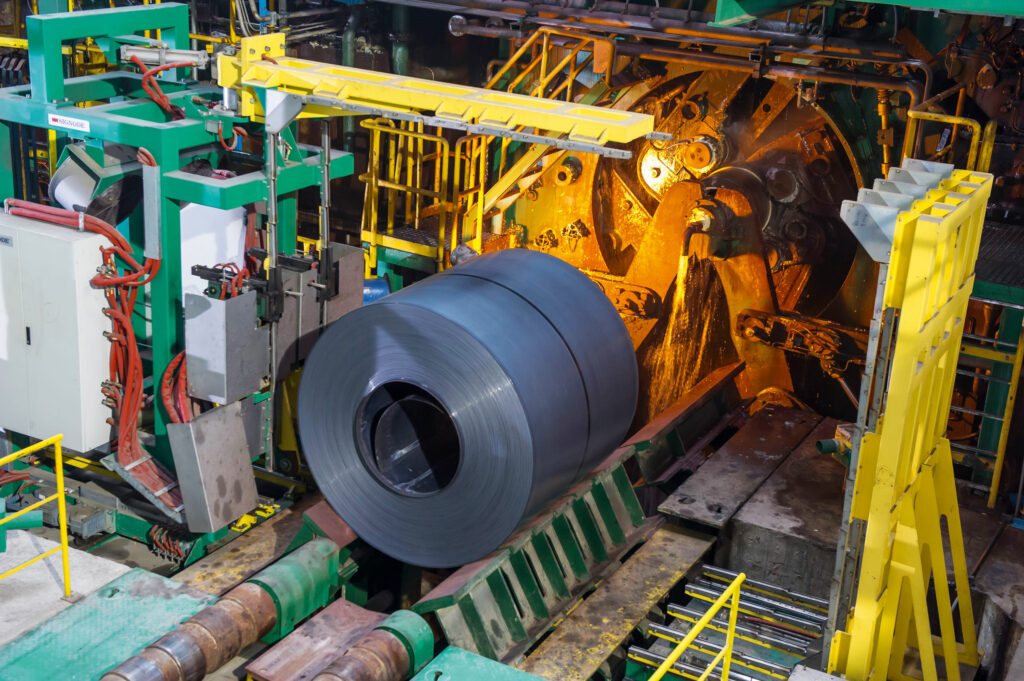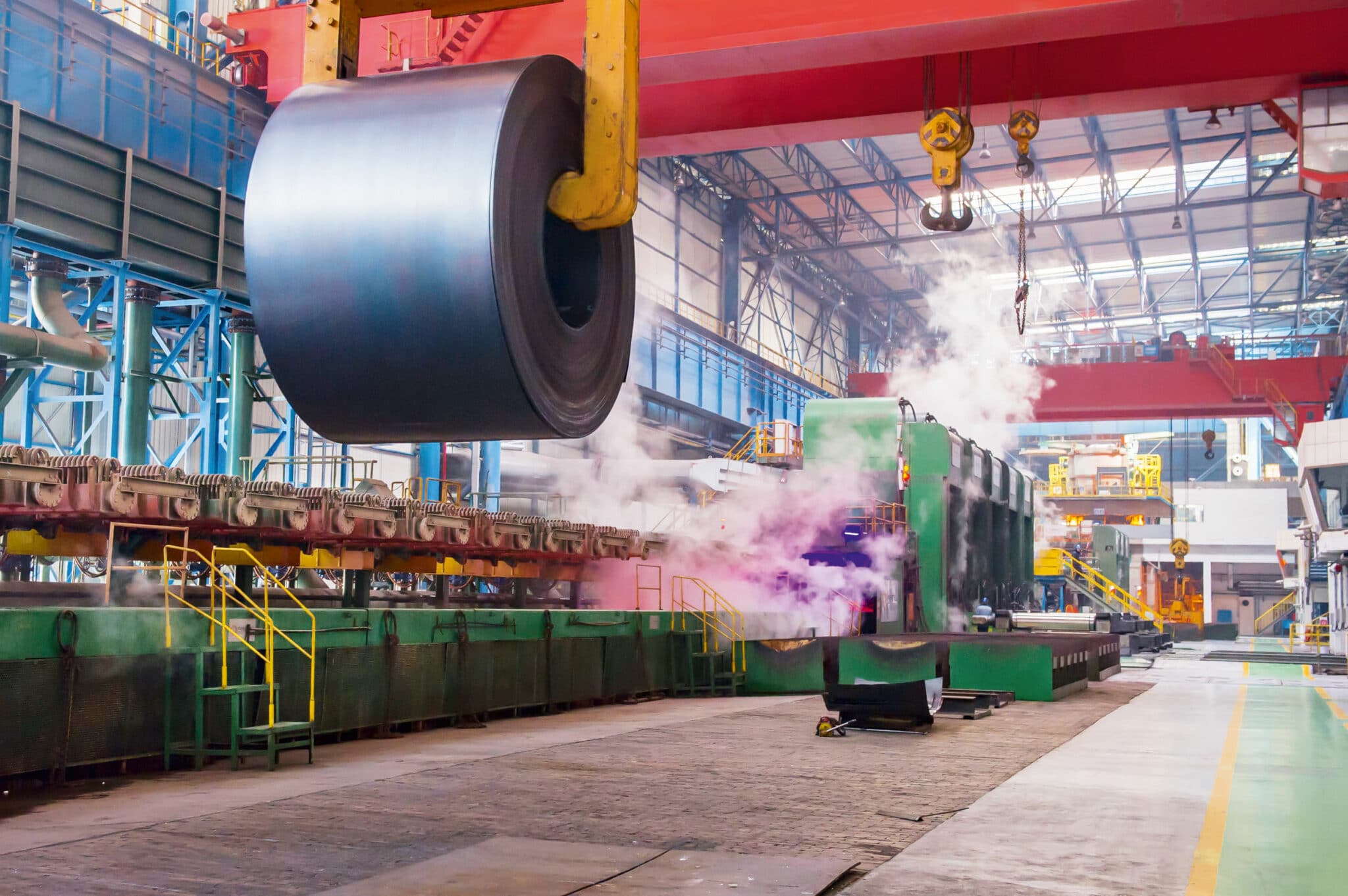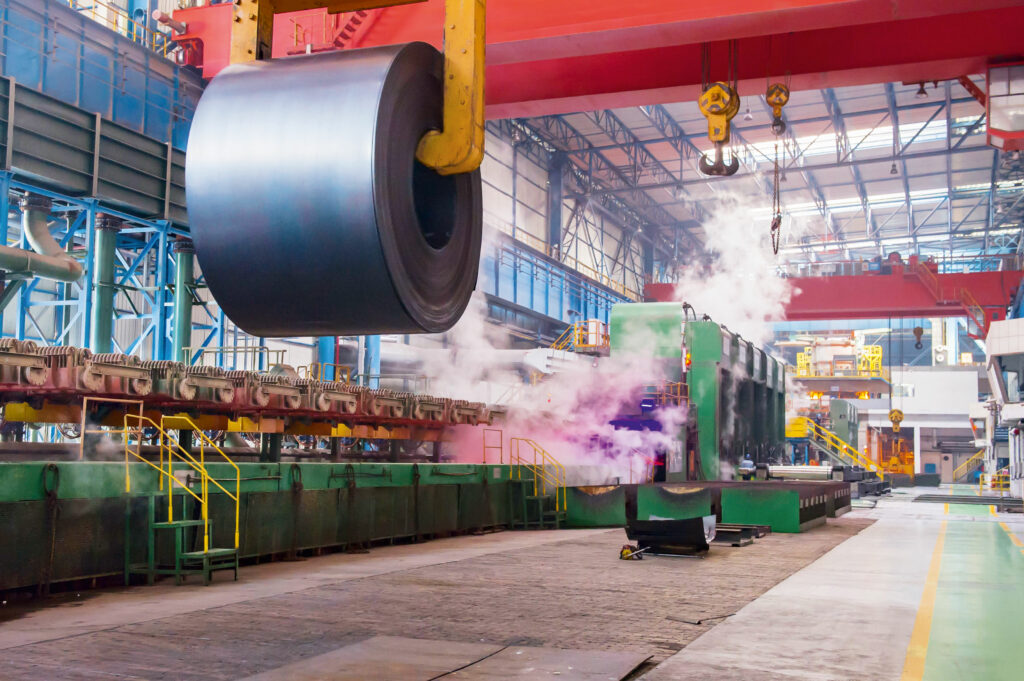 Greater Work Roll Lifetime
Producing very high quantities of ultra-thin gauges puts high demand on the work rolls. A work roll exchange routine in an Arvedi ESP line is structured in such a way that after every sequence the work rolls at finishing mills F3-F5 are exchanged. The work rolls of F1-F5 are replaced after every other sequence, and high reduction mill rolls are swapped after three completed sequences. Sequence lengths at Rizhao Steel currently go up to 15 ladles' worth of steel, resulting in 4,500 tons of coiled strip. In sequences comprising large quantities of ultra-thin material, 150-170 kilometers of rolled strip have become a common usage factor on F5. This exceptionally long work roll life is supported by the fact that in an endless strip production line, crown and wedge shaping already takes place at the high reduction mill, which directly succeeds the caster and makes use of the benefit that the core of the strand is still very hot and therefore highly malleable. The Level 2 work-roll-wear model is crucial in optimizing work-roll usage. It distributes excessive edge wear by utilizing work-roll shifting up to ± 250 millimeters. This results in sequences with final strip thicknesses below one millimeter for more than 50% of the strip produced.
Inline Work-Roll Change
To further refine the concept of endless rolling with maximum yield at lowest conversion costs, the Inline Work Roll Change (patent pending) was implemented for Arvedi ESP Line 4 at Rizhao Steel and made available to other steel producers, as well. Although production data from Rizhao Steel demonstrated that impressively high yields had already been achieved, it proved possible to extend cast-rolling sequences and increase yields even more. This new advancement is based on the fact that the main factor that impacts sequence length is work-roll lifetime, which had been pushed to 170 kilometers of produced strip. The new design changes allow for the work rolls at the last stands to be changed inline, and thanks to the resulting increase in sequence length, the refractory material (submerged entry nozzle) in the mold is optimally used.
Thicknesses Below 0.8 mm
While other steel-plant builders are experimenting with plant concepts to promote 0.8-millimeter strip production in endless operation, Primetals Technologies is raising the bar by targeting ultra-thin production at even less than 0.8 millimeters. For further quality improvements and to comply with the market demand for ultra-thin hot-rolled strip, Primetals Technologies developed a new control concept for the finishing mill based on their experience in hot and cold rolling. With the newly developed "Ultra-Thin Rolling" (UTR) controller, the focus is on improving thickness quality during the "flying gauge change" as well as on active compensation of work-roll eccentricity. This feature is already implemented at Rizhao Steel's new ESP line No. 4.
Adjustable Crown Shape
In an Arvedi ESP line, crown and wedge s­haping takes place in the high-reduction mill, directly after the caster, when the core of the strand is hotter and thus easily ­formable. This setup enables full control to form the final shape. End customers can order products with C40 target-crown values of as little as 1% of the strip's thickness. Also, flat target crowns can be produced as shown in the graph. This allows for the slitting of narrow cold-band-substitute products while retaining a good symmetric crown without compromising wedge-related issues at downstream aggregates. The figure above shows the strip profile of a 0.8-millimeter strip with remarkable consistency in terms of strip shape.


Next Step: API Grades
The market for line-pipe steels is currently changing and so are the production routes for manufacturing the respective steel grades. The requirements in terms of mechanical properties are steadily increasing as pipelines must be able to support higher transport capacities and be more lightweight at the same time. Over the past few years, API 5L X70 and X80 have become the quasi-standard grades. These advanced steel grades can not only be made using the traditional plate-based production route but also by hot-strip mills, which have seen a major technological evolution. They are now capable of facilitating the processes required for thin-slab casting and rolling.
A design convenient for the application of thermomechanical treatment is characterized by either a split rolling-mill setup that corresponds to the conventional roughing and finishing-rolling steps or by plate-rolling strategies. Both approaches can realize the split between recrystallizing and non-recrystallizing rolling, which provides important levers for controlling the microstructural evolution during processing.
If severe deformation is applied immediately after casting—as is the case with the Arvedi ESP endless production process—the tight link between casting and rolling provides optimal conditions for the activation of recrystallization in the critical center regions of the cast steel. This is due to the characteristic inverse temperature profile after casting, which promotes a fast start of the recrystallization in the hotter center of the cast steel, resulting in a more homogenous grain structure throughout the full thickness of the products. The effective deformation (reduction in thickness in conjunction with shear deformation) that is often observed in near-surface regions with conventional roughing is successfully shifted from near-surface regions toward the center of the slabs.
As is common for all thin-slab casting and rolling processes, micro-alloying elements—with the exception of titanium—remain as a solid solution before finishing rolling. Due to the absence of a tunnel furnace and the short time spent in the induction heater, alloying with titanium to limit grain growth is optional and in most cases not necessary. The direct link between an induction heater and finishing-mill train, in conjunction with a properly chosen cooling strategy, permits precise microstructure engineering for niobium-prone steels. The start of the rolling operation under the non-recrystallization regime can be shifted between the second and fifth rolling step by making corresponding adjustments to the power of the induction heater and to the pass-schedule setup.
Ultra-Early Power Cooling
Findings show that the cooling relevant for ferrite formation should take place as soon as possible after the final deformation at the last active rolling step. Therefore, Primetals Technologies invented a solution called "Ultra-Early Power Cooling," which employs the Power Cooling system directly after the finishing stage of the rolling section. This setup provides extremely high cooling rates as early in the process as possible.
In order to minimize the distance from the last operating rolling stand to the cooling equipment, which is placed along the run-out table, and to avoid the resulting delays, Ultra Early Power Cooling is implemented directly at the last section of the finishing mill, which is set to be inactive for the rolling of heavy gauge products. The cooling capacity is dimensioned to support a temperature drop down to the point where the final phase of the transformation from austenite to ferrite is complete. This ensures extraordinarily fine ferrite grain sizes and forces the thermomechanical effect to unfold its full potential.
The space in between the two last stands—and potentially more stands—can be used for the implementation of intensive inter-stand cooling devices. For maximum impact of this novel cooling solution, the work rolls of the final stands can also be replaced by Power Cooling headers. The combined cooling capability of these measures can create a water flow so powerful that it equals that of a full-fledged Power Cooling installation. Based on the well-known physical principles that govern metallurgical effects and the well-proven layout of the endless strip production line, Arvedi and Primetals Technologies have created a solution that enables the high-­quality production of thick-gauge thermo-mechanically rolled material.
Probably surprising to some, Arvedi ESP is also capable of producing thicker strips. To facilitate this, endless strip production lines can be equipped with a second endless shear, extending endless-operation principles to strip thicknesses of up to 25 millimeters. Thick-strip production on endless strip production lines benefits from absolutely stable production conditions, which contribute to uniform strip quality from head to tail for every strip, from 0.8 to 25 millimeters.
Arvedi ESP Keeps Advancing
Having firmly arrived in the 21st century, most of us have come to appreciate that there is a vast worldwide market for computers, and for much more than five of them. Similarly, many steel producers have become interested in the revolutionary production setup that is Arvedi ESP. Endless Strip Production is no longer a miracle but a tried-and-tested solution, and has become the state of the art in modern thin slab casting and rolling.
With inline work-roll change now possible, productivity and production flexibility have now been brought to an even higher level. Yet the most decisive benefit of Arvedi ESP remains the stable production, which is second to none in the industry and already known to deliver thin gauges of remarkable quality. With the Ultra Early Power Cooling feature, endless strip production-based operation has just been extended to make production of thick gauges of up to 25 millimeters a reality.
Stable Production Temperatures
The high temperature stability achieved by Arvedi ESP is reflected in constant product speeds and temperature profiles through all process steps, from casting and roughing to inductive reheating, finishing rolling, and strip cooling. Speed-ups known from conventional hot rolling are completely omitted, leading to products of more consistent quality. The figure above shows a sequence in which a high percentage of thin and ultra-thin gauges were manufactured. It reflects more than four hours of production of strip with thicknesses below 1.0 millimeters. During this period, the standard deviation of the temperature at the finishing-mill exit was 2.5°C. The contour and crown was stable even over such long sequences, which made the production of a high percentage of thin and ultra-thin gauges possible.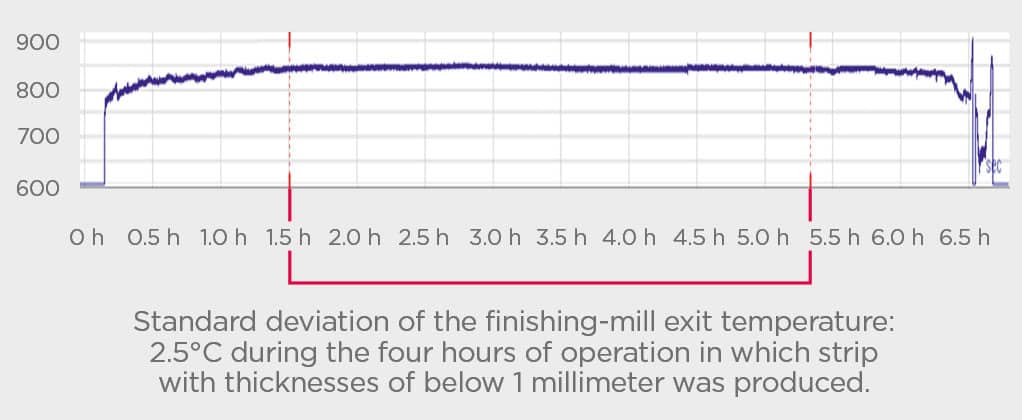 Learn More:
This post is also available in: 简体中文 (Chinese (Simplified)) ESP line No. 2 at a Chinese steel producer in Hebei province, China, is now in operation, making it the 9th ESP line worldwide. The customer's first ESP line has been in operation since 2021. With a speedy startup, the first hot-rolled coil was produced in…