This post is also available in: 简体中文 (Chinese (Simplified))
While China's economy and its steel industry are dealing with saturated ­markets, steel producer Rizhao Steel, based in eastern China, has redirected its ­production to high-quality, thin-gauge, hot-rolled strip using Arvedi Endless Strip Production (ESP) technology – and to much success.
Having seen the benefits of Arvedi ESP technology first-hand in Cremona, Italy, China-based Rizhao Steel chose to invest in five Arvedi ESP production lines with a total annual capacity of 11 million tons of strip rolled to a minimal thickness of 0.8 mm. Primetals Technologies was responsible for the complete supply of all plant systems and equipment.
Final acceptance after 22 months
For all three currently active lines, the time from project start to the issuing of the final acceptance certificate could be kept to an impressively short 22 months. Over the course of the first two years of operation that included the respective start-up periods, the first three lines yielded 8 million tons of ultra-thin high-quality steel that was highly sought after on the market.
Premium-quality products
With its new Arvedi ESP lines, Rizhao Steel produces a wide variety of premium steel grades for a broad spectrum of steel products that serve many different industrial sectors. From a quality point of view, the final products are characterized by superior geometrical strip quality and flatness. The outstanding surface quality was confirmed by a major European automotive supplier that tested ESP material on its cold-rolling mill. Very high strip homogeneity along its entire length could be repeatedly demonstrated. This is because in endless operation no strip head or tail end pass through the line.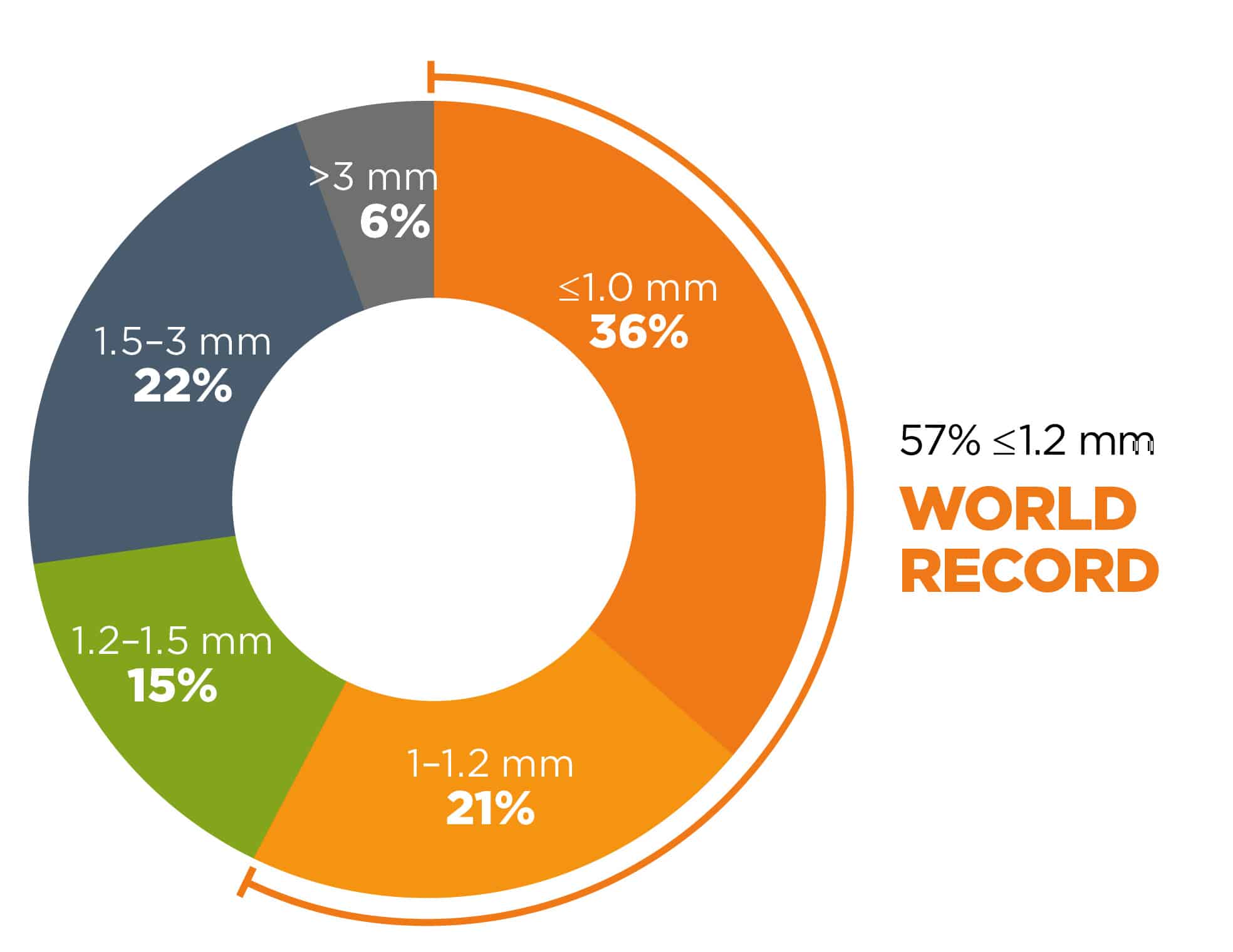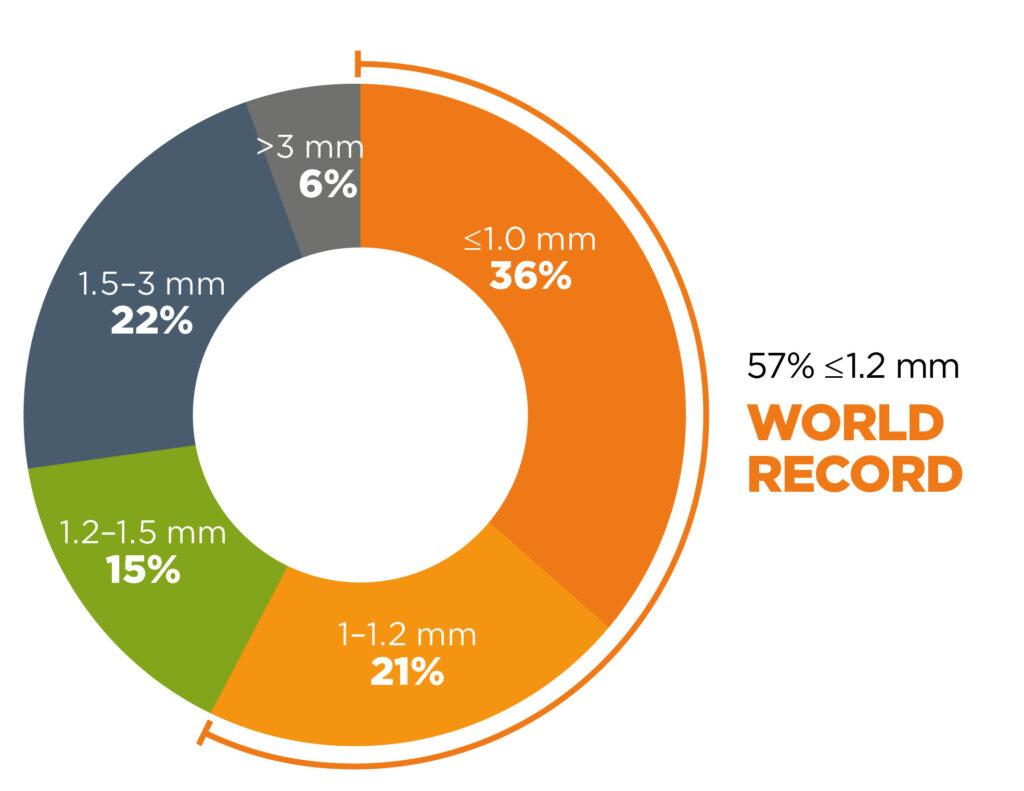 Production records
Even over the course of the early start-up phase, several production records were set. The rolling of 0.8 mm thick strip was achieved in the shortest period to date. Also, extra-long sequences that exceeded 3,000 tons were carried out, work-roll lifetime was extended to more than 170 km, and production sequences were directly started in endless mode for increased yields.
After only four months of operation, the first final products reached the market. A large order of more than 100,000 tons of 1 mm strip followed almost immediately. The percentage of ultra-thin production down to 0.8 mm was quickly maximized to meet the high demand on the Chinese and overseas markets. Sequences were executed where 57% of the total production consisted of strip with thicknesses of less than 1.2 mm (see Figure 2), solely relying on Arvedi ESP technology and without any additional cold rolling being performed.
HIGHLY STABLE PRODUCTION
The exemplary sequence depicted here shows four hours' worth of production below 1 mm. During this period, the standard temperature deviation at the finishing-mill exit amounted to only 2.5°C (see illustration). Both the contour and crown are stable, allowing for the manufacture of large volumes of thin and ultra-thin gauges. As Rizhao Steel focuses on ultra-thin gauges, most of the sequences do not start with thicker batch coils. Instead, they directly start in endless mode with thicknesses below 4 mm. On average, a total yield of 98% from liquid steel to coil could be achieved after the first year of production.


ADJUSTABLE CROWN SHAPE
In an Arvedi ESP line, crown and wedge shaping start early – namely, in the high-reduction mill right after the caster where the core of the strand is hotter than its surface. This approach is vastly different from conventional hot-­rolling processes because the strand is rolled in a more easily formable state. It gives the operator greater freedom to adjust the final profile of the strip, which can be shaped to be completely flat or exhibit a crown value of 1% or more. This allows slitting to narrow final cold-band substitute products, while keeping good symmetric crown values and avoiding wedge-related issues at downstream facilities.


A strategy to satisfy the market
Even this early after start-up, Arvedi ESP technology has proven to be the perfect choice for Rizhao Steel, especially considering the current tight market conditions. Coils with thicknesses below 1.2 mm achieve a price advantage of up to 40% compared to thicker gauges. In this way, Rizhao Steel can operate profitably even at lowest coil-price levels. The company's new facilities will provide it with the basis to spearhead state-of-the-art hot-rolled coil production in East Asia and to excel on the steel market, particularly when it comes to quality, consistency, and fully meeting actual market demands.