The Long-Rolling Process Expert is a cost-effective modular process-automation system for continuous and reversing rolling mills, and for monoblocks as well as flat blocks. Similar Expert Systems also exist for other types of rolling mills—from hot-strip to plate mills and Arvedi Endless-Strip Production lines to all types of cold mills.
The Process Expert monitors and collects data, from the input-material stage through to the finished product. Its domain extends from enterprise-resource planning (ERP), through manufacturing-execution systems (MES), to control systems and down to the plant device level. The system performs a wide range of tasks, from suggesting pass schedules to calculating and downloading mill settings according to the availability of rolls. The Long-Rolling Process Expert also helps manage and track material yards and orders, and helps plant operators maintain a competitive edge in today's aggressive global market by delivering mill reports so that plant performance can be assessed and production optimized.
The Long-Rolling Process Expert is geared toward quality management. Online quality monitoring allows for the results of product inspections to be accessed at any time, while interface modules to manufacturing execution and plant-automation systems ensure secure communication. There are also analysis and reporting modules, a report editor, and a label editor, with archiving capabilities so that all data can be archived and production history accessed, even years down the line. Comprehensive and accurate reporting on the mill, production efficiency, equipment utilization, downtimes, energy and media consumption, tool stand times, and much more can be used as the basis for increasing the competitiveness and ultimately the profitability of a plant.
The Long-Rolling Process Expert also helps to increase customer satisfaction, making it easier to respond quickly and flexibly to inquiries from new customers or to demand for new products. Checking production availability, calculating the time needed for product changes, tracking the route from raw material to finished product, creating customer labels, or producing quality reports are all challenges that can be met with the Long-Rolling Process Expert.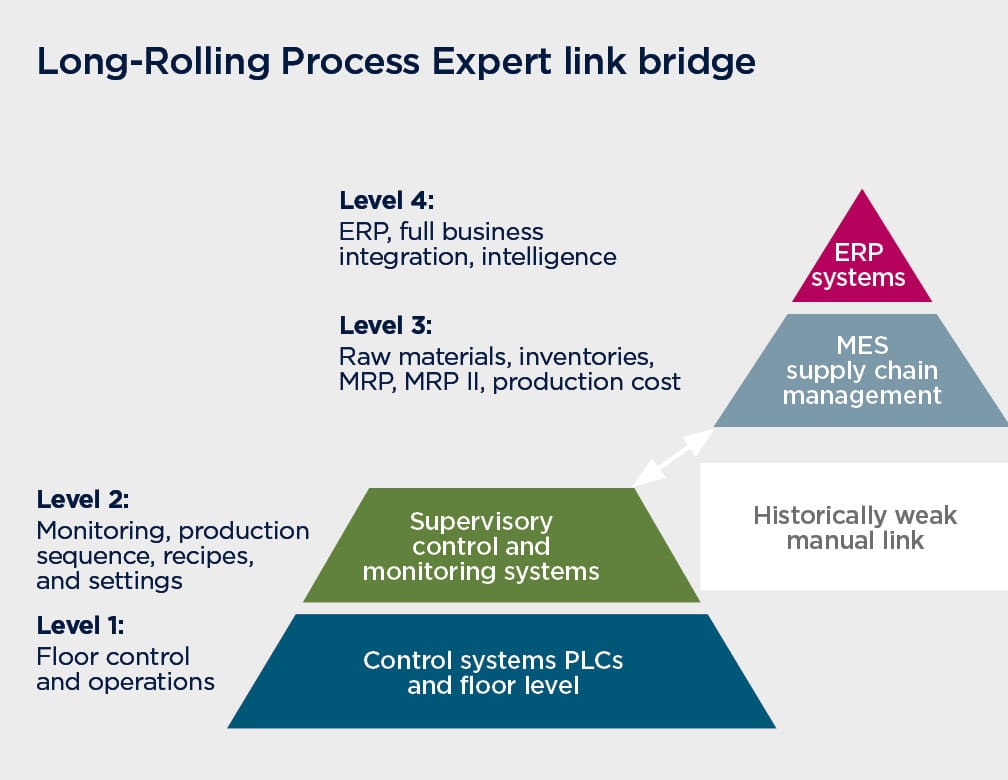 EXTENDABLE FUNCTIONALITY
The Long-Rolling Process Expert provides a modular range of basic functions for managing orders, assets, and qualities, enabling plant operators to pick and choose between functions. For instance, the yard-inventory modules for incoming and outgoing materials provide a real-time status of stock materials; the production-­sequence module provides up-to-date information about production schedules, line status, and material position, and increases flexibility in the fulfillment of production orders; the tracking module records data on all material flows from the yard to the charging grid to the outgoing yard—including processing, compacting, weighing, and tagging.
ROLL AND GUIDE MANAGEMENT
Roll and guide management helps monitor and manage the rolling mill. Tools such as rolls, calibers, and guides are located in the roll shop stock, and plant, tonnage, and rolling time are tracked. Then, based on production requirements, tool-change lists are created to shorten product change time while also maximizing tool-
utilization time.
The Long-Rolling Process Expert is part of the comprehensive Electrics & Automation solution portfolio of Primetals Technologies for the long-rolling industry. It can either be supplied as a stand-alone installation or seamlessly integrated into other long-rolling automation concepts.