This post is also available in: 简体中文 (Chinese (Simplified))
Primetals Technologies has developed an innovative modular coil shuttle logistics system that relies on self-driving, remote-controlled ­shuttle cars traveling on dedicated rail tracks. Austrian specialists were responsible for all of the engineering, design, and manufacturing, as well as the associated electrics and automation. The cars have built-in motors and are orchestrated by an automation system that ties in perfectly with existing plant automation and enables streamlined interaction between the coil-transport setup, the plant's cranes, and all involved coil-treatment stations.
Coil logistics tend to vary significantly between rolling plants, as no two plant layouts will ever be identical. The Modular Coil Shuttle System from Primetals Technologies was designed to meet the logistics requirements of almost any cold- or hot-­rolling facility thanks to its modular design and its smart and flexible components. The system was originally created for the transport of hot-rolled coils but can be easily adapted to move coils in cold-rolling facilities as well; in these cases, the heat-protection measures implemented in hot-rolling coil-logistics setups can be omitted.
The shuttle system at a glance
At its core, the Modular Coil Shuttle System is a rail-based coil-transport system arranged in a loop design. There is a loaded track (coils are transported from the down-coiler area to the coil yard or the next processing facility) and an unloaded track (for empty cars making their way back to the coiler). Both tracks are essentially identical and only differ in the cars' direction of travel. At certain points of the tracks, the cars can be shifted, turned, lifted, or lowered. This is done through specialized stations that follow the system's modular-design principle and can be flexibly positioned for the coil-logistics system to work perfectly in tandem with the pre-existing plant setup.
The Modular Coil Shuttle System is capable of incorporating many typical coil-logistics operations such as marking or strapping into the flow of shuttle cars. All modules can be arranged to accommodate a steel producer's existing plant layout and therefore their equipment. The newest member in the family of modules is a lifting device designed to elevate or lower shuttle cars. Depending on the requirements the logistics solution has to meet in a plant, the lifting device can be operated either hydraulically or electrically.
Currently available modules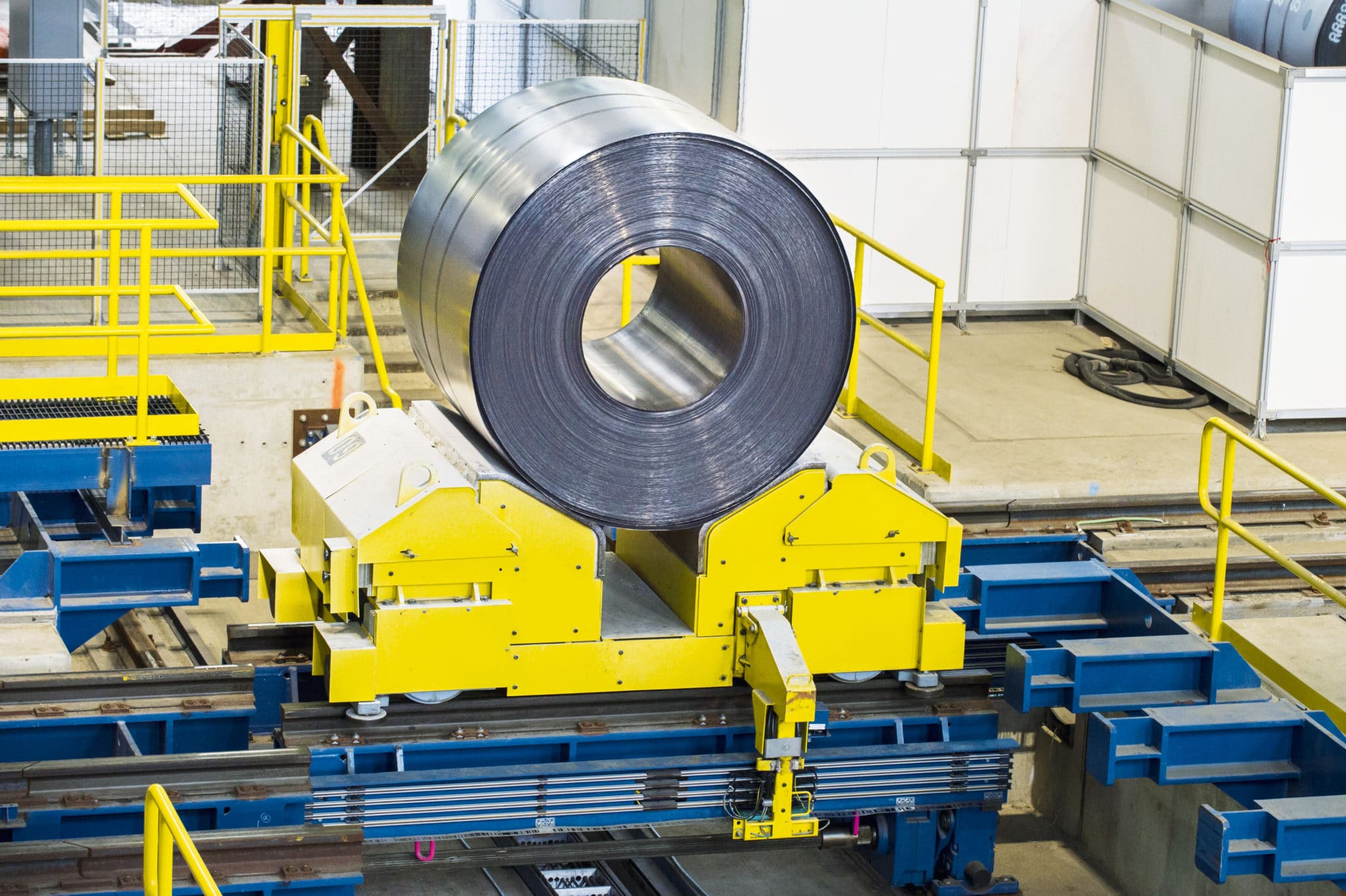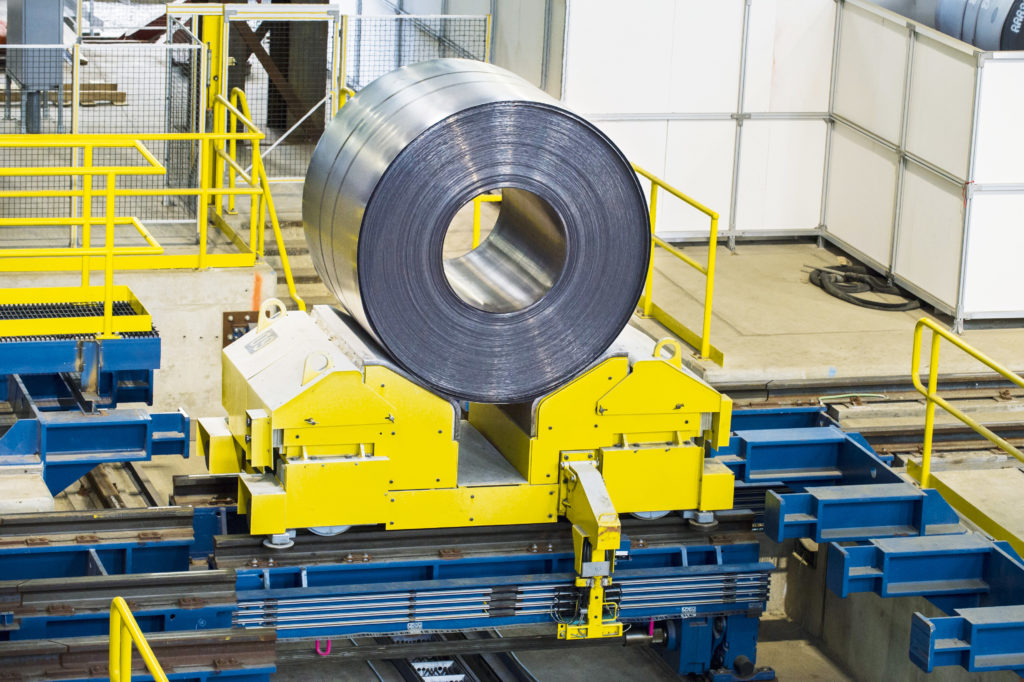 MOVABLE STATION
The movable station is used to shift loaded or empty Modular Coil Shuttle cars perpendicularly to the cars' main transport direction, in order to facilitate lateral movements if the transfer route is changed. A movable station is therefore typically placed at the end of the transport system to ensure that the loop is closed.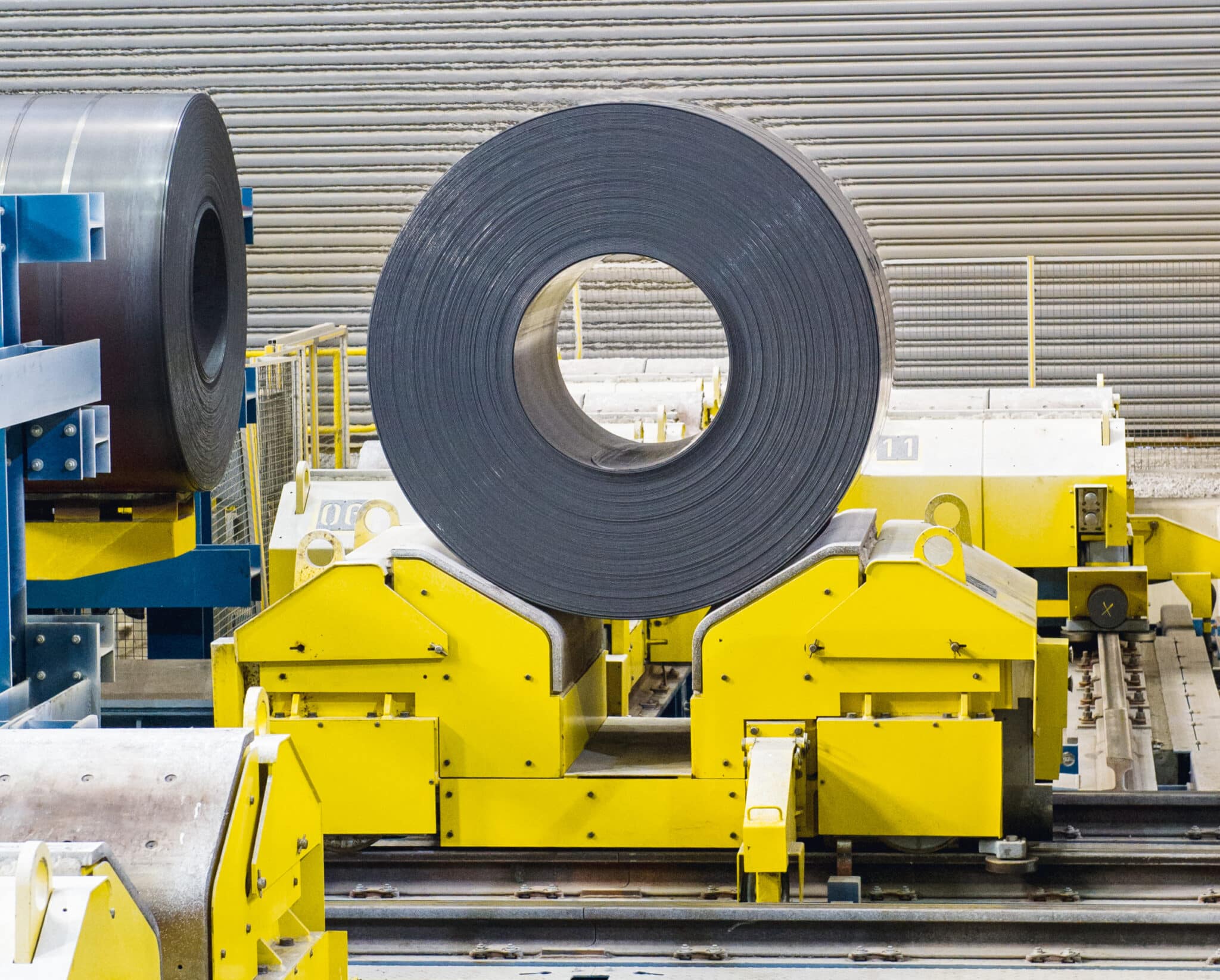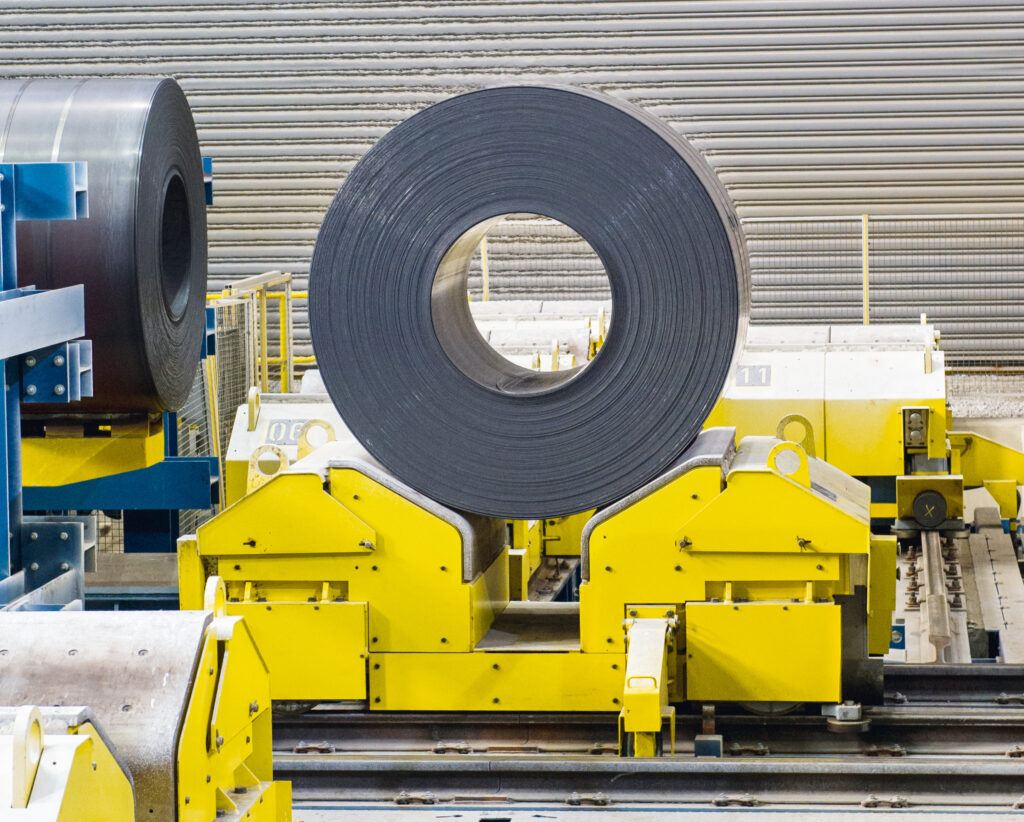 TURNTABLE
The turntable module allows for a directional change of the Modular Coil Shuttle car of up to 90° by creating "T"-, "L"-, and "+"-shaped rail-track connections. Depending on the respective layout of the coil-transport area, the turntable can be equipped with either one or two rail segments.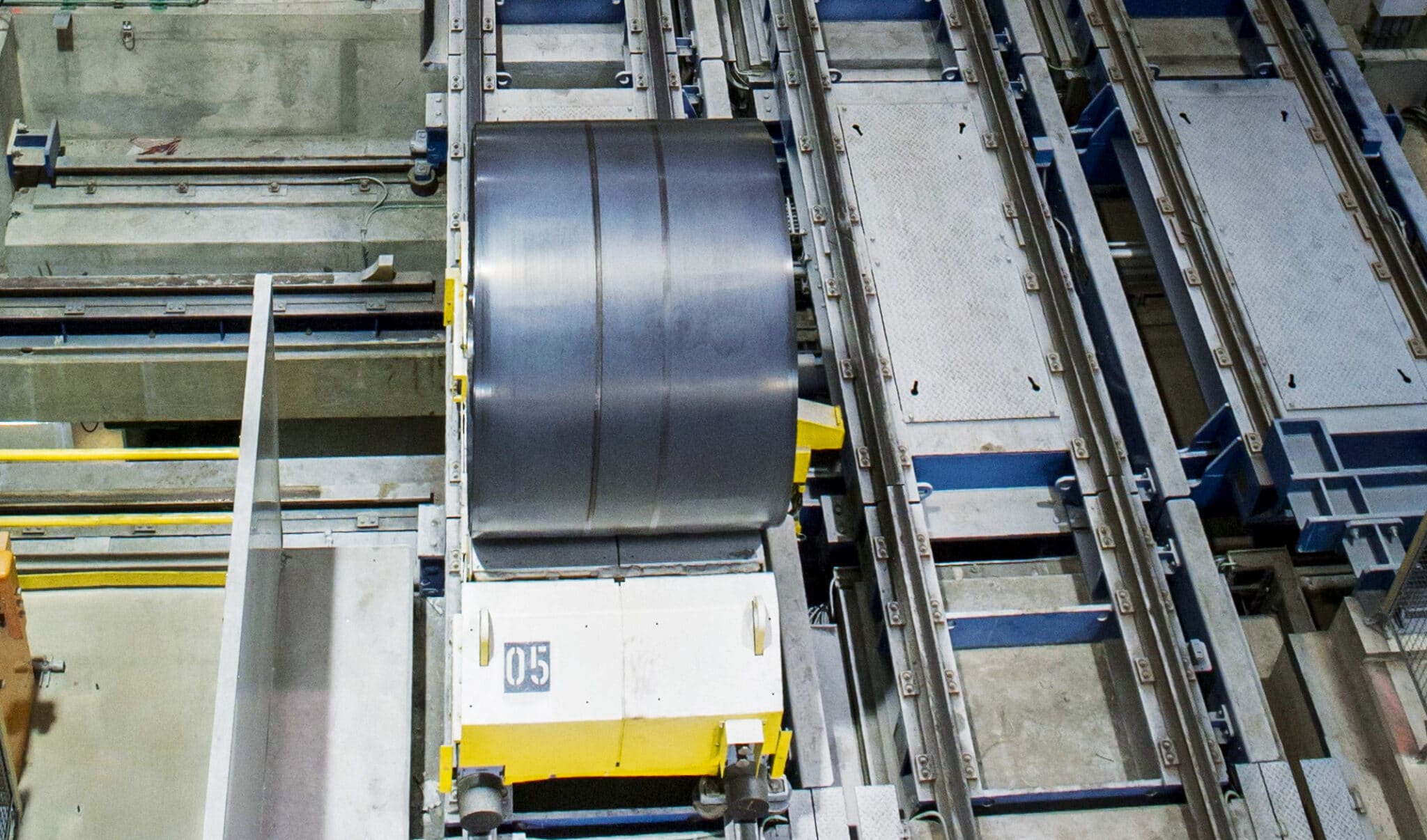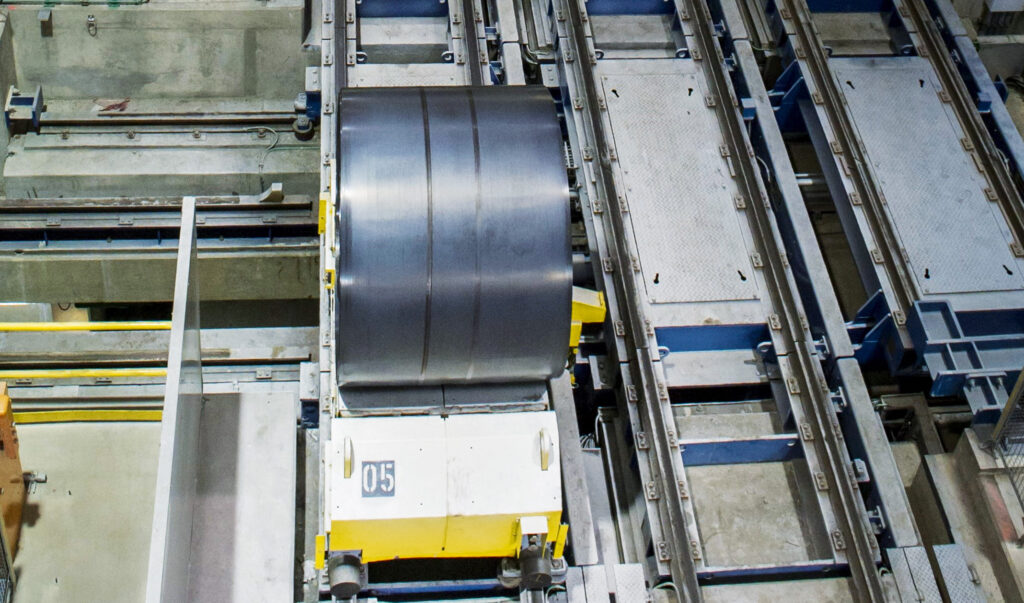 SHIFTING STATION
The shifting station is used to remove a Modular Coil Shuttle car from the main track for coil inspection or maintenance, or to reintroduce a car to the main track after coil inspection or maintenance. Up to three segments can be shifted simultaneously (as one station), so that the main track remains uninterrupted when cars are removed.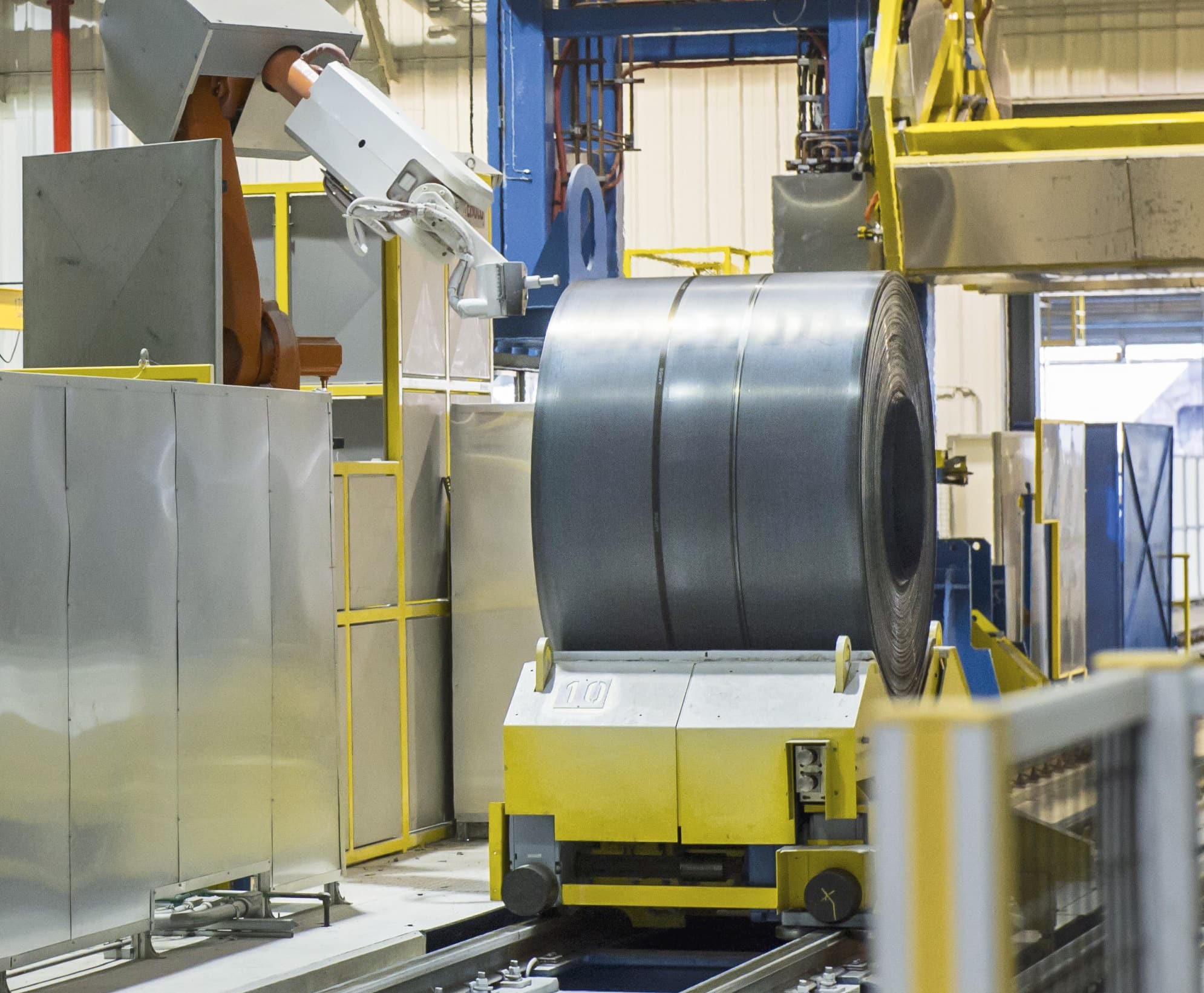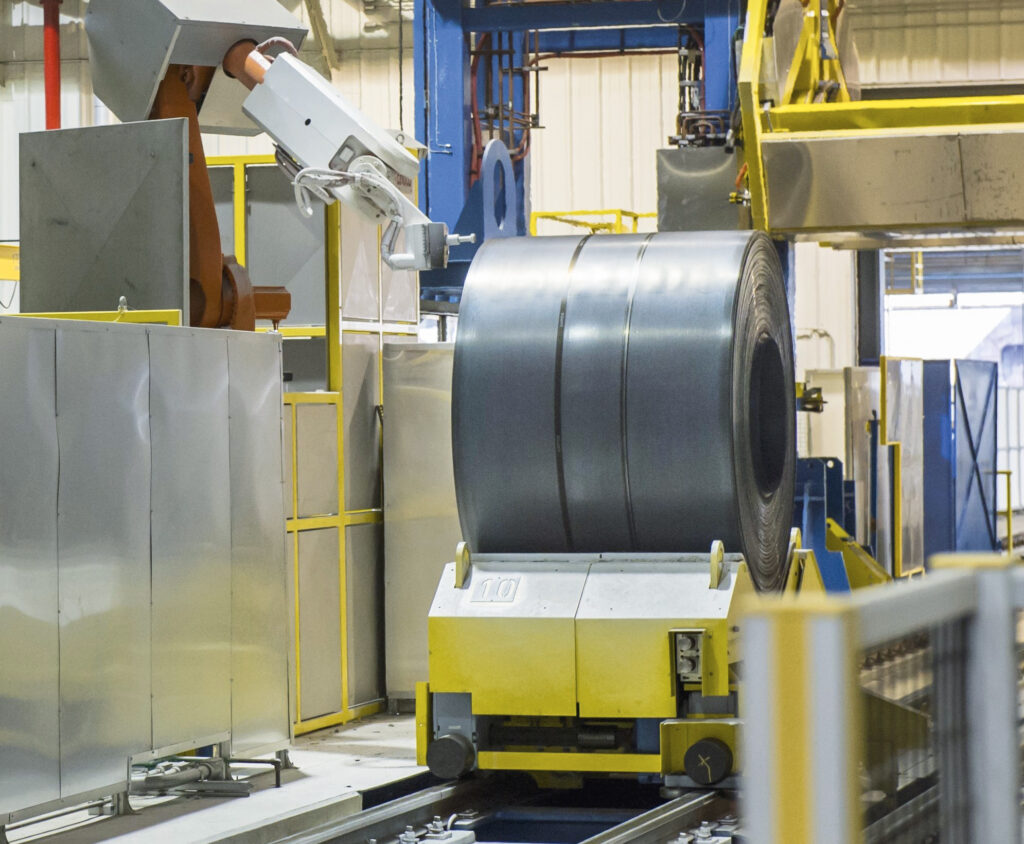 WEIGHING AND MARKING
At this station, the coil is weighed and marked on its circumference (the wound side of the coil) and on its face side. The weight of the empty Modular Coil Shuttle car is derived from its calibration weight, which is assessed on a regular basis. The weight of the coil is determined by weighing the loaded car.
Simple installation and extension
The shuttle cars travel on simple rails that are mounted at floor level, thereby necessitating only minimal foundation work when the system is installed. The capacity of the coil-transport system can be flexibly adjusted to match changing operational requirements by simply varying the number of active cars. The self-driven cars are equipped with on-board electronics and allow "plug & play" introduction into the system. The removal of superfluous shuttle cars is just as straightforward; this can become necessary at times of lower overall production and a correspondingly reduced number of coils. The Modular Coil Shuttle System is also capable of buffering (temporarily storing) finished coils alongside the track without compromising production. Because the system features inherently high redundancy and uses particularly robust and durable components, its reliability is second to none.
Easy extensibility is another one of the system's strong points and results from the use of standard-type rails for all tracks. If required, the logistics solution can be extended in several stages. Should a steel producer's product mix change after the installation of a Modular Coil Shuttle System, the coil-logistics system can compensate by accommodating any changes in coil dimension or weight.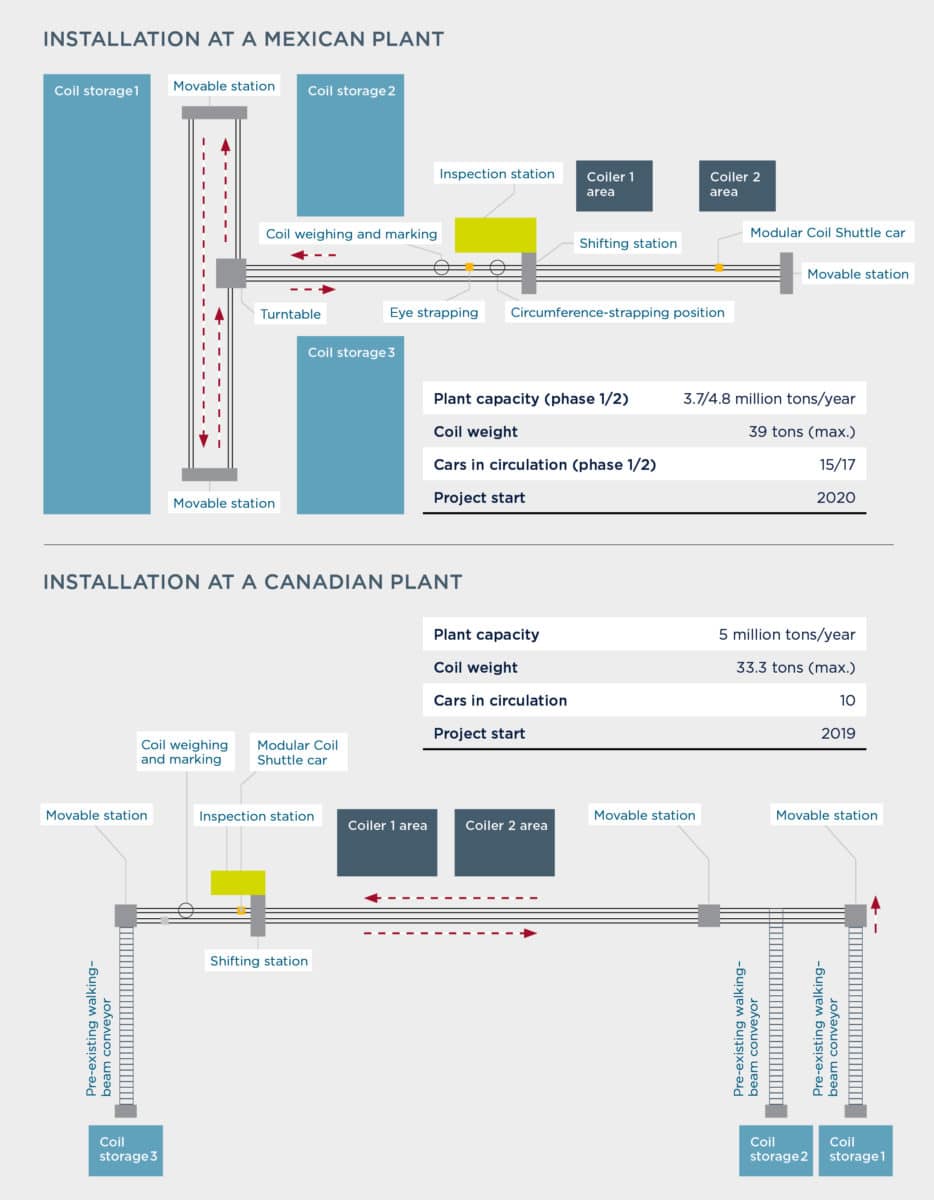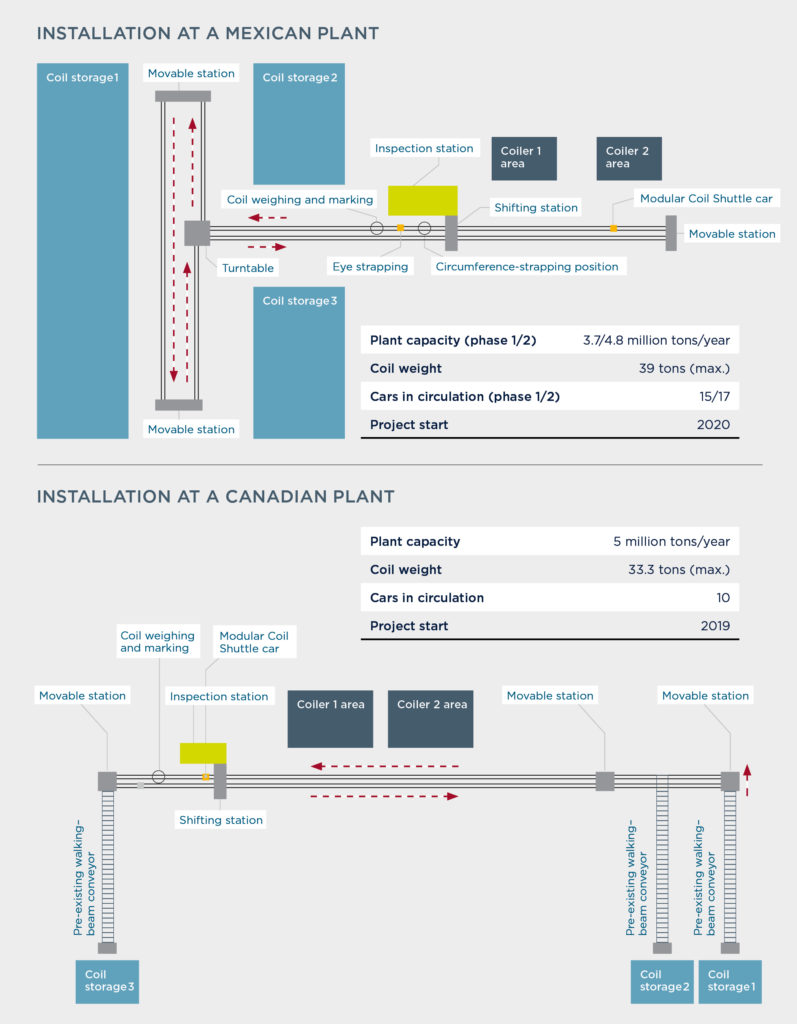 Motorized, intelligent cars
The shuttle cars can be operated in harsh conditions (e.g., hot and dusty environments) and are capable of handling coils with the highest surface and strip-edge requirements (i.e. free of dents, scratches, etc.). All cars are equipped with an electrical gear motor and can travel at a maximum speed of one meter per second when loaded and up to twice as fast when empty. The power is supplied via conductor rails and current collectors, which are mounted on a swiveling arm on each car. Attached to the arm is an antenna that enables communication with the central programmable logic controller via industrial Wi-Fi. The cars are equipped with a tracking system to monitor their exact position on the tracks. Tracking is accurate down to five millimeters and enables the precise control of all shuttle-car movement, which is especially important when loading coils onto shuttle cars in the down-coiler section via a coil-loading device. The cars are also equipped with coil detection for material-tracking purposes.
Easy addition and removal of cars
Whenever a shuttle car needs to be removed from the track, its swiveling power arm is retracted from the tracks and fixed in a raised position. The car can then be picked up by crane. Adding a car to the transport system is just as easy; once it has been placed onto the rails, the swiveling arm is brought into position and locked. The car is then ready for operation. If the car is in a position where it is not accessible by crane (crane shadow zones, tunnels), it can be towed into a better spot using another, operational car, irrespective of whether it is loaded or not.
Benefits of the ­modular coil shuttle system
Highly customizable coil logistics
Low investment and operational costs
Fast erection and commissioning
"Plug & Play" type installation and removal of shuttle cars
High operational flexibility
Outstanding reliability
Low maintenance with close-to-zero wear on the tracks and extended spare-part service life
Simple integration into existing automation systems
Reliable tracking of all active shuttle cars even in the event of a power outage
No deterioration of the coils' surface and edges during transport
Easy and low-cost system extension
Smart and fully automated design (including crane handling)
Ideal for high product quality
To ensure highest-possible strip quality, it is best to manipulate the coils as little as possible between coiling and storage. Although coil-transport systems typically have to cover wide distances, they should ideally consist of only a very limited number of movable parts so as to minimize the associated maintenance effort. This necessitates the use of few, quickly replaceable, durable wear parts, as well as the implementation of a common spare-parts strategy. All of these factors are equally crucial in the context of hot- and cold-rolling mills. Conventional coil-transport solutions such as walking-beam, chain, and pallet-conveying systems cannot sufficiently fulfill these requirements, giving the Modular Coil Shuttle System a unique selling point.
Smarter coil logistics
Fabian Schopf, Roland Hofer, Lukas Pichler, Christoph Salzmann, the team behind the Modular Coil Shuttle System at Primetals Technologies, have had their shuttle car 3D-­printed for demonstration purposes. The model is used to convey the strengths of the coil-logistics system to steel producers—and potential new customers—worldwide.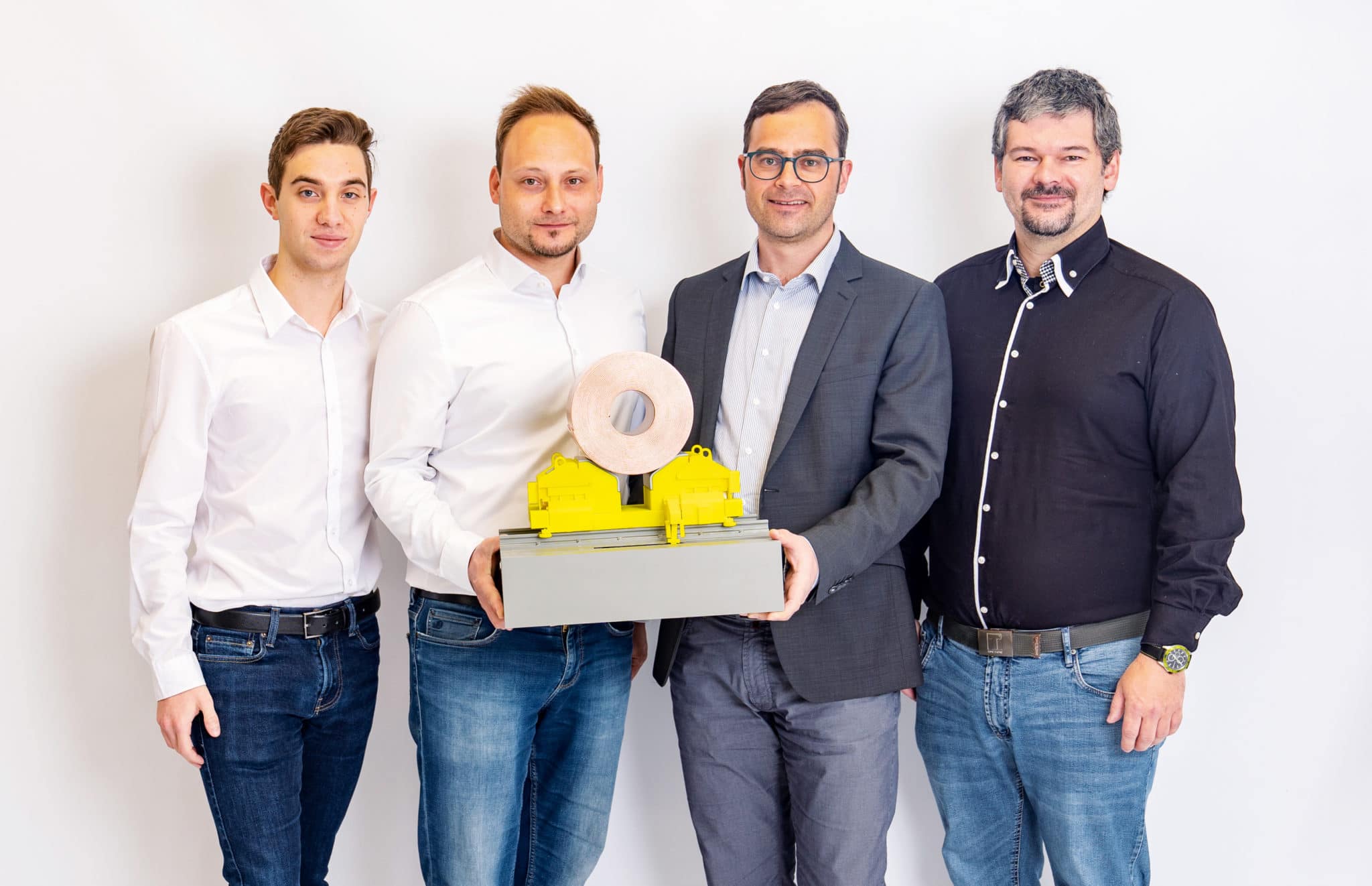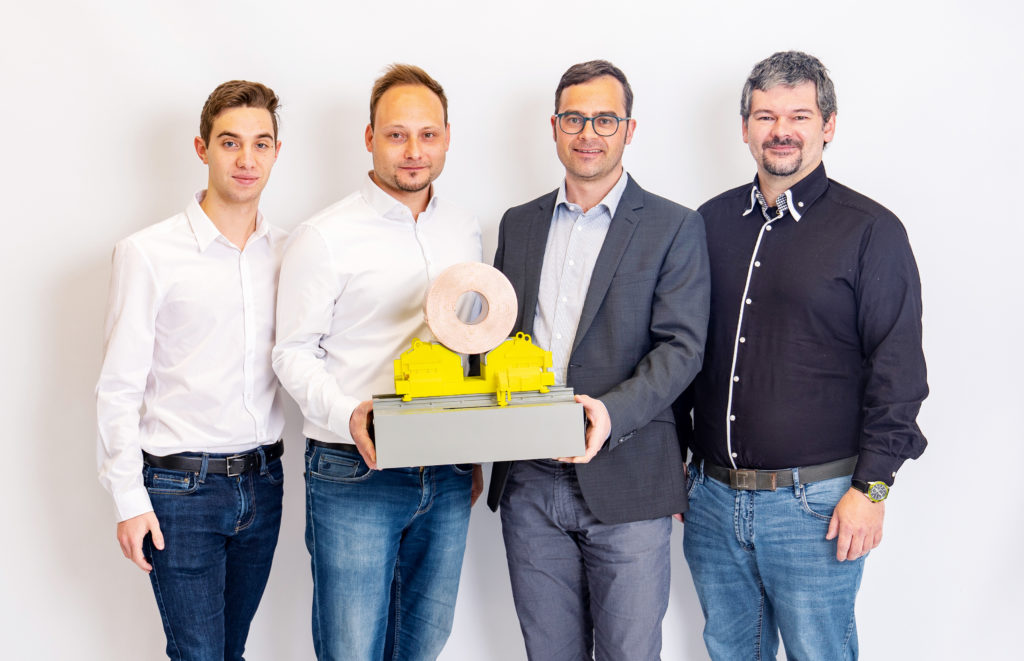 Affordable and easy to maintain
Another one of the Modular Coil Shuttle System's benefits is its affordability. Both the initial investment and operational costs are comparably low. A crucial factor is that only very limited foundation work is required for the system to be introduced. This is particularly valid for any extensions to existing setups and for revamps. There is no need for hydraulics or piping installations, with the exception of the lifting station, which is available as both hydraulic or electric versions. As a result, the Modular Coil Shuttle System can be implemented, commissioned, and started up with full functionality in a short timeframe. Maintenance costs are also minimal thanks to the small number of wear parts. The rail tracks are particularly low maintenance, and this is further simplified by the fact that both hot- and cold-rolling setups use identical components.
The coil-logistics solution of choice
The Modular Coil Shuttle System is the next generation of coil-logistics solutions. It is very cost-efficient as well as incredibly flexible and reliable, can be comprehensively automated, and requires only minimal maintenance. The system is particularly attractive as it helps steel producers manufacture coils of perfect surface quality with zero deformation on the edges, in line with current market demands.
Existing installations
Allegheny Technology, U.S.A.
Allegheny Technology Inc. first installed the Modular Coil Shuttle System in 2014. Allegheny's system features two down coilers, both of which are equipped with a circumference strapping device. After strapping, the coils are loaded onto shuttle cars, which travel to the turntable where they are rotated by 90 degrees. The cars then take the coils to the weighing and marking section. If a coil is selected for inspection, its car will make a stop at the shifting station and be removed from the main transport line. The shifting station can also be used to introduce additional cars to the transport system—or to temporarily retract them by moving them sideways and passing them on to a parking station located next to the main track. Once a car has made it all the way to the two-bay coil-­storage area, one of the automatic cranes unloads the coil from the car and takes it to the targeted storage location. The car is then free to travel back to the down coiler to receive the next coil. Since the Modular Coil Shuttle System at Allegheny was designed as a loop, its overall setup is optimized for highly streamlined operation.
Coil diameter: 950 – 2,150 mm
Strip width: 660 – 2,083 mm
Strip thickness: 1.78 – 25.4 mm
Max. coil temperature: 840 °C
Min. coil temperature: Ambient temperature
Plant capacity: 3.5 million tons/year
Coil weight: 40 tons (max.)
Number of coils/hour: 48 (max.)
Cars in circulation: 13
Rail distance (1 full loop): 340 m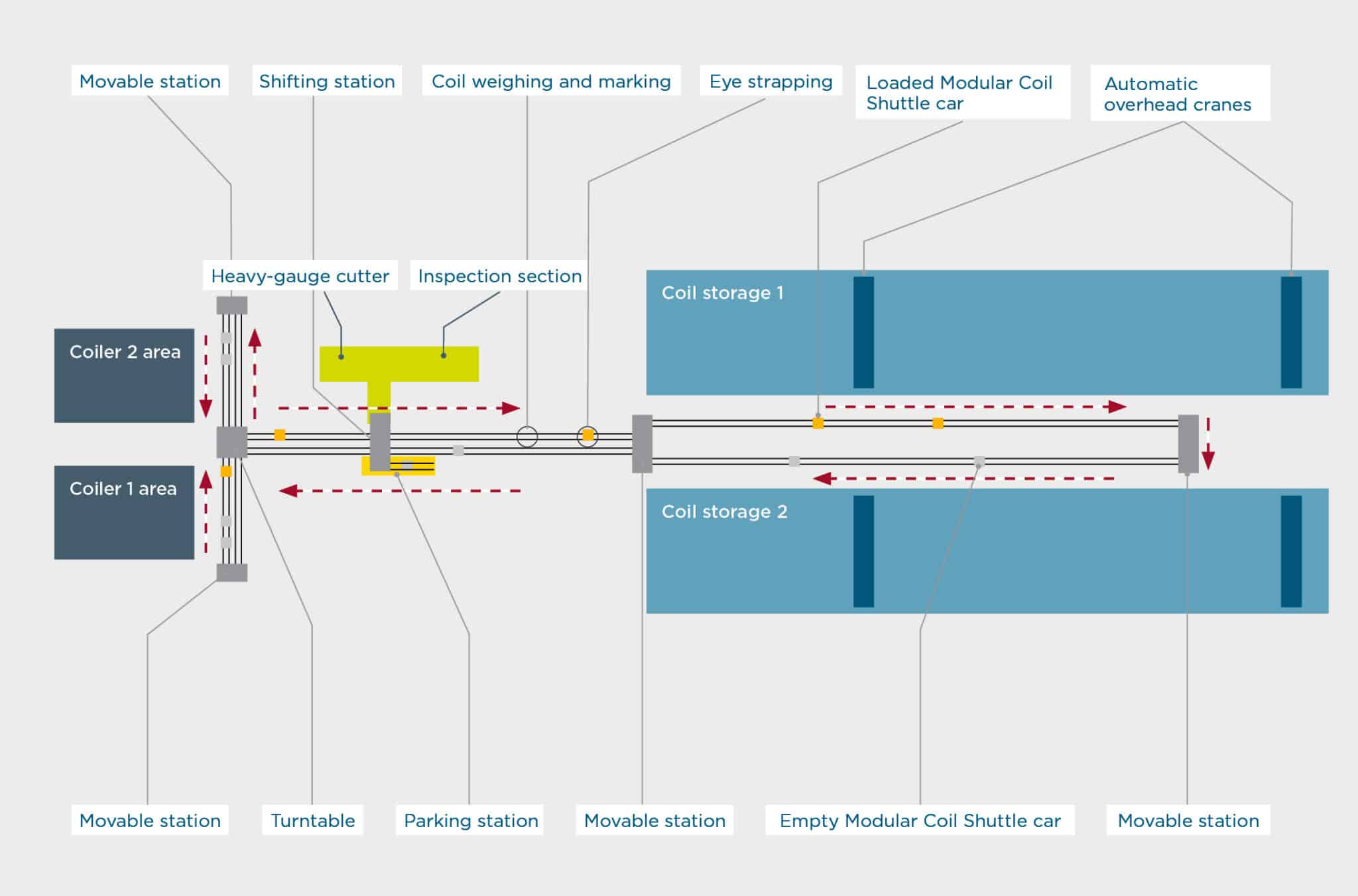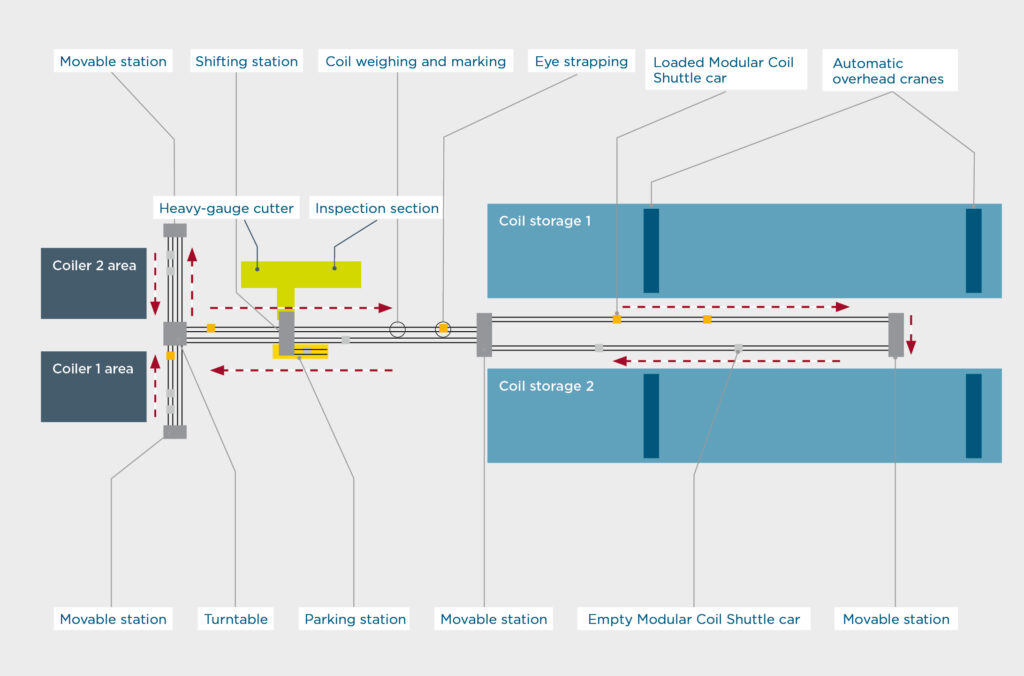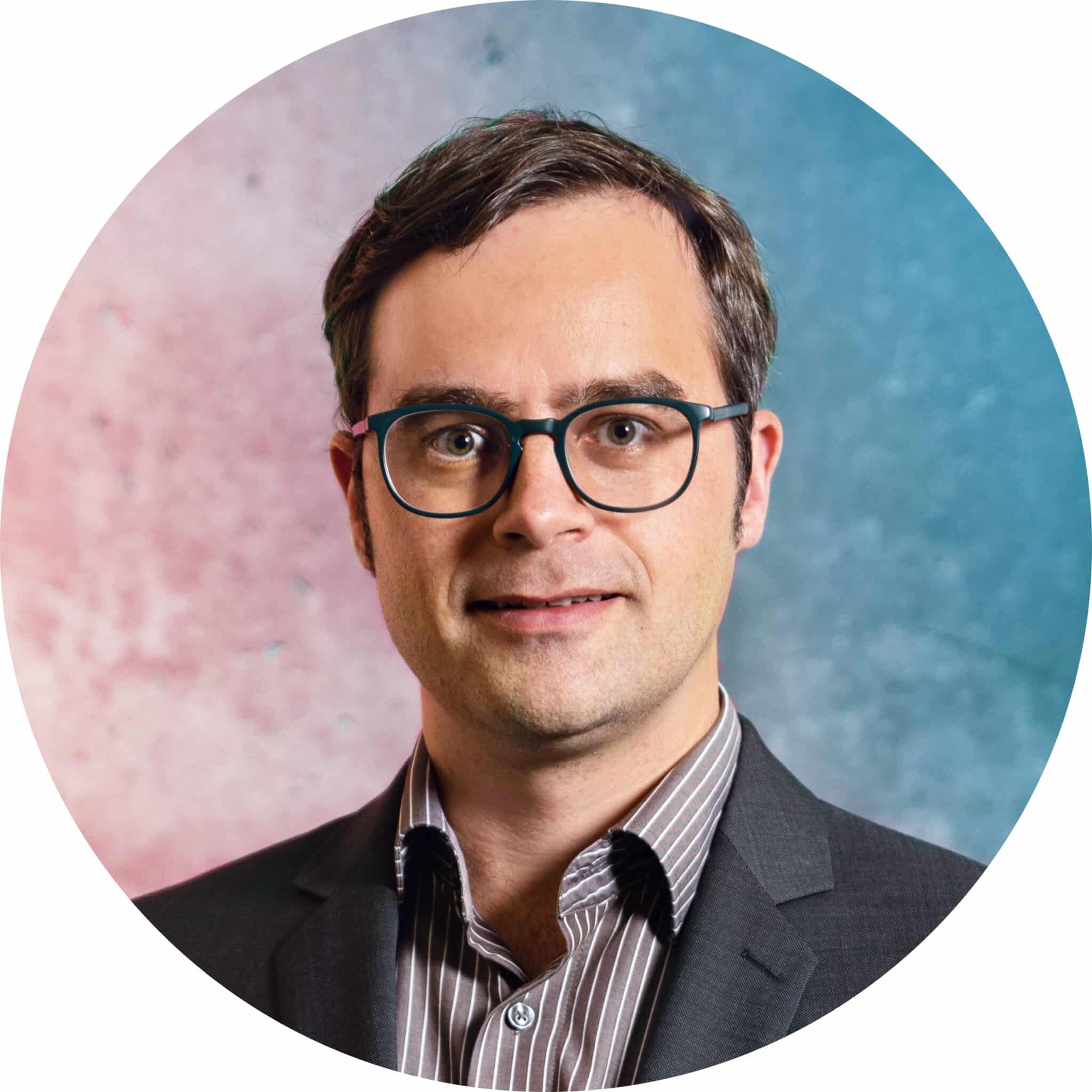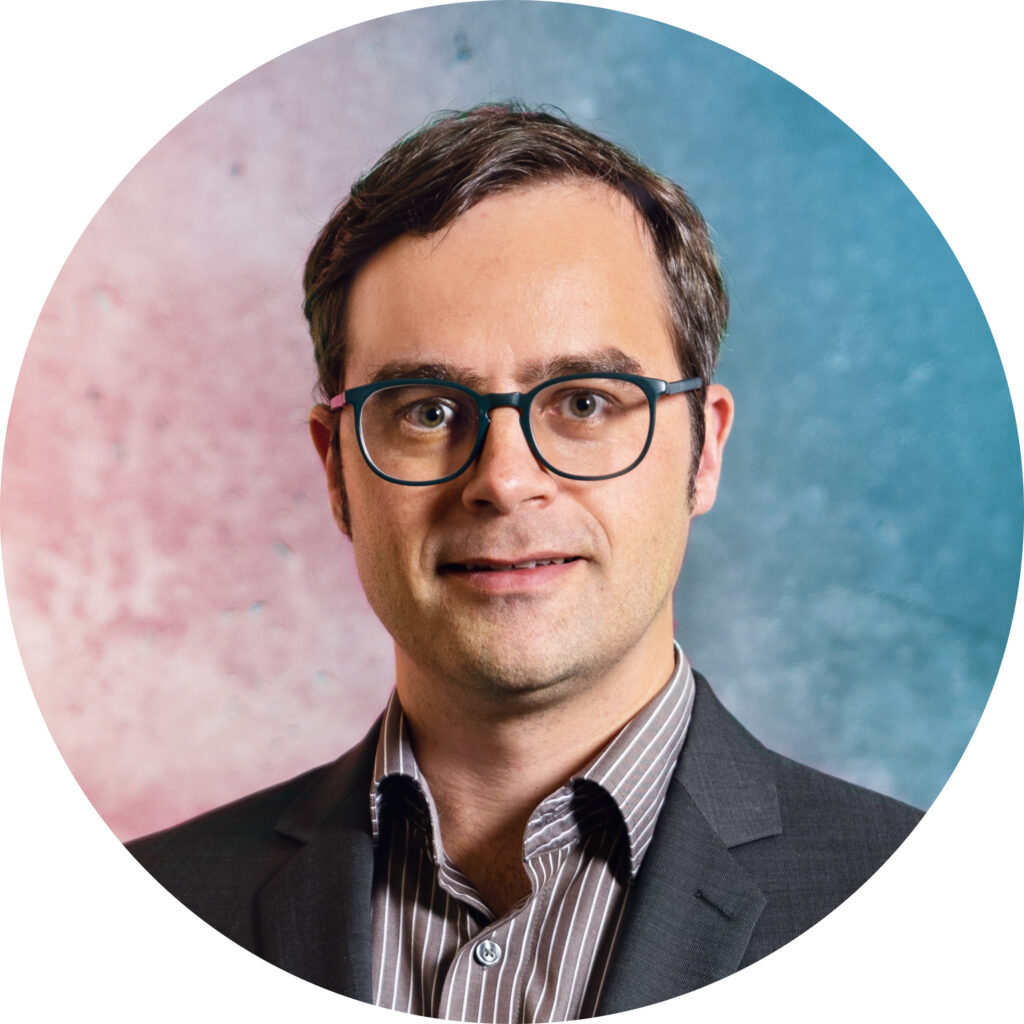 Interview with
Dr. Lukas Pichler
Exploring the possibilities of a smart modular design
Dr. Lukas Pichler is an expert in product development and the commissioning of new solutions in the field of hot rolling.
When you worked on the development of the Modular Coil Shuttle system, was there any aspect that proved particularly tricky?
Dr. Pichler: The development of the Modular Coil Shuttle system had already been finalized and the first industrial installation completed (at ATI, see article) when I joined the product team in 2015. It was quite challenging to position the new technology—which is far better than other coil-transport systems—in a relatively conservative market.
What in your view is the greatest strength of the Modular Coil Shuttle system?
Dr. Pichler: The system's modular design—with a variable number of cars, moving and shifting stations, turntables and lifts, and custom-­length rail tracks—is its main benefit. It is a solution that becomes even more economical as track length increases, thanks to the minimal foundation work. On top of this, the system ensures very gentle coil handling. There really is no comparable solution on the market.
What does the future hold for the system—more modules and further installations?
Dr. Pichler: We have recently received orders for several new projects scheduled for startup in 2020. Some of them might even be extended in terms of track length and possible outdoor operation. Overall, I see great potential for the system to be implemented in the scope of plant modernization in multiple steps.