Slovenian steel producer SIJ Acroni, part of SIJ Group, is Europe's most prominent producer of stainless quarto plates. The company also specializes in electric and custom steels sold as hot- and cold-rolled coils and heavy plates, predominantly used in niche products. SIJ Acroni's plant is located in Jesenice, about 60 kilometers northwest of Ljubljana, the capital city of Slovenia. With the replacement of its existing cycloconverter drive control for the upper and lower motors of the plate mill, SIJ Acroni entrusts Primetals Technologies to modernize its plant.
Improving Production and Availability
The modernization project includes the installation of two VarioVerter cycloconverter controllers. In addition, Primetals Technologies will replace the field control units, supervise on-site electrical installation, assist with commissioning, and provide a new workstation for easy and remote maintenance and diagnostics of the drive system. With these improvements, the project will improve availability and ensure the efficient supply of spare parts for the drives.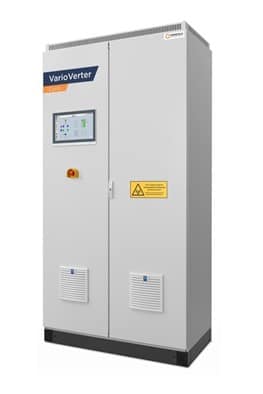 Integrating the plate mill's existing basic automation control system was essential to the installation, leaving the interface practically unchanged. To be able to reuse the existing power modules, Primetals Technologies' tailormade connection cabinet with amplifier cards handles the hardwired interface between the controller and the thyristors.
Installation and startup were completed on time, and after a short startup period, the VarioVerter could handle all products and yield strengths without restrictions. Additional technological functions, like ski control, were included in the control of the VarioVerter cycloconverter.
MORE INFORMATION

Click here to read the full press release, access contact details, and find other press resources.