Developed by Primetals Technologies, CO2 Calculator was designed to make it easier than ever before to determine a plant's approximate carbon footprint. The tool's intuitive interface lets anyone with an interest in metals production build new production routes and establish how much CO2 would be emitted from the respective configuration. CO2 Calculator is not only ideal for building the production routes of the future. Another use case is making adjustments to your existing plant in order to find areas that could be further optimized for an overall reduction in carbon emissions—or to test-drive new and inspired ideas for innovative plant configurations.
Discover How to Save CO2 Emissions
The user interface of CO2 Calculator is self-explanatory and features an interactive tour for new users. The following pages are merely a preview of what's possible, as CO2 Calculator covers a wide range of production units and material sources, so that almost any setup can be mirrored in the tool. In essence, users can establish the carbon footprint of any steel production route; tweak a specific production route for optimized CO2 emissions; compare a particular production route to standard routes that are common in the industry; and discover new approaches to optimize plant performance.
Get Started with the CO2 Calculator
Click here to access the CO2 Calculator tool and explore all of the features mentioned in our article.
CO2 Calculator: A Quick-Start Guide
If you want to get started fast, here's an overview of the core functionality of CO2 Calculator. A built-in interactive tour is, of course, also available: it starts automatically when you first log in to the tool and can be easily revisited by clicking the "Show Tour" button. All routes that you craft can be saved for later use.
Choose your production units
CO2 Calculator features a large selection of raw-material sources and aggregates that can be combined in a new production setup.
Define the material flow
Once the production route(s) have been defined, you can set the percentages that each material source will contribute to the overall output.
Get the CO2 emissions total
This area indicates total production capacity and CO2 emissions. Scope 1 refers to direct emissions, Scope 2 adds those from energy purchase.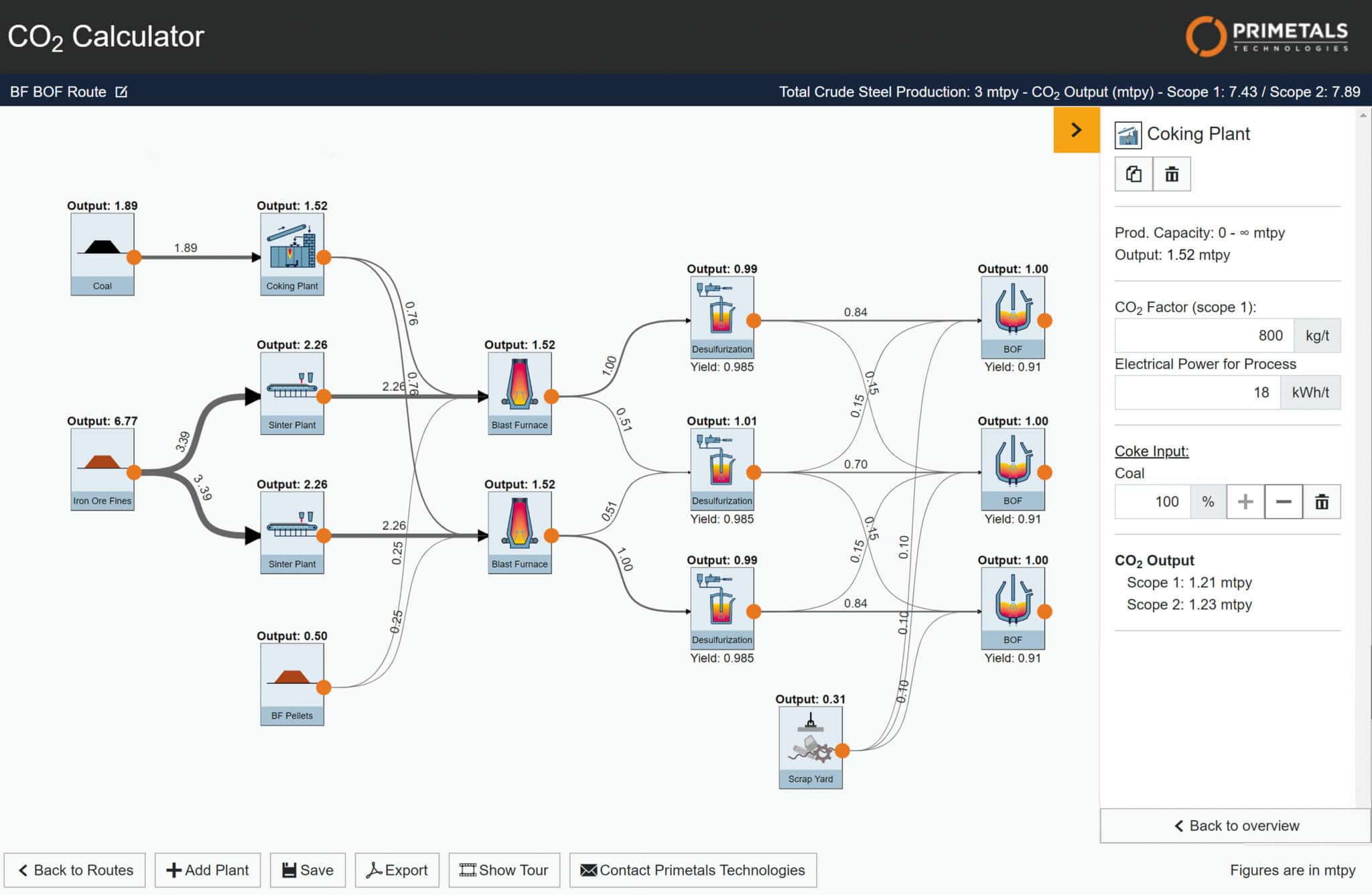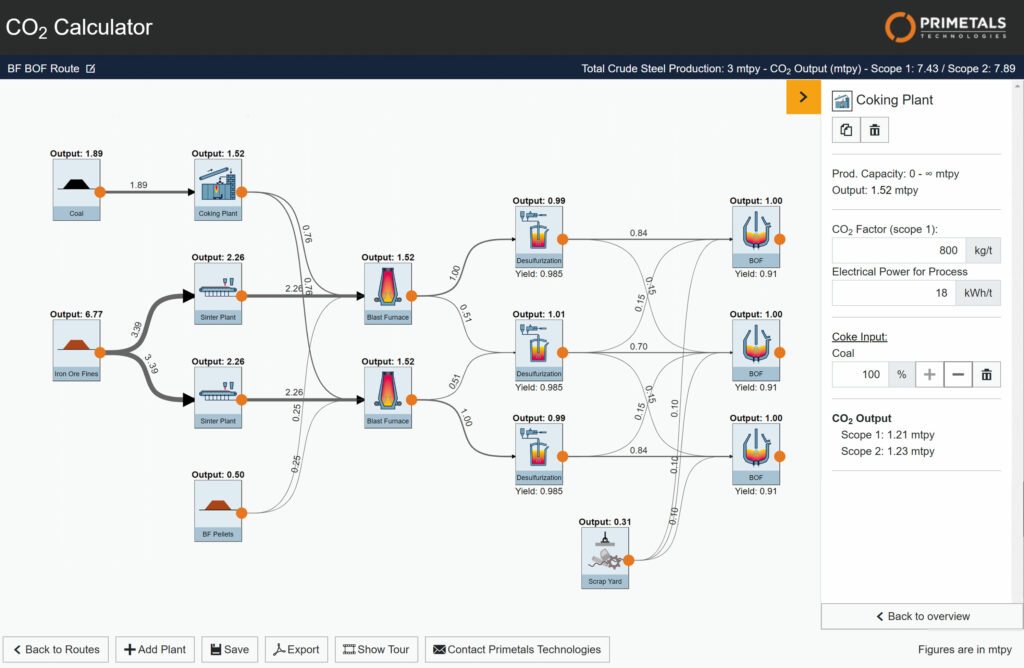 Export plant-specific reports
While you can save any plants you design to your user profile, there is also the option of generating reports in pdf format for printing or sharing.
Reach out for support
The quick tour is always available if you are looking for a CO2 Calculator introduction. Additionally, feel free to contact our specialists.
Customize your setup
Clicking on any production unit or material source brings up this box, where you can set parameters and customize your route even further.
Optimizing your Route for Carbon Savings
Whether real or imagined, CO2 Calculator lets users craft almost any production route—and then apply various modifications. This enables you to change the aggregates in use and compare the results in terms of production capacity and carbon emissions. You can also add further lines and implement future-oriented solutions.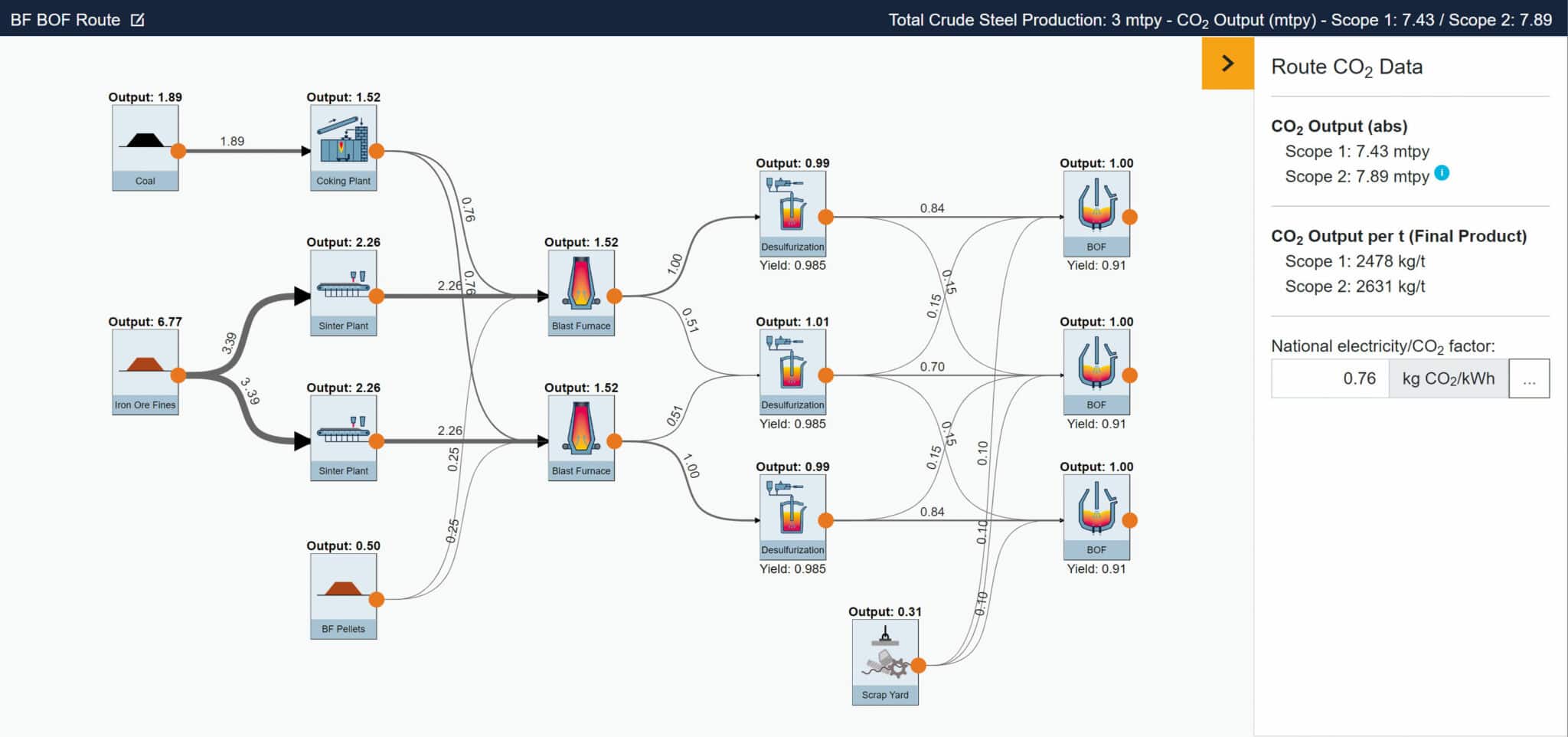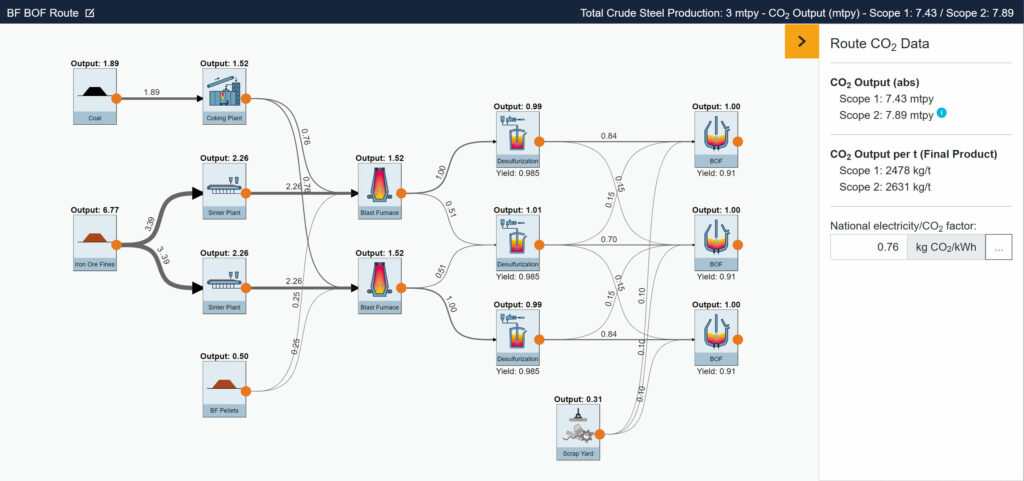 1. Blast furnaces to LD converters (BOF)
Around 70 percent of today's steel production is executed via the integrated route— meaning with blast furnaces and LD converters. Despite its widespread use, climate targets suggest that this route will be replaced in the coming decades.
Steel produced:
CO2 emissions (Scope 1):
CO2 per ton of steel: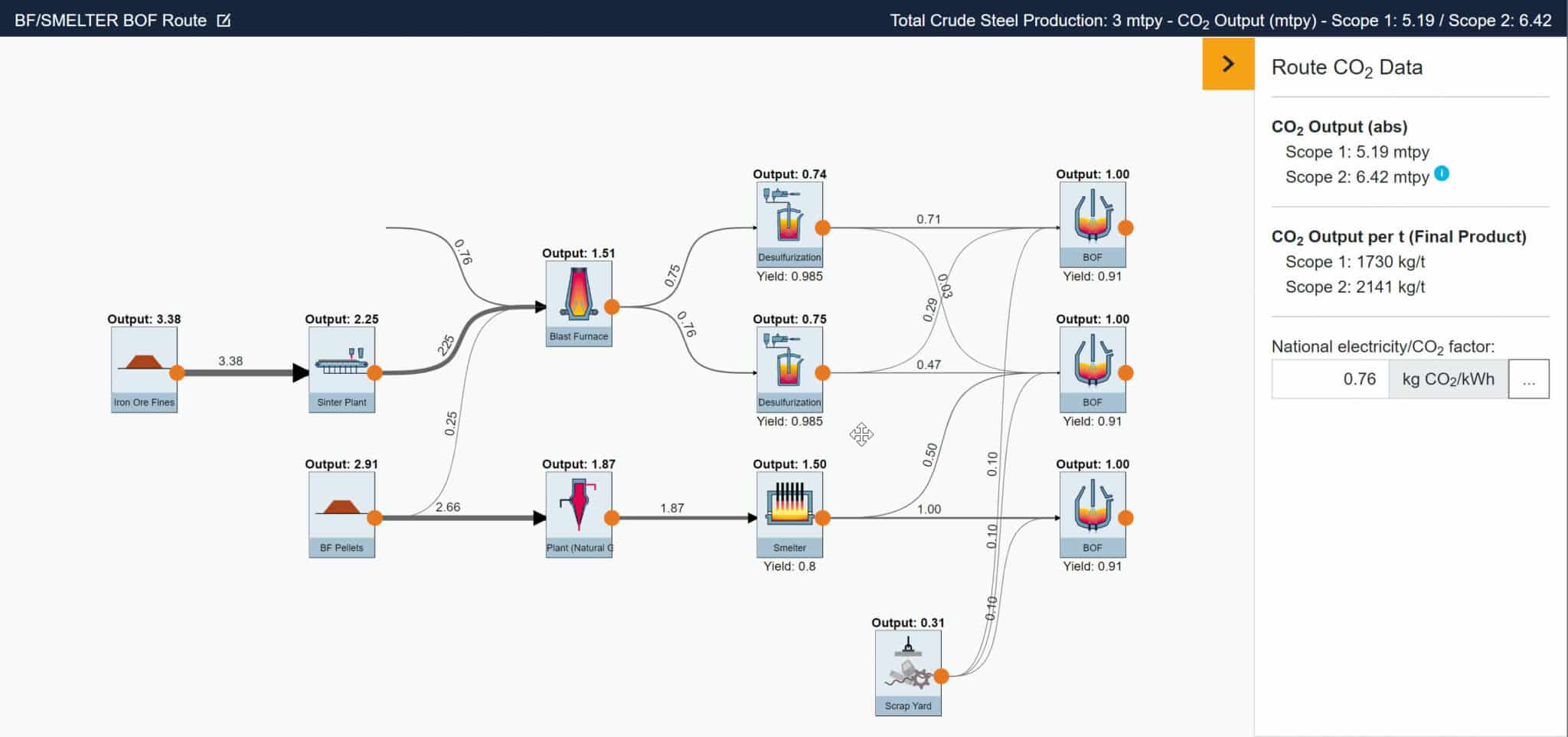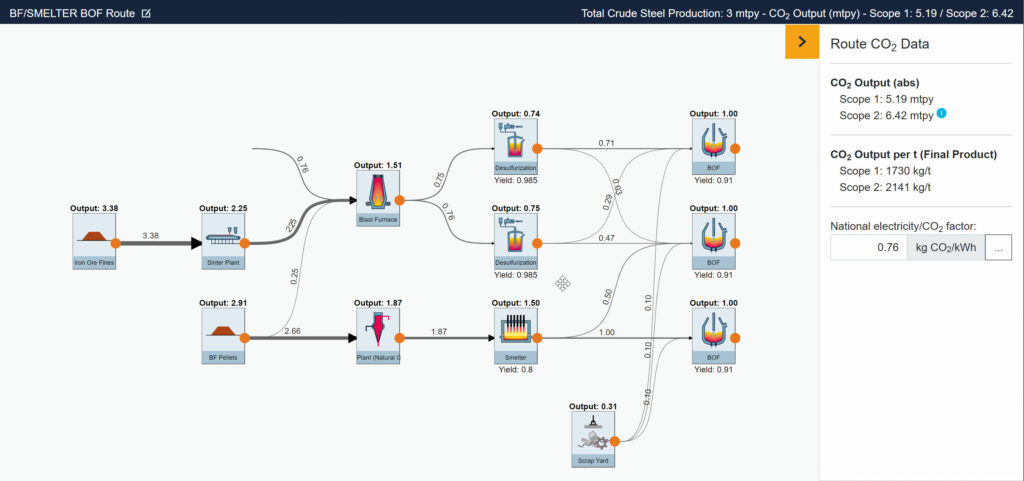 2. Blast furnace to LD converters (BOF) with direct reduction and Smelter
By replacing one blast furnace with direct reduction and a Smelter, the overall carbon emissions drop by 2.24 million tons per year (Scope 1)—while maintaining a production capacity of 3 million tons of high-quality steel grades. It is a very effective modification.
Steel produced:
CO2 emissions (Scope 1):
CO2 per ton of steel: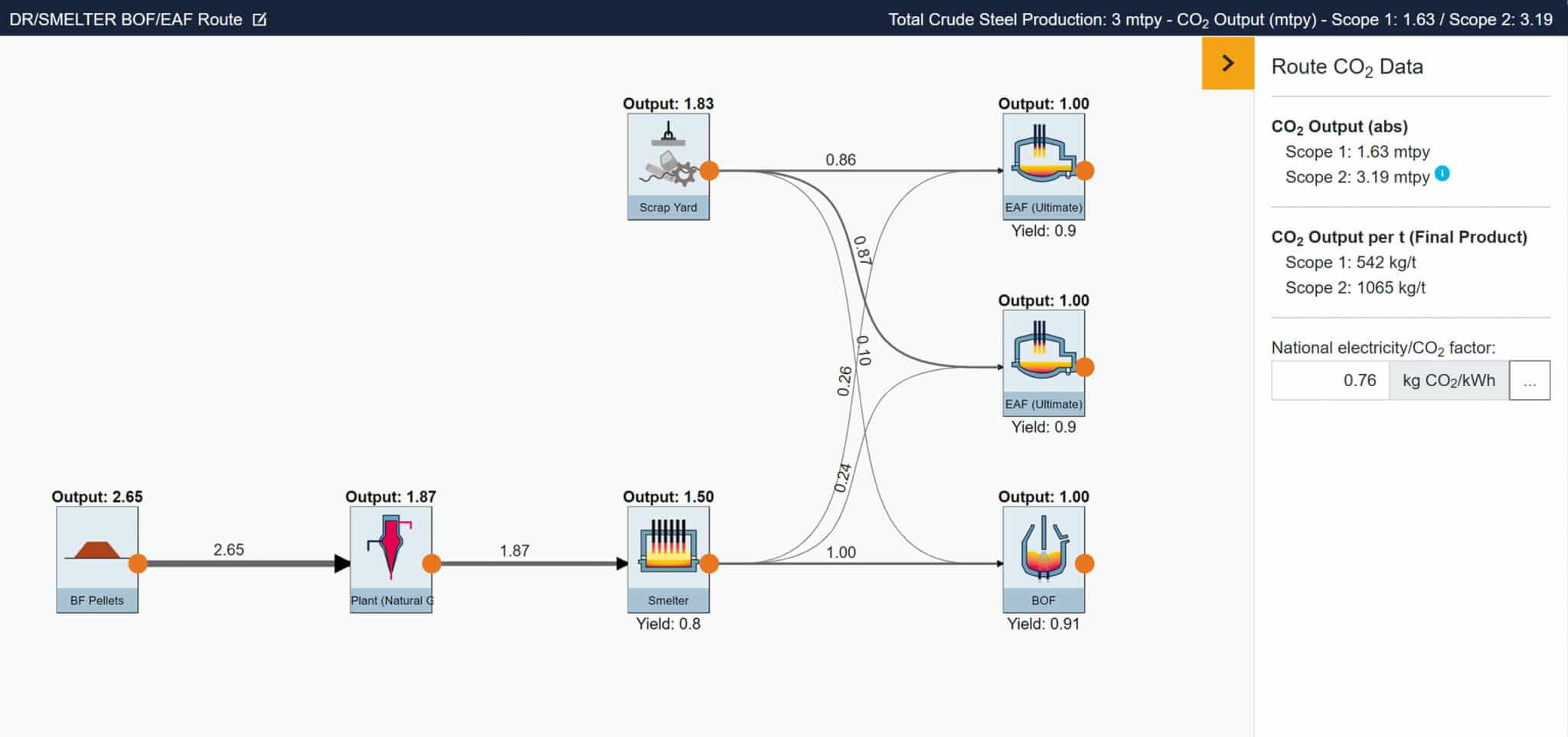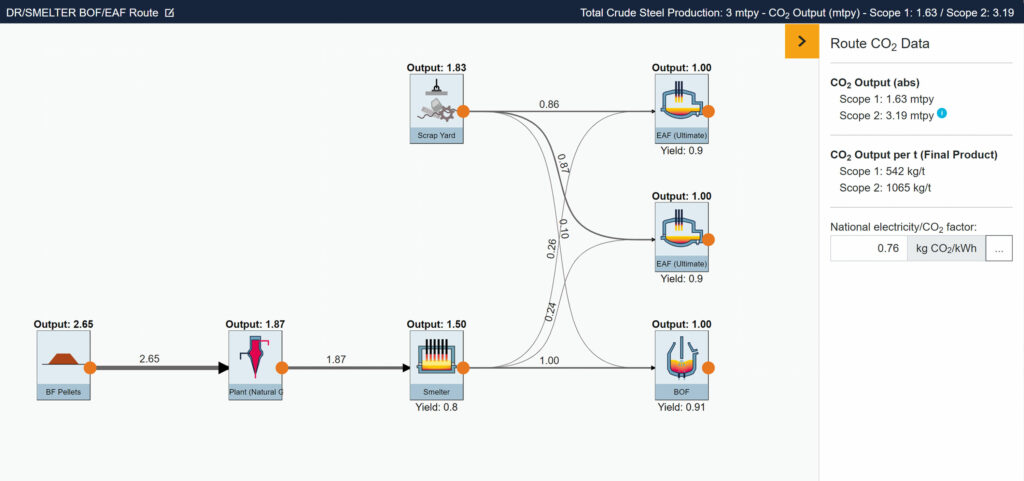 3. Direct reduction plant with Smelter and electric arc furnaces
By replacing two of the three LD converters (BOFs) with two EAF Ultimate furnaces, which are operated on scrap and hot metal from the Smelter, CO2 emissions decrease even further to 1.63 million tons per year, a 78 percent reduction compared to plant 1.
Steel produced:
CO2 emissions (Scope 1):
CO2 per ton of steel:
4. Export
Save, print, and share your reports
Once you have found a production setup you are happy with, CO2 Calculator makes it easy to export a pdf file with a summary of the respective route—completely free of charge. Pdf files generated this way can then be printed or shared with colleagues. They are also an excellent basis for a deeper conversation with an expert from Primetals Technologies about any questions you may have—or about any ideas that you may have had while you were using CO2 Calculator.