As the beating industrial heart of Austria, Linz is home to one of the most famous steel producers in Europe—i.e., voestalpine. Nestled across from "LD Stahlwerk 3" one finds the main buildings of the Linz location of Primetals Technologies. The company's largest location with nearly 1,600 employees, the Linz location plays a vital role as a main point of contact for all global locations and a crucial part in the activities of Primetals Technologies worldwide with its own workshop and specialized facilities. Lead Editor Adam Merki reports from Austria.
My first experience with Linz, Austria came in 2015. Reconnecting with a city my father had emigrated from nearly 70 years ago, I explored the city with my extended family and was fascinated by the contrast to many Austrian cities and the uniqueness of Linz. Driving to the top of the Pöstlingberg—a 539-meter-high hill across the Danube River on the northern side of the city—one is struck by the view and the massive industrial landscape that makes up a large portion of the city. "Everything over there belongs to 'voest,'" my cousin remarked, as my eyes followed the Danube flowing through the city. Unbeknownst to me at the time, the area near "voest" would come to play an integral role in my future in Austria, namely a future at Primetals Technologies.
Fast forward several years later and Linz has become my home. The uniqueness of this beating industrial heart of Austria has made its way into my being. I am proud to live and work in Upper Austria and at Primetals Technologies. Moreover, the Linz location of Primetals Technologies is unique in its interconnectedness with all the company locations and customers worldwide, and brings an international perspective to the activities that take place in Austria. Working closely with colleagues active around the world and exploring the workshops and labs here in Austria, one truly realizes the global nature of Primetals Technologies and the role of the Linz location in bringing transformative technologies to customers across the globe.
At Home in Linz
The company location of Primetals Technologies in Linz is located just across and amongst the buildings of one of our valued customers, namely voestalpine. A quick tram and bus ride from the main train station, the main building of the Linz location comes into view simultaneously with "LD Stahlwerk 3" of voestalpine. The geographic position of the Linz location almost implies how closely tied we are to our customers and the steel industry and reflects some of the long history of Primetals Technologies at voestalpine. Prior to becoming Primetals Technologies in 2015 and even prior to its history as Siemens VAI, Primetals Technologies was a part of voestalpine and still to this day one finds echoes of our close collaboration on new projects revolutionizing the steel industry, including the development of a pilot plant for hydrogen-based fine ore reduction combined with the Smelter (Read Green Hot Metal: Introducing the Smelter).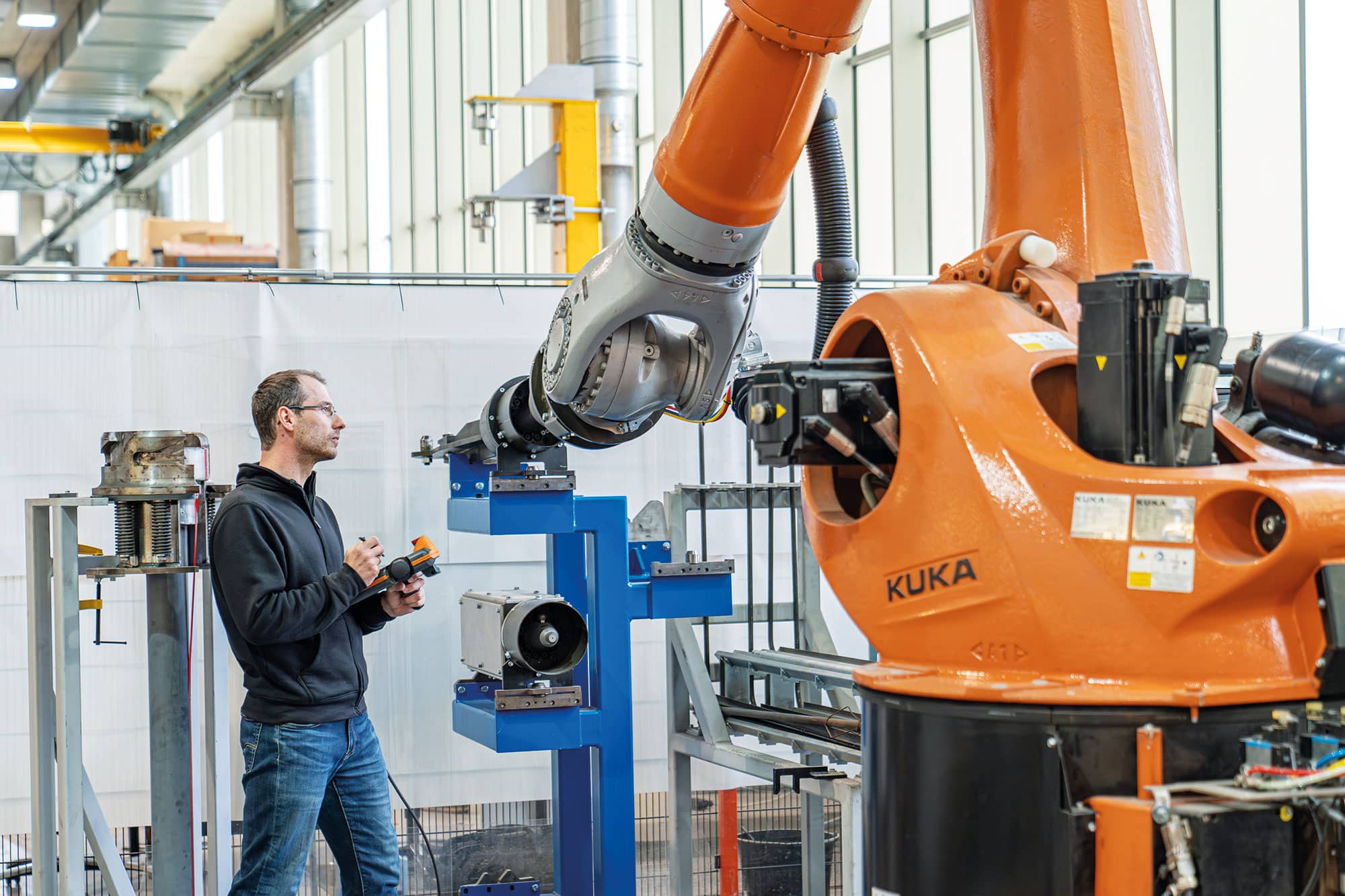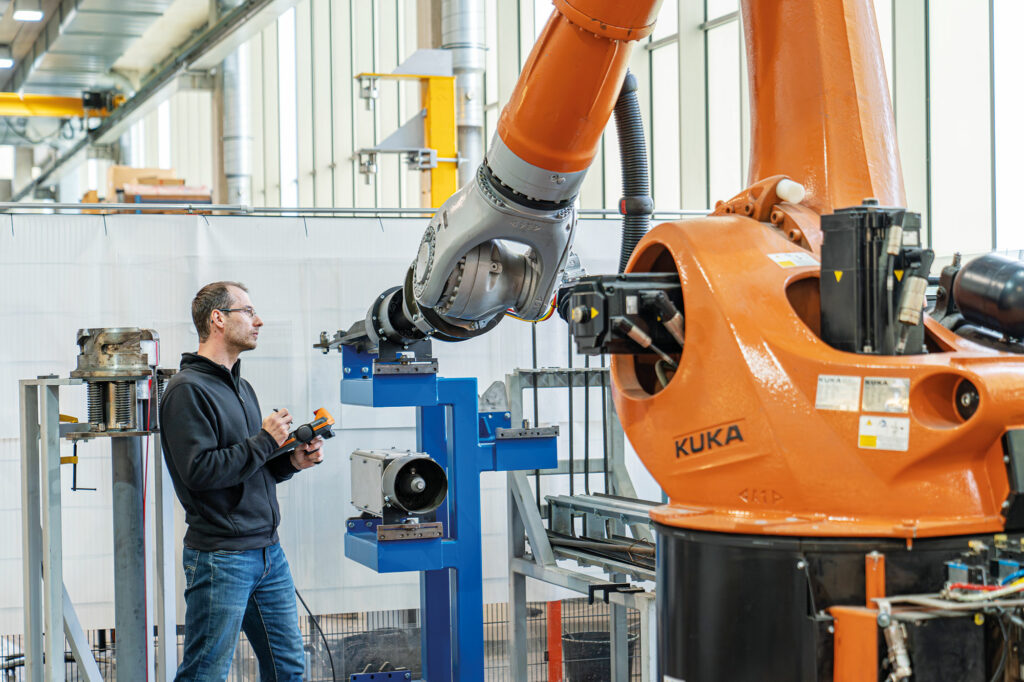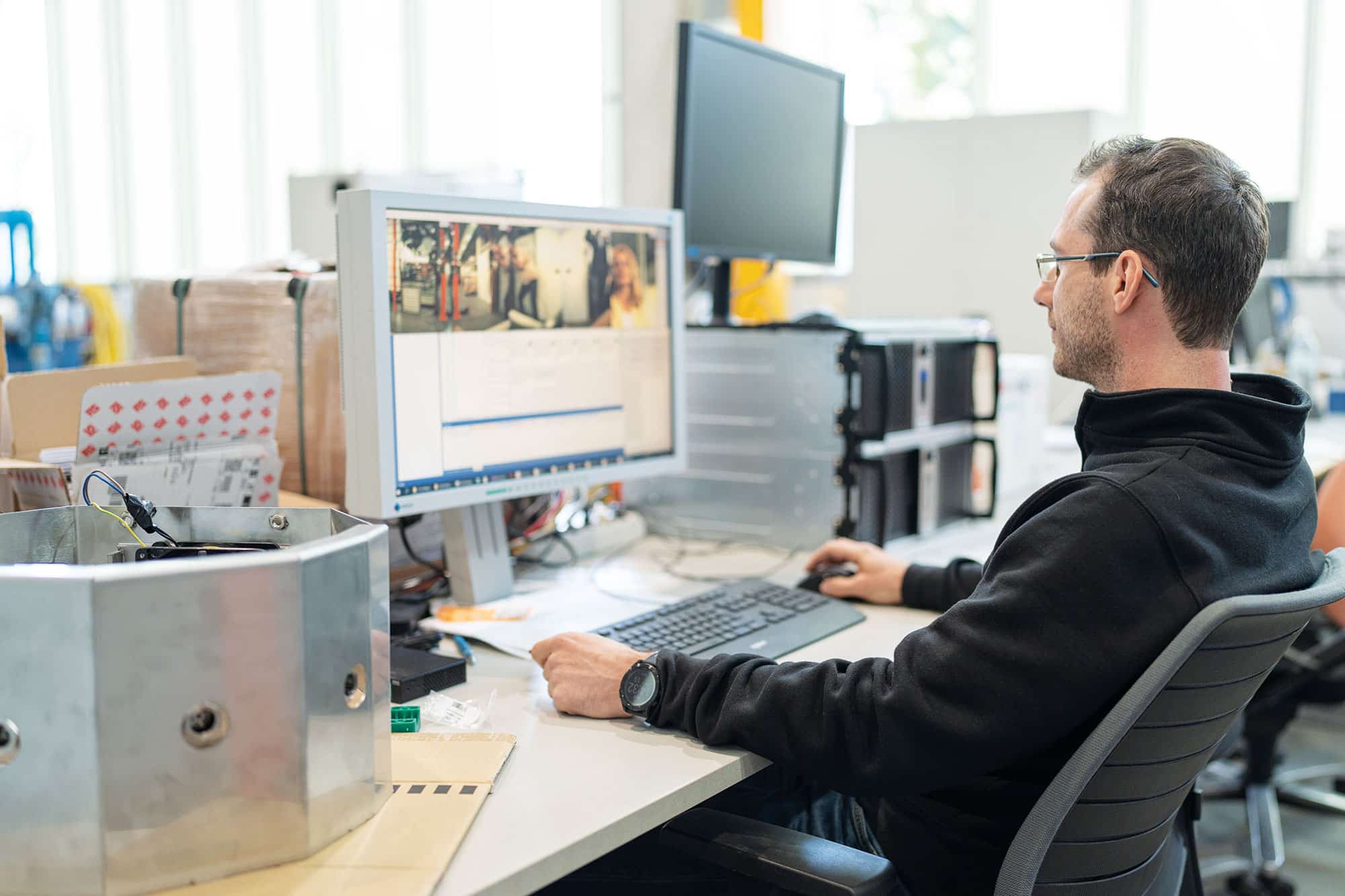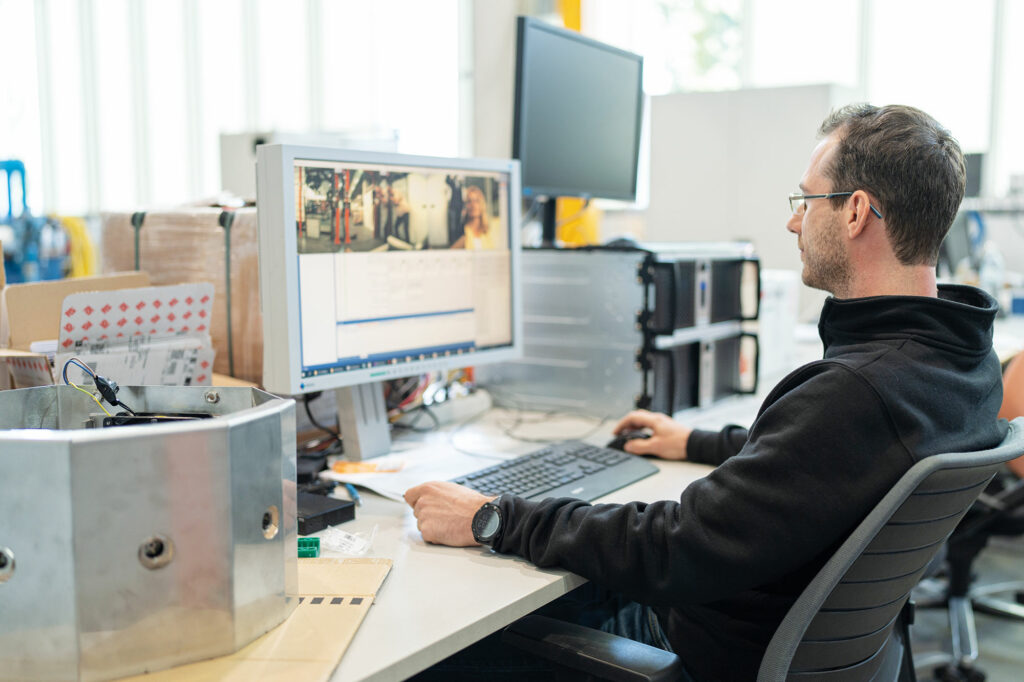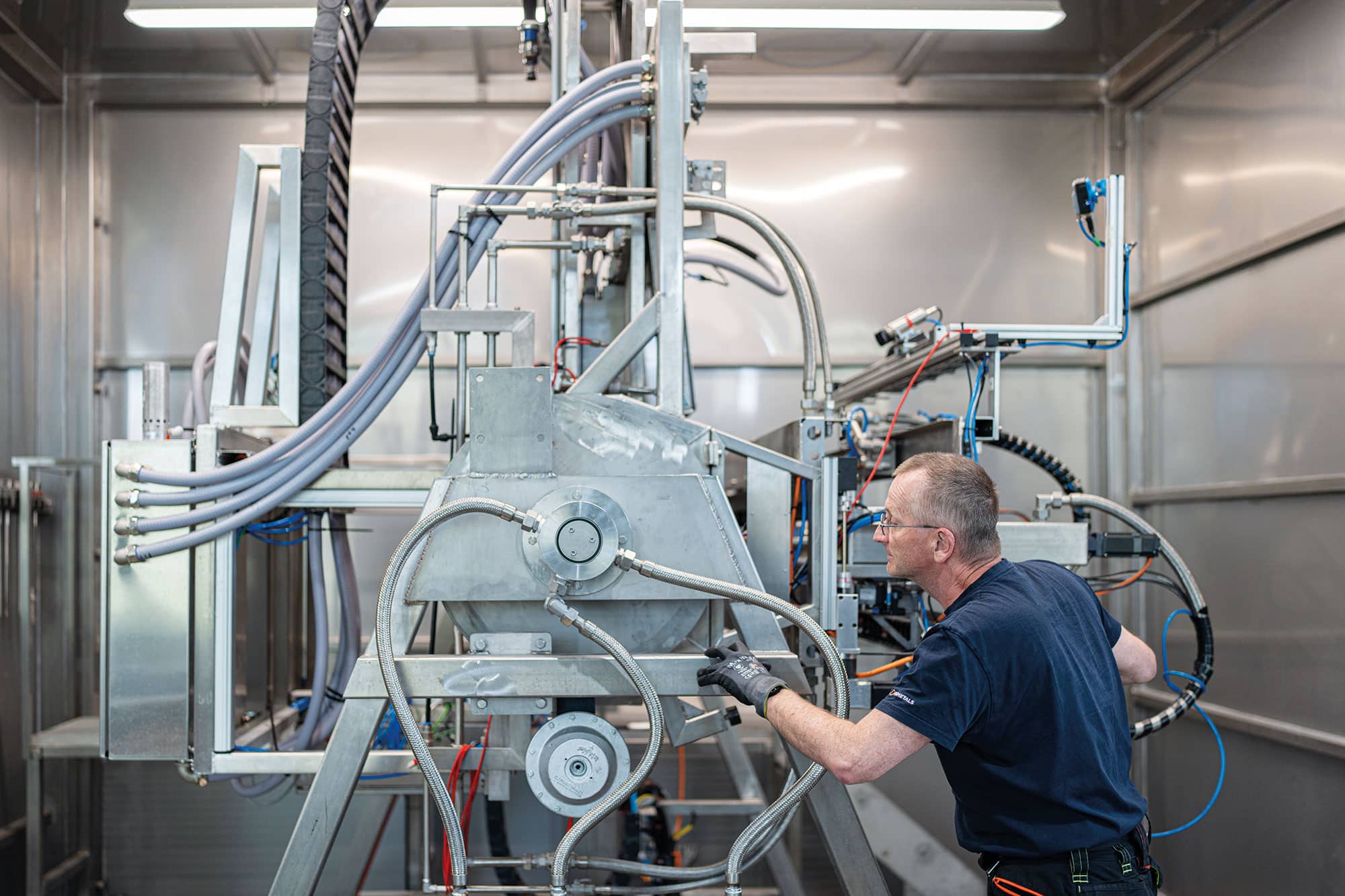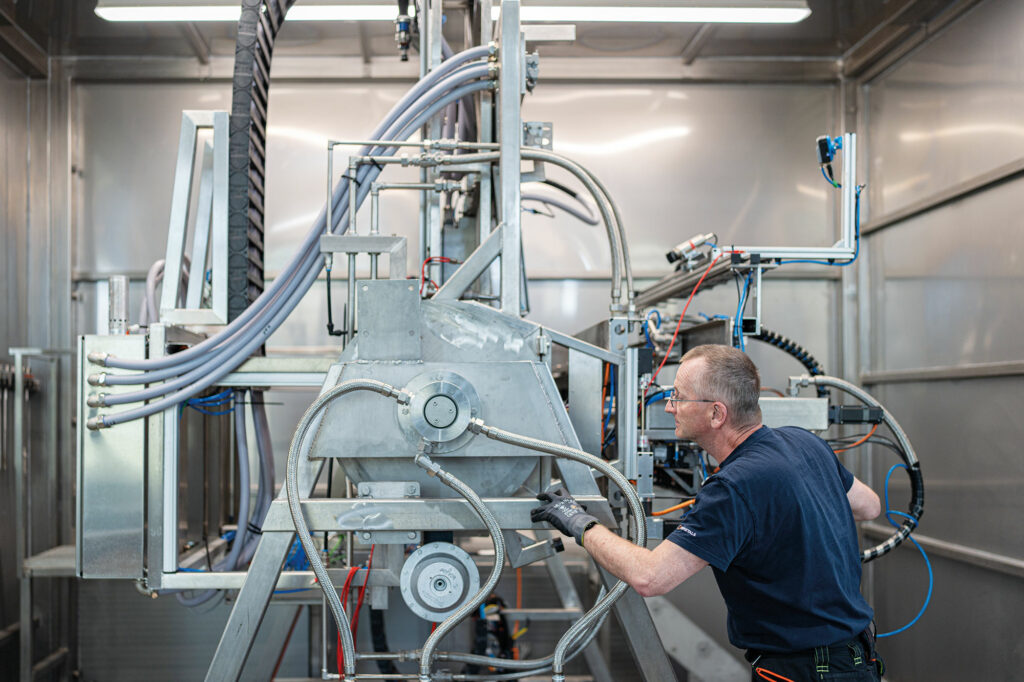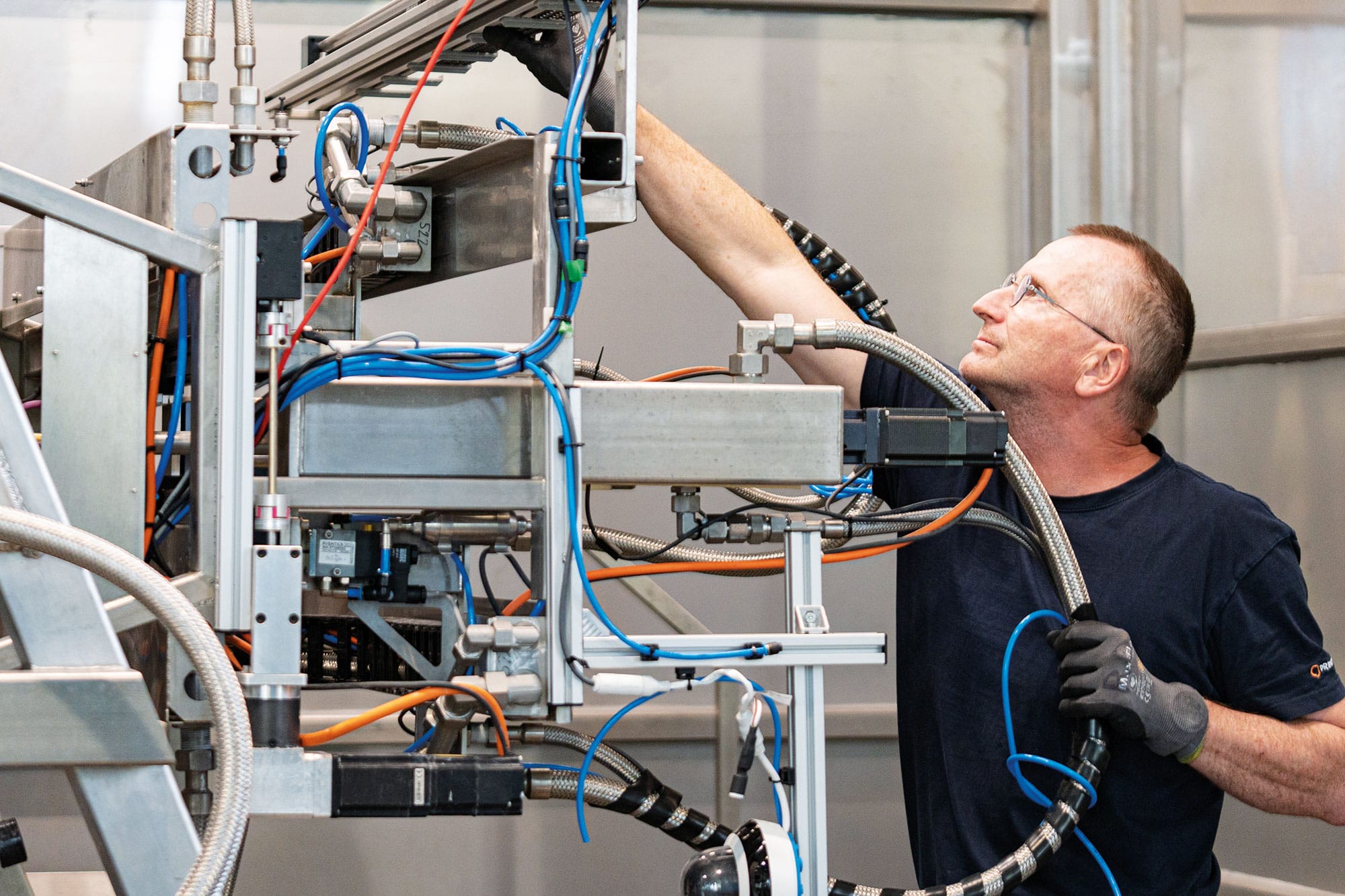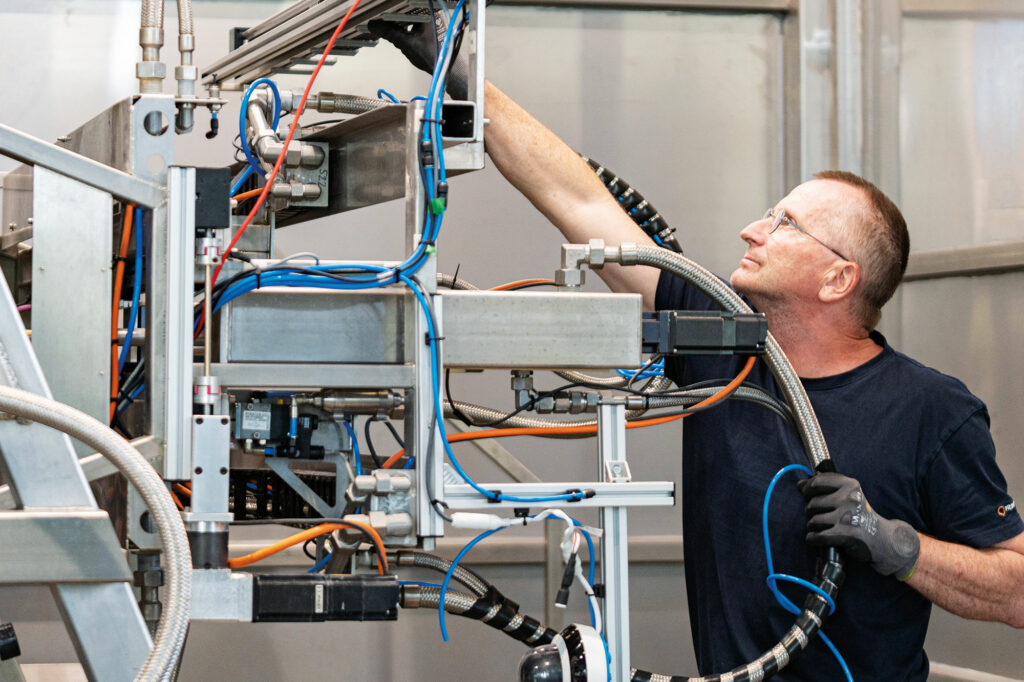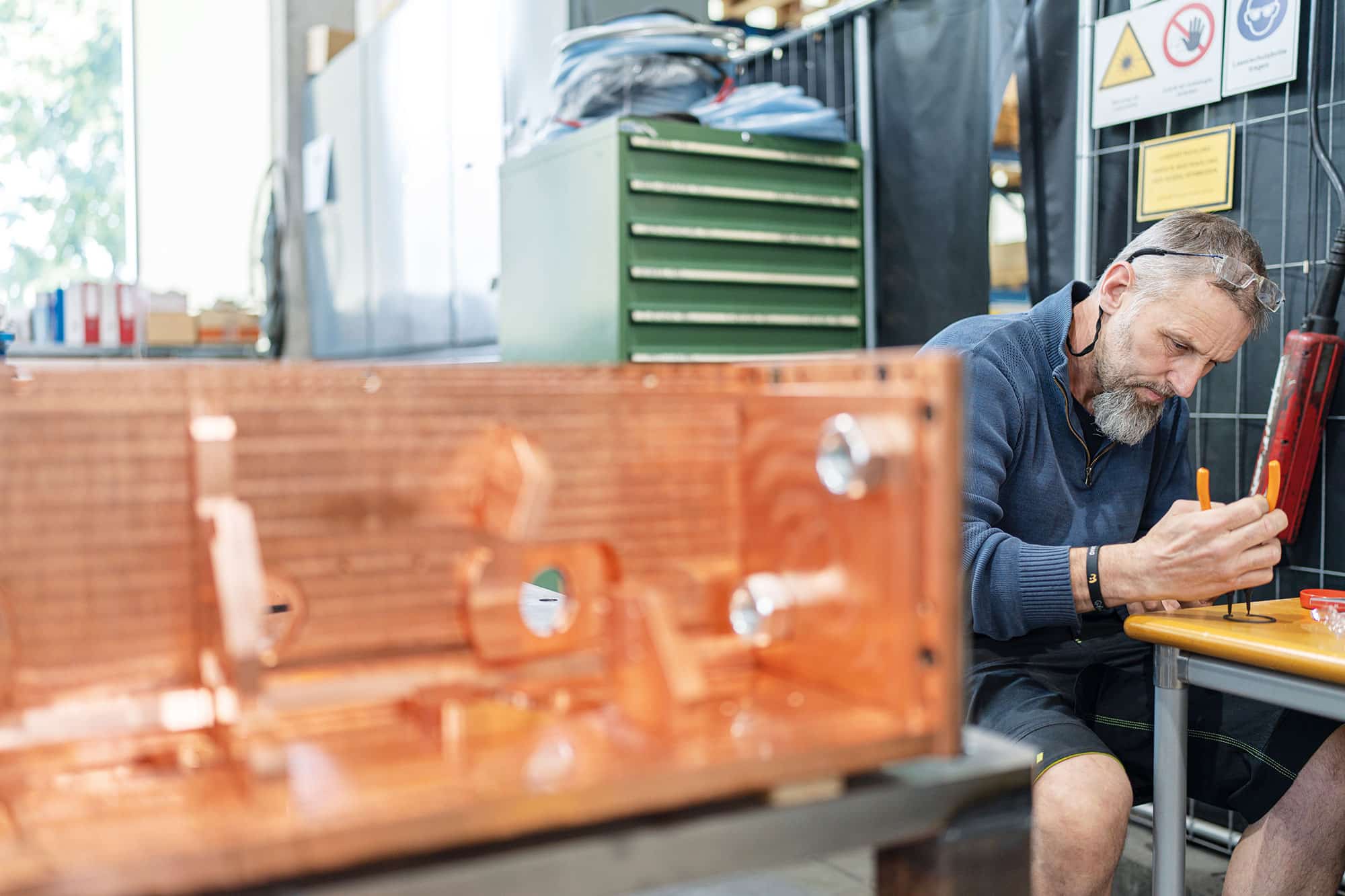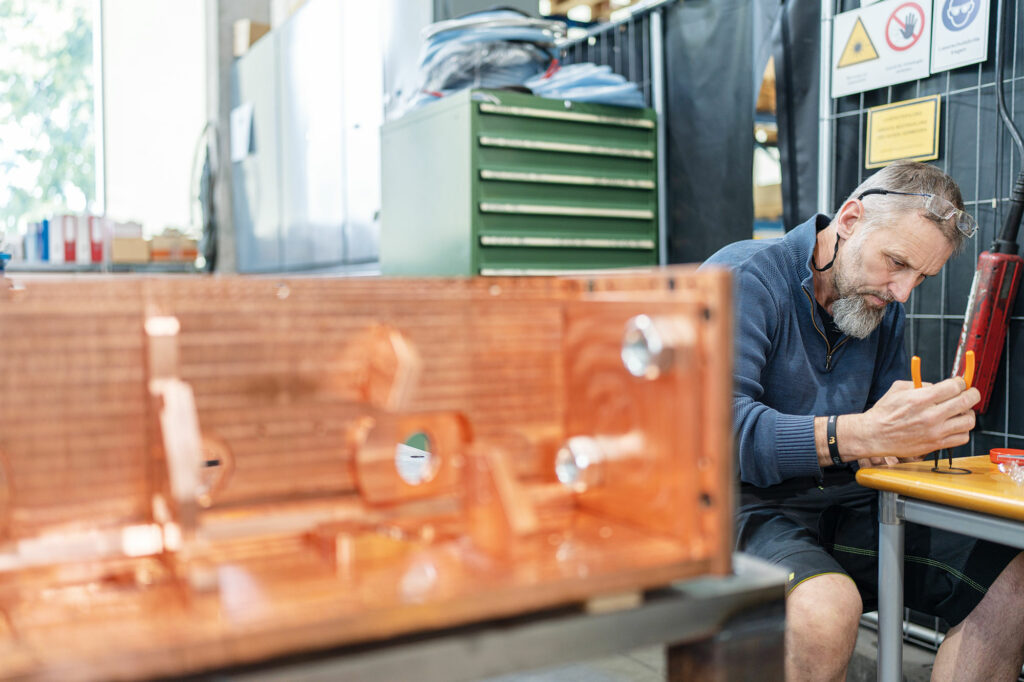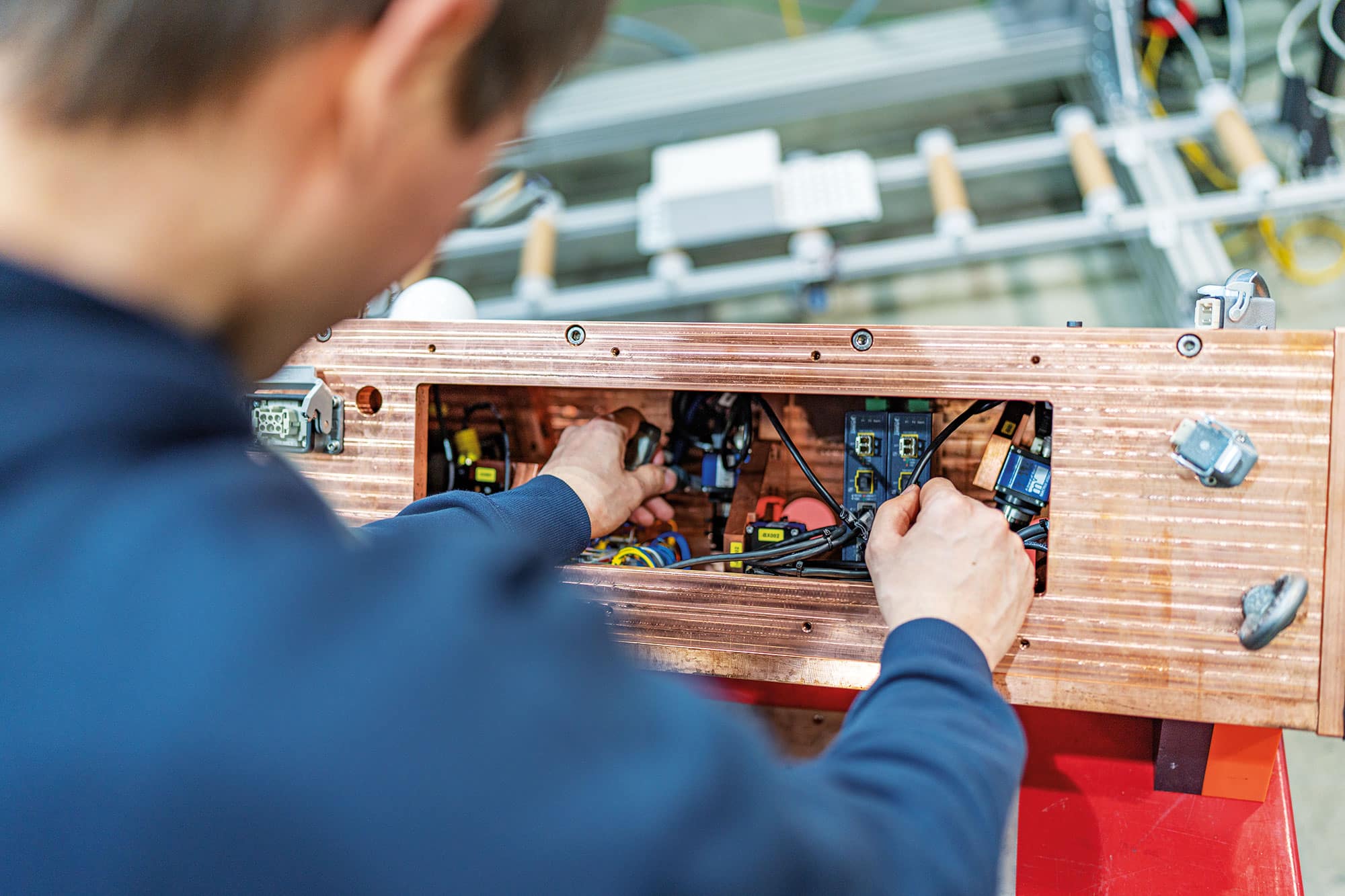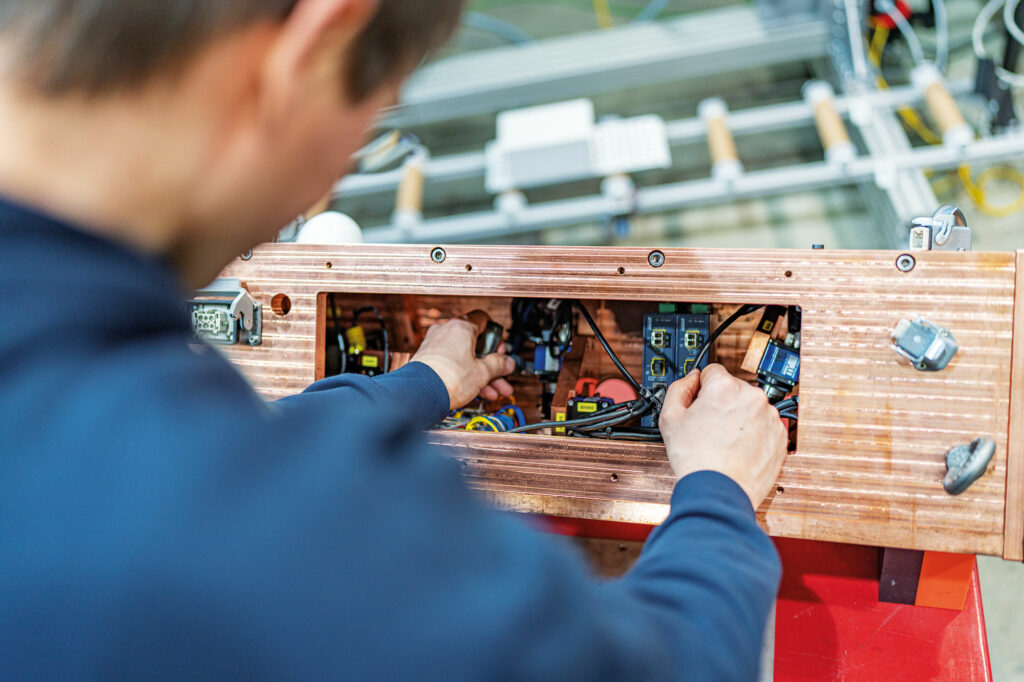 With the country flags of Japan and Austria flying outside, the main building in Linz welcomes visitors from around the world. Heading inside the main lobby, I am met by my colleague Manuela Niederhuber, head of regional communication activities in Austria. We then set off through the star shaped "Betriebsgebäude 47" or BG 47 to uncover many of the reasons why Primetals Technologies Austria is uniquely positioned in central Europe to provide technologies, services, and support to our customers and colleagues worldwide.
A Global Community
As we head upstairs, we are met by global CTO and regional CEO, Dr. Etsuro Hirai. Dr. Hirai shares with us his experience arriving in Linz and meeting his colleagues in Austria for the first time. "I was welcomed here in Linz and inspired by how dedicated and committed our team is to the advancement of iron and steel production." He further discusses his background from Mitsubishi Heavy Industries, elaborating that Primetals Technologies is a key player in society around the world. Noting the crucial role that the steel industry plays worldwide, he states, "We advance our technologies in line with the demands of our society." "We are all part of a global team," he continues, elaborating that the global business units at the Linz location, including upstream activities covering technologies from raw material to liquid steel and metallurgical services, are essential to our business worldwide, and build on each location's expertise and personnel.
Dr. Hirai goes on to tell us more about the establishment of "green steel" in Austria and the importance of the role of these global activities. "The steel industry will decarbonize, and hydrogen is the key." His remark reflects some of the latest industry trends, but he points out that the societal shift toward eco-friendly production was anticipated years ago and is now happening more rapidly. "Green steel," he continues, "is a term that summarizes our technologies." He explains that all our technologies are designed to increase energy efficiency, reduce waste, improve yield, improve recycling, and eliminate harmful off-gas, including CO2 emissions. In Linz, converter steelmaking improvements and direct reduction are some of the significant means of transforming the industry utilizing our technologies and couples with expertise in environmental solutions to improve the impact of iron and steelmaking. As we take our leave from Dr. Hirai's office, he wishes us all the best touring the rest of the Linz location. We head downstairs to meet Dr. Alexander Fleischanderl, head of Green Steel.
From Central Europe to the World
Dr. Alexander Fleischanderl has just returned to Linz from a speaking engagement abroad. "It is always nice to be home for a few days," he remarks. Being from Upper Austria, he is proud to be a part of such an international company and work at the company location where he calls home. Amidst the global transformation of the steel industry toward eco-friendly production and with topics like decarbonization leading to revolutionary changes, Dr. Fleischanderl reiterates how crucial it is that our company is well-connected to the entire world. With a great deal of work to be done worldwide, he notes how important it is that we also demonstrate our presence by engaging in discussions about the future and green steel. Driving these discussions are crucial upstream technologies for sustainable steel, such as electric steelmaking and direct reduction.
Walking through the halls we pass the "Remote Commissioning Center." Colleagues from cold rolling invite us inside and elaborate on the formation of the Remote Commissioning Center. The center was originally started to compensate for travel restrictions in previous years, but now serves as a new opportunity to provide services without costly travel expenditures and the ability for our specialists to interact with plants immediately all around the world. While watching a steel plant in action on the screen, it is astounding to see a plant halfway around the world operating in real-time. They elaborate further and explain that this has brought immense benefit to several customers and has improved their ability to further develop existing solutions because they are provided withimmediate access to valuable data.
Taking our leave, we stroll through the multiple floors of metallurgical services. From spare parts to hands-on training, they are continuously in contact with colleagues around the world and provide customers immediate support no matter where the plant is located. I am struck by the size of the services team, whose photos line many of the walls. Each one tells another story of how they were able to pull through for a customer, solve an issue, and bring a plant back up to its full potential and how the services team is always interested in customer satisfaction first and foremost. From there, we head out of BG 47 and across the street to the second largest building BG 48.
what Connects Linz to the World…
Employees of Primetals Technologies share many passions, such as pioneering new solutions for their customers. But every location also has unique qualities. In this section, we catch a glimpse of what makes Linz so special.
When you go through our buildings, you hear different languages, from German to Spanish, English and Japanese. You truly understand how global our activities are."

Martina Gruber
Head of Controlling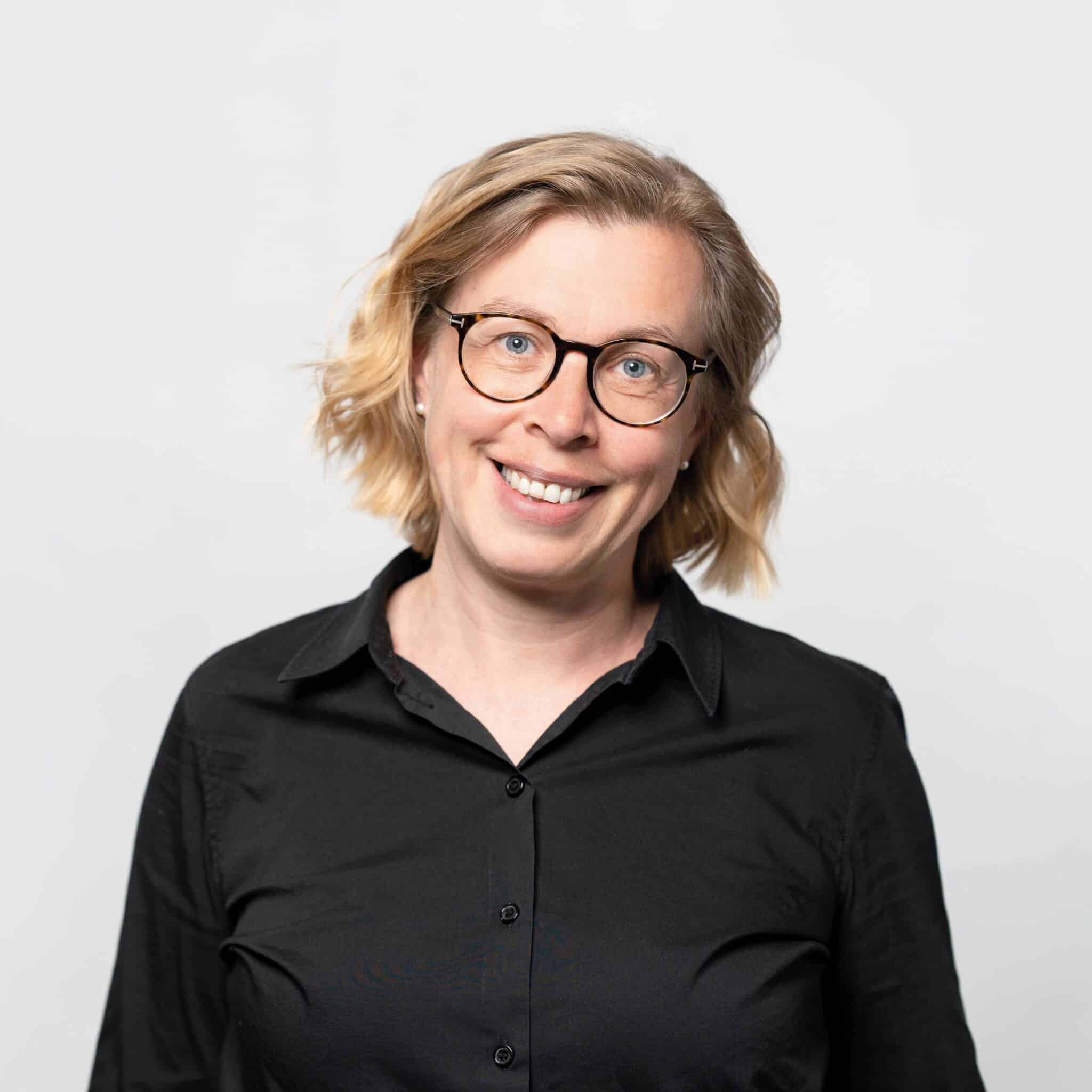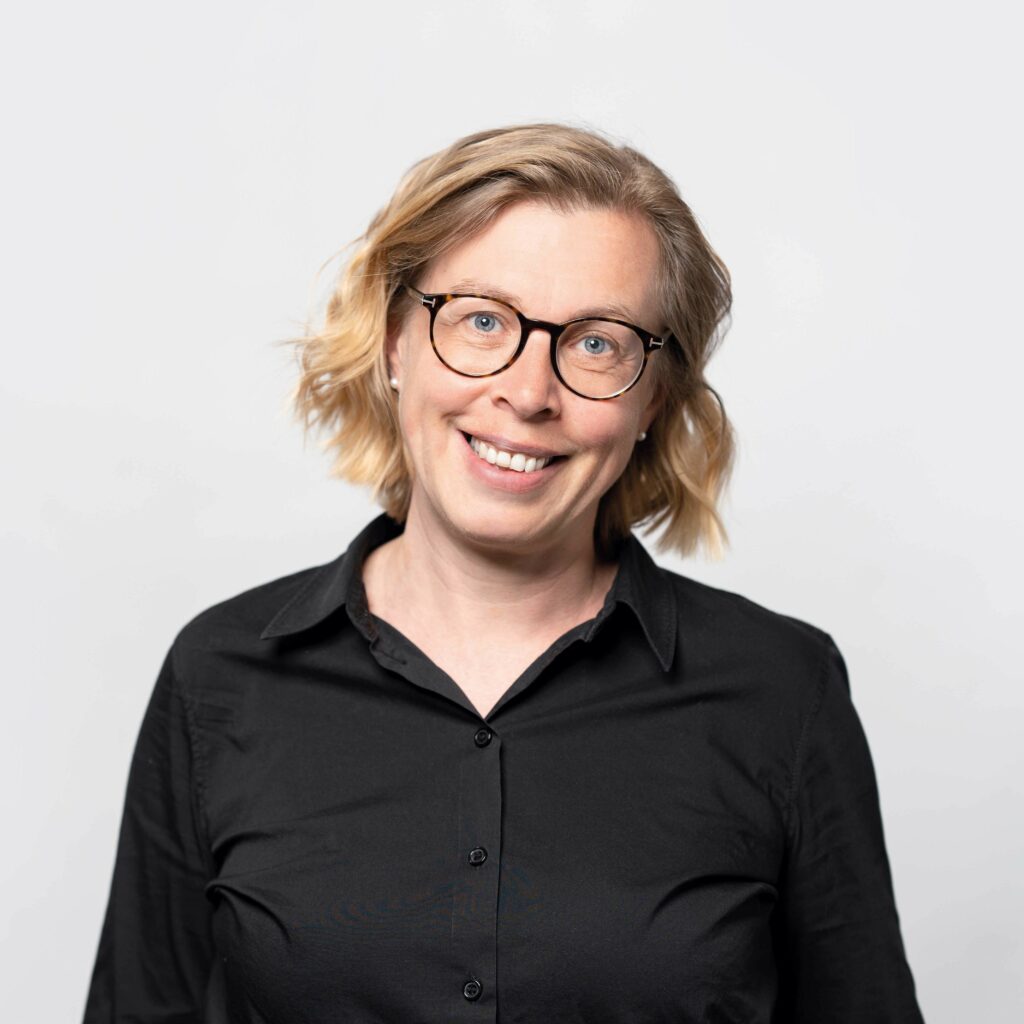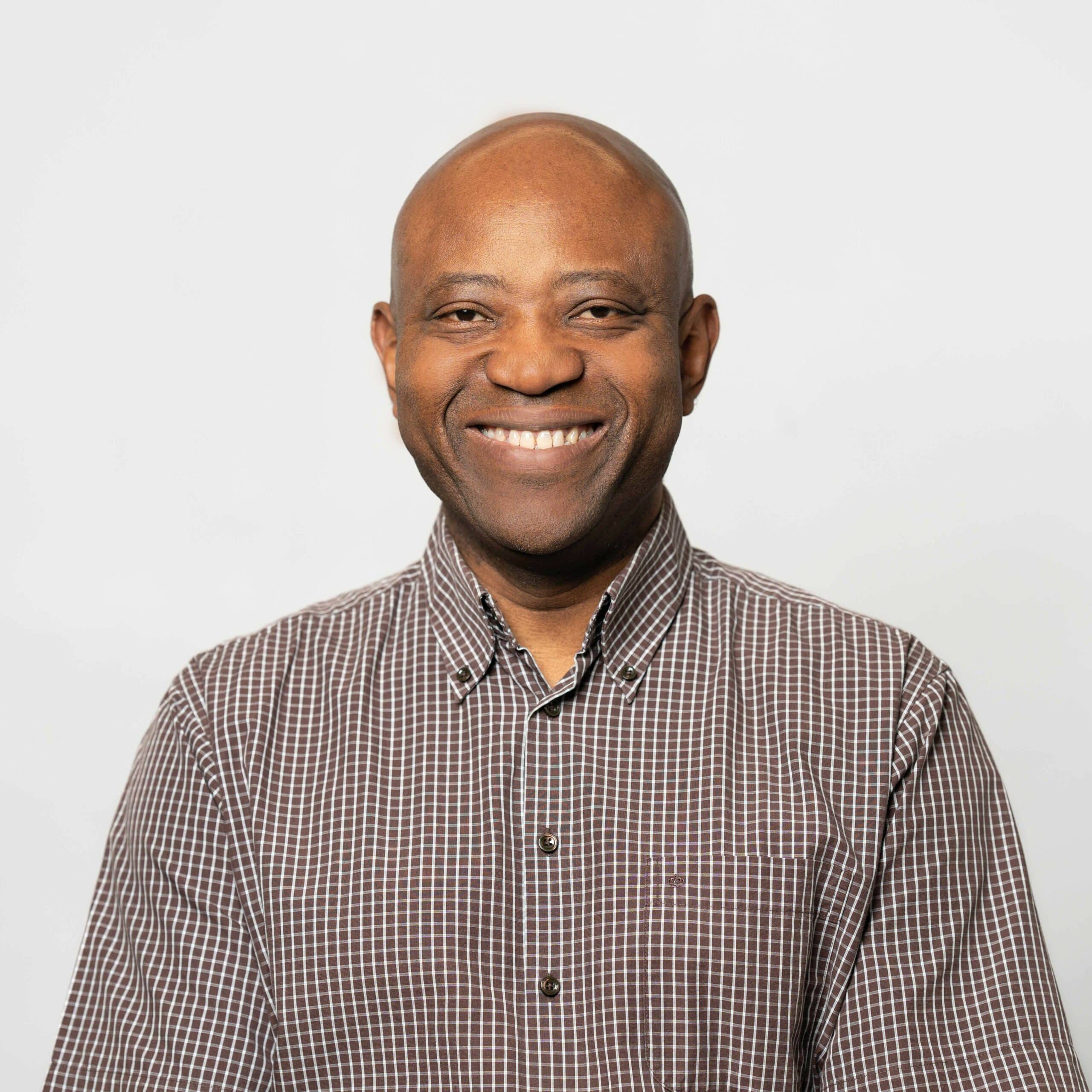 In Linz, you are always in contact with our colleagues worldwide. You truly feel that we are all part of a company offering solutions that have a positive impact on our environment."

Christian M'Baku
Sales Manager
Linz can be defined as a world steel capital on the Danube, with one of the most cosmopolitan and dynamic communities of steel professionals."

Dr. Carlo Piemonte
Technical Sales Director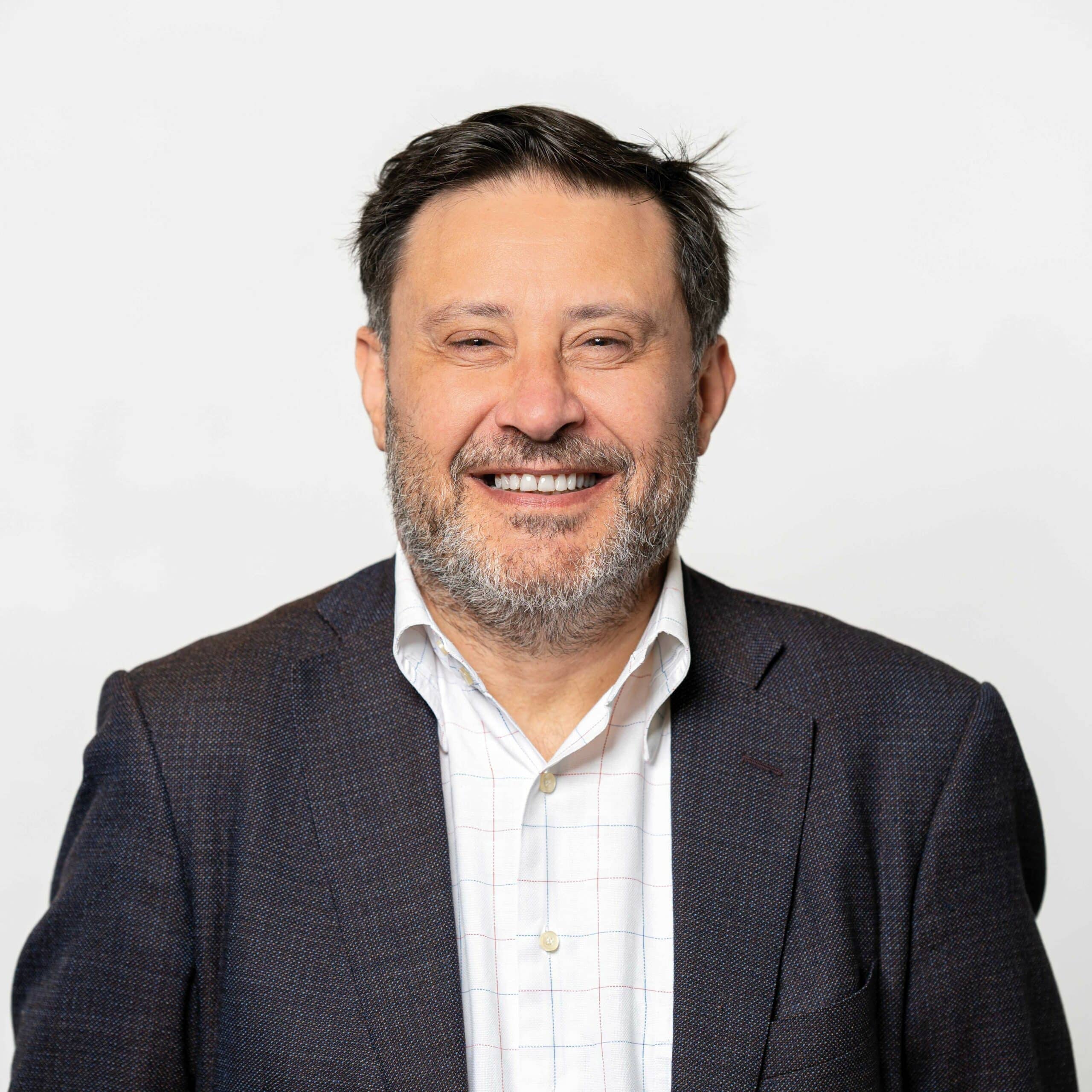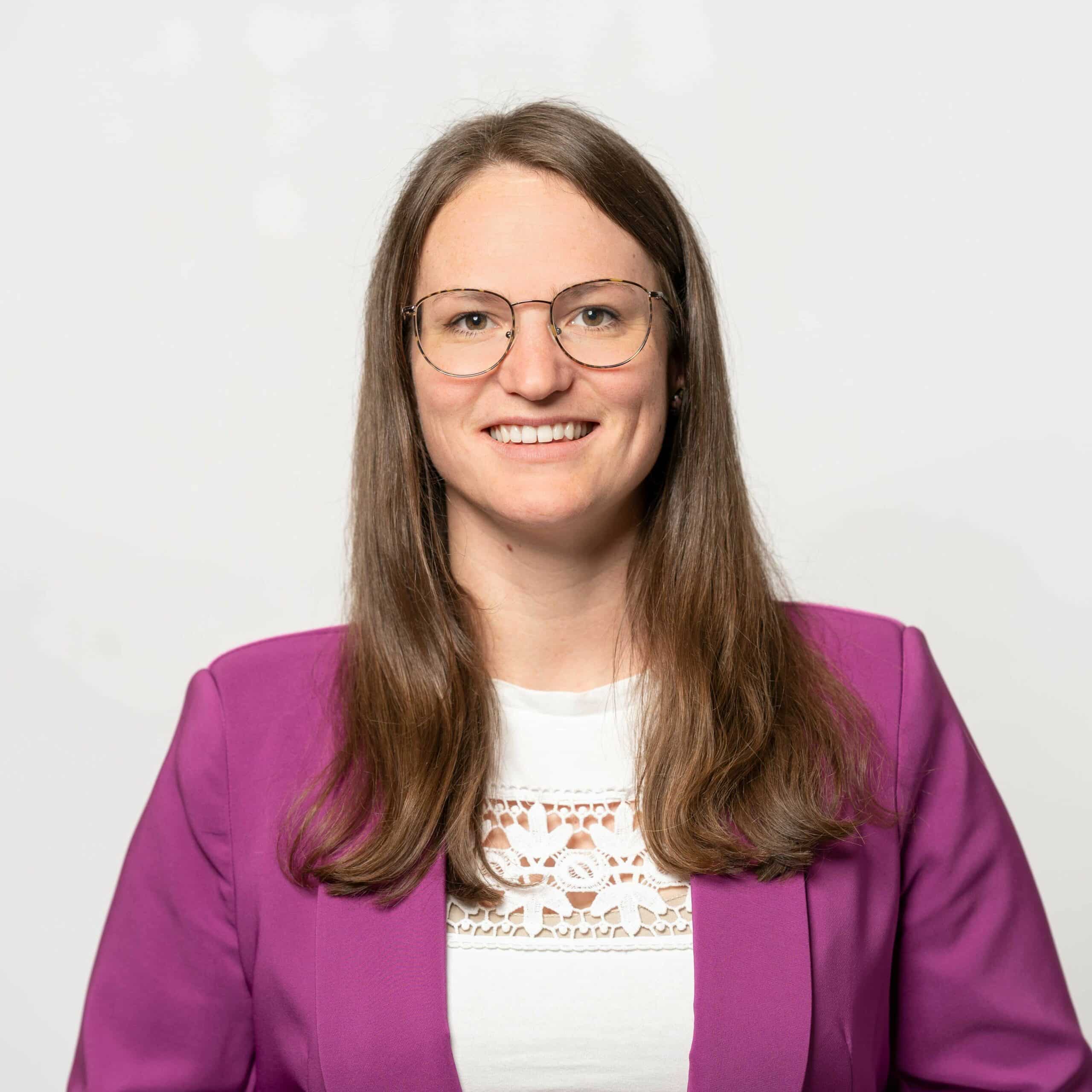 A great connection between Linz and the rest of the world is the Ars Electronica Festival, attracting artists and visitors from around the world."

Anna Mayrhofer
Product Manager
Global IT is in close contact with the IT departments worldwide and cross-border cooperation is underpinned by regular meetings that connect Linz to the world."

Joachim "Joe" Berger
Head of Digital Workplace Solutions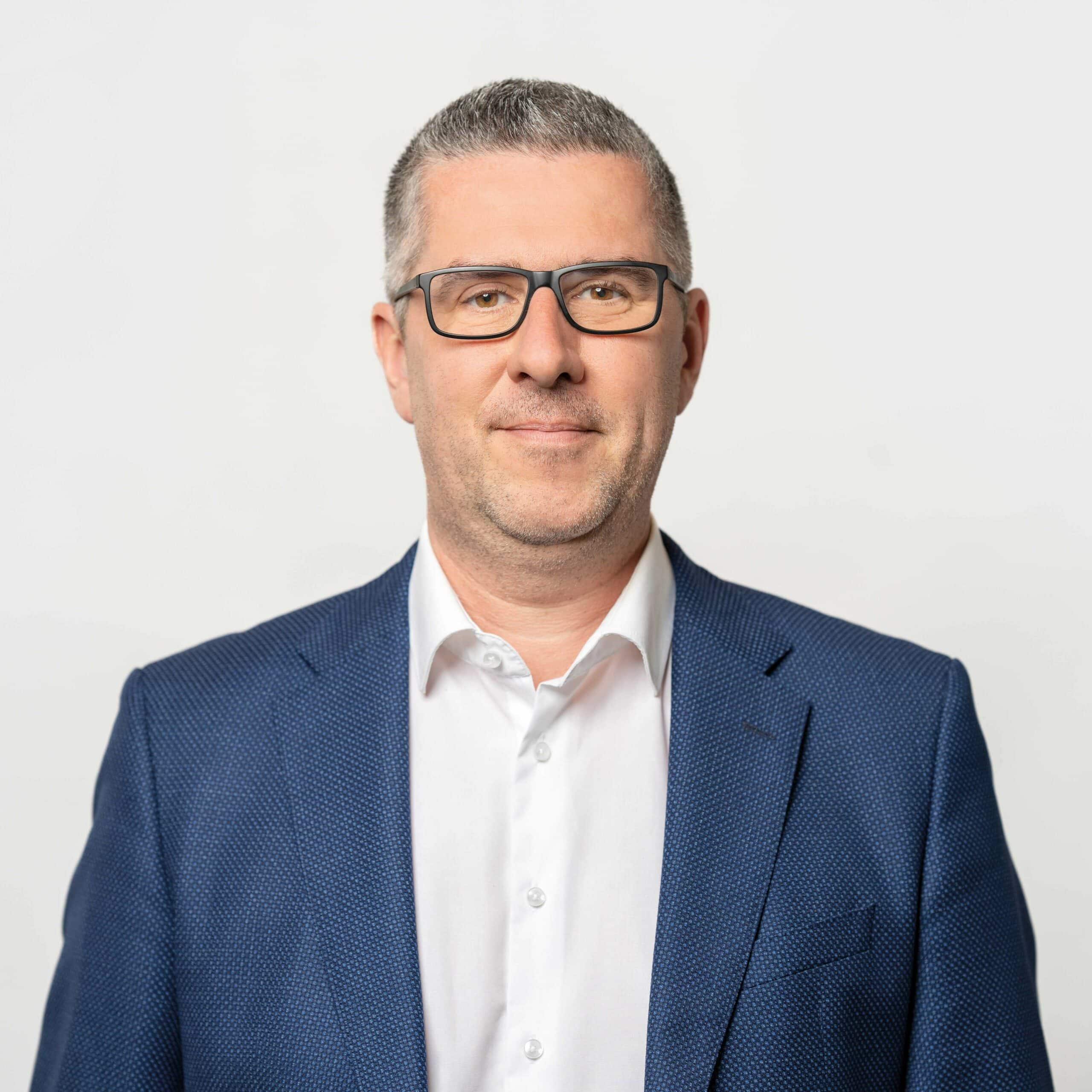 An Innovation Hub
In the lobby of BG 48, Niederhuber and I are met by Dr. Peter Juza from the Electrics and Automation department. As we walk through the halls and meet with several colleagues, Dr. Juza reveals that Primetals Technologies is one of the largest software developers in Upper Austria and that our focus is on bringing more digital services to our customers. From subscription models to web-based platforms, he explains that each one of these initiatives ensures that customers are receiving the most up-to-date software from Primetals Technologies that will bring their plants up to their full potential and eliminate costly downtime.
Touring through the halls, Dr. Juza explains that today's modern steel plants simply cannot do without electrics and automation solutions. What was previously optional has now become essential. From driving the plant to helping maintain its functioning, automation and digitalization are about making the lives of operators and producers easier in terms of in-house knowledge and identifying problems and errors before they happen, ensuring unplanned downtime becomes a thing of the past. Moreover, the solutions developed play a crucial role for the safety of workers, who, thanks to sensors and robotics, are now much further away from molten steel.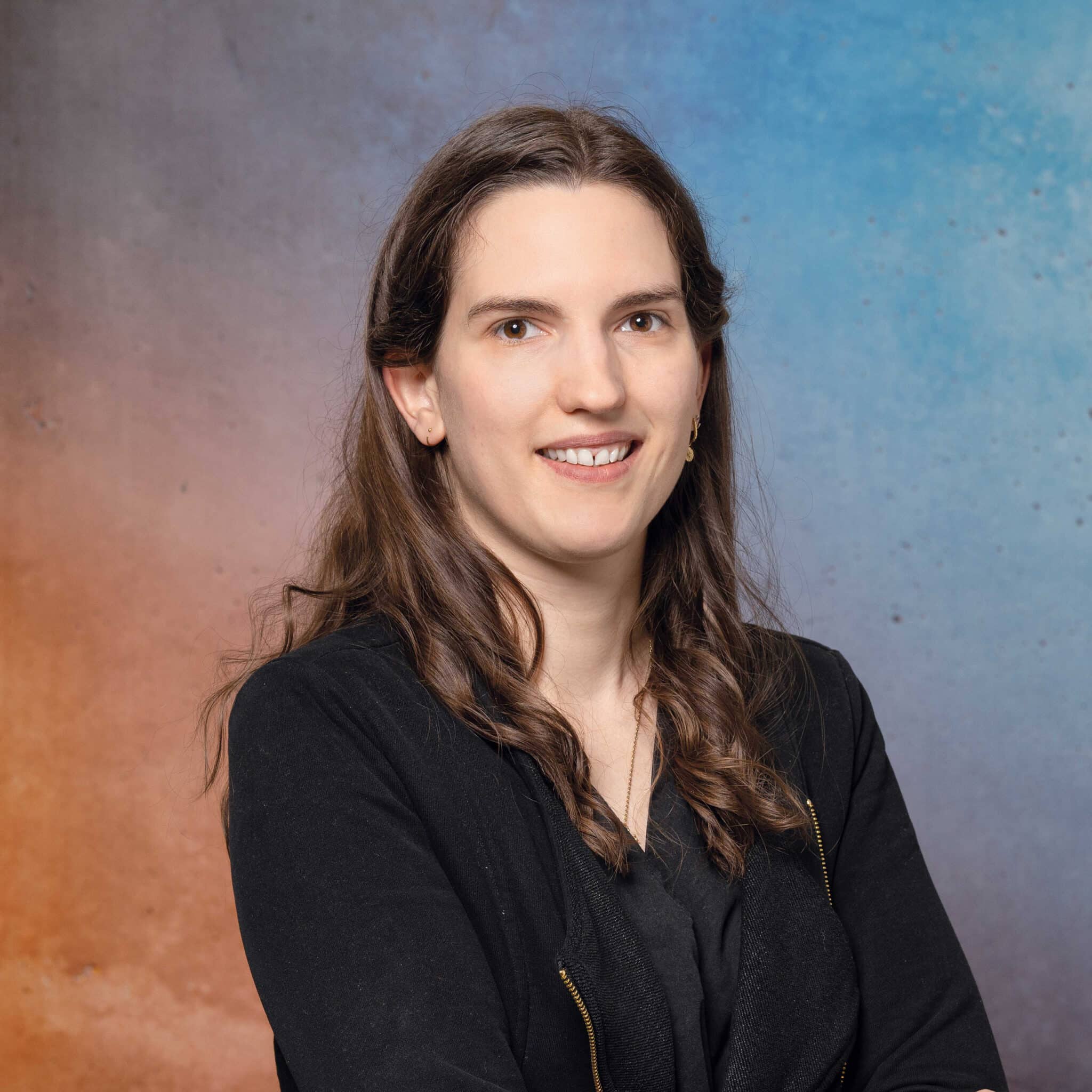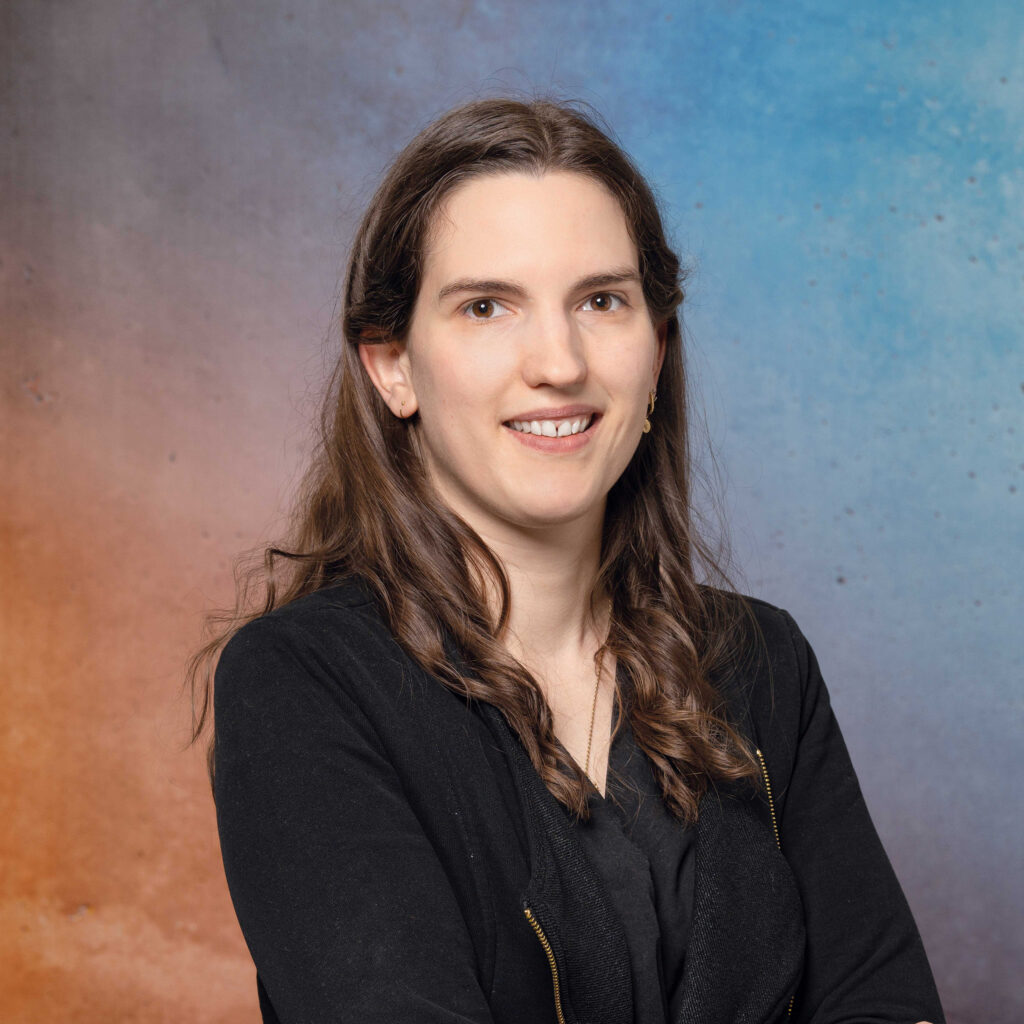 Interview with
Dr. Kerstin Baumgartner
Advancing endless strip production
Dr. Baumgartner works as a process technologist at the Linz location. She is proud to be apart of the team working on ESP.
What, in your view, are the biggest challenges facing the metals industry?
Dr. Kerstin Baumgartner: What's most clear is decarbonization and the integration of advanced digital technologies, such as artificial intelligence into production processes and operations. From strictly metallurgist perspective, I find it an exciting opportunity to see how the industry will develop new steelmaking solutions for certain products for an increasing scrap rate in the coming years.
What technologies might help the industry overcome pressing challenges?
Dr. Baumgartner: Perhaps unsurprisingly, I find that Arvedi ESP is energy saving and a key contributor to decarbonization. The technology itself is fascinating—i.e., being able to connect a caster directly to a rolling mill, was a metallurgist's dream that has now become a reality. Furthermore, direct reduction and fluidized bed reactors will be a major asset in the implantation of hydrogen-based processes. I am excited to see my colleagues progress and advance new process designs and solutions for iron ore reduction.
What makes the Linz location of Primetals Technologies unique?
Dr. Baumgartner: The density of specialists in one place is amazing. With a tremendous amount of expertise in-house, we benefit immediately from our colleagues working in various departments to advance our developments further.
Dr. Juza also goes on to tell us how the company's passion for problem solving is engrained in the DNA of Primetals Technologies. He reveals that all the components delivered from Linz are meticulously tested and if anything does not function properly, our engineers become obsessed with ensuring the problem is solved for the customer. Being solution-oriented and understanding the big picture is essential. He elaborates that our approach to customers also involves consideration of IT architectures to ensure that the networked structure of the plant is up-to-date and upgradeable. "Upgradeable and backwards compatible, what's most important is that our solutions meet the needs of our customers so that their plants operate to their full potential," Dr. Juza concludes.
One aspect that is unique to the company location in Linz is the close relationship between technical departments and the sharing of expertise. What occurs regularly digitally with colleagues around the world, can often take place analog in Linz. This benefits the development of the latest automation and digital tools, simply because collaboration and exchanges can occur by heading to a nearby department. The impact of this exchange is perhaps most visible in the close collaboration between automation and mechatronics, who develop digital and mechanical solutions that work in perfect harmony.
The Mechatronics Workshop
After exploring the two largest buildings of Primetals Technologies Austria, we head off in the direction of voestalpine's "Stahlwelt"—a museum dedicated to steelmaking. Just past a set of buildings belonging to voestalpine, we are met by Nicole Oberschmidleitner, waiting outside BG 88. With the names of companies, such as K1-MET on the outside, the building is a testament to the collaboration that takes place in Linz to develop new technologies. Oberschmidleitner also explains that BG 88 is home to the mechatronics workshop and the LiquiRob robot, one of the most unique products from the Linz location.
Heading inside we are immediately struck by the atmosphere. Like a scene from a sci-fi film, electronic and robotic components of varying shapes and sizes are organized throughout the immediate area. Each component is a part of a different order, designed to fulfill a specific task, tested for quality assurance, and ready to be shipped. From dedicated sensors and mechanical components to testing stations for various solutions, the workshop looks like an inventor's dreamscape. Straight ahead of us is the LiquiRob robot.
Oberschmidleitner elaborates that the mechatronic workshop is a point of pride for the Linz location. "Each solution, from the LiquiRob robot to sensors and expert systems are assembled and thoroughly tested here in Linz before leaving for the customer," she explains. Oberschmidleitner elaborates that these steps are essential to guarantee that each solution will function upon its arrival and can go directly into operation on-site. "The principle of our solutions is that they are easily implementable for our customers and if integration into a plant is essential, we have our engineering specialists directly here in Linz to assist," she adds. From nozzle and heat transfer tests to various simulations and models, the workshop is fully equipped to ensure the optimal product is delivered, including rigorous quality control and photo documentation with each product.
Technology-Oriented, Customer-Oriented
Oberschmidleitner accompanies us back to BG 47 and tells us that there is one more building that is essential to all Primetals Technologies activities. Behind BG 47 is a small building—BG 74. Home to our IT department, BG 74 is at the center of our remote technologies connecting Linz to the rest of the world. From maintaining the security of our company's data to ensuring the connection for the remote commissioning center or live augmented-reality-assisted services activities, the IT center in Linz is a core element to our technologies.
In BG 47, we are met once more by Dr. Hirai, who shares with us some final impressions of how he feels Primetals Technologies is meeting customer needs around the world. "One key principle is that we are a crucial supplier of infrastructure to society," he remarks, with an in-depth discussion of why our focus rests on continuously innovating. He reveals that our technologies are designed with our customers and society in mind and providing breakthrough technologies to benefit our customers is the driving force that inspires us. "Society and our customers are at the heart of everything we do, it is why we are pioneers."
I bid Dr. Hirai farewell and Niederhuber and I return to our offices. Writing from Linz, the home of global marketing and communications and Metals Magazine, I reflect on what makes our location in Upper Austria so unique. The passion and drive of my colleagues and their approach to problem-solving makes me proud to be a part of a truly international company and at such an internationally-oriented location. Our global activities reach and impact customers and stakeholders worldwide and the Linz location of Primetals Technologies is truly connected to the world from the heart of central Europe.
Experiencing the location and Linz Area